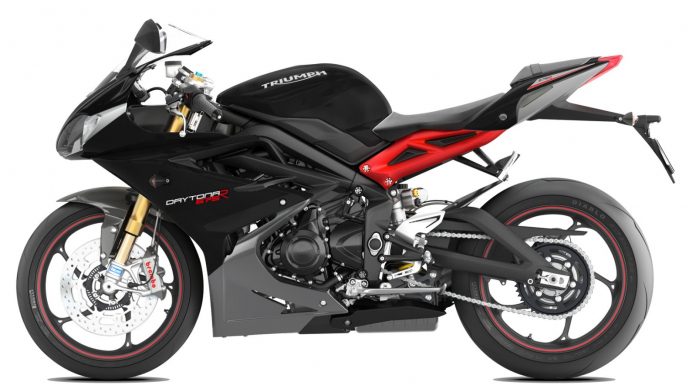 A Triumph Daytona 765 prototype was undergoing tests.

Many had hoped Triumph would produce a new Daytona given their involvement in Moto2.

The prototype looks the same as the previous Daytona 675 but with a new engine and suspension.
This report and pictures originally appeared in MCN. Please click on this link https://www.motorcyclenews.com/news/new-bikes/triumph-daytona-765/ for the full info and more pictures.
MCN spied a new Triumph Daytona 765 undergoing tests.
Although the supersport market isn't as boisterous as it was, fans of the Triumph Daytona wept when the model's production ended in 2016. The manufacturer then launched the Street Triple 765 line-up to replace the 675 version, but there was no Daytona.
However, hopes rose again when Triumph announced and later revealed their Moto2 engine based on the Street Triple's. Many had thought this was the giveaway to seeing a new Daytona.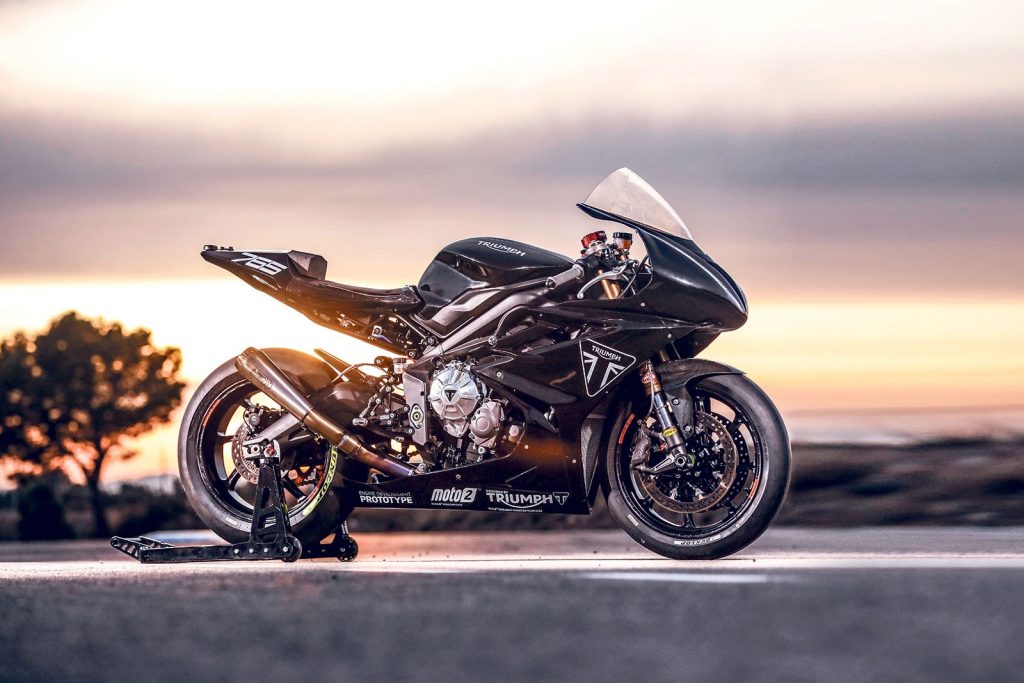 Yet, the factory neither confirmed nor denied if a new bike is on the way, despite Triumph's Chief Product Officer saying that it'll be foolish not to consider the possibility given their involvement in Moto2. The keyword however, is demand. Why produce something for which there are very limited buyers?
Until now.
According to MCN, these pictures were shot in Spain last week. Judging from the pictures, everything seems to look the same as the Daytona 675R, apart from the solo seat and lack of passenger footpegs.
On the other hand, the engine covers unmistakably belong to the 765cc engine. It would do the Daytona great service if they adopt some of the engine parts from the Moto2 engine, turning the bike into a racier model than the Street Triple.
We don't see the instrument panel in these pictures, but MCN says it should be a TFT screen like the Street Triple RS's. Six-axis IMU-based lean sensitive traction control and cornering ABS should also be in the offering.
As for the chassis, the front forks look like they're Öhlins NIX30 forks, while the rear shock ought to be an Öhlins TTX. The front brake calipers are the latest Brembo Stylema units, like those fitted to the Ducati Panigale V4/V4 S.
When can we expect the new Triumph Daytona 765? Best guess would be at the end of this year, since the Euro5 regulations begin in 2020.
Source and photos: https://www.motorcyclenews.com/news/new-bikes/triumph-daytona-765/