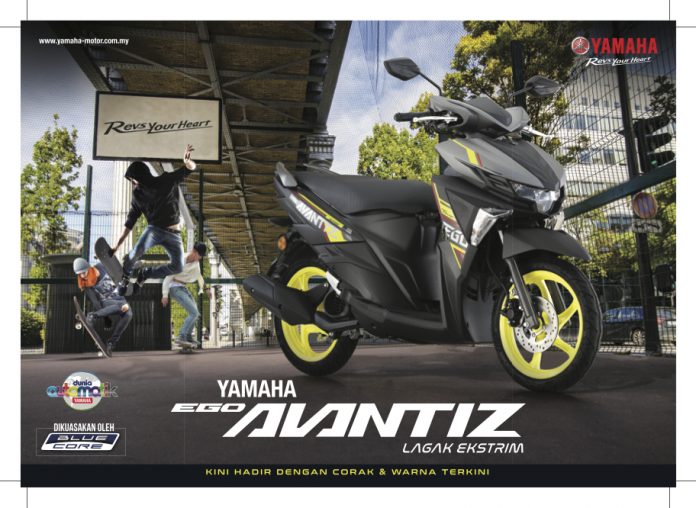 There are four new colours for the 2019 Yamaha Ego Avantiz.

The model has been sold since 2016.

It continues to be popular among Malaysia motorcyclists.
Mention the name "Yamaha" in the small motorcycle segment and the Ysuku (Y15ZR) is the first model that comes to mind. Truth is, other models sell just as well. That's why Hong Leong Yamaha Motor (HLYM) has just rolled out new colours for the 2019 Yamaha Ego Altiz.
Launched in 2016, the Ego Avantiz is the most popular twist-and-go scooter in its segment despite the onslaught of competitors.
The Yamaha is powered by a 125cc, air-cooled, SOHC engine which utilises Yamaha's Blue Core set of solutions for optimum operational. The criteria include efficiency in cooling, low friction and lubrication. Consequently, the engine produces more power and torque while minimising fuel consumption and emissions.
Yamaha scooters always feature lots of storage space and the Ego Avantiz has a 14-litre underseat storage capacity.
Additionally, this model pioneered the use of LED headlamps and taillamp in its segment.
More importantly, the bike has a low seat height, making it accessible to anyone. But most important of all is its very affordable price.
So, it's easy to see why the bike is still popular among Malaysian motorcyclists. As such, HLYM introduced four new colours for the 2019 Yamaha Ego Avantiz.
They are Blue, Cyan, Grey and Red. Pricing remains unchanged at RM 5,536 (basic sales price and not on-the-road). They will be available from this month onwards.