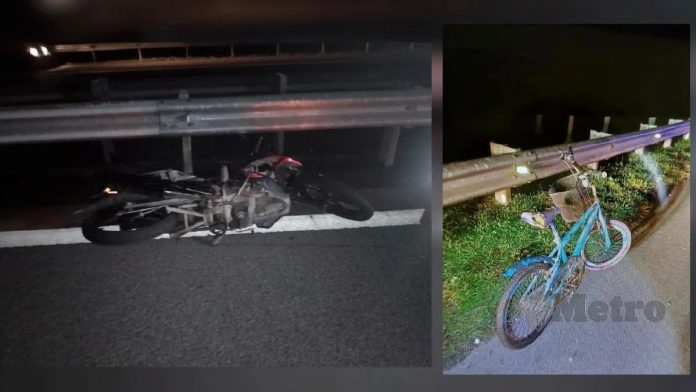 Motorcycle rider killed after colliding with bicyclist travelling along highway emergency lane, causing the victim to fall into path of oncoming car.
Motorcycle rider killed after apparent collision with a bicyclist in the emergency lane.

Resulting collision caused victim to slip and fall off motorcycle and get struck by oncoming car.

Bicyclist survives, suffers broken right leg only.

Police investigating bicyclist's motive for travelling along highway emergency lane.
A motorcycle rider was killed after an apparent collision with a bicycle, which caused the victim to fall and subsequently get struck by an oncoming car.
According to local daily Harian Metro, the incident occurred last night around 7:50PM in Bagan Serai, Perak, specifically along Kilometre 198.2 of the North-South Highway heading north.
Kerian District Police Chief Superintendent Mazuki Mat said the victim, 22-year-old Nurul Izzah Abdul Wahab, died at the scene while the cyclist suffered a broken right leg.
Initial investigation revealed that the motorcycle ridden by the victim, who was heading towards Semanggol fom Kamunting, believed to have collided with the bicycle in the emergency lane ridden by a man whose identity remains undisclosed.
"As a result of this collision, the victim and the motorcycle fell and slipped into the left lane. At the same time, a car travelling from the rear tried to avoid the victim but failed and hit the victim. The victim was pronounced dead at the scene and the body was sent to Parit Buntar Hospital for autopsy," said Superintendent Mazuki in a statement.
According to him, the investigation of the incident is still underway and police are still trying to ascertain the bicyclist's motive for travelling along the highway emergency lane. The case is reportedly being investigated in accordance with Section 41 (1) of the Road Transport Act 1987.
Image: Harian Metro