Marc Marquez made his long-awaited return at the Algarve Internationa Circuit, 265 days after he last rode his Honda machine.
However,  the Spaniard quickly showed his brilliance with immense speed after almost a year absence.
The Repsol Honda was the third-fastest in FP1 and secured a provisional Q2 after finishing FP2 as the sixth-fastest rider on the grid with only 0.473s off pacesetter Francesco Bagnaia.
"It was a great day, a great feeling and honestly speaking I go out on the first run – the track was not so good, but immediately I felt good on the bike," he said. "In the morning, in terms of feeling, I felt better than in the afternoon because I was fresh. The arm was fresh and I had power.
"Then already in the afternoon, I struggled a little bit more to warm up the arm, and I start to feel the arm was a little bit more tired. Apart from that, we are in a much better situation than what we expected before the weekend.
"I don't know how, because I don't understand what's going on. I'm just riding the bike, trying to follow my way.
"The lap times are coming; it's not the most important thing, but they are coming in a good way. But it's true the main question mark for me – the speed is there – so it's about how the arm will react during the weekend when I get up tomorrow." explained Marquez.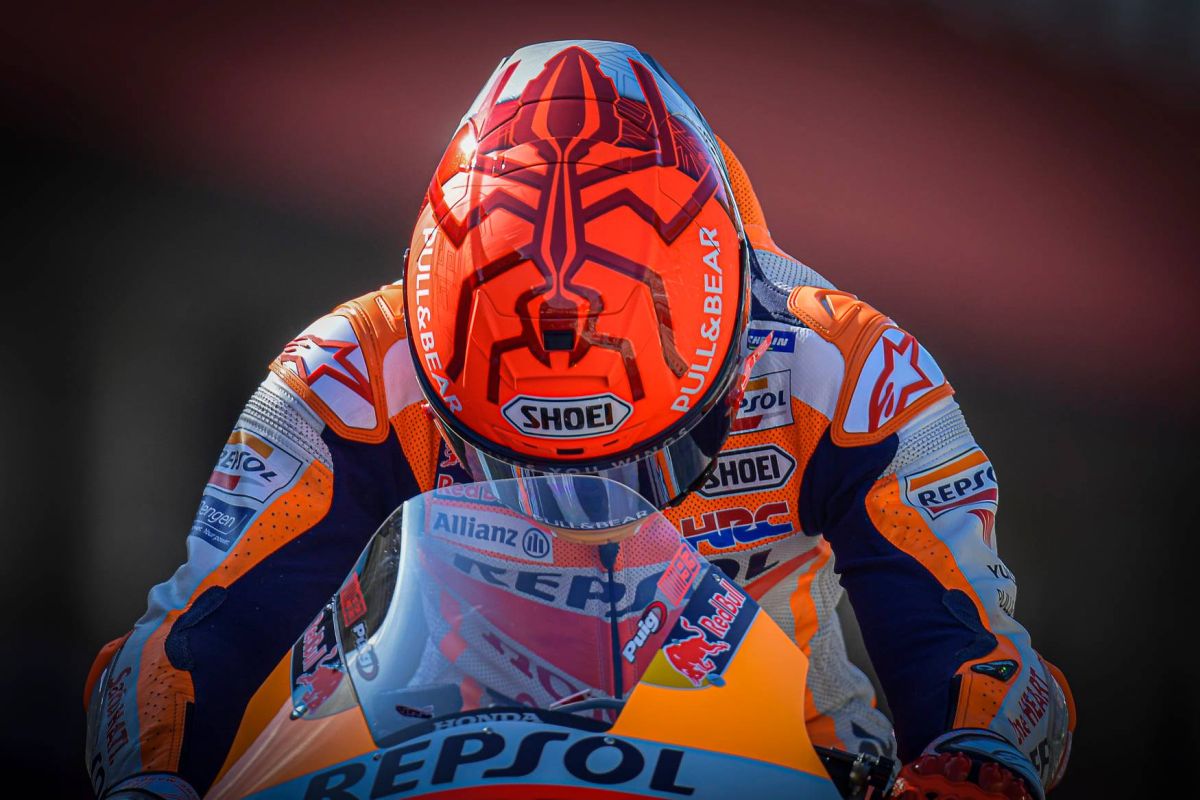 It was apparent that the 28-year-old rider was pushing the RC213V to its limit.
Marquez was nothing short of spectacular during the final lap in FP2 as the rider managed to save his ride on the way into Turn 8.
"The last lap was a little bit crazy, I didn't like the last lap, but I had a nice save.
"But it's my riding style, I don't know. It's true with the new tyre I'm struggling a little bit more than with the used tyre. [On the used tyre] the bike becomes softer, the lap times are slower and I feel much more comfortable.
"But with new tyres everything is more stiff, and specifically in that corner – I think it was Turns 6 and 7, that change of direction – my head said it was time to go in on Turn 7, but the body didn't follow what I wanted.
"I just slid a little bit, was a save but I created the slide to finish the turn because it was the last lap and I didn't give up the lap. Things [like] that of course with more laps on the track I will improve." he added.
Portuguese GP continues on Saturday with the Qualifying round.
(source: Motorsport)