The final MotoGP 2017 round in Valencia concluded with Marc Marquez being crowned the 2017 MotoGP World Champion!
After a breath-taking race, Dani Pedrosa (Repsol Honda) took the win with Johann Zarco (Monster Yamaha Tech 3) close behind in second.
Andrea Dovizioso (Ducati Team) lost control of his Ducati Desmosedici GP17 with six laps remaining which ended his 2017 title effort.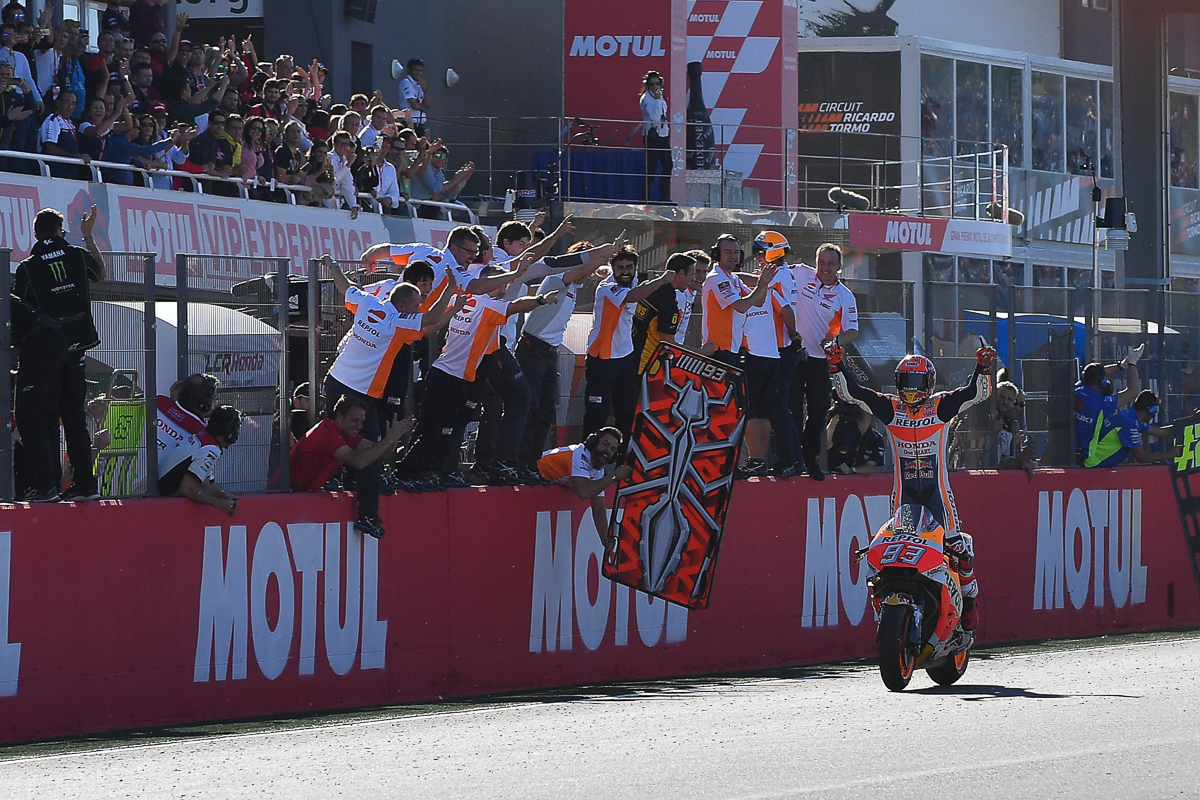 No one could've predicted how the last race would've unfolded. From the moment the red lights went off up until the very end when the chequered flag was waved, the final MotoGP race of 2017 in Valencia presented us with so much drama, stress and excitement.
The end result was expected, though. Marc Marquez of Repsol Honda has won his fourth MotoGP World Championship title. Marc Marquez is now the youngest rider ever to have won four MotoGP world titles and also six major championship world titles.
The race however was won by his team mate, Dani Pedrosa. After a great start to third, Pedrosa maintained his position as the wing man for Marquez who was positioned ahead of him and of course Johann Zarco (Monster Yamaha Tech 3) who amazingly led the majority of the race.
Marquez only managed to lead the first couple of laps before Zarco took over. With seven laps to go, Marquez tried again going into Turn 1 but almost lost it. Amazingly, Marquez defied the laws of gravity (again), gained control of his machine even after riding through the sand trap and continued his race from fifth behind the two Ducati riders.
DRAMA!!! Marquez runs on at turn one after a MASSSSSSIVE save! ?He rejoins in 5th! #FinalShowdown

Posted by MotoGP on 12hb November 2017
It was an entire different story altogether for the two Ducati Team riders. From the get go, Jorge Lorenzo maintained his position in fourth behind Dani Pedrosa. Andrea Dovizioso did his best and caught up with Lorenzo in P6.  After no significant improvements from Dovizioso, the infamous "Suggested Mapping 8" order was sent to Lorenzo to let Dovi through.
The message was relayed to Lorenzo several times using his pit board and digital dash on his bike but to no avail. With six laps remaining, Lorenzo lost control of his Ducati Desmosedici GP17. Another surprising turn of event was when Dovizioso himself fell a few corners after. No one could've predicted these things to happen.
Congratulations to Marc Marquez for winning the 2017 MotoGP world championship title. This goes to show how dominant the Repsol Honda team really is even when it comes to fighting against the top bike manufacturers in the world. Rest assured that come 2018, the season will just get more and more interesting.
That's a wrap for MotoGP 2017!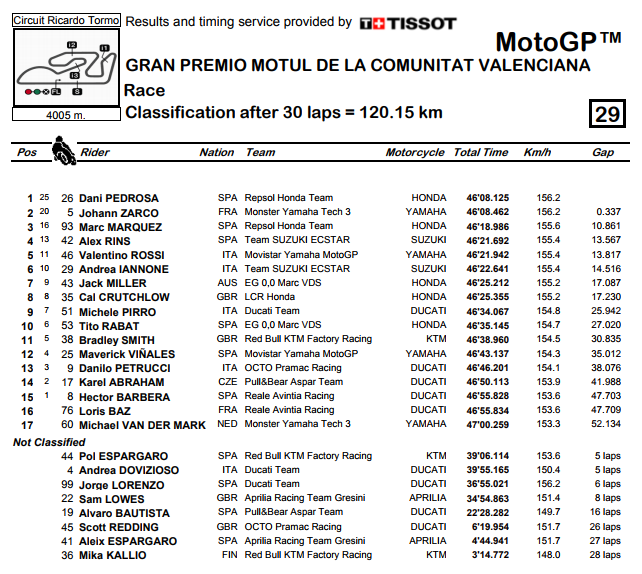 Image source: MotoGP