Throughout the three days of winter testing last weekend during the official Sepang MotoGP Test, one particular manufacturer has been popping up quite fast to the top of the timesheets early in the day. The KTM RC16 ridden by Dani Pedrosa and Pol Espargaro set the trend for the fastest lap times before noon hits and that says a lot about what the factory has to offer for the 2020 season.
While most riders on the grid tend to get their pace after completing a number of laps, both of the Red Bull KTM Factory Racing riders jumped up significantly fast in temperatures more ideally suited of tracks located in European countries. As we have stated back in 2018, it'll take a couple of years for KTM to be truly competitive and lo and behold, 2020 showed up with them ready.
From our perspective, the KTM RC16 has gone through a major overhaul in both top speed and agility as the riders (Espargaro and Pedrosa) were able to throw down consistently fast laps but also hit top speeds rivalling the Ducati and Honda riders. Looks like that rolled the dices right when selecting Dani Pedrosa as their test rider.
While KTM has managed to find something useful for the winter test, it doesn't mean that they have the competitive edge against other teams to fight for the top spot. In fact, 2020 is probably going to be one of the most competitive seasons yet as all of the main riders managed to break into the 1 minute 59 seconds barrier.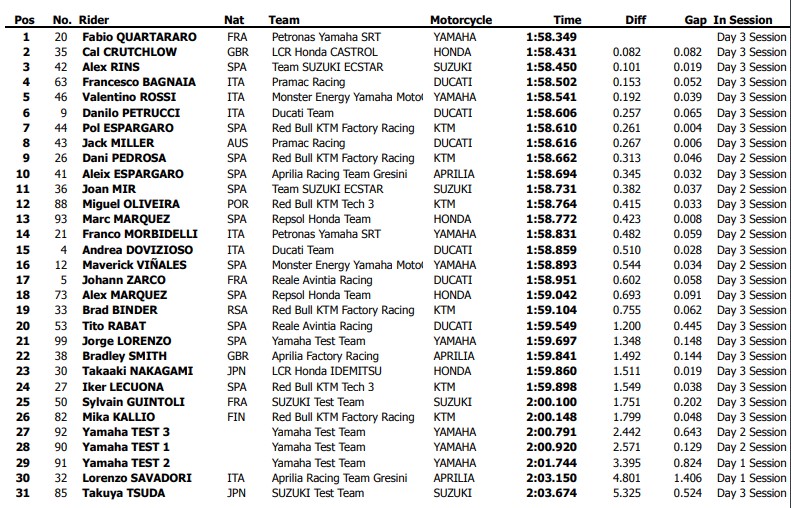 Yes, every single rider was fast. All 24 main riders of the grid were only separated within 1.549 seconds from the fastest Fabio Quartararo (Petronas Yamaha SRT) with a time of 1:58.349 all the way down to MotoGP rookie, Iker Lecuona with a 1:59.898. The question now is who can be consistently fast when it comes to race day.