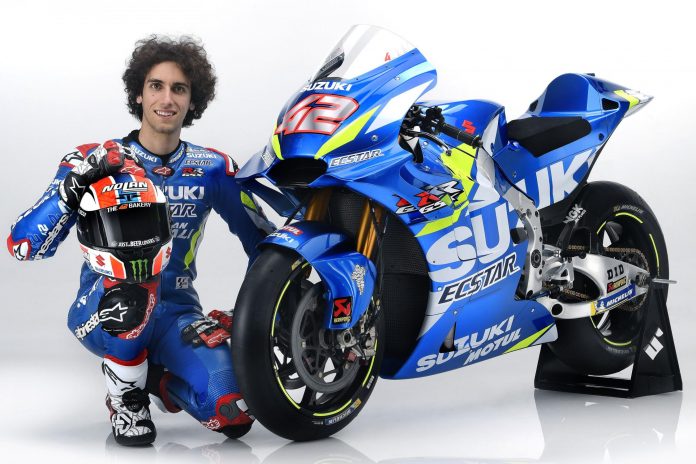 MotoGP 2020 has not even started yet (due to all the cancellations and postponements announced due to the COVID-19 pandemic) and Alex Rins has already signed a new deal with Team Suzuki Ecstar which will see them racing together until the end of the 2022 season.
💥BREAKING NEWS💥
Suzuki and Alex Rins extend their partnership for 2021 and 2022! The announcement was made via a special Instagram Live event. The team are thrilled with the renewal, which sees Alex remain in Team Suzuki Ecstar colours for 6 years 💙 @MotoGP #SUZUKing @Rins42 pic.twitter.com/q6hOB7fRxZ

— Team Suzuki Ecstar (@suzukimotogp) April 19, 2020
Why? Well, not a lot of riders can bring the fight to reigning world champion, Marc Marquez (Repsol Honda) and Alex Rins is one of those people who can. His only issue is consistency and he's able to remedy that soon, there's no doubt that he'll be a very hot prospect in MotoGP, especially with the powerful Suzuki GSX-RR which has proven to be very competitive.
According to Shinichi Sahara, Team Suzuki MotoGP Project Leader, "This renewal of two more years with Alex Rins makes me and Suzuki very proud because it represents a building block in our project to grow young riders and progress alongside them. With this extension, we have stayed with a young, talented, determined and fast rider like Alex for a total of 6 years, and this is exactly what we aimed for when we signed him the first time in 2017."
As for Alex Rins, "My wish was to continue with Suzuki and finally this is what I did. I believe that the project has the potential to be a winning one, I have the desire to win, and so we match perfectly. It's the perfect place for me, and we are working hard all together to get big results. I have always believed in the team and for this reason it was easy to get to the basic agreement very early on. Then we took some time to finalise the details and follow all the internal processes. Now we have to understand what's going to happen with the 2020 season, we are ready to compete at the maximum level, as we already showed in the pre-season tests."