Moto3 rider Juanfran Guevara has officially announced his retirement from the world of motorcycle racing.
The decision was made due to the pressures revolving motorcycle racing and funding to continue further.
The 22 year old Spaniard has decided to focus on his career in business and studies.
One of the world's top Moto3 riders has sadly made decision to retire from motorcycle racing earlier today. 22 year old Juanfran Guevara made the announcement via an official press release today despite the fact that he is still in the provisional entry list for 2018 together with his current team, RBA BOE Racing KTM.
This is sad news indeed considering that he only entered Moto3 for only one season and ended it with a respectable 11th overall finish despite being a rookie. Thanks to the pressure of racing at one the world's highest levels paired with how difficult it is to find funding have led to Guevara's final decision. The official press release can be read below.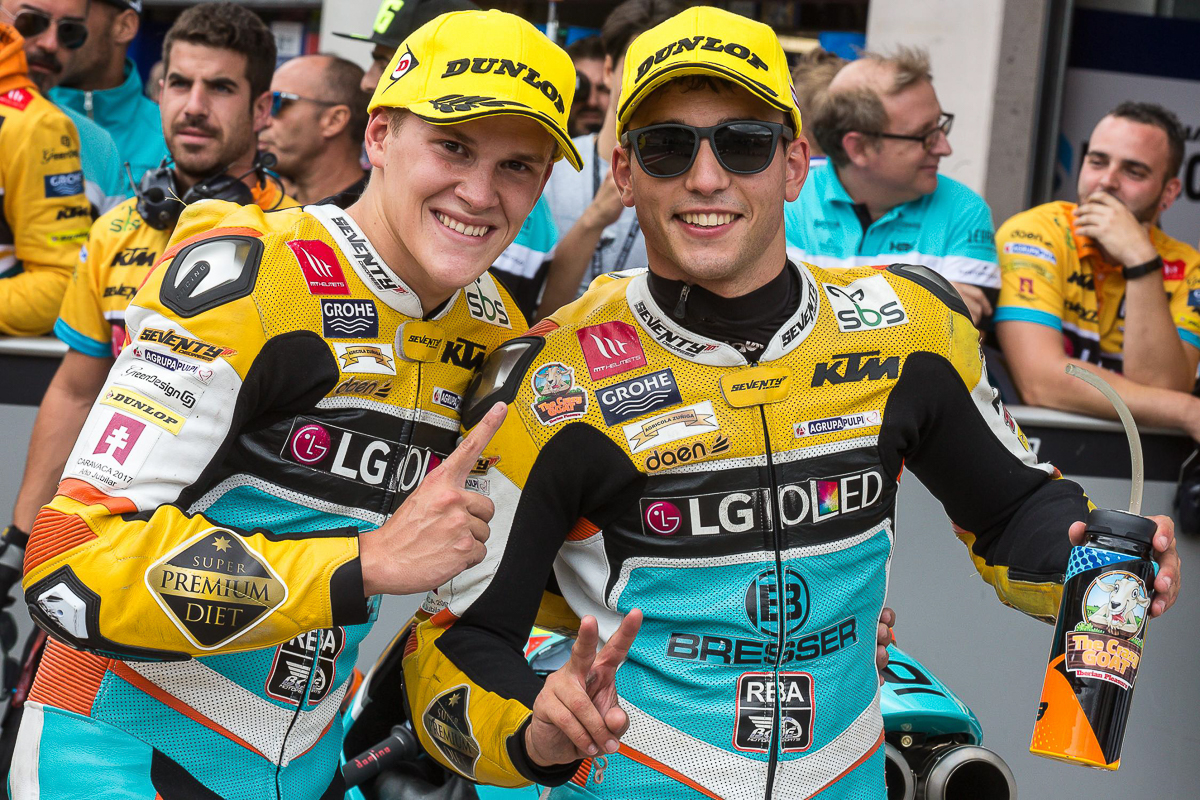 "It was a very hard and thoughtful decision that I made with the help, first of all, of my family, of all the directors of the Fan Club commission and some of the main sponsors who have supported me throughout this years. My passion for the world of motorcycling has not changed at all, but different economic reasons, and mainly personal ones, have given rise to this irrevocable decision.

I have decided to focus my career on the business world, studies that I have been combining all these years while racing in the Motorcycle World Championship. A point has arrived where I believe that in this way I will be able to grow more as a person and also dedicate more time to different projects that I have been developing over the last few years and that until now I have not been able to defend as they deserve.

Everyone who is or has been in this world, knows everything that has to be sacrificed in order to give 100% in the circuits. I want to dedicate more time to my family and to recover, in a certain way, friends and people that I have neglected.

I want to thank the RBA-BOÉ Racing Team for their understanding and I wish you good luck in your next seasons in the Motorcycle World Championship. Thanks for the support and for trusting me during these years.

Also thank to TeaMMurcia for being with me from the first moment and look after my management from the beginning until today. Thanks to all the sponsors who have bet for me since I started my career as a pilot in the Regional Championship of the Region of Murcia, accumulating more than 40 podiums in national championships, achieving the second place in European Championship and taking my name across the different continents through the Motorcycling World Championship, reaching a dream such as climbing to a MotoGP podium.

Lastly, and for me the most important thing, you are all those fans who have worn the 58 on all circuits as a symbol of support. The Fan Club will be part of me throughout my life. You have been the reason why I have given more to this issue. There will never be enough words to thank you for everything.

I close a stage of my life that took with me a multitude of moments, and above all, wonderful people that I will never forget. To all of you, my parents and Miguel, THANK YOU. "
All the best to you and your future endeavours, Juanfran!
Image source: MotoGP