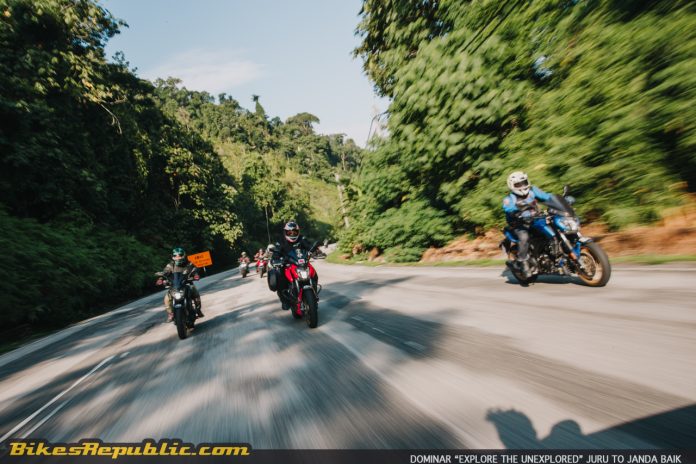 The Modenas Dominar "Explore the Unexplored" ride series came to a close with an unforgettable trip.

It started from Juru Auto City and stopped in Rimba Valley Motorcamp, Janda Baik.

It covered more than 500 kilometres.
The Modenas Dominar "Explore the Unexplored" Ride series came to a close with an unforgettable trip.
It took them on the highway, up the mountain, into the valleys and finally to camping for a night before resuming with off-road riding on the final day.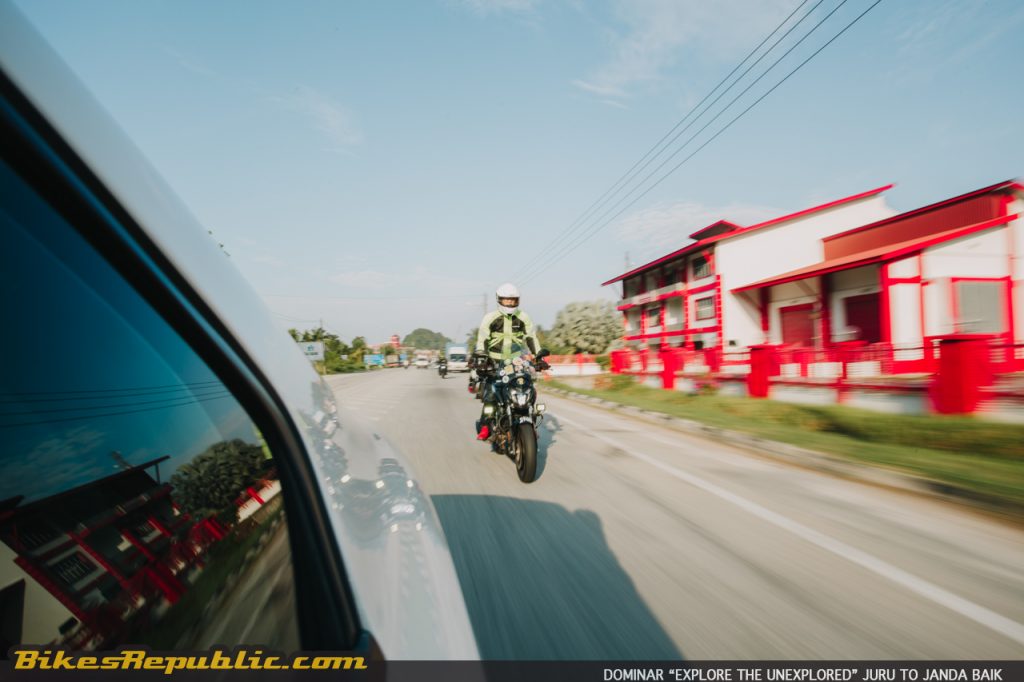 The ride series not only highlights the beauty of Malaysia to Dominar riders the world over, but it also shows that the bike is capable of taking them wherever they wished to go.
Day One – Saturday, 13th July 2019
Leg One – Juru to Cameron Highlands
Just like a previous "Explore the Unexplored" (ETU) ride, we congregated at the Restoran Nasi Kandar Pelita in Juru Auto City, Prai.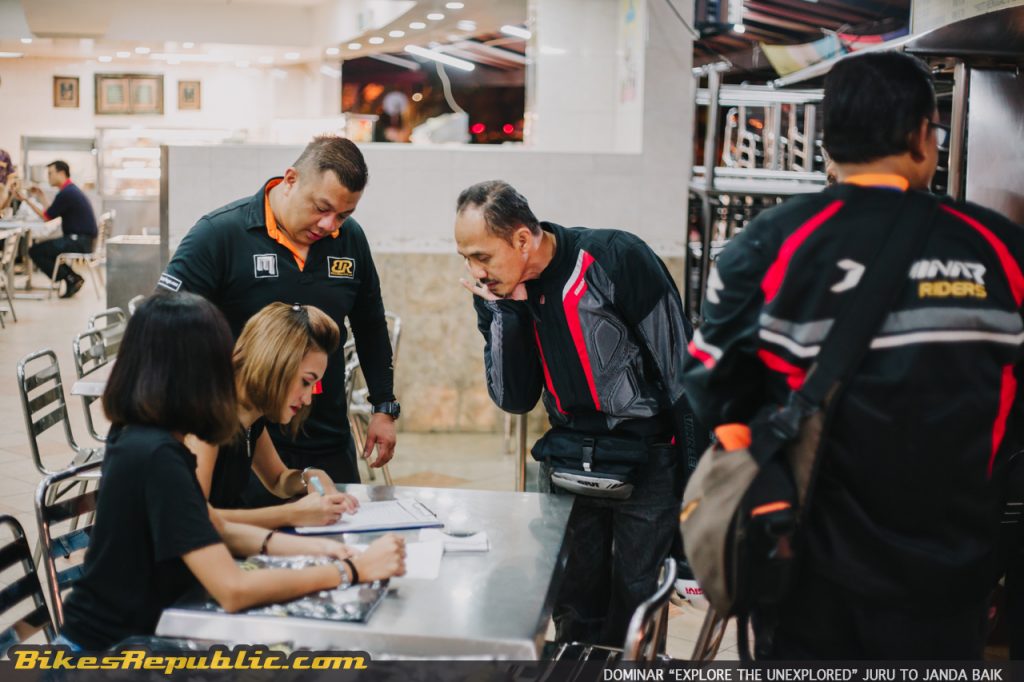 There, the riders who have signed up online confirmed their registrations and were handed a participant number and exclusive ride t-shirt. The ride briefing was then presented over breakfast concerning the route, safety aspects and the meaning of "Explore the Unexplored," plus #motography and #motographymalaysia.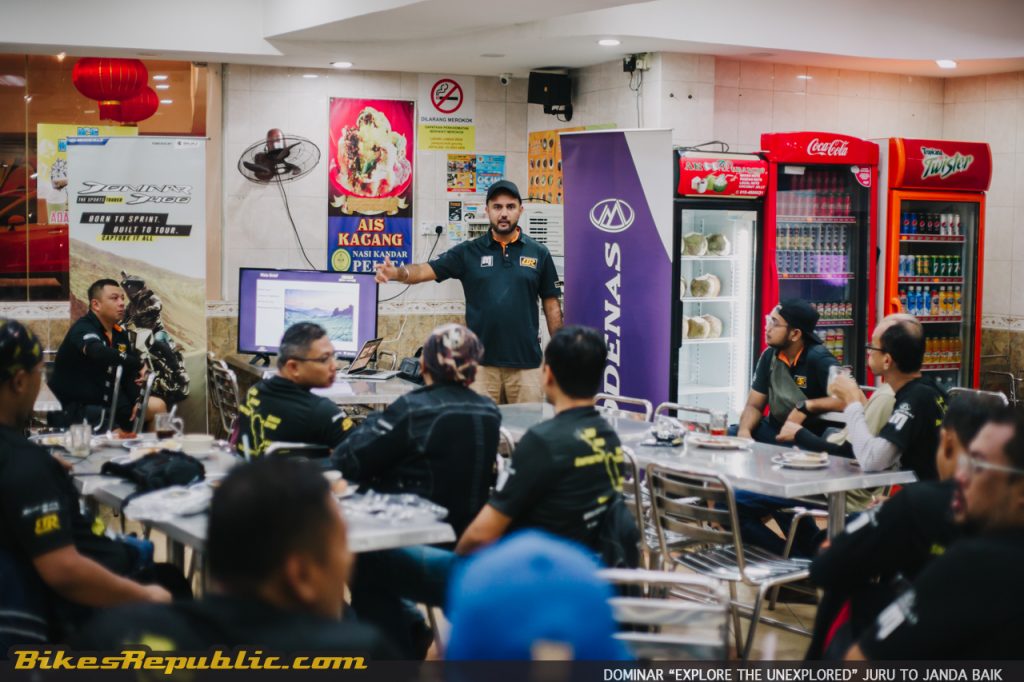 The ride was flagged off at 6.30am after the obligatory photo op and headed south on the North-South Highway. The convoy of 16 riders was kept as compact as possible while maintaining higher average cruising speeds to avoid disrupting other road users. Yet, there are still impatient cretins who overtook us by mere centimeters, as if to push us off the road.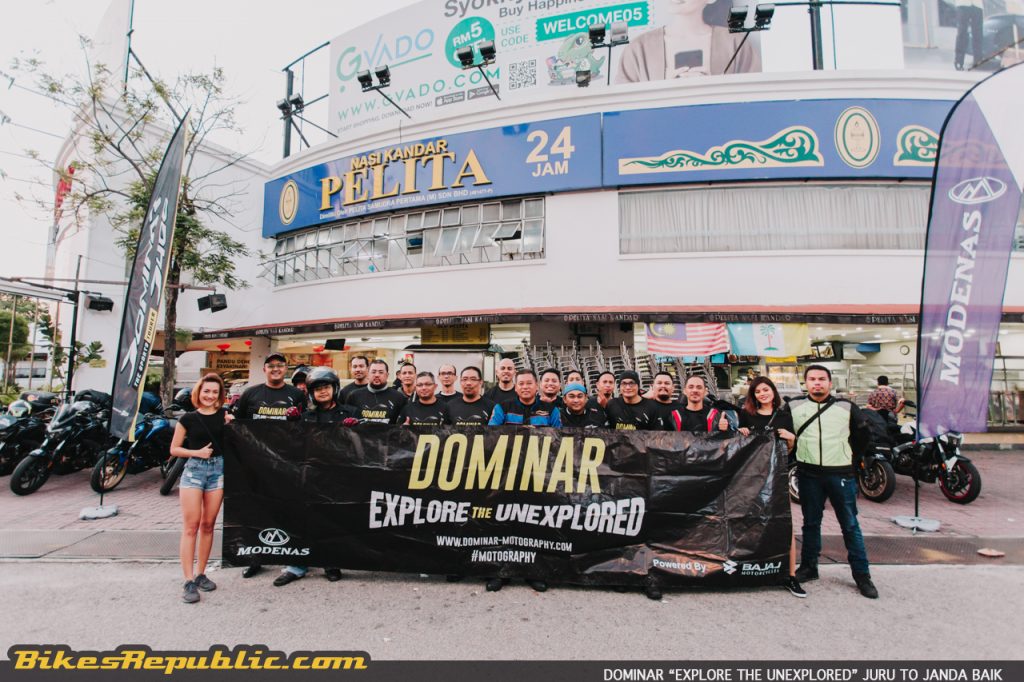 We stopped for fuel at the Petronas station in Simpang Pulai before taking on the curvy road. Traffic was thankfully light at this time of the day, but we spotted a car which ended up in a ditch. All occupants got out safely.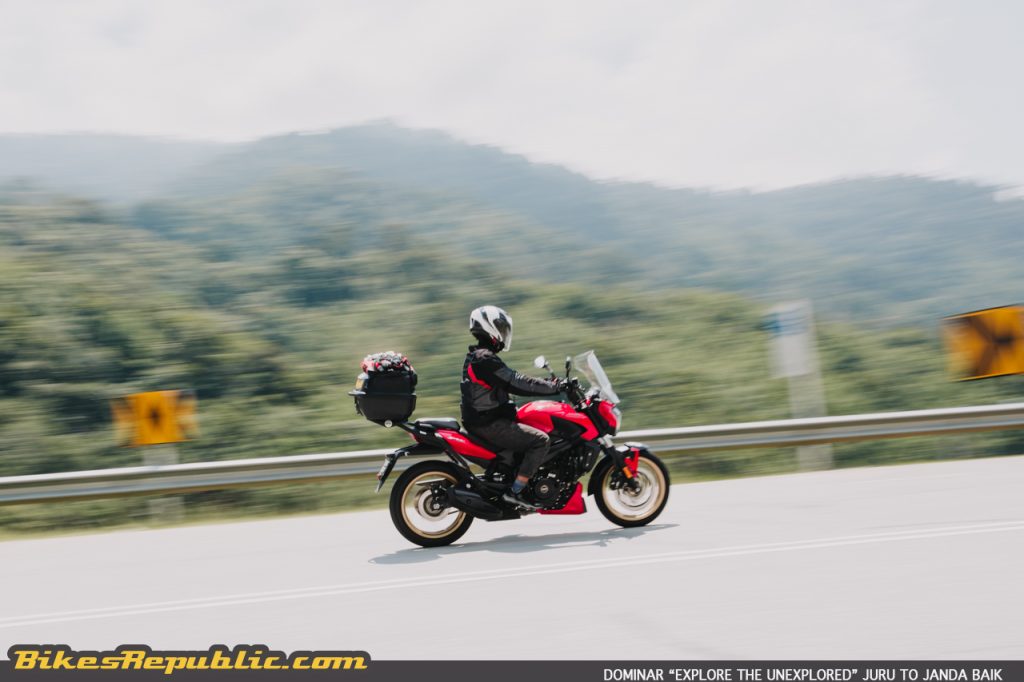 In the lead marshal's mirrors, the participants behind could be seen grinning inside their helmets, as they swept through the corners. One by one, bikes leaned over into the turns like dominoes.
The brisk pace brought the pack to the Banjaran Café for another photo op and drone video shoot.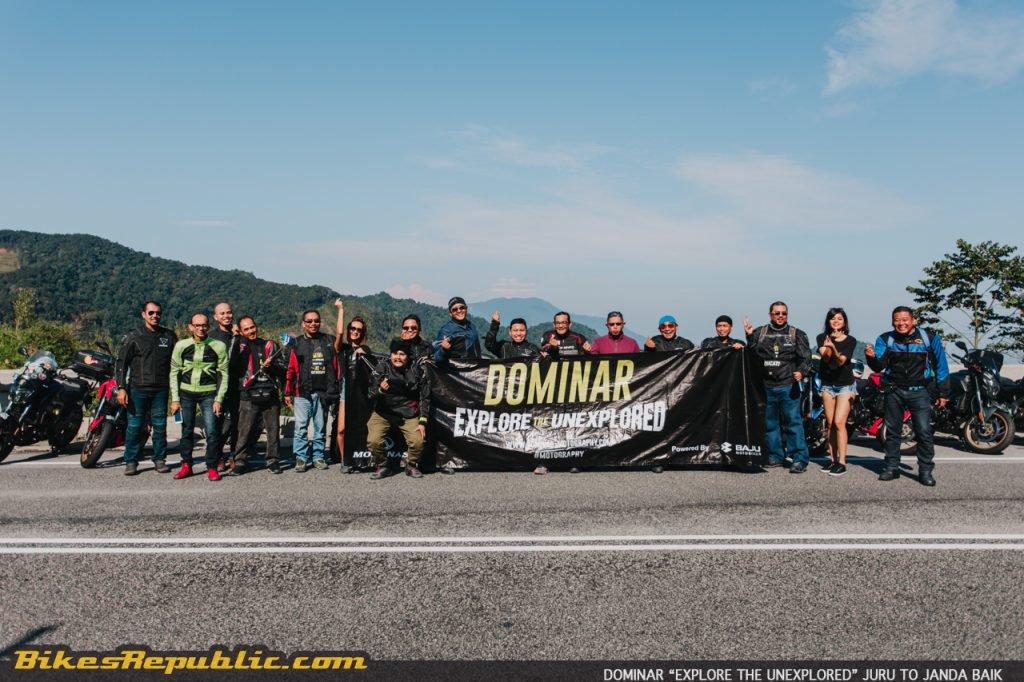 We hopped back on our bikes and continued towards Brinchang, passing the "Monaco" tunnel.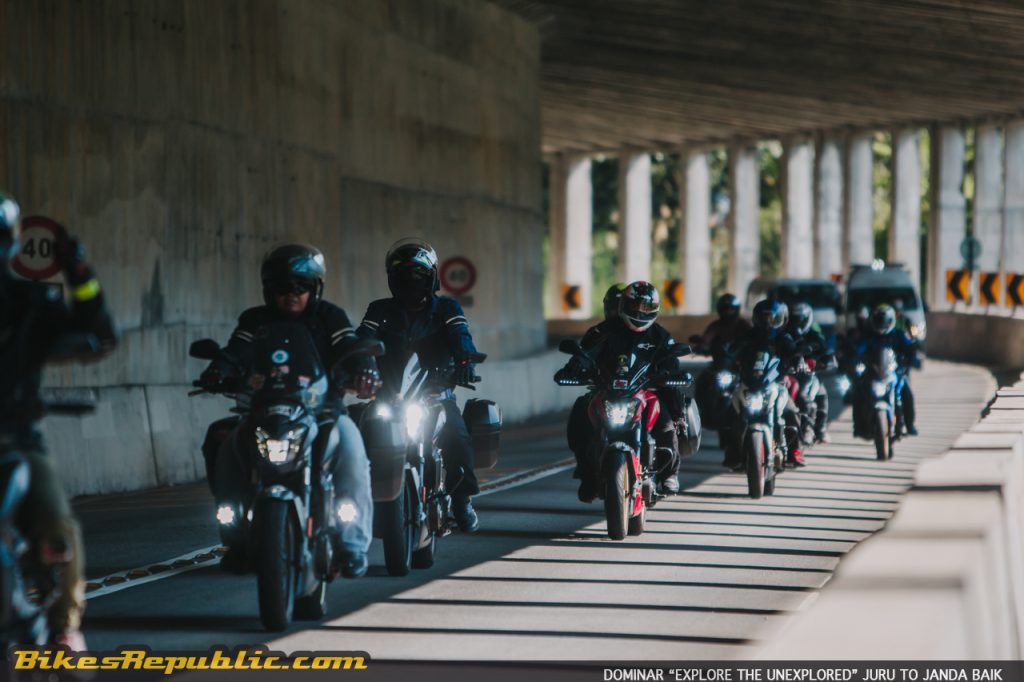 The participants were set loose to capture their own best photos for their #motography and #motographymalaysia mission.
Leg Two – Cameron Highlands to Sungai Koyan
We regrouped at the Shell station in Ringlet just past noon for the next leg.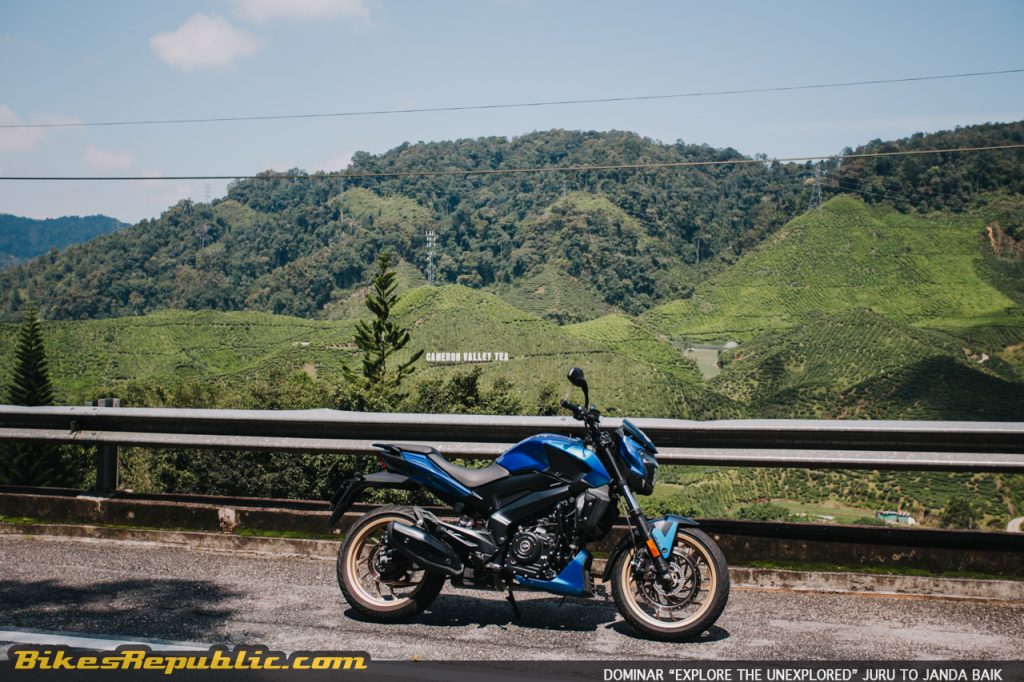 There was only one obvious choice of route if you want to head to the areas around Bentong, and that was via Pos Betau and Sungai Koyan.
The riders got into the rhythm of sweeping into the curves that the road is famous for. Deep depressions in the apex caused a few entertaining moments but the route was fun for the lightweight Dominar 400's neutral steering and ability generate impressive lean angles.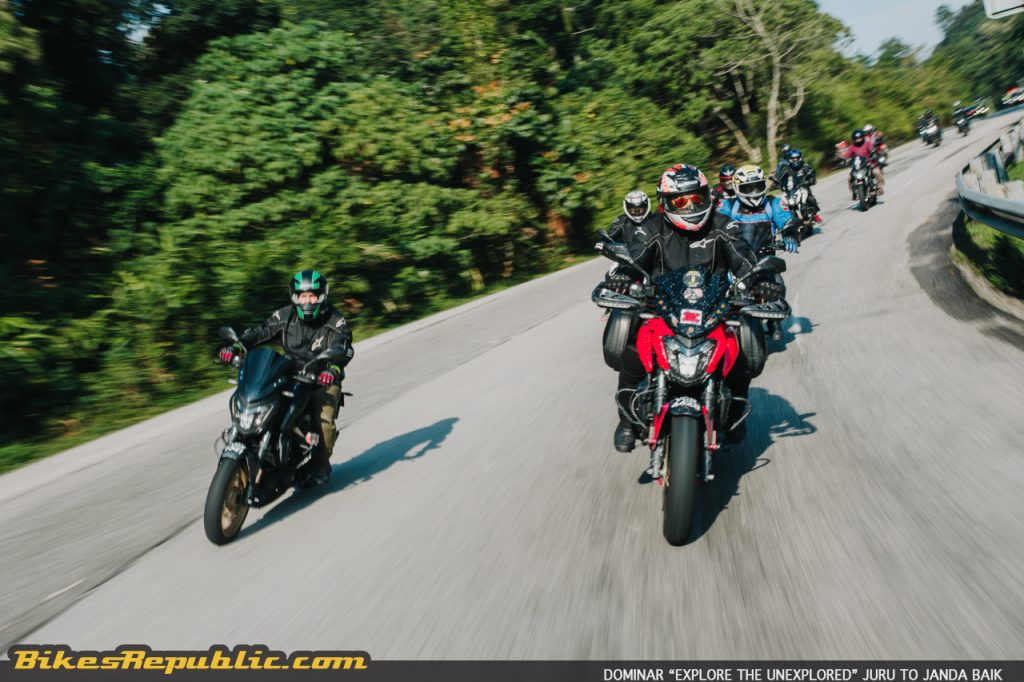 If anything, the route proved that time flies when you're having fun because the twisties seemed to end in no time at all.
Leg Three – Sungai Koyan to Klau Dam
We had wanted to circumvent the Bentong town for fear of heavy traffic and heavy trucks that are driven like the drivers who just had their ketum tarik.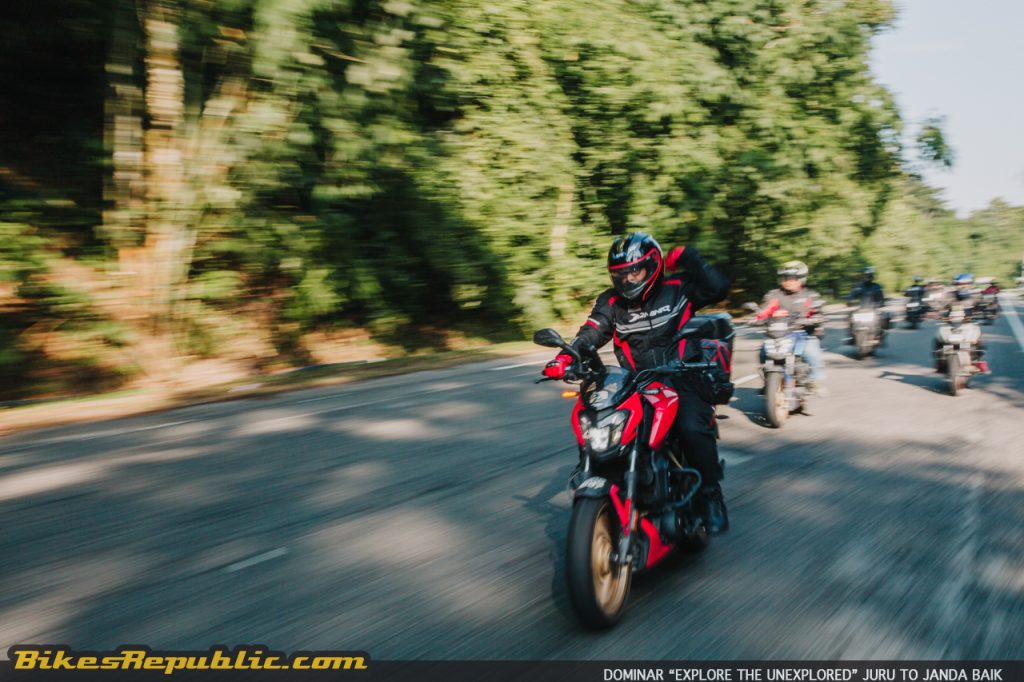 It was at this point that Google Map decided to act up and made us travel for kilometres on a road before telling us to turn back to the way we came from. We had lost some one hour chasing that GPS i.e. guna pun sesat("use GPS but still get lost") symptom.
We found our way to the Klau Dam boat jetty afterwards, but we didn't stop as it was late afternoon and we didn't want to arrive in Janda Baik when it's dark.
Leg Four – Klau Dam to Rimba Valley Motorcamp, Janda Baik
But the GPS must've been holding some type of grudge that day – it took us Bentong town after all… And instead of leading us onto the Karak Highway, it led us down that old Bentong – Gombak trunk road.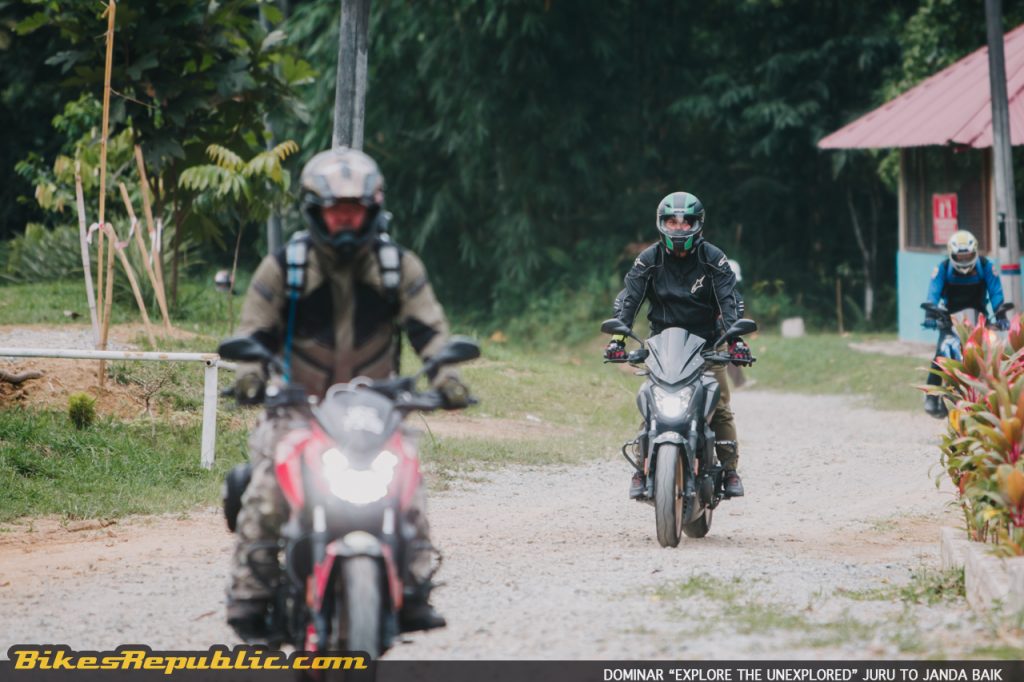 Anyway, it was still an interesting ride as the tight corners highlighted the Dominar 400's abilities and agility.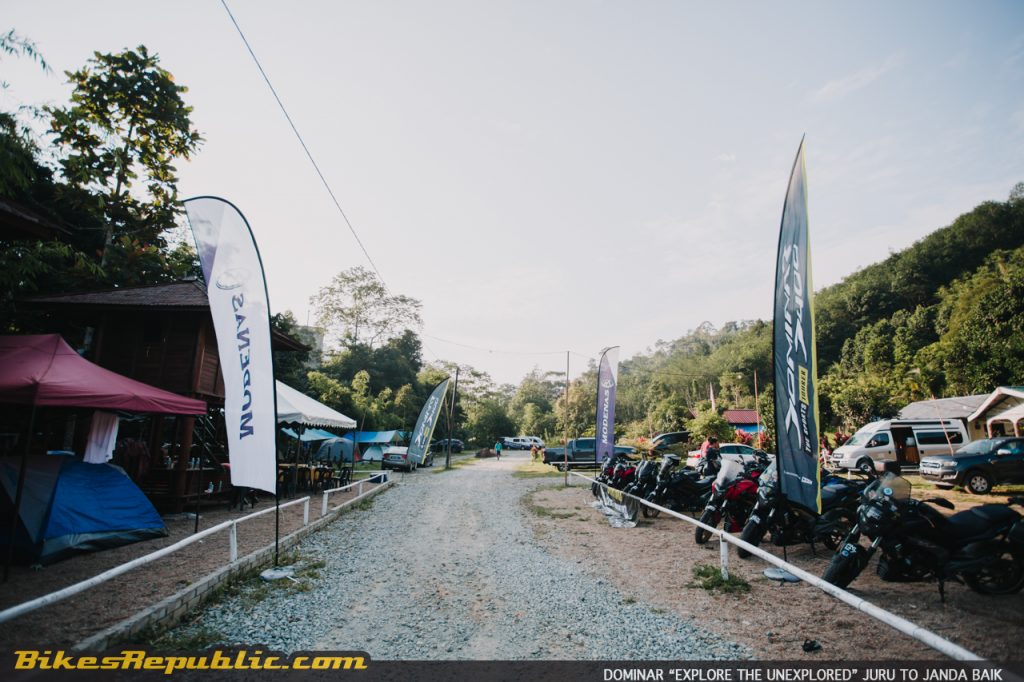 We went past Kampung Bukit Tinggi and straight up the arch that welcomed us to the Janda Baik area.
Everyone was relieved when he headed down the gravel trial to Dato' Capt. Nik Huzlan's Rimba Valley Motorcamp.
Camping Under the Sky
The Rimba Valley Motorcamp was set up by Dato' Capt. Nik. Capt. Nik (as he likes to be addressed) was a pilot who flew for 35 years in Malaysia Airlines and is a very well-known personality in motorcycling circles. He had owned some 70 motorcycles up until today. He still rides actively but he is very busy lately in preparing for this year's mega GIVI Rimba Raid.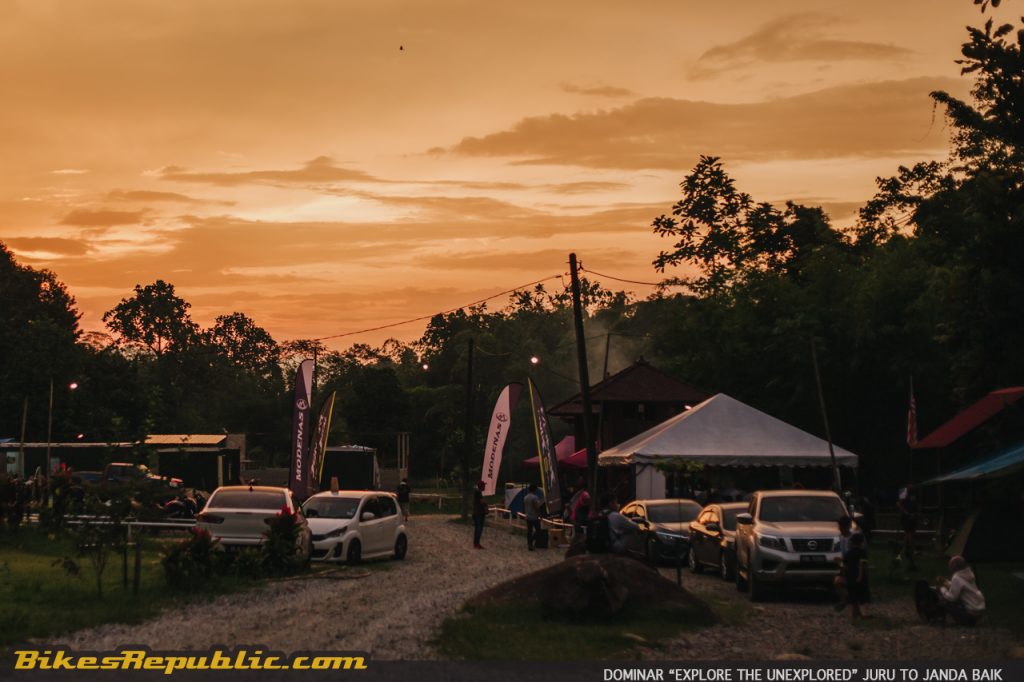 Taking place from 26th to 28th July 2019, GIVI Rimba Raid at Janda Baik has already attracted the full grid of 150 riders from 16 different countries.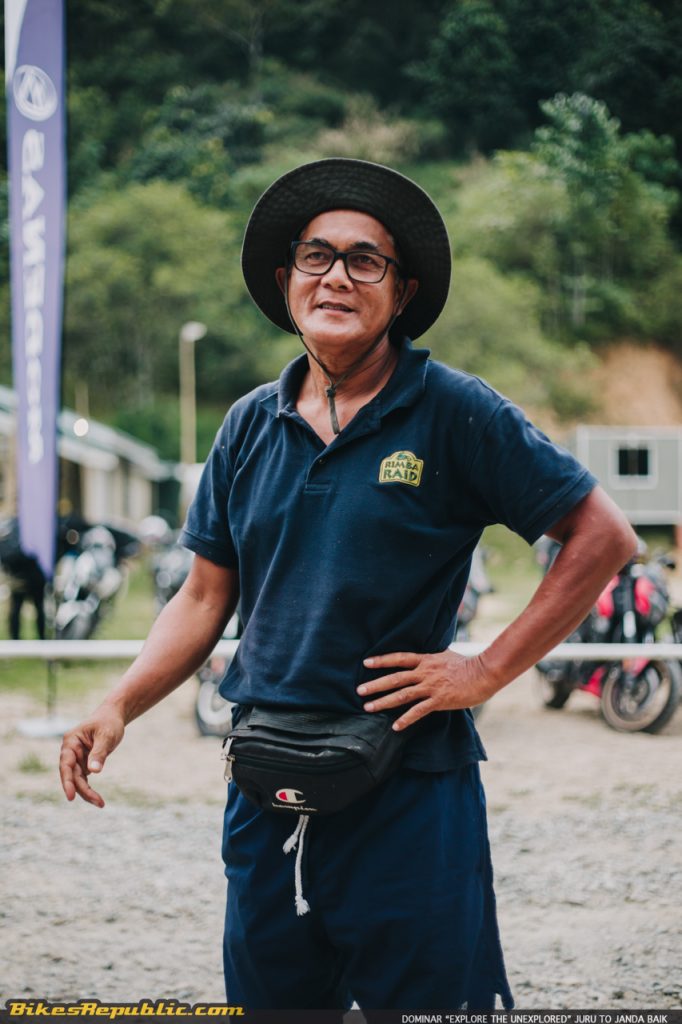 Anyway, the participants jumped into the clear and cool stream next to the camp ground almost as soon as they removed their riding gear. Most hadn't even checked in to their tents. Finger food and refreshments were already in place when we arrived.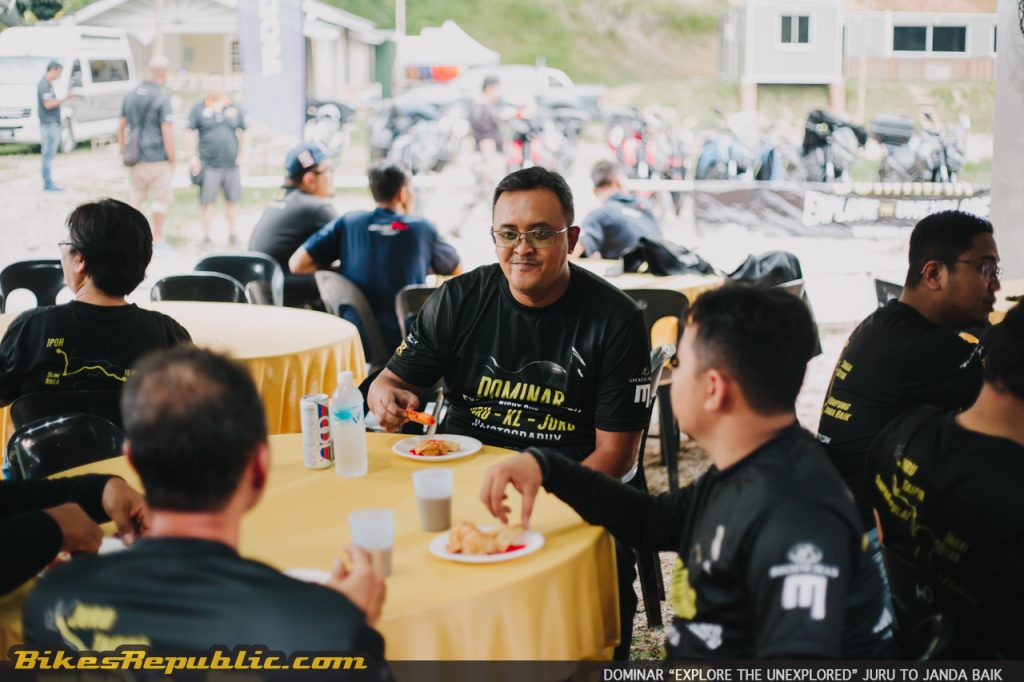 That evening, we were treated to a succulent and amazingly delicious BBQ lamb and chicken, plus other dishes.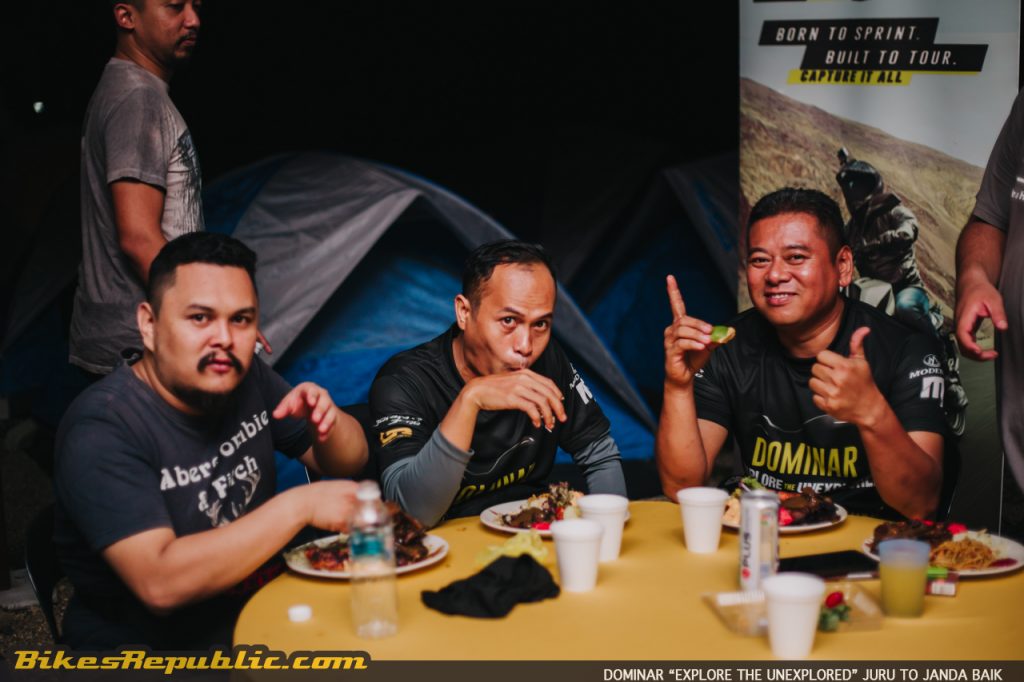 The valley floor is flanked by steep hill slopes on both sides, no doubt blocking out telco signals. This had a great effect on the riders as they ignored their smartphones and sat together to share stories, described their ride with swishing hand motions and poke fun at each other.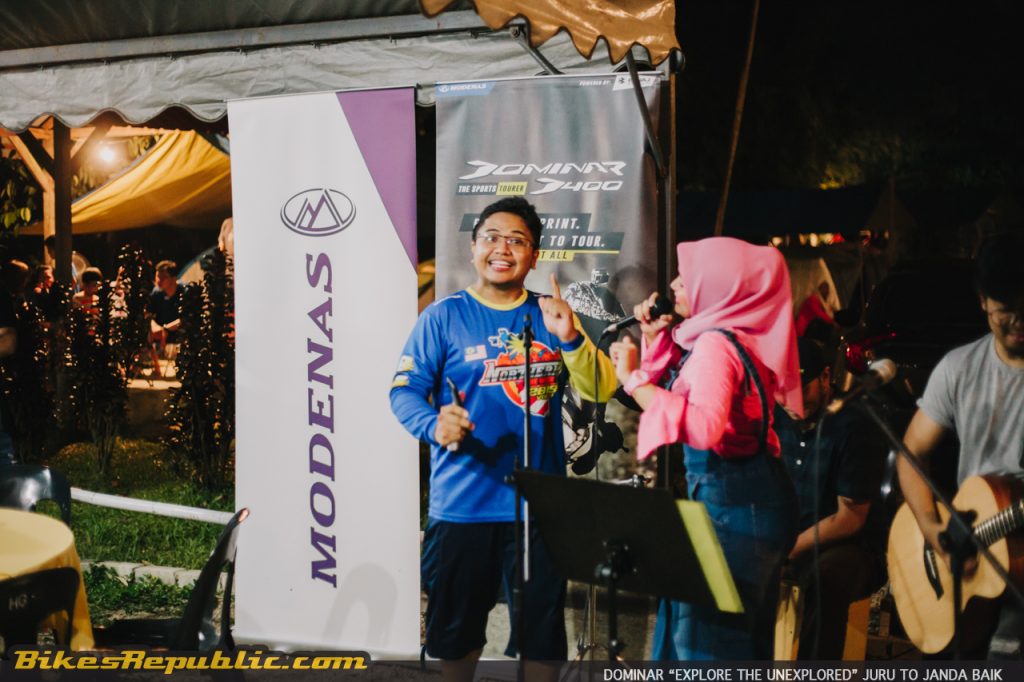 Baskers were called in to provide the evening's entertainment. The three-piece band did such a great job that other families camped their exited their tents to listen to the music.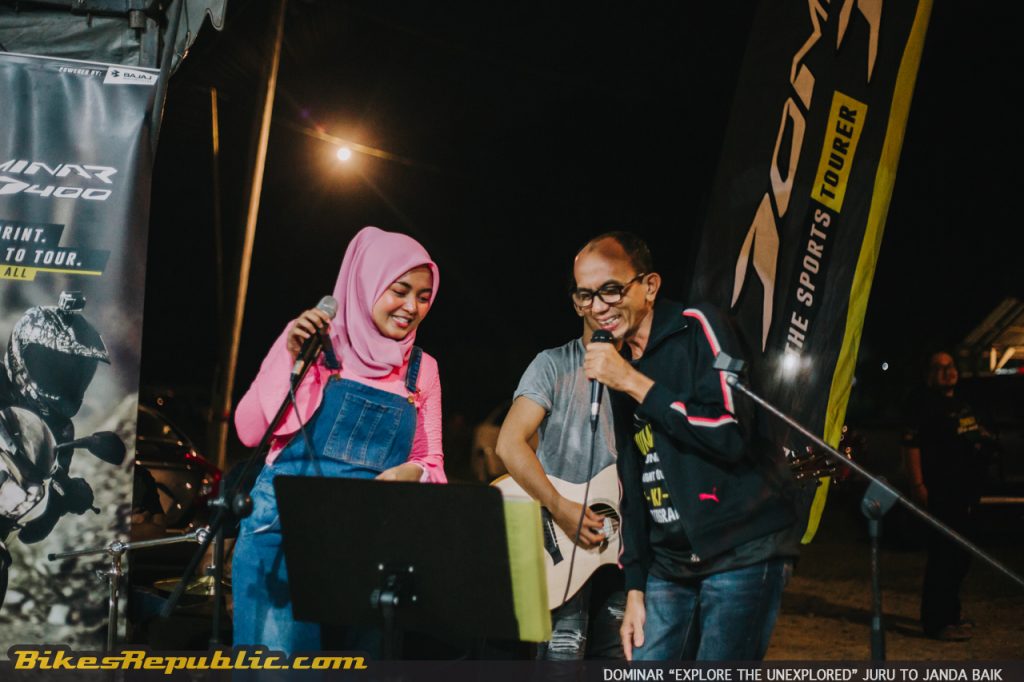 As the night wore on, we expected the riders to turn in early after the tiring 11-hour ride. Instead, many stayed up until almost 2am, chatting with their new found friends.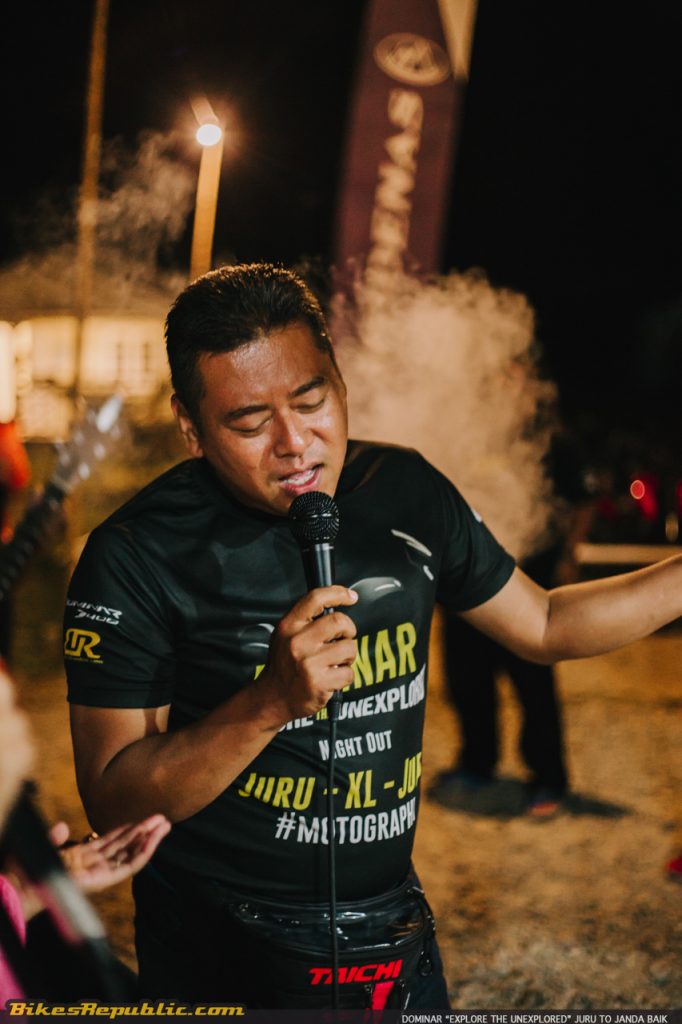 Day Two – The Activities
The day was planned for the usual ETU "slow ride contest." But when Capt. Nik suggested that the riders should experience riding in the area surrounding the camp, it was greeted with enthusiasm. No one said no.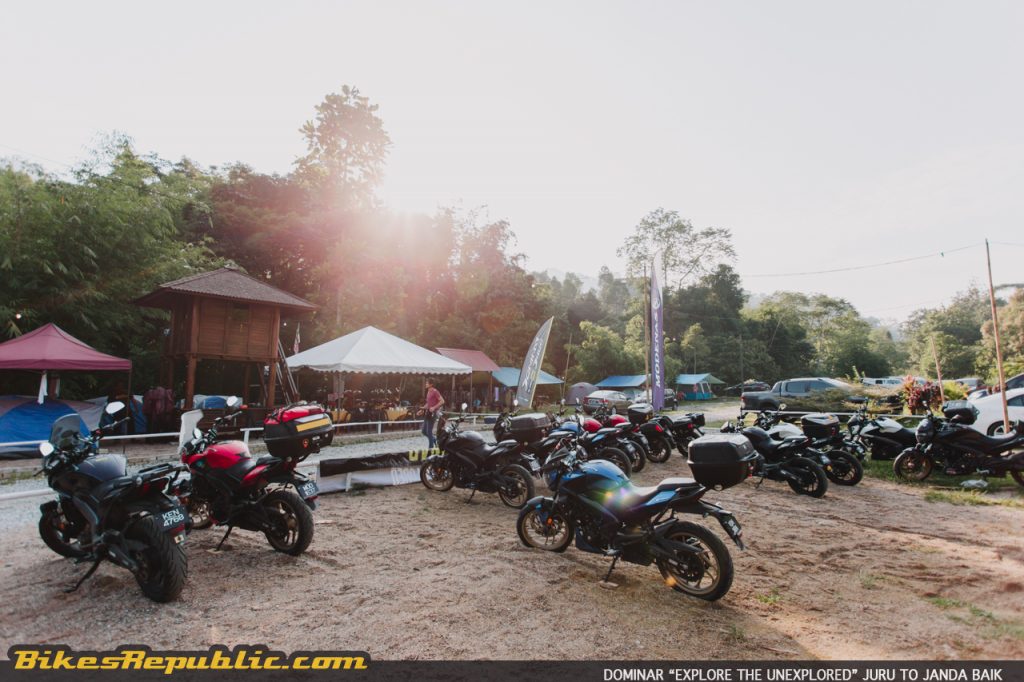 Capt. Nik escorted us to a stream crossing and briefed us on basic off-road riding techniques. One by one, we rode through the stream, giggling and laughing when emerged on the far bank without a single untoward episode.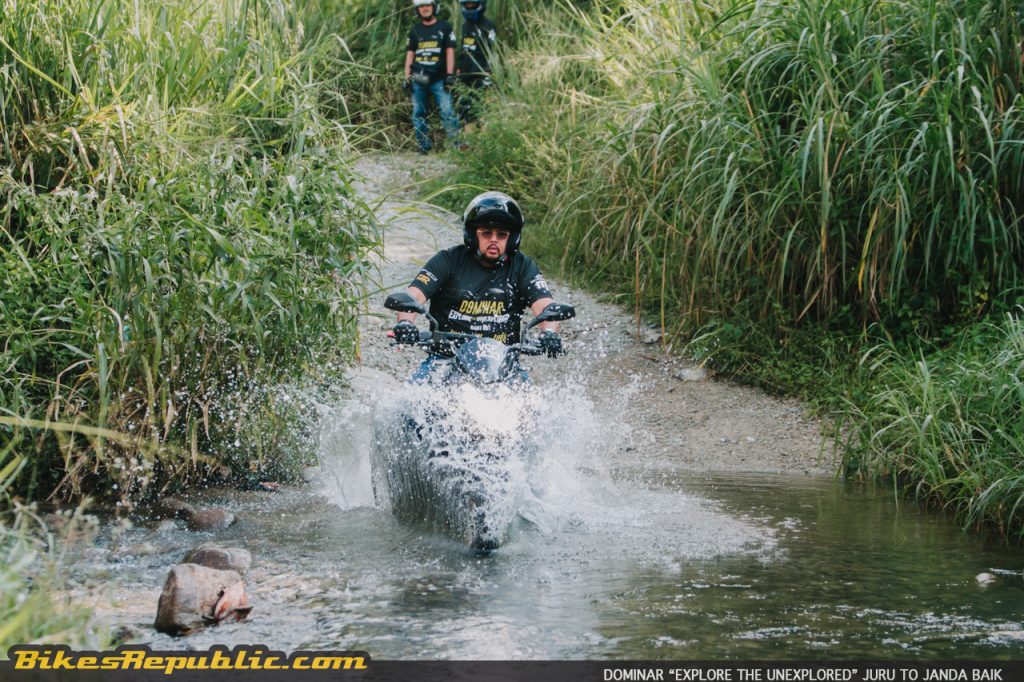 We pressed Capt. Nik for more and he acquiesced by taking up what he called the Level 2 Hill. Everyone made it through without a single crash or dropped bike.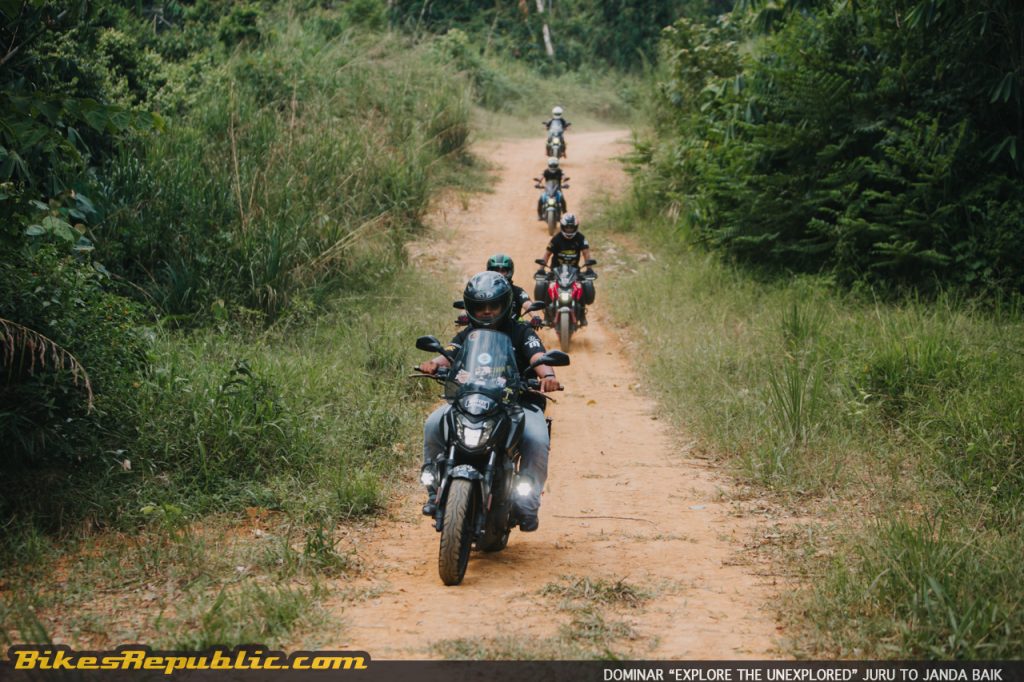 The Dominar 400 surprised even the owners themselves of its capabilities.
We headed back to the camp for lunch, before durians were brought to us.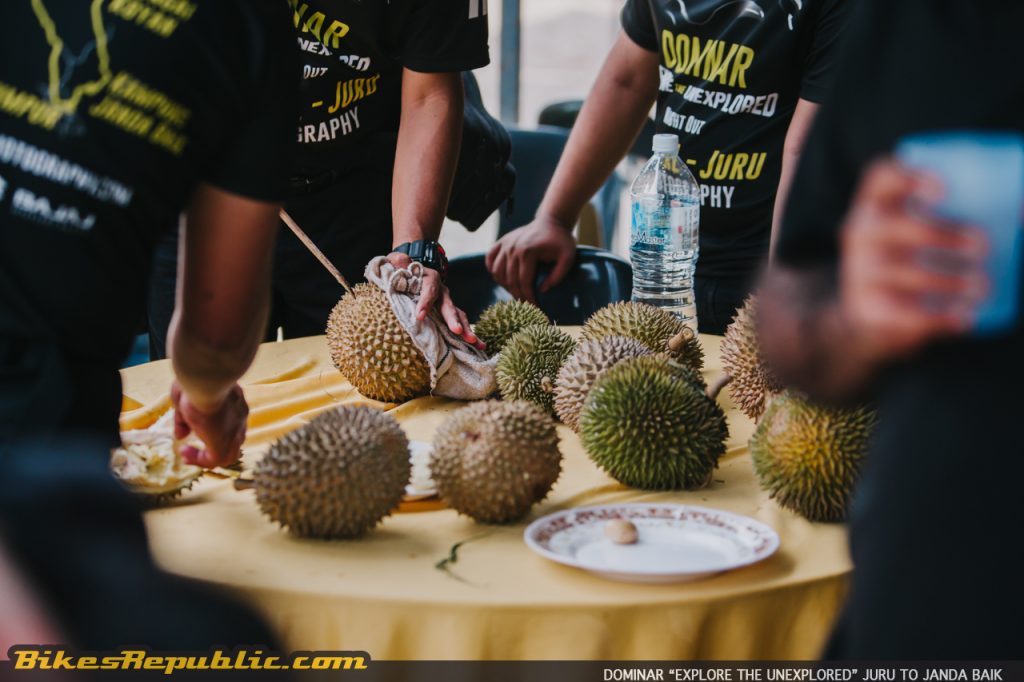 But all good things come to an end. We packed up with heavy hearts and hugged each other as we bid each other farewell and a safe ride home.
Everyone remarked that they enjoyed themselves immensely and it was the best ETU ride, ever. But one guy summed up this ride best: "This was definitely the best. We got to ride on the highway, go up a mountain, ride through corners and finally went off-roading. It's got everything!"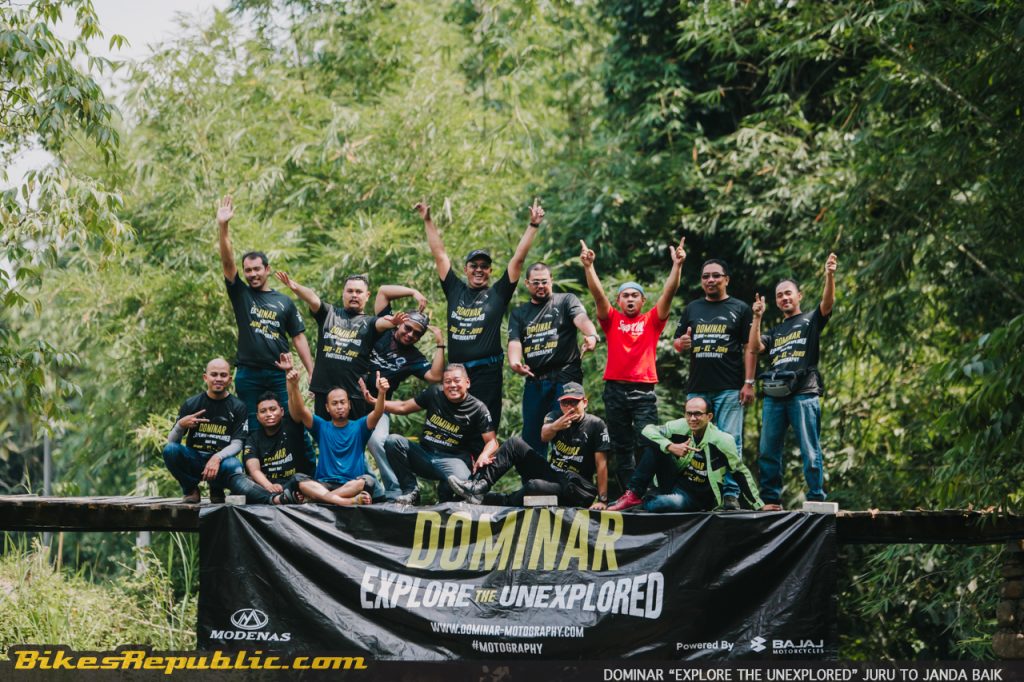 PICTURE GALLERY