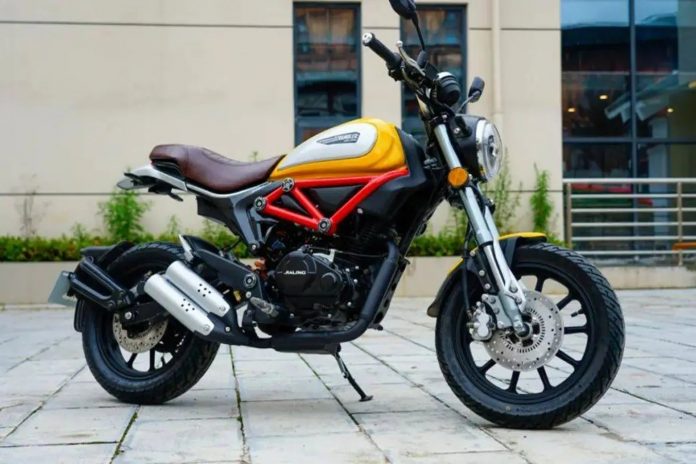 Ducati is probably the most instantly recognizable brand in the world, which is why the Italian company often becomes the point of reference and inspiration for two-wheel maker in China.
Jialing's CoCo Pony 150F is the latest bike to copy Ducati's Scrambler range.
the bike is powered by a 150cc engine and features dual-channel ABS. 
Chinese knock-off specialist, Moxio, recently made headlines after the company launched the new Moxiao 500RR by blatantly copies Ducati Panigale bodywork and design.
While the Panigale is probably the most copied model among the Ducati range, the Scrambler has had its fair share of the game as well.
Lifan made a Ducati Scrambler Icon lookalike dubbed the Lifan Hunter 125 back in 2020.
This time around, yet another Chinese motorcycle company thought it could get away with a copy version of the Ducati Scrambler, but with a miniature proportions.
The bike in question is Jialing's laetst CoCo Pony 150F. At a glance, the CoCo Pony 150F is clearly a blatant copy from the house of 'Land of Joy'.
Not only the bodywork, Jialing's also copied the Scrambler Ducati logo on the tanl.
However, the major difference is the CoCo Pony 150F is a mini-bike making it slightly more forgivable than Moxiao's attempt to imitate the Panigale machines.
That said, the Coco Pony 150F runs on a 150cc engine and feature 14-inch scooter wheels, fancy inverted front forks and preload-adjustable monoshock. To our surprise, it even gets a dual-channel ABS. That's pretty neat for a copy don't you think?
All things considered, we do think the CoCo Pony 150F would make a useful bike to stroll around the city.