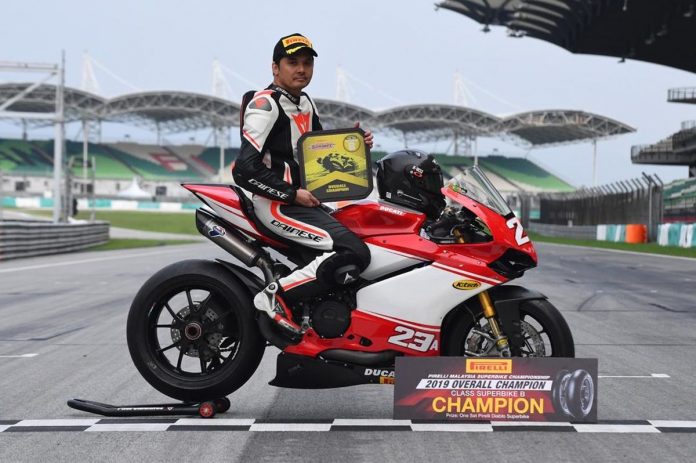 Some people are born to race and do it naturally. Others wait for the stars to come together to realise their calling. And that is what happened to race rider – Nik Hadi.
A stockbroker who heads a foreign investment bank in Malaysia, Nik is a man that has won the 2019 championship, multiple races, and yet says that he can never perfect the start of a race, Nik's calling came when he visited the Ducati showroom in Petaling Jaya with a friend who wanted to buy a bike. He walked out of there with a Ducati of his own, though he had never ridden a bike.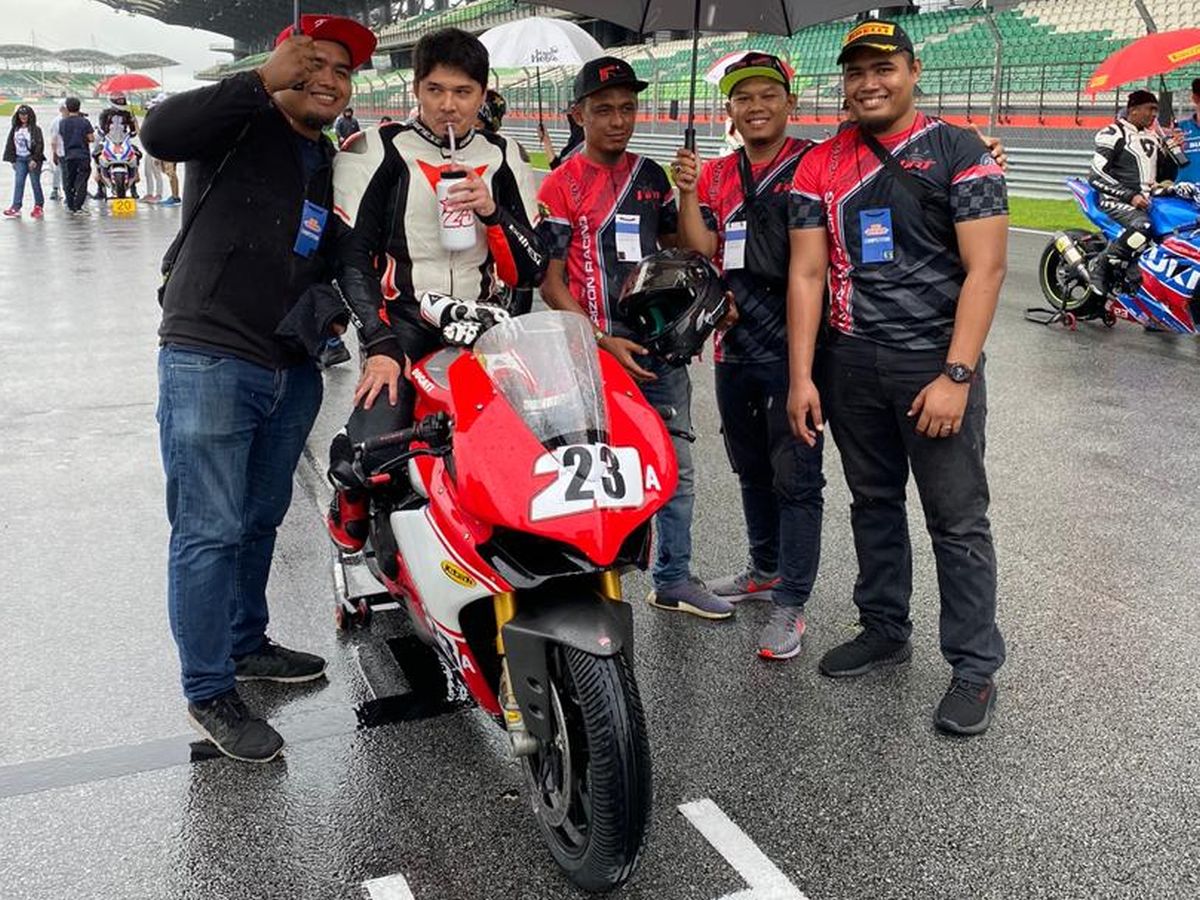 "Now looking back, I can't believe that I actually bought a Ducati 848 when I had no intentions to," says Nik.
"Then actually learning how to ride it in the compounds of the showroom with the sales guy as my teacher. And when the bike was eventually ready for delivery, I could not ride it back home because I had no license, so the guy who sold the bike to me, who later became a good friend, had to ride it back for me.
"And every night after that I used to ride the 848 around my neighbourhood. And I learned everything by myself, with a couple of minor mishaps along the way of course."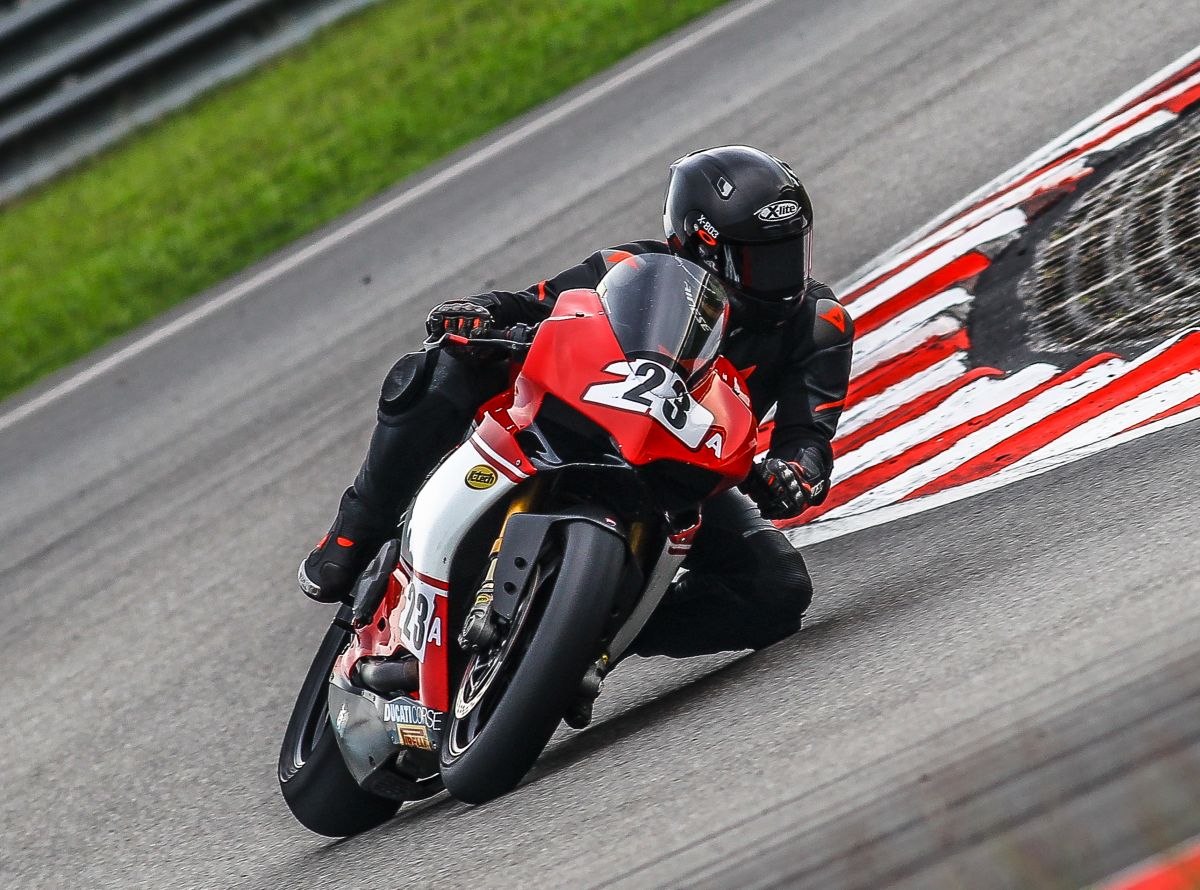 Nik is also quick to admit that his bike control wouldn't be as good as others who started riding at a much earlier age.
"I started with a superbike right away where else others would have started with smaller bikes and learned the ins and outs of a bike before eventually moving up to bigger bikes, giving them an advantage over me.
"I used to then attend track days after that with some friends, and from there got quite competitive. And we were chasing the faster racers because why not, and learned from there."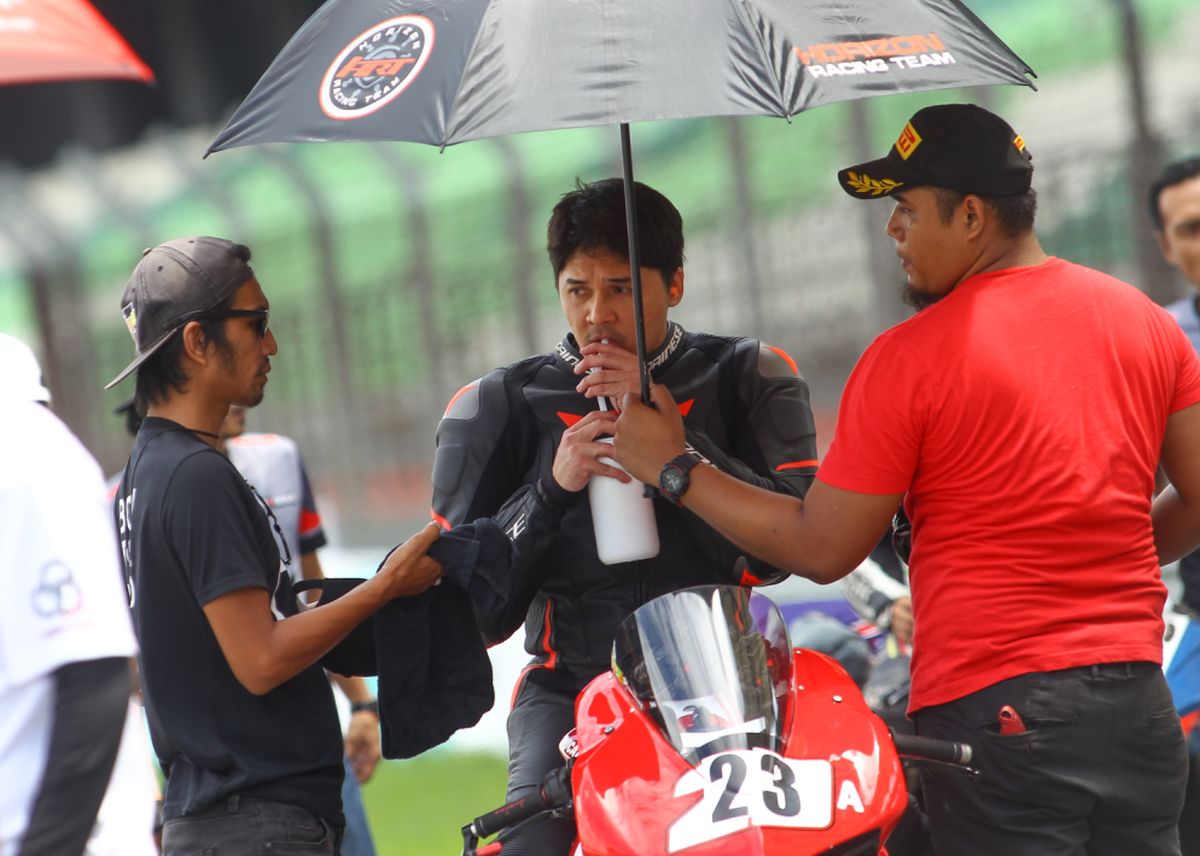 But before that, there were plenty of rides up Genting every weekend, and there were the usual long-distance rides to Penang and such on the 848. Not exactly the most comfortable bike to go touring with, but lots of fun anyway.
On the topic of competitive racing, Nik is quick to point out that he is a fan of the Ducati brand but acknowledges that it hasn't always been easy racing the iconic Italian brand.
"There aren't many privateers or teams that race Ducatis, I guess that comes from a cost and parts perspective. But's also not very competitive right out of the box, so you need to spend a lot more money to make it competitive. It is simply much easier to race the Japanese bikes than say a Ducati or a BMW.
"That was a challenge, so I did not go into the race to win, it was more of passion and interest and to challenge myself. I knew it was going to be difficult but I am a fan of the brand and wanted to challenge myself to get the bike to be competitive.
"And from a fitness perspective, that too was a challenge because I joined in 2018, and I was already 42 then and racing against much younger competition. They are like half my age. I was in it for passion more than anything else."
On how expensive it is to race and to acquire spare parts for an Italian bike that is racing competitively, Nik says, "Naza does carry quite a good parts inventory, in fact, I was surprised to learn that Naza has a lot of parts when I was trying to source some from overseas. So that was impressive. You do have to source some parts online if you need something quick though."
But Nik did not always race a Ducati though.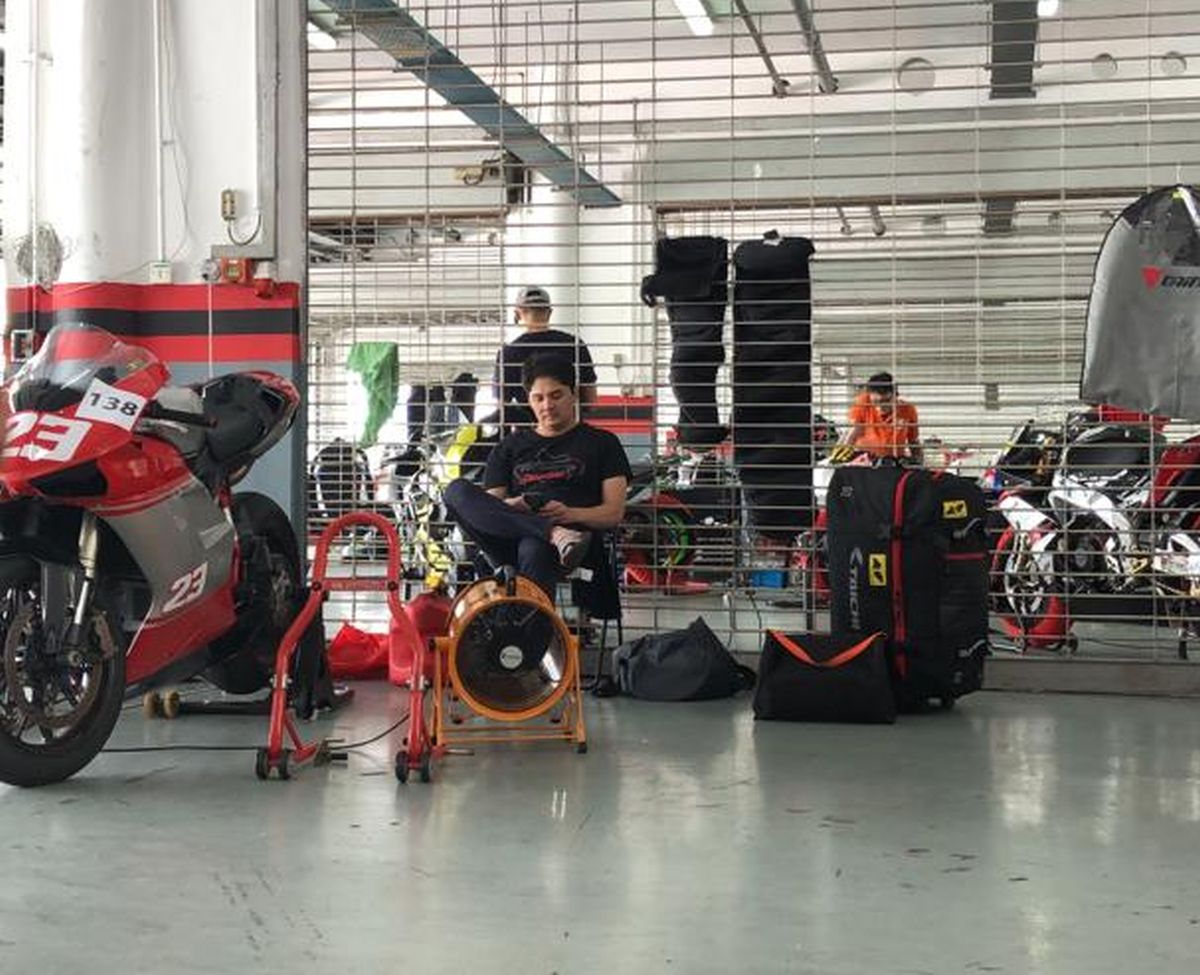 "For my first race, I actually competed with my friend's BMW S1000RR because my bike was not ready as yet. I ended up crashing that bike quite badly, it was nice but very different in character. But I also did not spend time to properly tune the bike to my liking, so it could have been different. But that was the only time I did not race a Ducati Panigale R."
When asked how different it was racing a BMW as compared to racing a Panigale, Nik went into the finer details – "The engine configuration is the main difference between the two bikes – the BMW is an inline-4 where else the Ducati is an L2. This naturally makes the BMW wider around the tank and hence feels bigger underneath you and makes cornering different. It is a high-revving engine so that means more high-end power.
"The Ducati is slimmer and the two have completely different cornering characteristics. The Panigale R has more low-end torque and hence feels more powerful out of a corner. But I always lose out on top-end power. In corners, specifically, turn 5 and 6 and 7 and 8, I gain an advantage because of the torque and cornering character, so there are pros and cons, I like to have a balance of both. The Panigale feels small, so it makes turning easy."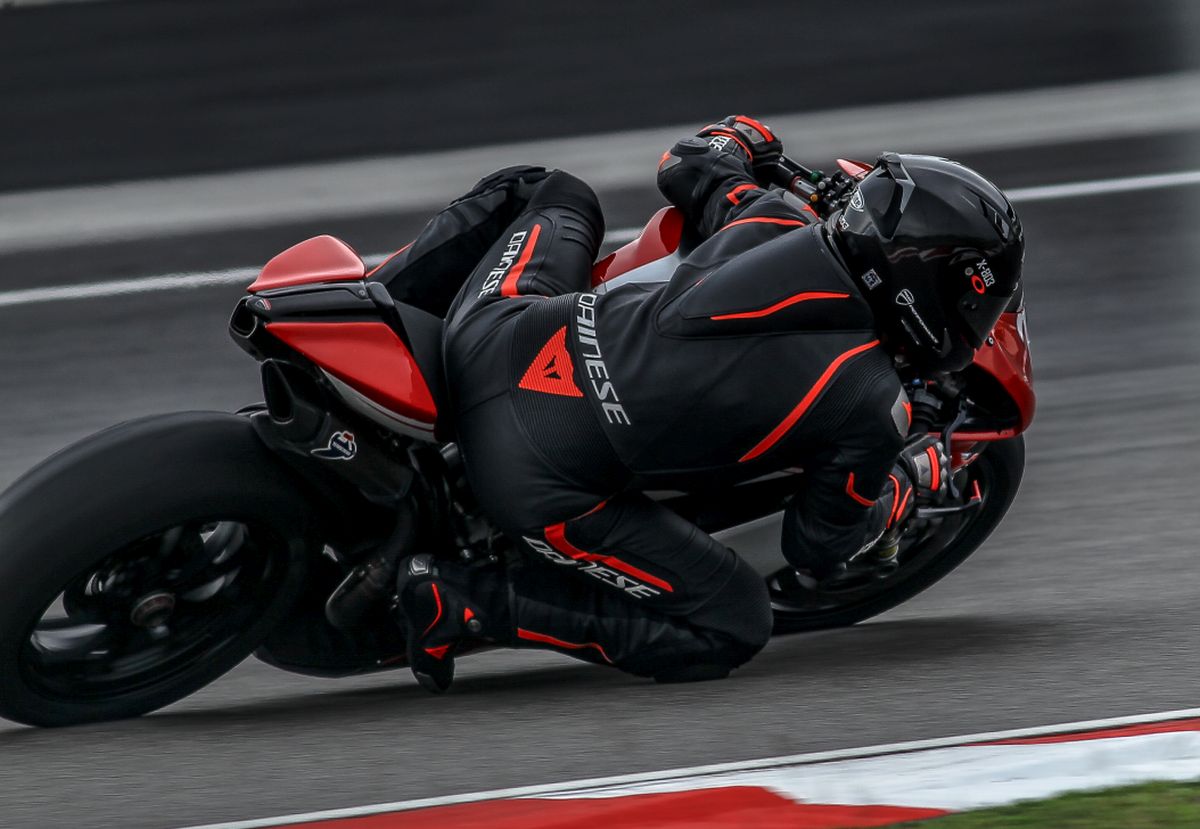 For his racing, Nik does not have any sponsors so he says he only spends on what is important. So we asked what is important to him, he explains, "So my bike is considered almost standard, I didn't touch the engine, just full exhaust and mapping. I spent on the chassis, mainly the suspension set up. I got the K-TEC set for that which I really love."
"So for the spending part I have limited resources so I prefer to spend on the handling part to make it really good, so whatever I can do to extract a bit more power, I worked on the radiator which I think is really important to cool the bike. So that and the full exhaust kit and the mapping. That is what I spent on which I think is necessary if you have limited funding."
"The challenge with the Ducati is that it is tricky to do up even if you have the funds to do it. Simply because there is no one in Malaysia to do up the bike. You can rebuild the engine but who's going to do that for you? That's the challenge in Malaysia."
In a set of questions sent to Nik via email, he mentioned that he was always a slow starter. We thought it odd that the 2019 MSBK Champion was a slow starter, so prodded him to explain how he makes up for the lost ground after a slow start.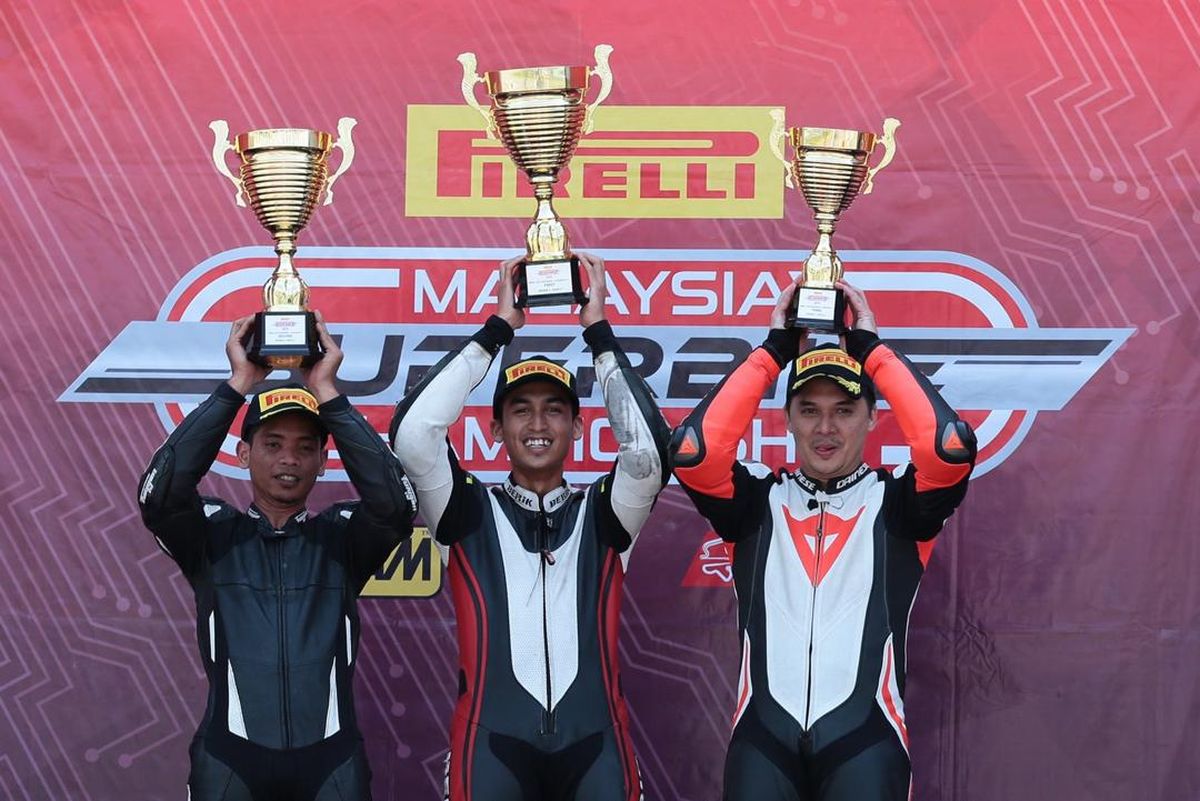 "In all honesty, I stalled the bike at the race start a few times, and since then I have been careful. I will normally qualify in the middle somewhere, usually 7th or 8th place. But at the start of the race, I end up being last or second last. I then have to do a lot of hard work to get back up again. That is my main weakness, but I think it is all in my mind and I know I have to work on it.
"My bike doesn't have launch control which other bikes have, and I have stalled a few times now. It makes me even nervous. But I then become more aggressive."
But if there is not much in terms of funding, and a rider is still able to become a champion despite consistently qualifying mid-field, we think that if there is any indication of raw talent, Nik is one talented racer.
But racing is not the only two-wheeled fun he has.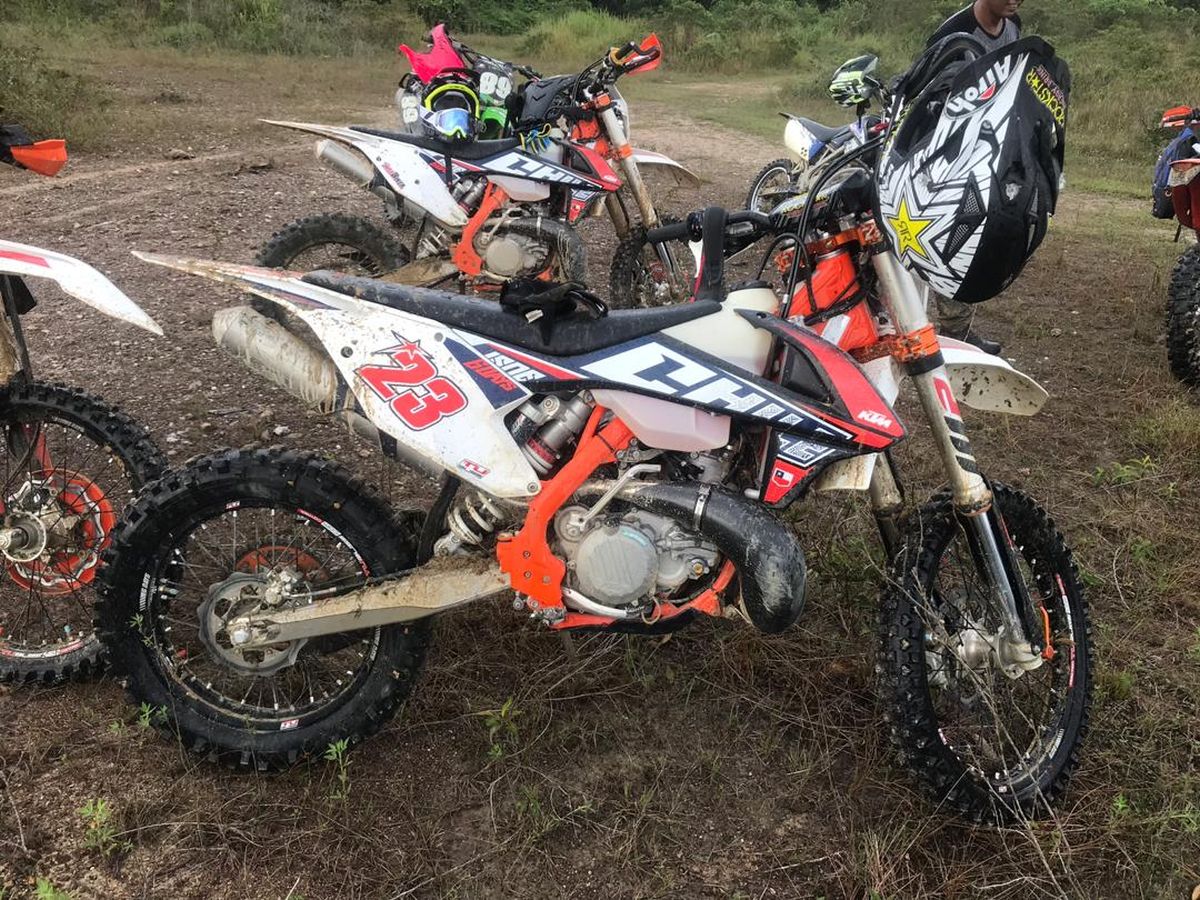 "It's my passion so I do a lot of things with two-wheels, enduro riding being one of them. So I go trail riding with friends, fast trails and technical trails though I prefer fast trails. I do mountain biking as well, and sometimes road cycling as well. I do it more for fitness and it helps me keep sharp in terms of bike control."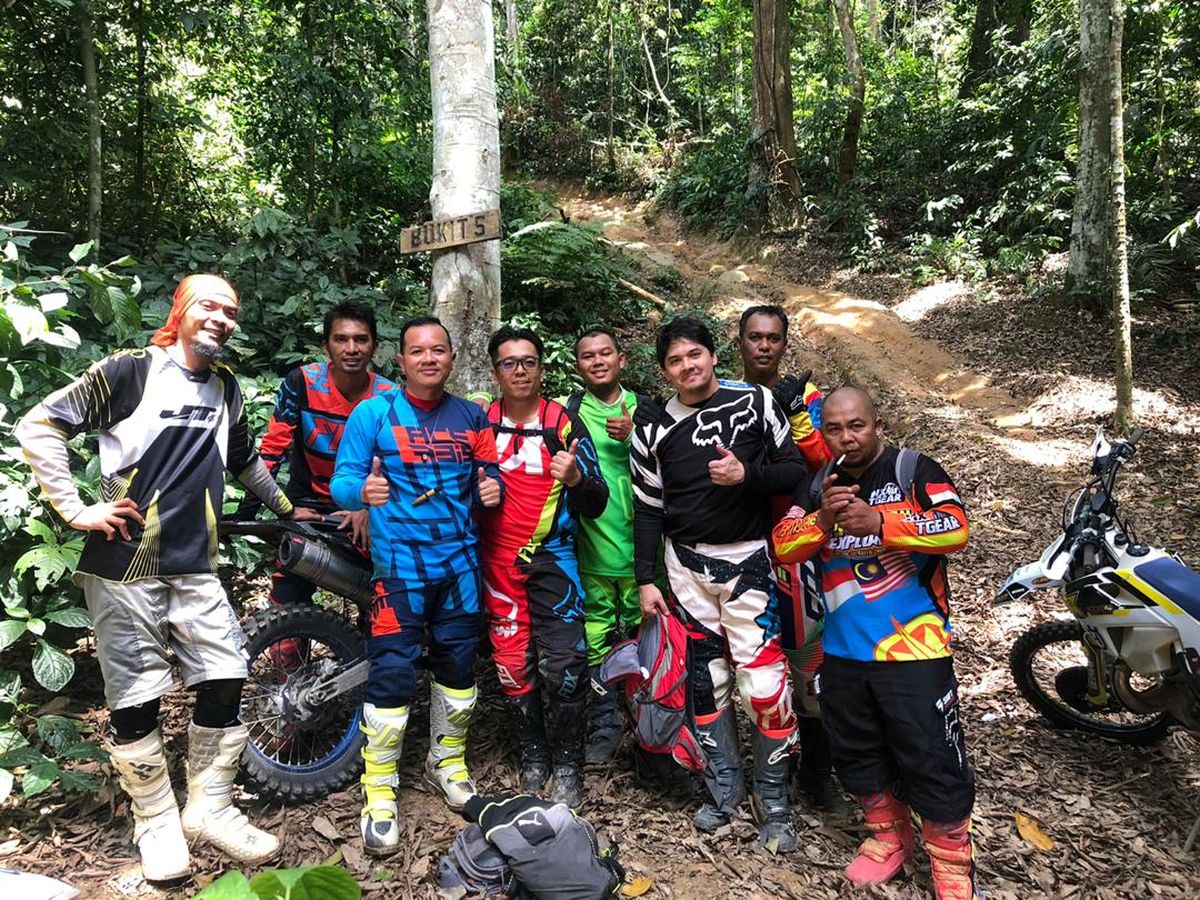 The worst memory Nik has had is a crash at turn 3 at Sepang circuit, a high-speed high side.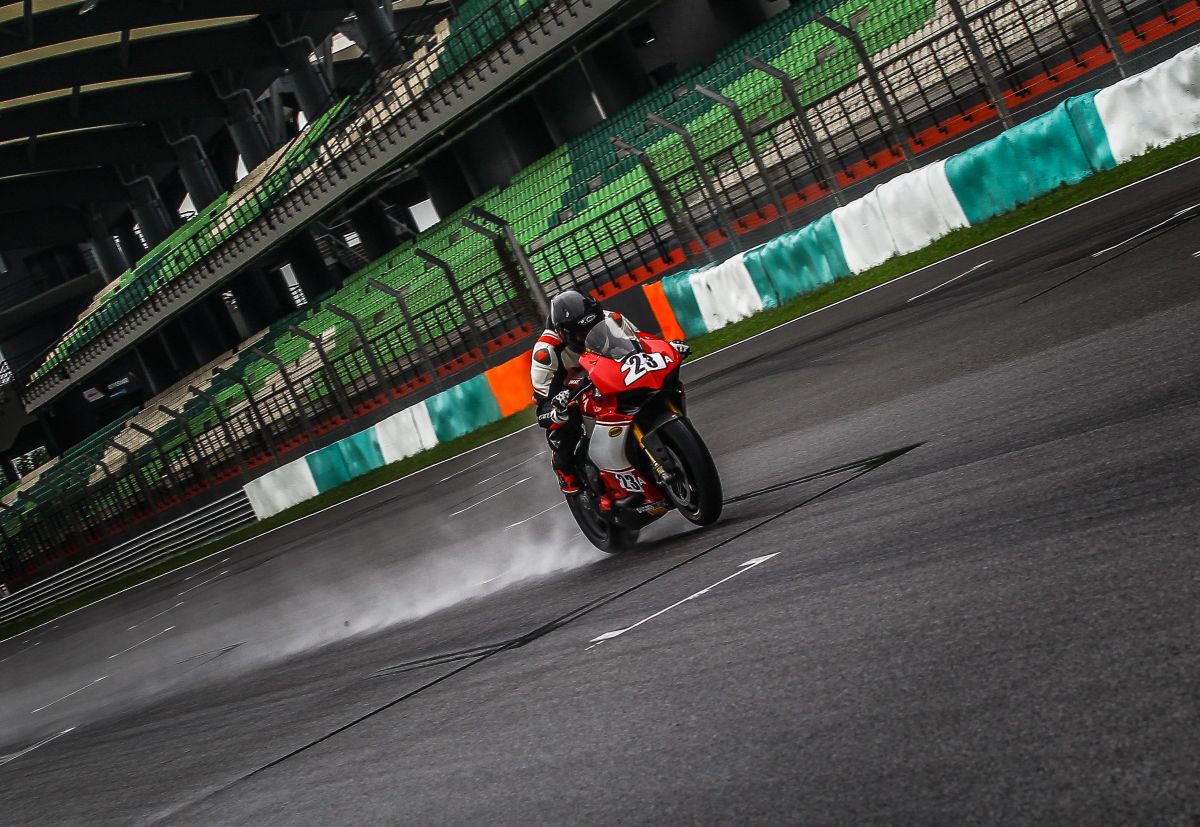 "It was a very wet race and I was doing about 180km/h at Turn 3. It was my first ever race and I was on my friends BMW and I did not have any experience. The bike was not set up for rain though I had rain tyres on. We did not change the setting so the bike was at its most aggressive setup. We also did not have a pit board, which I regret because my team could have communicated with me to slow down because I was already leading my group by quite a gap with just 3 laps to go.
"In fact, I was already overtaking riders in the faster categories, so I was going really fast. I was doing timing that I was quite proud of especially for a first-timer. So with 3 laps to go, I overtook another rider but he was from the faster group. I guess he was shocked that someone overtook him so he rode more aggressively to overtake me. And I did not know that he was from a different group, so I rode faster than I should even though I did not need to. And that's when the accident happened because I was more aggressive on the throttle and the bike was set up for a dry race with maximum power.
"I remember jumping off the seat and banging my head on the windscreen then nothing. I woke up at the medical centre then lost consciousness again, and woke up in the ambulance heading to the Putrajaya Medical Centre."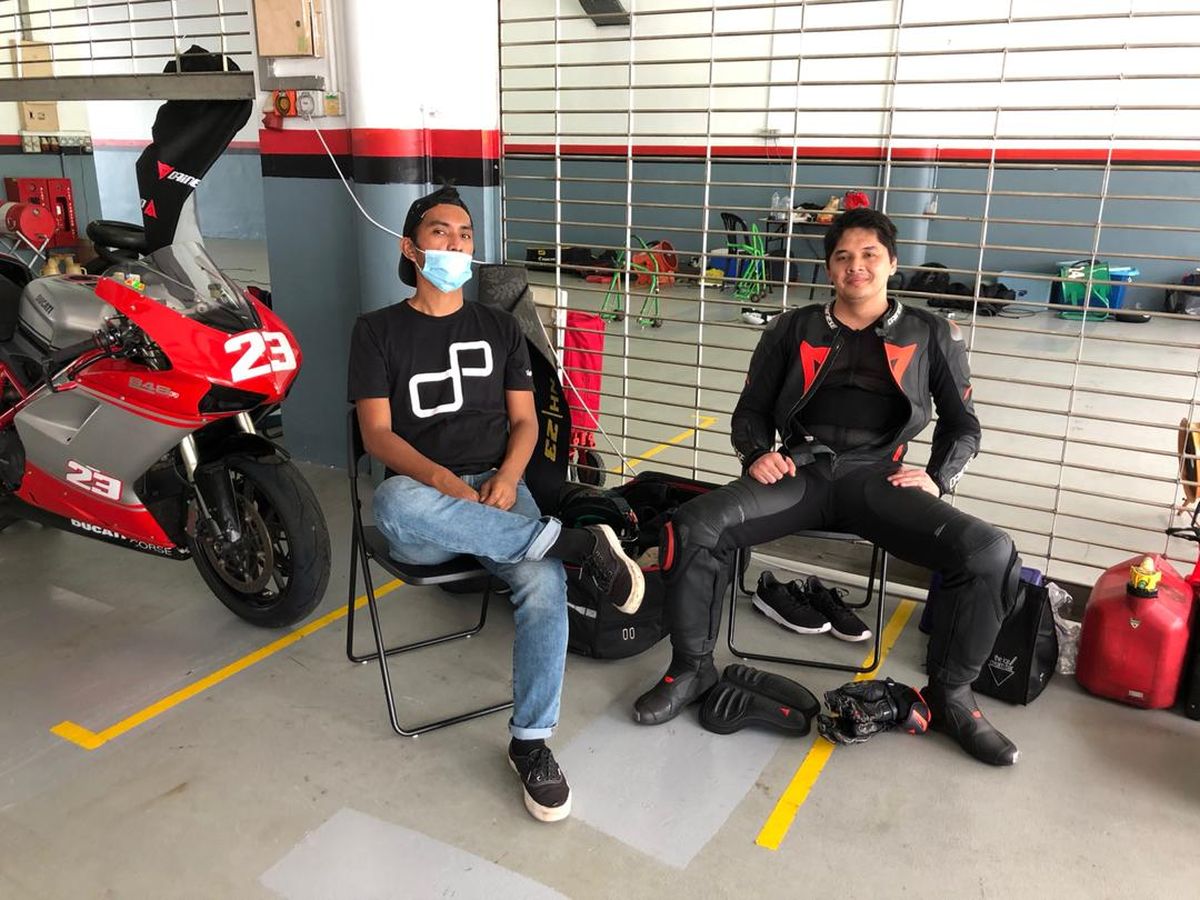 So why is he not racing a BMW if the bike gave him that much confidence especially in the wet?
"It's not so much of wanting to win per-say, it is more about passion for me. Passion for the brand. Maybe if I would have spent more time on the BMW, I would have continued with it, but it is more about passion for me."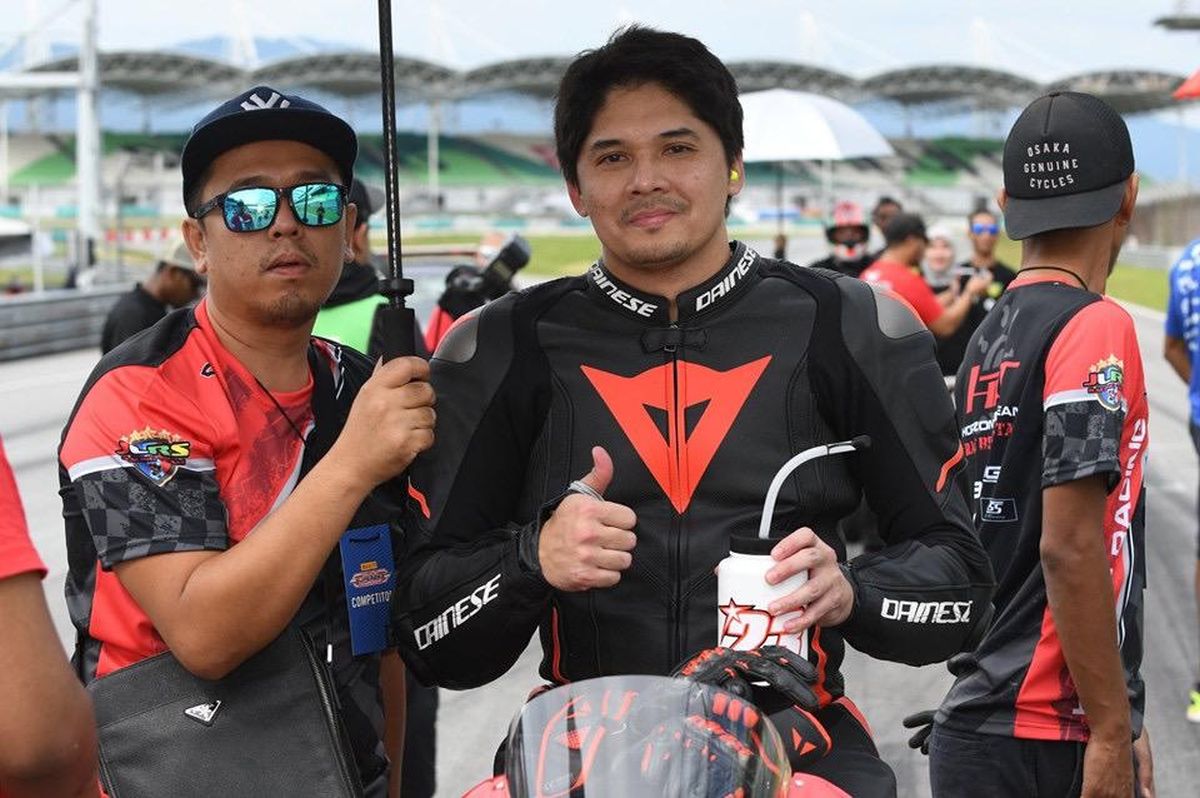 Nik's wish list:
1. Our beloved country getting back on the right track.
2. Rossi winning another championship.
3. Riding with my son.
Any advice for upcoming racers?
Always practice and have lots of patience.
Any advice for competitors?
Be kind to your veteran competitor.
Nik would like to extend a special thanks to:
SBK Motorsports
Bike Art
Chia Motor PJ (Ktech)
Horizon Racing Team
PT Jatt
Know anyone who is an Interesting Biker? Email us at info@bikesrepublic.com and we will be happy to feature him or her.