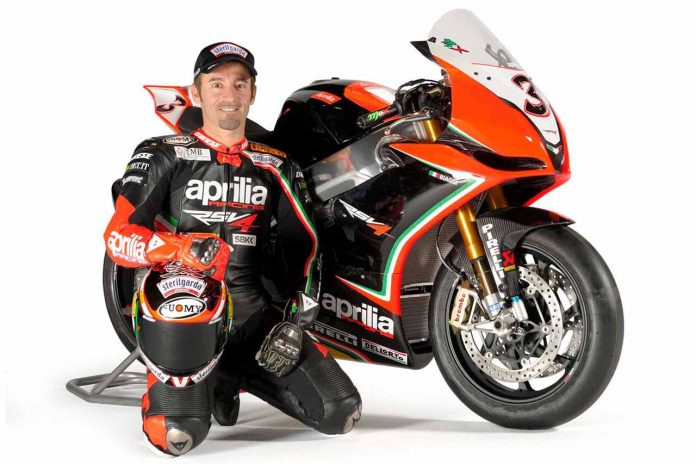 Max Biaggi had won five of his six world titles his with Aprilia.

Also known as "The Roman Emperor" he was the one who first made the brand famous, more than any other rider.

It is natural for the Italian manufacturer to appoint him as the Global Ambassador.
Six-time World Champion, Max Biaggi has been appointed as the global ambassador for Aprilia.
Popularly called "The Roman Emperor," he has had much experience in working with the Italian brand, from the beginning of his 250cc GP career in 1991 and won five of his six titles in 250cc GP and World Superbike on Aprilias. In fact, it was Biaggi's exploits that launched the Aprilia name to the masses, way before Valentino Rossi.
Indeed, he was among the riders who helped develop the Aprilia RSV250 to a winning bike and by taking the 1994 title with 5 wins.
He stayed with the Chesterfield Aprilia team and winning the world title again for the next two years, by winning 8 races in 1995 and 9 races in 1996, before hopping to another team in 1997.
Biaggi moved up to the 500cc class in 1998 and campaigned in the premier category on Hondas and Yamahas until his retirement in 2005.
2007 saw him contracted to the Alstare Suzuki World Superbike (WSBK) team, riding the Suzuki GSX-R1000. He finished third overall at the end of the year.
Biaggi then changed camp to the Sterilgarda Go Eleven team to ride the Ducati 1098 RS for the following year. Finishing 7th, he had a famous falling out with the team.
Aprilia picked up the ball in 2009 when both parties reunited. Biaggi now had a new weapon, the Aprilia RSV4. It was a year of learning and the rider steered the bike to 4th overall at the end of the season.
In 2010, the factory Aprilia team became known as the Aprilia Alitalia team and Biaggi scored his 5th world title by dominating the series with a total of 10 wins.
2011 was an unlucky year for him when he was sidelined by a broken leg, but still finished 3rd overall. Biaggi came back strong in 2012 to wrap up the WSBK title in an ultra-competitive season, finishing just ½-point in front of Tom Sykes.
Will we get to see The Roman Emperor at Aprilia Malaysia anytime soon given the large number of his fans here? How about during the Malaysian MotoGP?