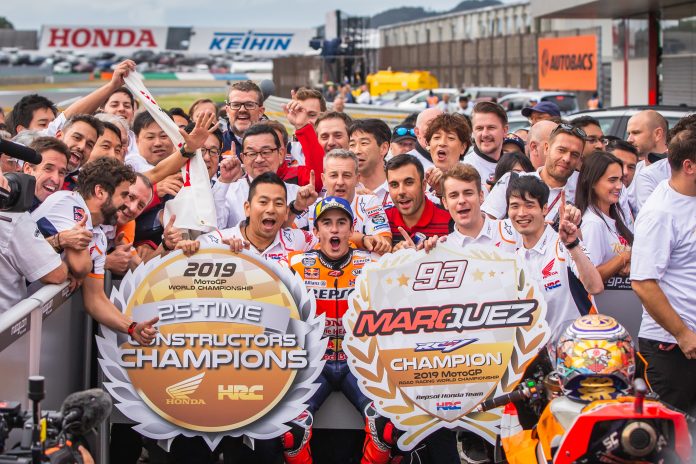 Marc Marquez won the Japanese MotoGP to give Honda their 25th Constructor's Championship Title.

It's a record far ahead of their rivals.

Honda won 307 races since 1966 to the present day.
Marc Marquez added another victory to his amazing 2019 season. But in doing so, Honda sealed the 2019 Constructor's Championship. It was also Honda's 25th Constructor's World title in the premier class.
The title could not have come at a better venue. The Motegi Circuit is owned by Honda and is used as a test track to develop their bikes.
It was a day of breaking records of sorts for both rider and manufacturer. Having won 25 constructor's world titles is an unprecedented record. But even more remarkable was that 20 of those were won back-to-back with the riders' titles.
Since the RC181 in 1966 to the current RC213V, Honda grand prix machines have won a total of 307 races . It's even more extraordinary when you consider that Honda left GP racing in 1969 and only came back in 1979. If we break that down, the win Japan was the RC213V's seventh title, and the twelfth since GP became four-strokes and change the name to MotoGP. Additionally, it was the NSR500 that conquered the tracks between 1984 and through to 2001 with 11 titles.
That means Honda won 58.5 percent of the constructor's championship since their return in 1979.
In contrast to Honda's achievements, MV Agusta holds 16 championships while Yamaha has 14.
Source: Boon SIew Honda Press Relase