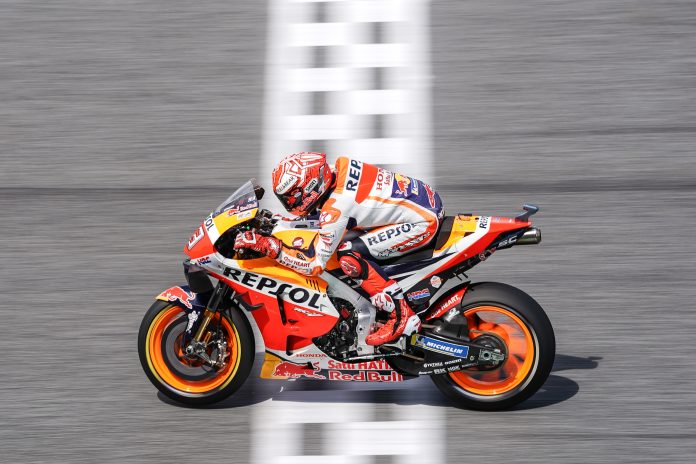 Marc Marquez won the MotoGP title for 2019.

He had won 8 races, finished 2nd four times and retired only once, so far.

It was his 8th world championship in total, 6th in the MotoGP class and the 4th consecutive.
You'd probably heard by now that Marc Marquez defends his title and is the 2019 MotoGP champion. But to put it in perspective, it was his 8th total world championship title, 6 in total in MotoGP and 4th consecutive in MotoGP. He is also the youngest champion to attain those records.
Marquez wrapped up his amazing season in Round 15 at the Buriram International Circuit in Thailand yesterday. He had trailed Fabio Quartararo from the start before making his move on the last lap. Quatararo retook his lead very briefly in the last corner but was overtaken by Marquez.
It was a fitting finish for the champion on his trusty Honda RC213V. Apart for just one retirement in Austin, Texas, the pairing won eight races and finished second in the other four. The are four rounds remaining to the season.
The victory is also a special occasion for Honda as they celebrate the 60th anniversary of Honda Racing.
Marquez had won the title during his first year (2013) in the premier class, making him one of only a handful to have carried such a feat. That win also cemented his place in history as the youngest MotoGP champion.
He went on the rampage in the following year by winning the first 10 rounds consecutively, and ending the year with 13 wins and MotoGP title No. 2.
Marquez would miss out the 2015 championship, but bounced back in 2016 and never looked back since, scoring MotoGP titles No. 3, 4, 5, and 6 yesterday.
Along the way, Marquez and Repsol Honda posted 61 pole positions and won 53 times.
"It is a great feeling to be World Champion with Honda again. 2019 has been one of my most consistent seasons. We fought hard when we had to and all of the team and Honda have done such an incredible job to bring us to this level. Celebrating Honda Racing's 60th anniversary with the MotoGP title it a great honor and I am pleased I could do this for Honda. I want to thank everyone who has been involved in this season and the fans who always support us," said Marc Marquez.
Yoshishige Nomura, Honda Racing Corporation (HRC) President commended Marquez on his magnificent achievement. "Marc did a magnificent job once again to win his sixth MotoGP title on Honda's 60th anniversary of World Grand Prix racing. I wholeheartedly salute his dauntless riding that mesmerizes his fans, supported by his persistent training and mature attitude towards racing. I'm grateful for all the support in winning the championship he had from the team staff, the many sponsors who support our racing activities, and MotoGP fans worldwide."
Source: Boon Siew Honda Press Release