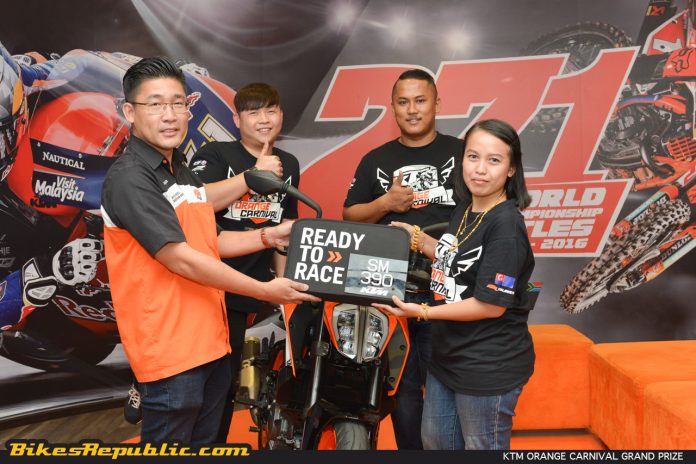 The KTM Malaysia Orange Carnival held last month drew in a huge crowd.

A lucky draw was among the many activities held that day.

The lucky winner had picked up her Grand Prize, a 390 Duke at KTM Malaysia's Lifestyle Showroom.
The recent KTM Malaysia Orange Carnival held on 28th July 2018 was a great success, despite overlapping with many other motorcycle events in West Malaysia.
The one-day event organized at the Universiti Teknologi Malaysia (UTM), Johor Bahru, attracted thousands of attendees consisting of KTM owners, bikers of every brand and families.
Activities included test rides of KTM's latest motorcycles, a Fun-Hana competition, service campaign, stunt shows, promotions and lucky draw. Besides those, the 2018 200 Duke Evo S was also launched during the carnival.
KTM Malaysia Launches 2018 KTM 200 Duke at KTM Orange Carnival
As for the lucky draw, KTM Malaysia offered a brand new KTM 390 Duke as the grand prize. This new model boasts the most powerful engine as well as being the best equipped in the sub-400cc category with a 5" TFT screen, WP upside-down forks and shock, radially-mounted 4-piston caliper.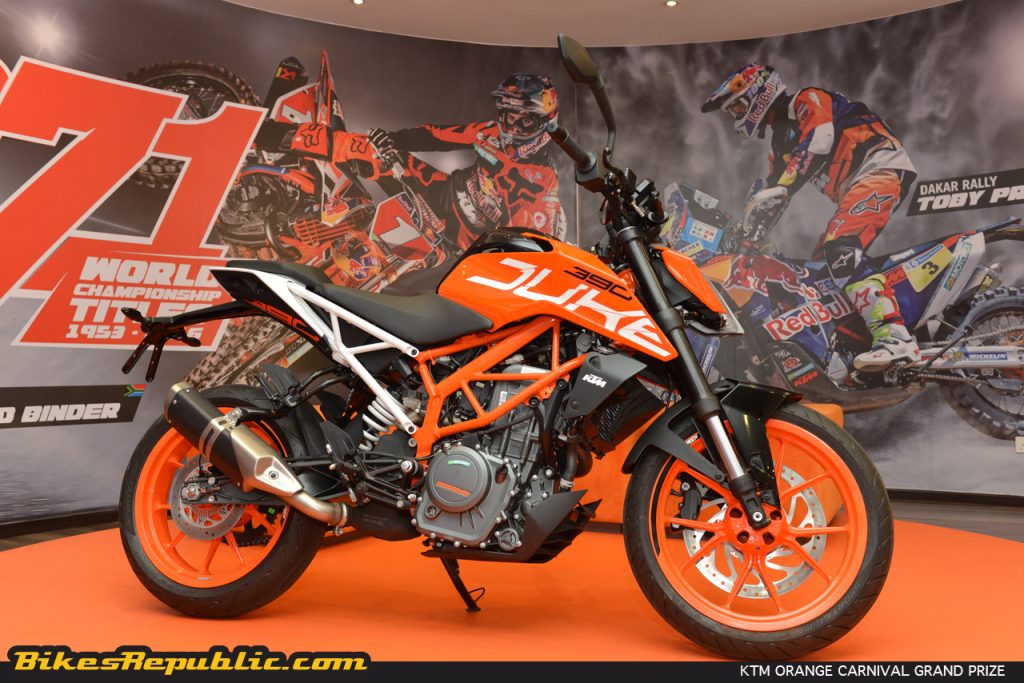 The lucky winner was picked out during the carnival and the prize was handed over on 10th August 2018 at KTM Malaysia's Lifestyle Centre in Kota Damansara.
Winner, Ms. Hayatun Nufus Binti Hoddri was present with her husband, Mr. Mohd. Firdaus Bin Ithnin.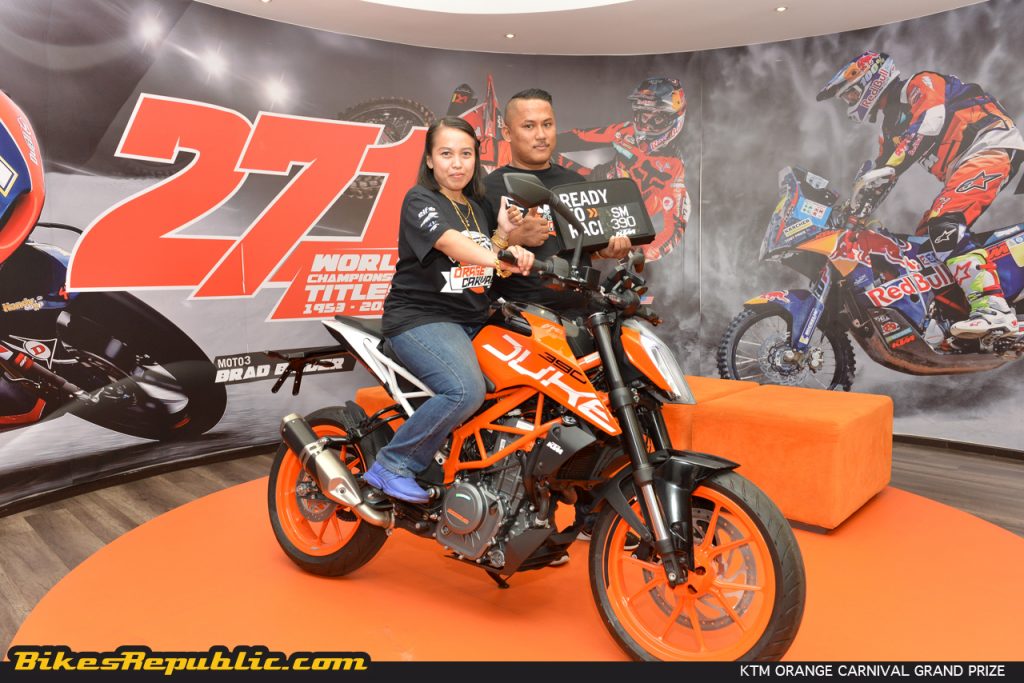 "I couldn't be happier, Alhamdulillah," beams Hayatun, "I had just followed my husband to the Orange Carnival to look see, as he wanted to test out the new bikes and never expected to win the Grand Prize!"
Mohd. Firdaus reflected his wife's joy, "It was the same for me. I still couldn't believe it. I went to the carnival because I've always wanted to test the 1290 Super Duke R. I prefer naked motorcycles, KTM's in particular, over the Yamaha YZF-R1 that I currently own."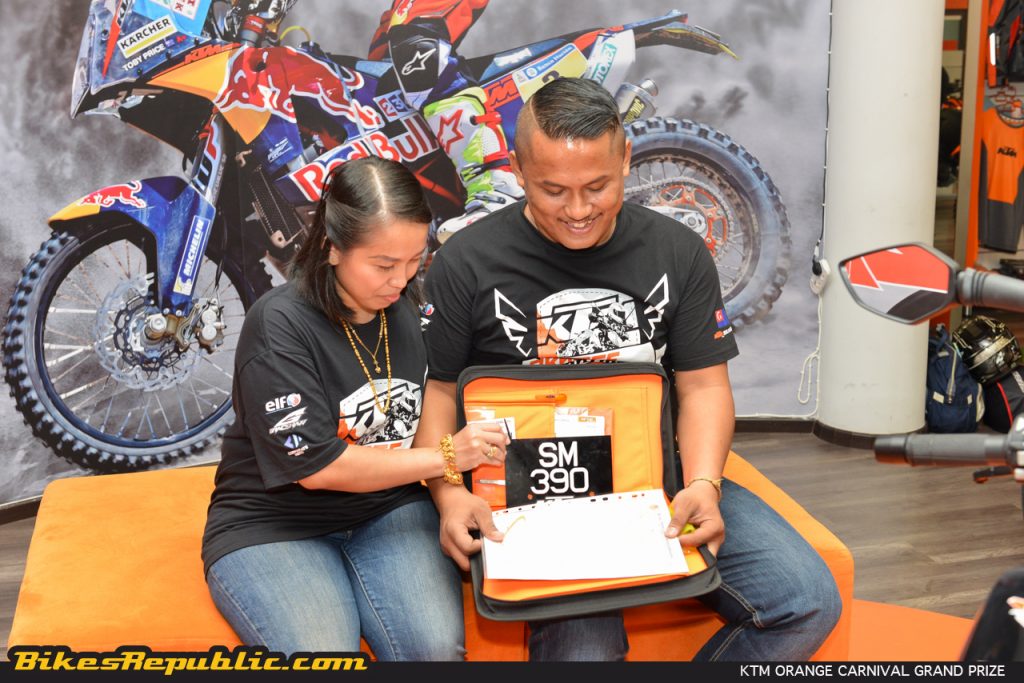 Will Hayatun be an addition to KTM Malaysia's Dukers community? "Although we've travelled to many places on our current motorcycle, I can't ride," she admitted, "Although, I would love to learn to do so in the future, with my husband's permission."
The couple rode the new bike all the way back to Johor Bahru after the handover ceremony.
The Orange Carnival is slated to be held throughout the country, so stay tuned for the  next date!