Many motorcycle GP fans no doubt remembers Kevin Schwantz.

The #34 from Texas was always the favourite rider for his do-or-die attitude.

Schwantz is already in the AMA Hall of Fame and will be inducted into the multi-discipline Motorsports Hall of Fame of America in 2019.
Many long-time fans of the 500cc Grand Prix World Championship will tell you that the golden age of GP racing was in the late-80s and early-90s, due in part to the on-track exploits of rider #34, Kevin Schwantz. As such, it's only fitting that the Motorsports Hall of Fame of America has announced that they will induct the lanky Texan next year.
Schwantz has already been inducted into the AMA's (American Motorcyclist Association) Hall of Fame in 1999 and the Fédération Internationale de Motocyclisme (FIM) has since retired his #34 race number in honour of his contributions to the sport besides naming him as a "Legend" in 2000.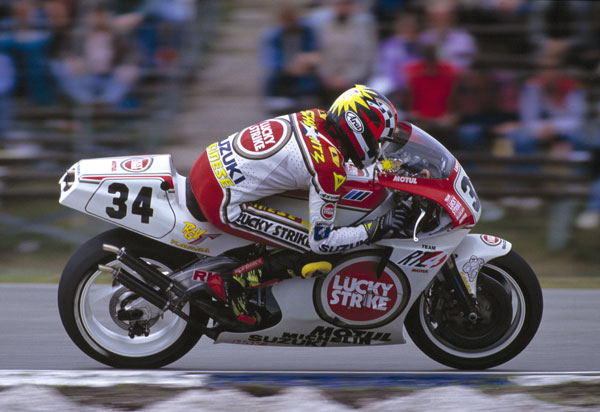 Schwantz was born in Houston, Texas to parents who owned a motorcycle shop. He started riding when he was just 3 years old, before competing as a trials rider in the footsteps of his uncle Darryl Hurst whose racing number was 34. He progressed from trials to motocross in his teens and became the regional champion. However, a bad crash in the 1983 Houston Supercross saw him quitting the sport.
During the next year, the Yoshimura Suzuki Superbike team held an audition for riders. Among those who decided to try out was Kevin Schwantz, and the rest was history.
He soon moved up to the World 500cc GP class, where his fiercest AMA Superbike rival, Wayne Rainey had moved to as well. The pair would battle incessantly between themselves and other great riders such as Mick Doohan, Wayne Gardner, John Kocinski, Eddie Lawson, Randy Mamola, et al.
While Schwantz's smoking rear tyre powerslides won him many admirers, it was his do-or-die attitude that won him endless veneration until this day. In fact, a young Valentino Rossi was also a great fan of #34.