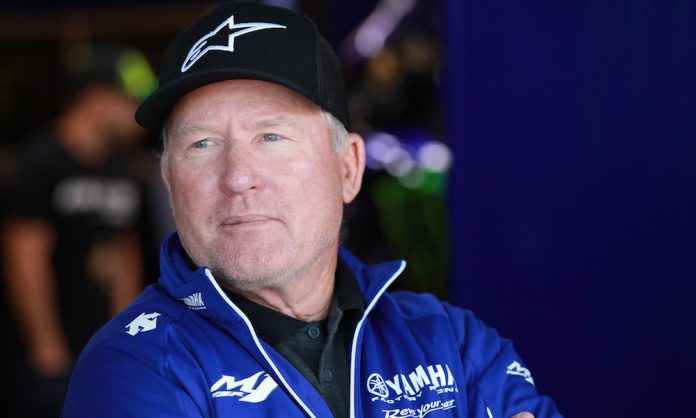 Kenny Roberts, or King Kenny, needs no introduction. The three time 500cc world champion is also the the first ever American to win a MotoGP race, and his riding style changed the way GP bikes are ridden.
In the year 2000, King Kenny was named a Grand Prix legend by the FIM.
So when King Kenny speaks, the world listens.
In a recent interview with crash.net (the excerpts of which are below) at the American MotoGP round in Circuit of the Americas, King Kenny was quoted as saying that MotoGP racing has never been better.
"Unbelievable. It's never been better. I mean the talent of the riders, the equipment… MotoGP's obviously the best show in the world now."
Kenny, who turned to rider development and then team owner, is still intrigued by the technical side of MotoGP.
He says he loves the new aerodynamics packages on modern MotoGP bikes, "I was ahead of my time [with investing resources in aerodynamics] but we didn't have enough money to make it all work.
"We had one of the three-cylinders designed by Lotus and it was ten miles an hour quicker at Barcelona down the straight, but it wouldn't stop. And we didn't have the budget with Lotus to find out why it wouldn't stop."
"It was a funny thing because you'd sit there and look at it going 'why is the back end coming off the ground?' No-one knew. There's a lot to it. They've just scratched the surface, in my opinion."
In the interview, Kenny also mentioned that any of the current top six bikes can be easily adapted to any riding style by a top rider.
"You can make the bike, whatever you need it to be," he said. "It's just work and setting the bike up.
"From the little bit I know, the Japanese could not ride my motorcycles because the steering head was too steep. They just couldn't ride it. It would shake too much and if it shook, they didn't like it. Eddie couldn't ride it.
"I think that with any of the [current] motorcycles, with a little bit of work on it, you'd have the same thing. It's a lot harder to ride. It's a lot harder on your body. But you are faster. So I think any of them would do that."
Kenny was legendary for his dirt-track riding style, so crash.net asked him if anyone on track reminds him of himself?
"No, you could never ride as hard as they ride now with my equipment," he replied.
"If my '80 bike, the first with aluminium, had the grip these bikes had it would go 'boing' and away it would go. Which it actually did with me a couple of times. If you had too much grip, the flex would be so much it would spring back. So with these [modern] tyres you couldn't ride that motorcycle.
"I think, from my standpoint, Marquez probably comes closest to throwing the bike in. Making it turn. And exiting. Which is what I tried to do… I wasn't quite as good at it!"
And does he think Marquez can be beaten?
"Yes [Marquez can be beaten] but it's going to be him beating himself, it looks like to me. Somebody is going to have to really step up and put the pressure on him that he needs to make a mistake and right now I don't see that happening…"
Click here to read the original interview where Kenny speaks about his surprise that Rossi is still racing at 40!