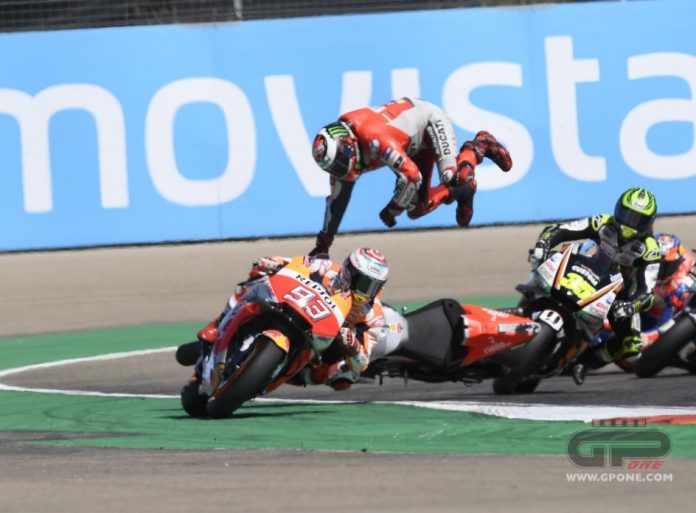 Ducati MotoGP rider Jorge Lorenzo suffered injuries to his right foot from the crash in Aragon GP.

He was launched into the air and landed on his foot.

He announced that he will try to compete at Buriram, Thailand.
Ducati MotoGP rider Jorge Lorenzo announced that he will try to race in the next round at the Buriram Circuit in Thailand next weekend.
He made the announcement after another round of medical check-ups on his right foot.
Lorenzo was launched high into the air in a highside at the first corner immediately after the start of the Aragon GP last Sunday. He landed awkwardly on his right foot before being clouted twice (fortunately at low speed) by his own bike.
It was over before it began for @lorenzo99 at the #AragonGP ? pic.twitter.com/yqKHBiTmoT

— MotoGP™? (@MotoGP) September 24, 2018
He was stretchered off the track's runoff area to the Clinica Mobile where he was found to have suffered a dislocated big toe and compound fracture in the second metatarsal of his right foot.
Lorenzo would go on to blame Marc Marquez for the crash through multiple tweets, although his team members disagreed with him (off the record, of course).
Ducati announced that the latest check-up revealed that he's "recovering well," although the foot was "still swollen."
The triple MotoGP champion will assess if the pain is tolerable to race at Buriram.
Ducati report that the latest check showed Lorenzo's injuries are 'recovering.