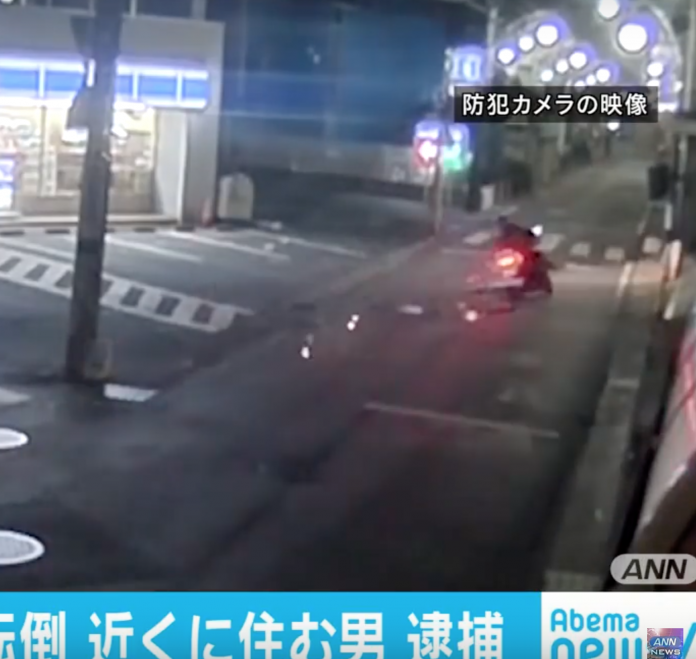 A Japanese man set a rope prank across a street.

It caused a motorcyclist to hit the booby trap and crashed.

The police caught the offender quickly and charged him with attempted murder.
A Japanese man was apprehended for a rope prank which caused a motorcyclist to crash. He will be charged with attempted murder.
On 26thDecember in Sagamihara, Kanagawa Perfecture, a man set up a rope booby trap across a street. Fifteen seconds later, a 45-year-old motorcyclist suddenly found a rope wrapped around his neck, causing him to chuck his bike. Thankfully, he suffered only back and hip.
The incident was captured by a security camera, but more importantly, so was the heinous act. Together with the help of the locals, the police acted immediately and tracked down the perpetrator, 41-year-old Koichi Deki. He claimed that he meant it as a prank to relieve stress but had not thought of killing anyone. He also admitted to using the rope and box from a nearby shop where they were used to cordon off the property after closing at night.
It was not clear if Deki saw the bike coming, given that the motorcyclist hit the trap in mere seconds after it was set up.
Kudos to the Japanese police in closing the case, as they had help from the CCTV footage.
On the other hand, we've had many cases of cables or wires strung across the motorcycle lanes but there's never news if the miscreants were ever caught. The main reason was the lack of CCTV or manpower to monitor. Additionally, the authorities here will only act when there's loss of life or when a VVVVVVIP complains.
Source: Japan Today