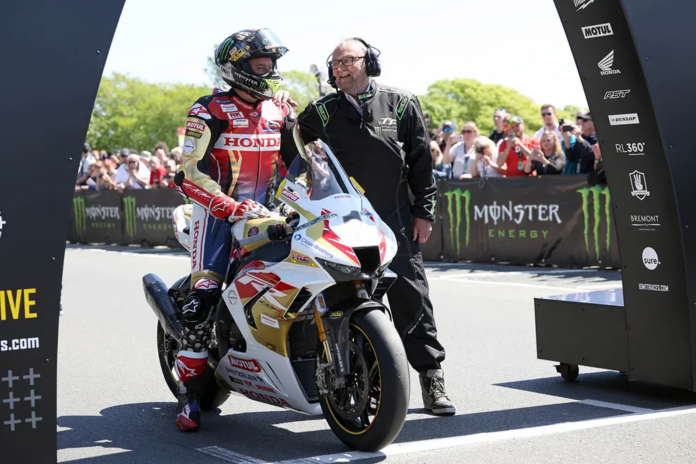 An Isle of Man TT start line official who has been responsible for giving riders the tap on the shoulders at the start of the race has retired after 68 years involvement with the iconic race.
Paul Kermode has spend nearly 70 years with the Isle of Man TT races since 1954.
23-time John McGuiness was his last send off at the 2022 IOMTT. 
Paul Kermode, 79, first volunteered with the TT back in 1954 as a scout working on the scoreboard before taking over the job as a start line official.
Kermode bowed out after the first Superbike race whereby his final shoulder tap happened to be 23-time winner John McGuinness'.
"When he came down to the line to start, he shook my hand and said: 'happy retirement,.
"I think it's been great to be able to do it," he said.
Kermode been giving the famous shoulder tap for the past 15 years and despite not keeping count, he estimates that he has send thousands of riders away at the TT race and Manx GP.
"It had to come to an end at some time and that was the perfect way to do it, with John's hundredth.
"I marshalled the early morning practices from 16. I couldn't do race week, because I worked for the newspapers and we printed a TT special and no staff were allowed off.
"I might get out on the course somewhere now and watch them. In this day and age there's not many people that will do something for nothing, but I've thoroughly enjoyed it over time. The early morning practices were something else," he added.
(Source: MCN)