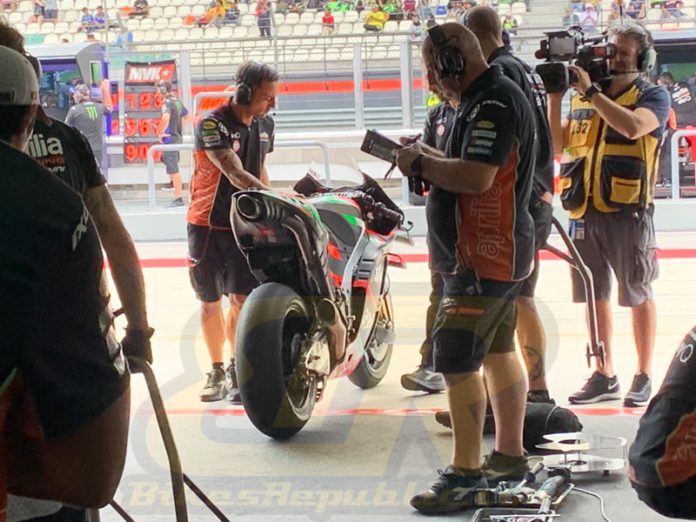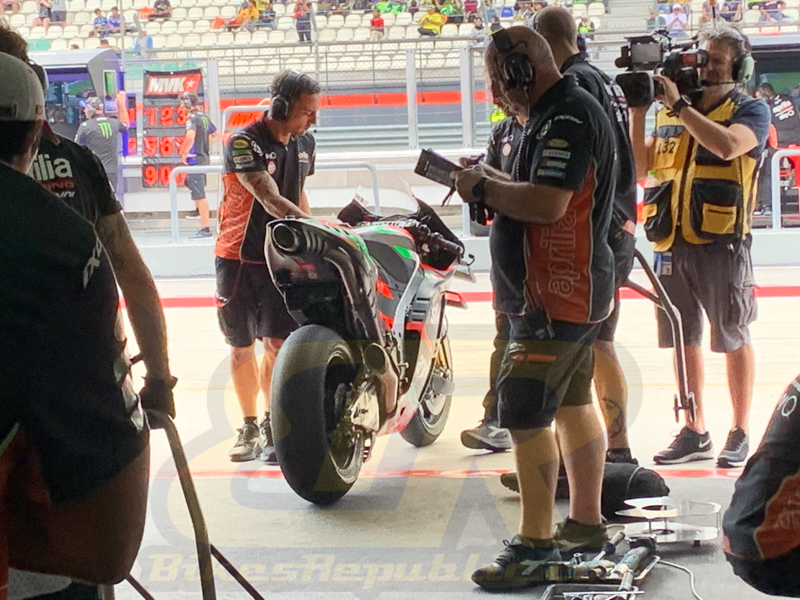 We visited the Aprilia MotoGP pit thanks to Aprilia Malaysian and Aprilia Racing Team Gresini.

Our visit coincided with the start of FP3.

Aprilia is still struggling but has shown large improvements in 2019.
Motorcycle Grand Prix racing was never, isn't and will ever be easy. Just ask Aprilia Racing Team Gresini.
The now infamous Italian motorcycle brand exploded into motorcycling history and became a household name through their passion for motorsports. It's safe to say that many don't know that Aprilia was founded immediately after World War 2 in 1945 when they built bicycles until 1968 when the founder's son Ivano Beggio took over.
Their winning tradition began in 1977 with the 125cc and 250cc Italian motocross titles. They ventured in Grand Prix racing in 1985 and won their first 125cc race in 1991. Aprilia won the riders' championship title the very next year and began their dominance in 125cc and 250cc GP racing. Starting from 1992 and ending in 2011, the manufacturer netted ten 125cc and nine 250cc riders' titles. They had also won as many constructor's (manufacturer's) championships during that time.
Aprilia then ventured into 500cc GP racing with a two-stroke, three-cylinder bike but met little success.
But they did achieve great success in World Superbike racing when Max Biaggi won the 2010 and 2012 titles, while Sylvain Guintoli added another in 2014. They also won the manufacturers' titles in 2010, 2012, 2013 and 2014.
Aprilia rejoined the premiere class now called MotoGP in 2012 in the Claiming Rules Team (CRT) class by supplying modified SBK-spec RSV4 engines to the ART team. They were the best CRT team in 2012 and 2013.
Aprilia began their full factory effort in 2015 under the name of Aprilia Racing Team Gresini with the 1000cc V-Four RS-GP.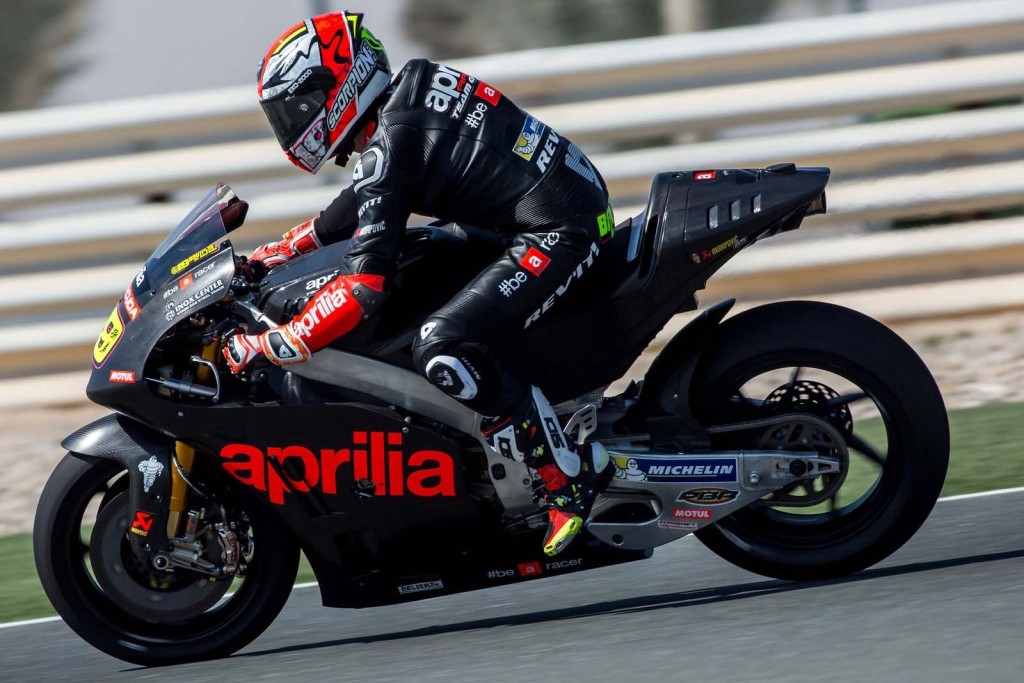 With such a storied past in motorsports, you'd think Aprilia would return to challenging the front end of the pack within a couple of seasons. Such aspirations have borne fruits lately, but not yet with consistency.
But it also shows just how tough MotoGP is. It's not that bikes in mid-pack and the tail end of the field did not progress, instead everyone else also progressed at the same time. It's all relative.
Looking at the points tally, the 2019 season is Aprilia's best season so far.
Leading up to the 2019 Shell Malaysia MotoGP, Aleix Espargaro scored a total of 44 points and finished 17th in 2018. He has collected 53 points in 17 races and currently lies in 14th with two races to go this year.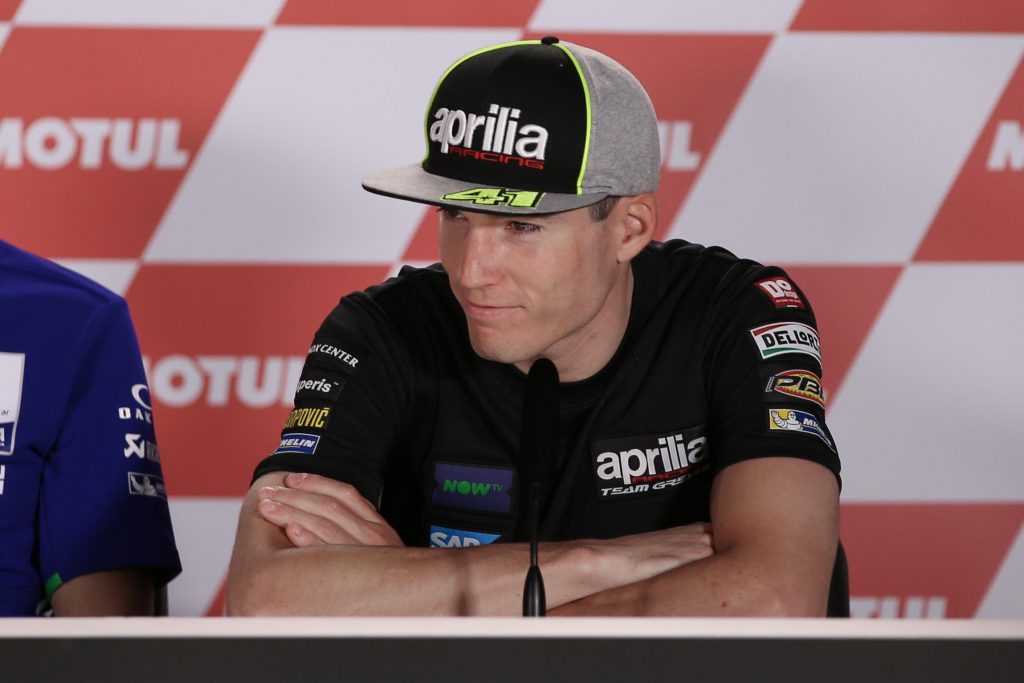 Espargaro's 2018 teammate Scott Redding picked up 20 points and finished in 21st. His current teammate, Andrea Iannone now has 43 points and standing in 16th with two races remaining.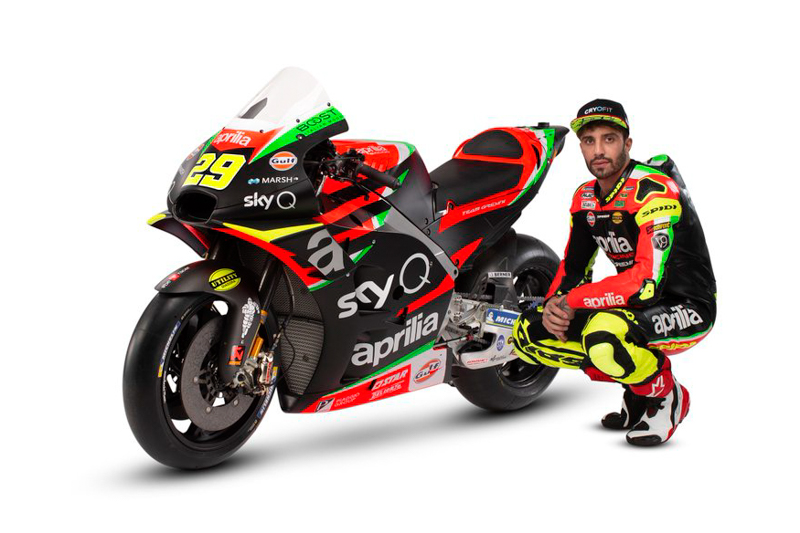 In the constructor's championship, Aprilia ended 6th and last with 59 points in 2018. Conversely, they've collected 78 points thus far in 2019.
The results certainly point to improvements. Espargaro finished 4th in Philip Island before heading to Malaysia.
Anyway, thanks to Aprilia Malaysia and Aprilia Racing Team Gresini, we were granted a short visit to the team's pit just as FP3 was about to begin.
MotoGP teams now hoard up even the rear entrance to their pits, so outsiders could only see the respective team's name and logo. Aprilia brand ambassador Max Biaggi was hanging outside with a couple of mechanics.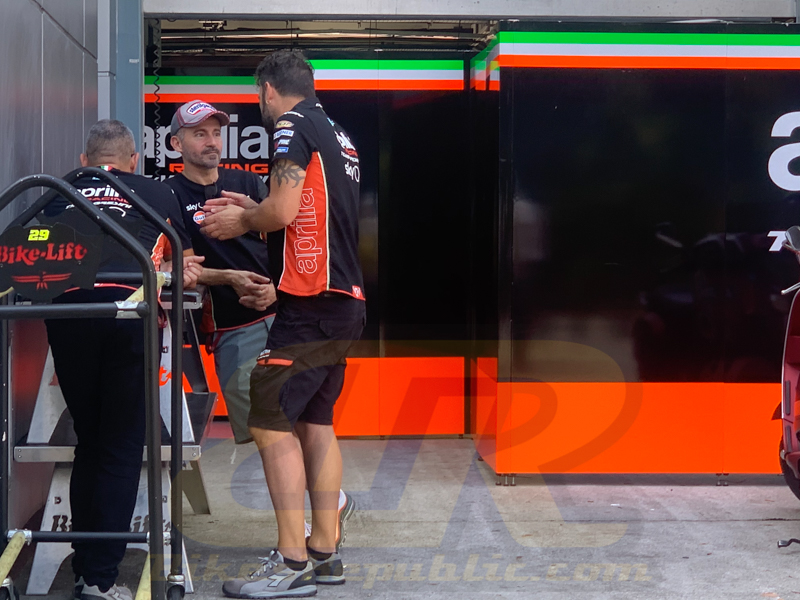 We were met by a large and burly man who looked like one of the guys from ZZ Top. He had told us to not shoot pictures of the bikes if the fairing was off, and to not shove a camera in the riders' faces. Fair enough. Those close ups of bikes and riders from the front were shot with telephoto lenses from the pitlane and wall.
The hoarding also covered the back-end operations part of the paddock. Where we used to be able to see a row of guys crunching data on their laptops, engines, parts and such but it's all covered up npw, leaving a narrow corridor to the front where the bikes and riders are. Even the rows of tyres being warmed up were hidden away.
We stopped in a small area cordoned off from the rest of the pit. Up in front were the two RS-GP bikes — Iannone's to the left and Espargaro's to the right. Right behind them were low racks where sets of carbon brake discs and Brembo front brake calipers sat.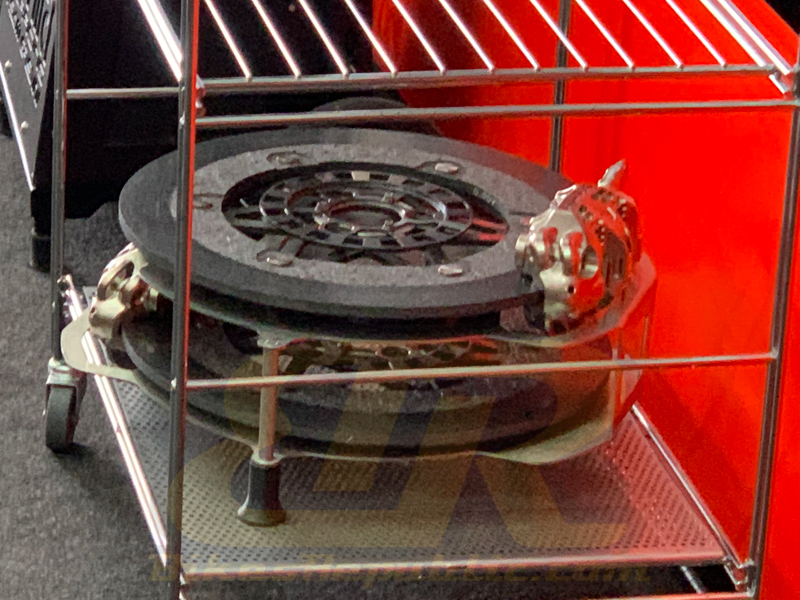 A few mechanics were working feverishly on the bikes, readying them for the riders. Just then, Aprilia Racing CEO Massimo Rivola walked in, hair neatly styled in place and headphones in his hands. He had joined Aprilia from the Ferrari Formula 1 team this year.
A mechanic walked to Iannone's bike with the starter. The bike started up with an explosion. I fully expected the sudden explosion of noise (having experienced them all the time), but the other two guys (Aprilia owners) didn't and they actually jumped with fright.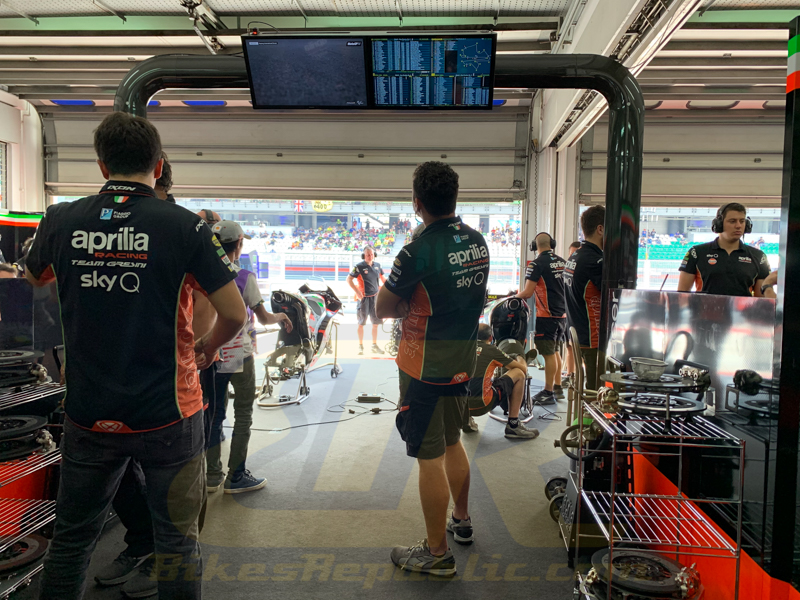 Iannone walked a few paces to the machine and blasted away from the paddock, as other bikes also passed by, serenading us with their thundering soundtracks.
I noticed that the current RS-GP definitely has a much more aggressive exhaust note, compared to when Aprilia began racing in the MotoGP class. The engine back then was based on Aprilia RSV4 road bike, while the full-race engine was installed three years ago.
Now they fired up Espargaro's bike to another explosion. The two guys jumped again.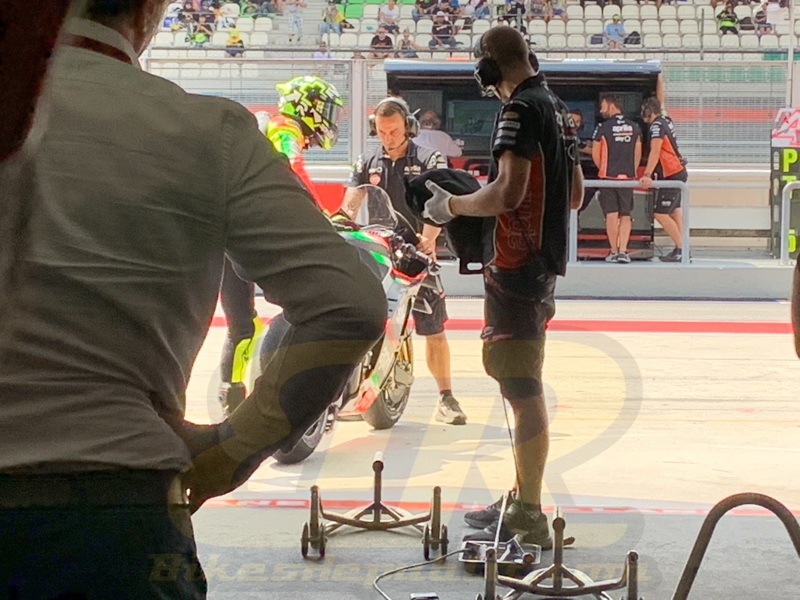 Just like Iannone, Esparago looked as if he ran toward the RS-GP and lunged at it. With a blip of the throttle he was gone leaving behind a roar that reverberated through the paddock.
With their work done, the mechanics joined Rivola and Biaggi, and craned their necks upwards to watch the proceedings on two monitors embedded in a makeshift arch.
The mechanics' body languages belie their anxiety. One bit his fingernails, another swung his upper body side to side, a few jacked themselves up and down like they needed to run to the bathroom. Yet, Rivola was the island of calm in the middle of all this.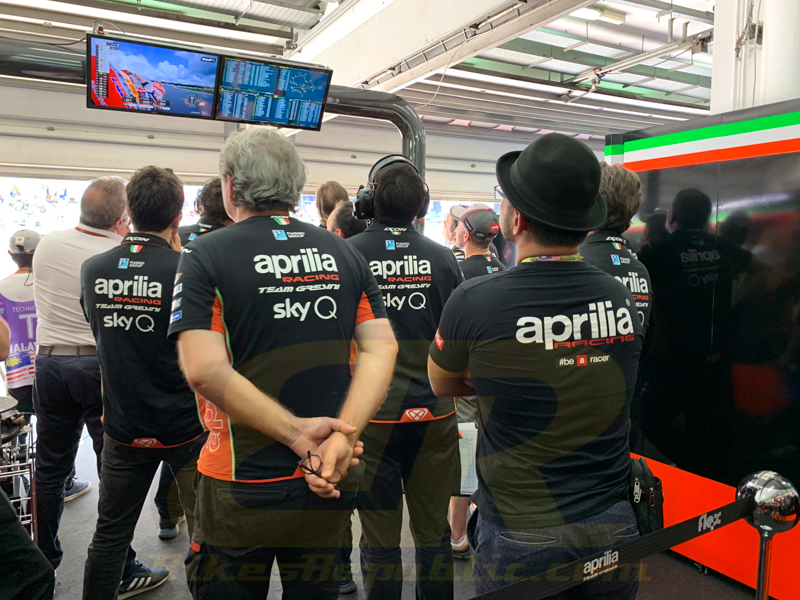 On the screen Espargaro was visibly uncomfortable and struggling on his bike. Indeed, he blasted back into the paddock a lap later, again surprising the two guys next to me. The rider was agitated and didn't hide his displeasure, gesturing plaintively and we could hear his loud, muffled complaining through the helmet.
His bike was pushed backwards into the paddock. Mechanics jumped into action immediately, pulling both tyres off. Two minutes later, the bike was wearing shiny new tyres. Indeed, Espargaro would later complain to the media about lack of grip from used tyres.
Off he went again and the mechanics returned to their nervous ticks.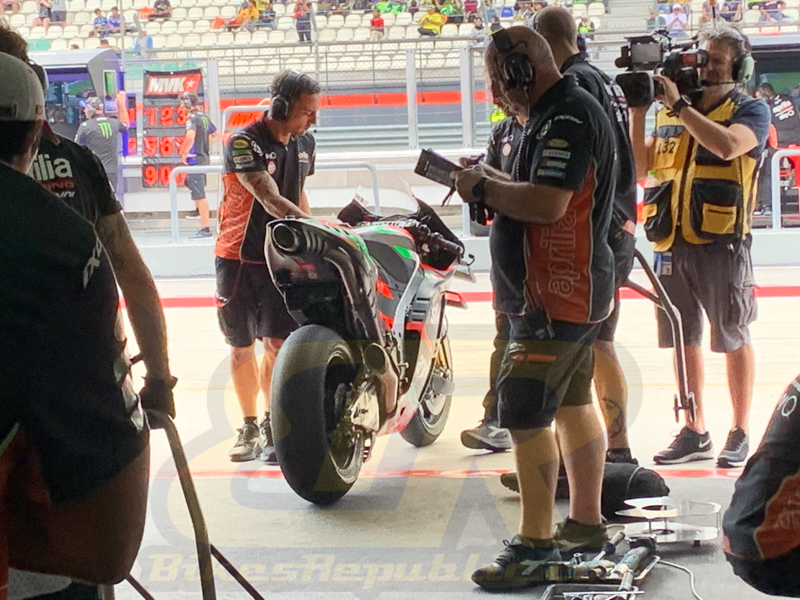 A murmur went up when Espargaro was 10th fastest. If he kept this position, it would be an automatic admission to Q2. The nervous ticks increased. But just as the flag came down, he was pushed down to 11th by just 0.029 second from Cal Crutchlow.
The team went "Aaarghhhhhhh." But Rivola was still cool, a finger tapped his pursed lips.
Andrea Iannone meanwhile, managed on 18th fastest.
Both bikes entered the pit in quick succession and the roller shutter was dropped. It signalled that it was the time for us to get out.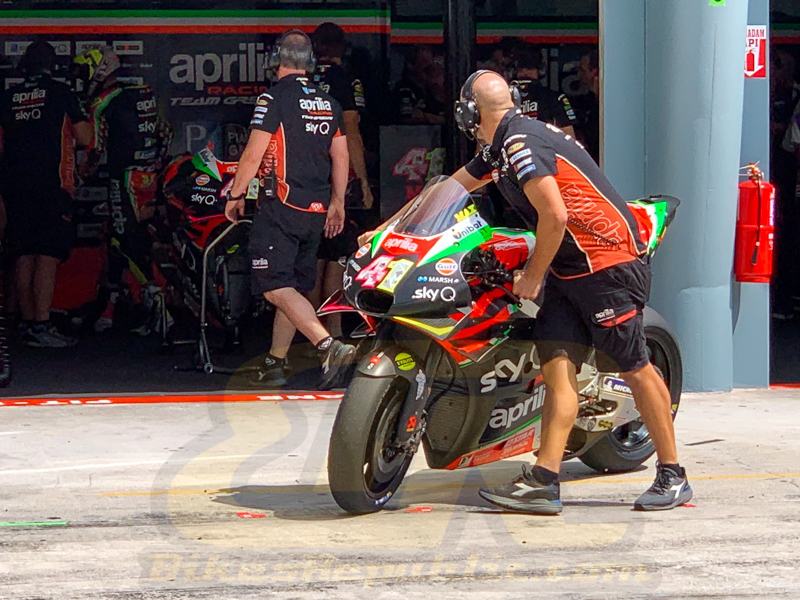 It's too bad that we couldn't take more pictures. But it was a great experience for the two Aprilia owners as they whooped and cheered when we left.
Espargaro would go on to finish the race in 13th place, while Iannone crashed out on Lap 10.
Lget's hope Aprilia progresses further up the field next year. They may just do that, given their proud racing heritage.