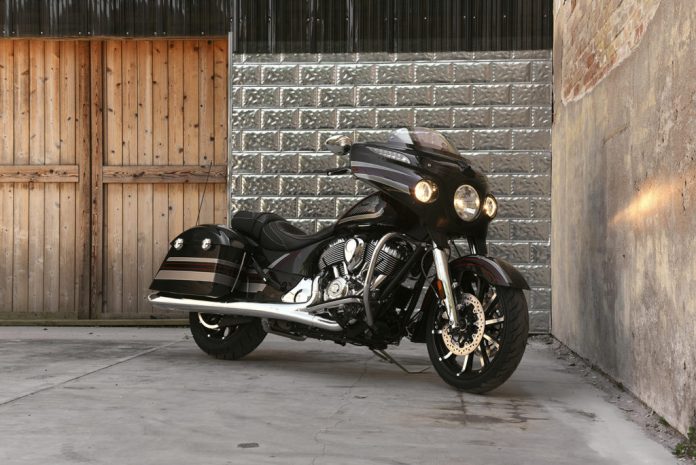 Indian Motorcycles shows off 16 models for 2018

Lineup includes the new Scout Bobber, Chieftain Limited, Springfield Dark Horse and Roadmaster Elite.

Indian Motorcycles' sales grew by 17% this spring alone.
Polaris axed its Victory brand in January this year in order to fully concentrate on its Indian Motorcycles concern, and the move has started to see positive results. It has been reported that Indian's sales grew by 17% while Harley's shrank by 7% in the past spring alone. Production has surged to more than 25,000 units at the time this article went live.
Indian Motorcycle's 2018 lineup consists of 16 models, with 4 added to last year's. Indian has added new features and new colours to several models.
2018 INDIAN SCOUT
There are three Scout versions, all sharing the same physical and mechanical features, except for engines and corresponding transmissions.
Indian Scout Sixty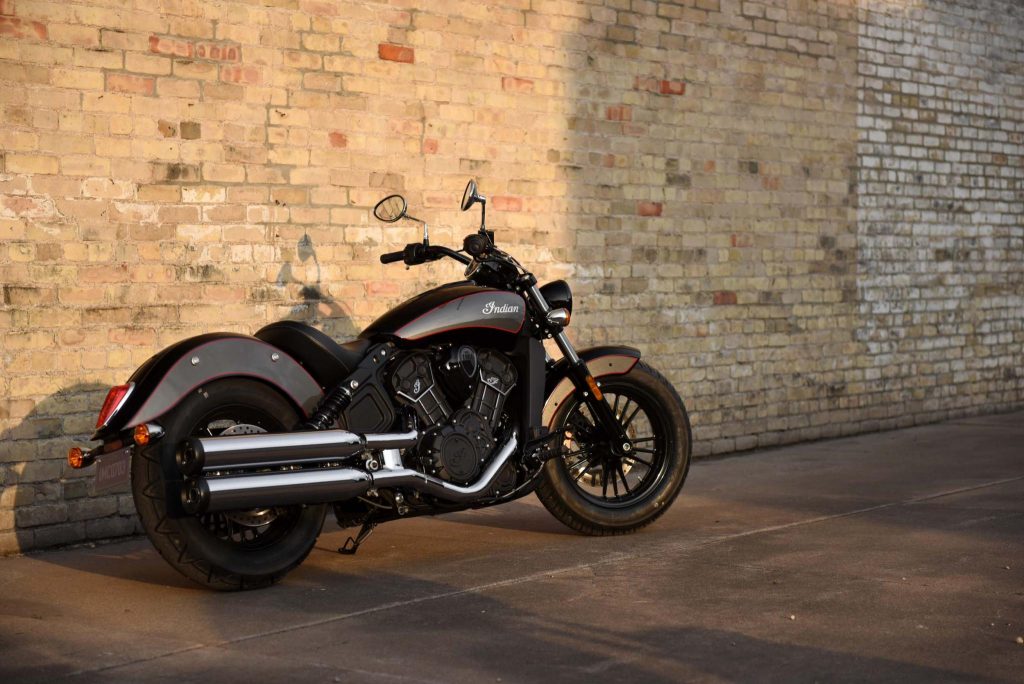 The Scout Sixty is identical to the 2017 model, with the addition of two new colours and ABS corresponding to certain colours. Thunder Black and Polished Bronze are without ABS, while ABS is standard for Indian Motorcycle Red and Thunder Black over Titanium Metallic.
The Scout Sixty uses the 61 cubic-inch (999 cc) engine which produces 78 bhp, mated to a five-speed transmission.
Indian Scout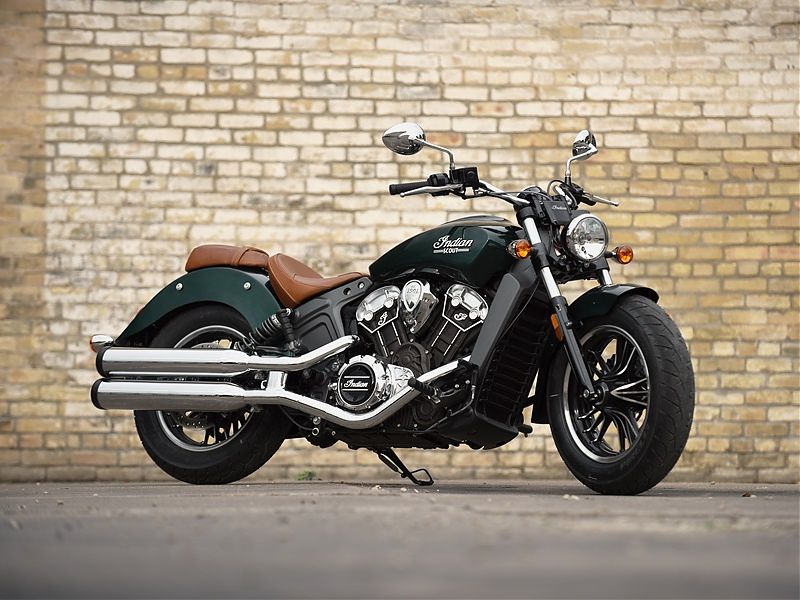 The Indian Scout received overwhelming response and was quickly sold out in Malaysia. For 2018, the Scout's forks are upgraded to cartridge forks, Pirelli tyres are fitted and best of all, a leather pillion seat.
The Scout uses the 69 cubic-inch (1133 cc) engine which punches out 100 bhp, sent through a six-speed transmission.
Thunder Black and Metallic Jade colours are without ABS; Willow Green over Ivory Cream, Brilliant Blue over White, and Burgundy Red are with ABS.
Indian Scout Bobber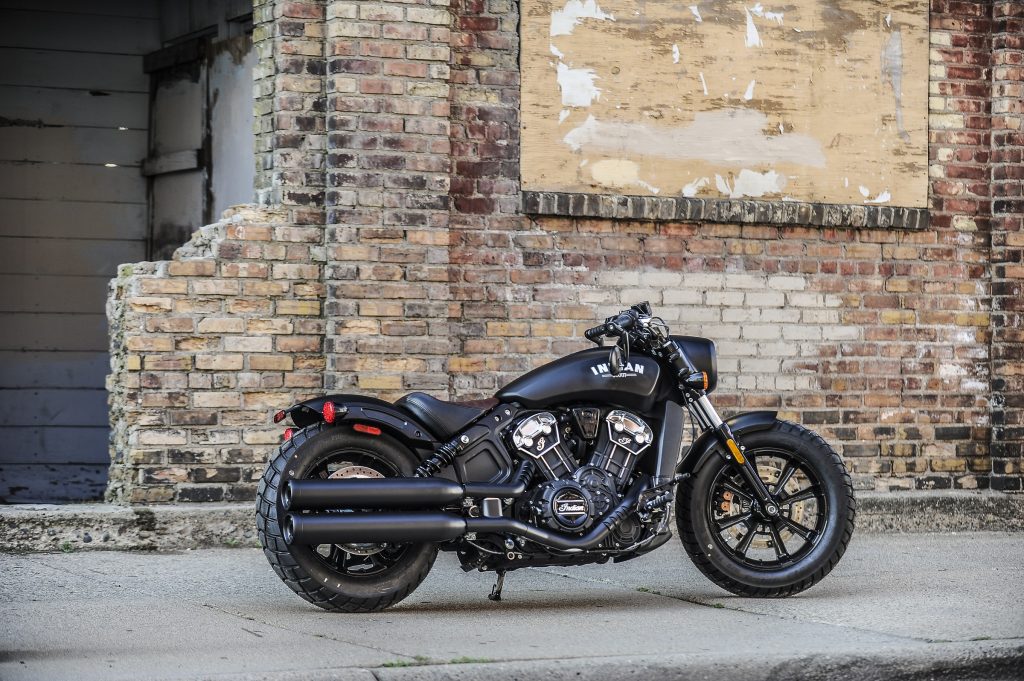 New for 2018, the Scout Bobber is styled as blacked-out and stripped down. The footpegs were moved moved back for a more cruiser style placement. The handlebars have been replaced with tracker style bars. The blacked out wheels are shod with knobby tyres and the suspension lowered by 25mm.
2018 INDIAN CRUISERS
Indian's cruisers are distinguished from their bagger brethren by not having luggage fitted as standard.
Indian Chief Dark Horse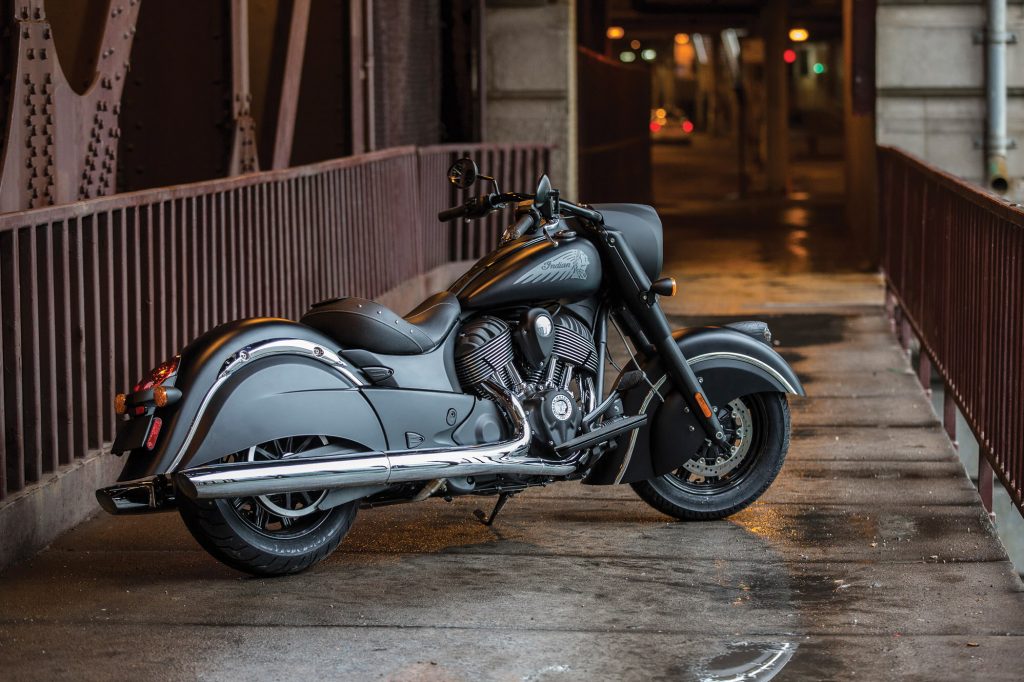 The Dark Horse comes only in matte black with blacked out detailing, accented by chrome. The valanced front and rear fenders are standard, of course. The Chief's keyless ignition remains.
Indian Chief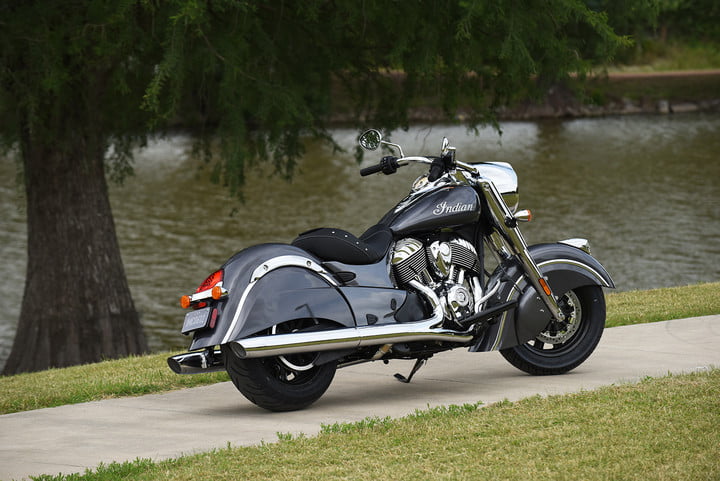 The standard Chief comes in Steel Gray, has more chrome and cruise control compared to the Dark Horse.
Indian Chief Classic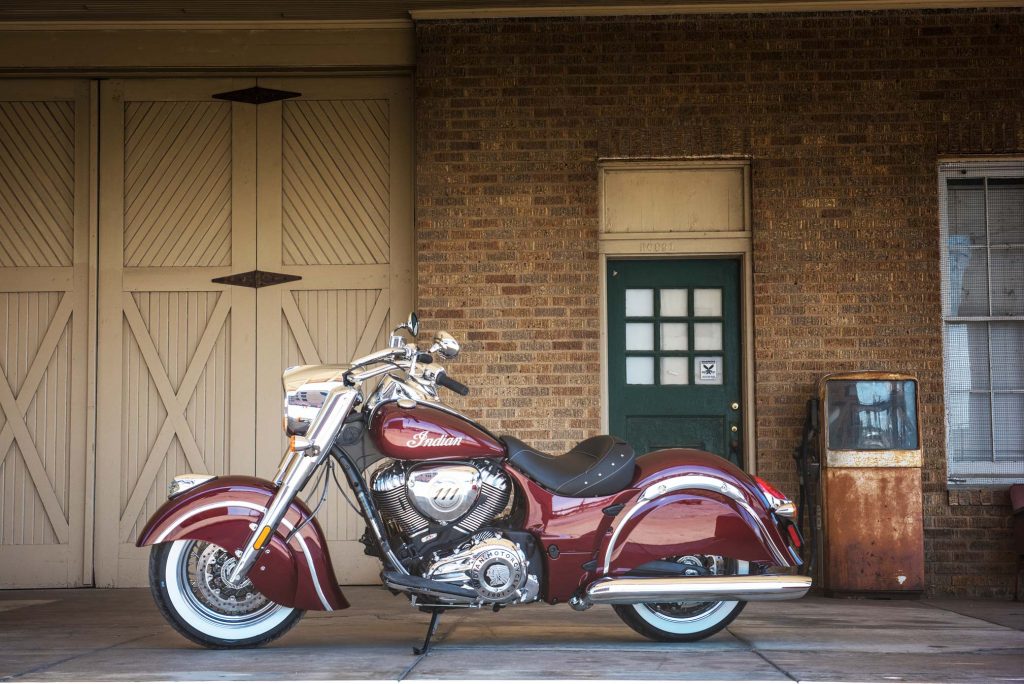 The Chief Classic is distinguishable by the white walled tyres, spoked wheels and chrome hand controls. Plus chrome and more chrome.
2018 INDIAN BAGGERS
Baggers are motorcycles with baggage, whether saddlebags or hard panniers, and Indian's lineup has more baggers than any other manufacturer's.
Indian Chief Vintage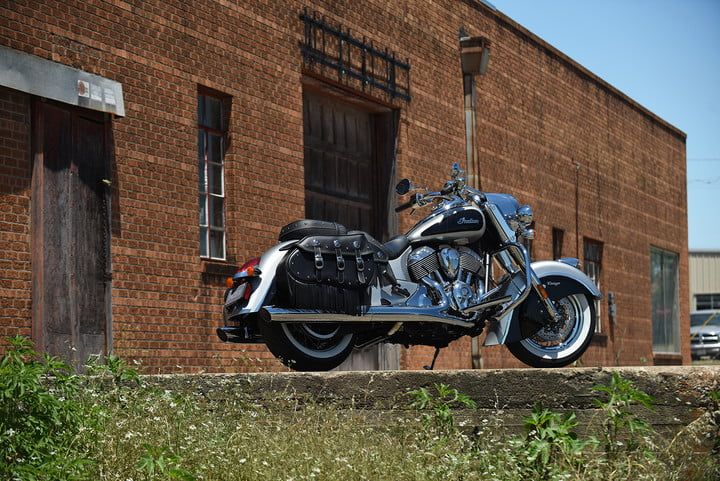 The Chief Vintage has standard leather seats, saddlebags and removable windshield. To complete the classic look, Indian gave the Chief Vintage whitewall tyres and spoked wheels. Removing the windshielf and saddlebags turn the bike into a boulevard cruiser.
Indian Springfield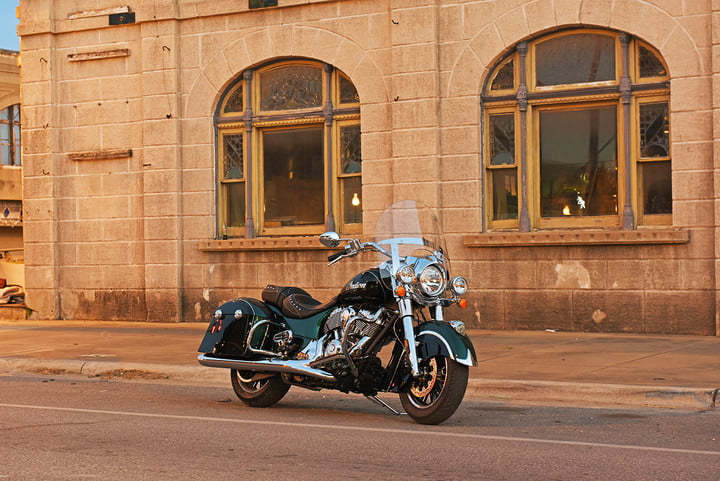 Basically unchanged from 2017, there are new colours for 2018. Features such as the detachable hard panniers, detachable windshield, highway bar, keyless ignition, tyre pressure monitoring system and ABS remain standard.
Indian Springfield Dark Horse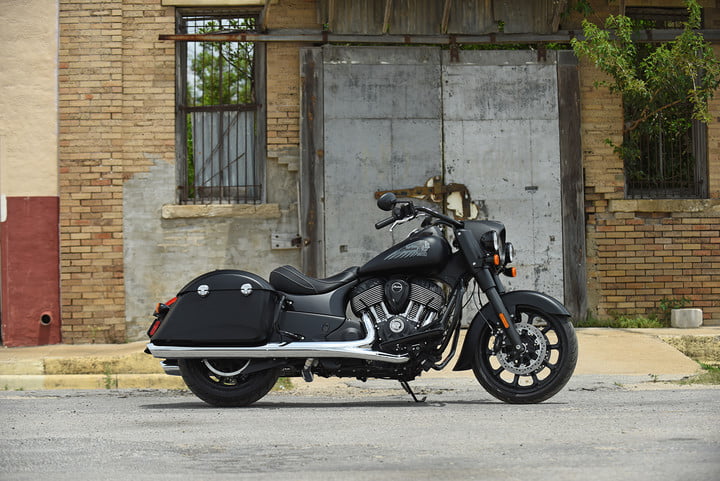 The Dark Horse version is new for 2018, featuring matte black paint with gloss black detailing. Instead of the standard Springfield's valanced front fender, the Dark Horse uses an open fender over a 19-inch cast wheel. It also includes a detachable windshield and hard panniers.
Indian Chieftain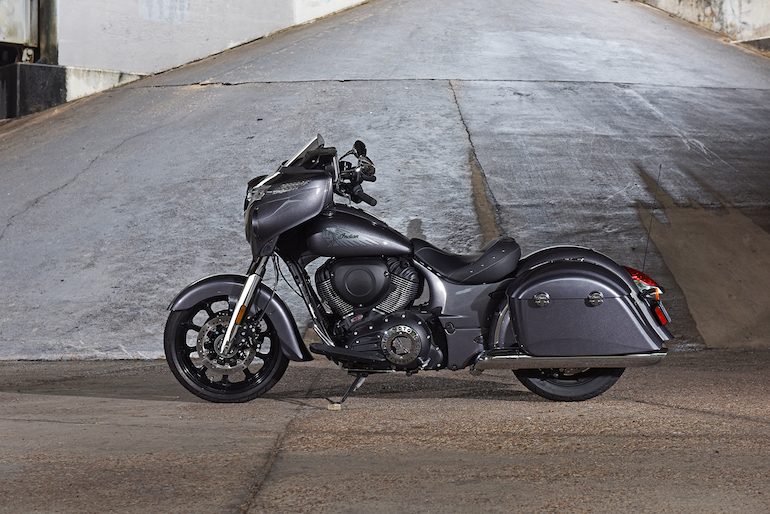 The front end of the Chieftain has been replaced by the new open fender and 19-inch cast wheels. The windshield is powered and include driving lights. Other features include ABS, cruise control, keyless ignition, highway bar, hard panniers, and 7-inch infotainment system with Bluetooth and USB input.
Indian Chieftain Dark Horse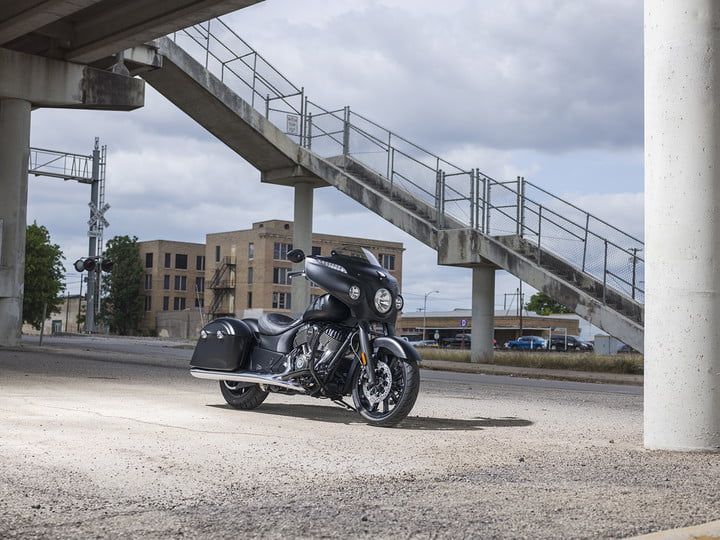 The 2018 Chieftain Dark Horse comes with the fully loaded Ride Command infotainment system which includes GPS. The front end has also been replaced by the open fender and 19-inch wheel.
Indian Chieftain Classic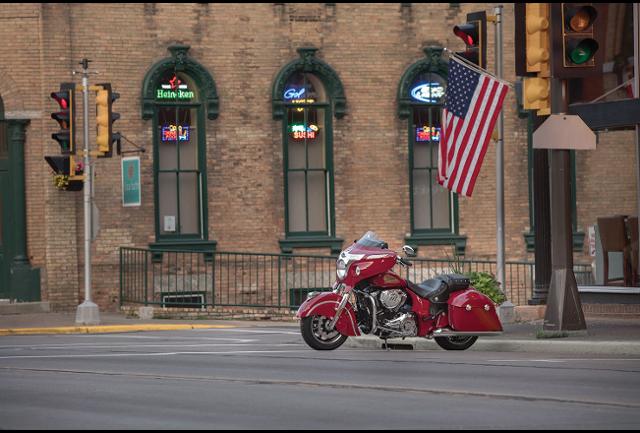 The Indian Chieftain Classic looks more traditional with the valanced fenders, 16-inch wheels and leather seat with fringes. But new for 2018 is the Ride Command infotainment system.
Indian Chieftain Limited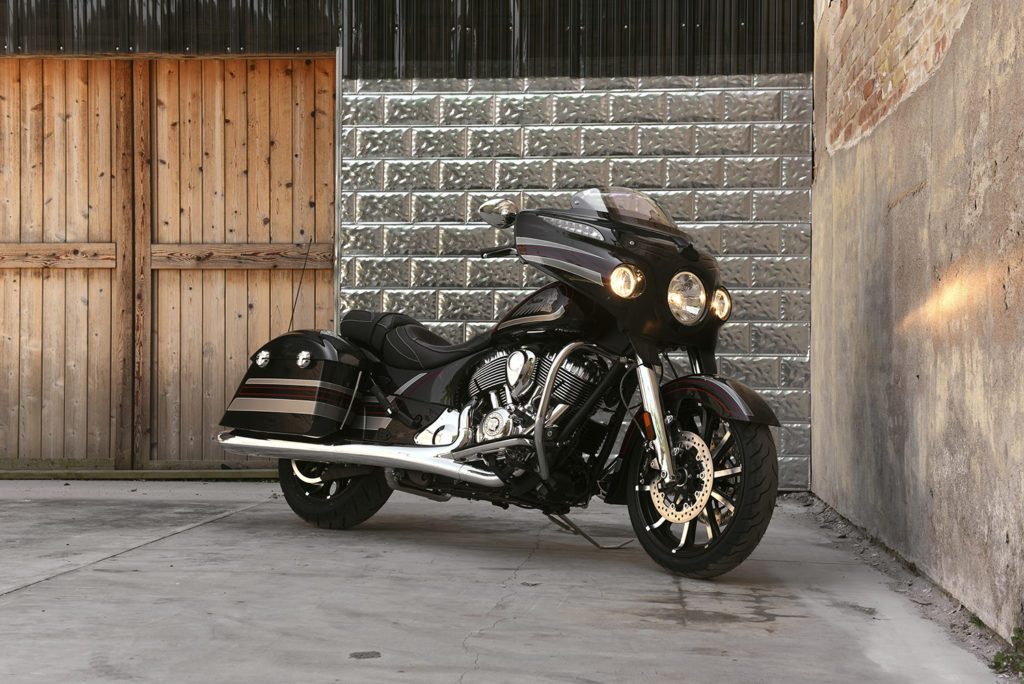 The Chieftain Limited is top model of the Chieftain family. The front end features a contrast cut 19-inch wheel with open fender.
2018 INDIAN TOURERS
Indian's Roadmaster family is unmistakable, featuring saddlebags or panniers with large top cases. Best choice for long tours.
Indian Roadmaster Classic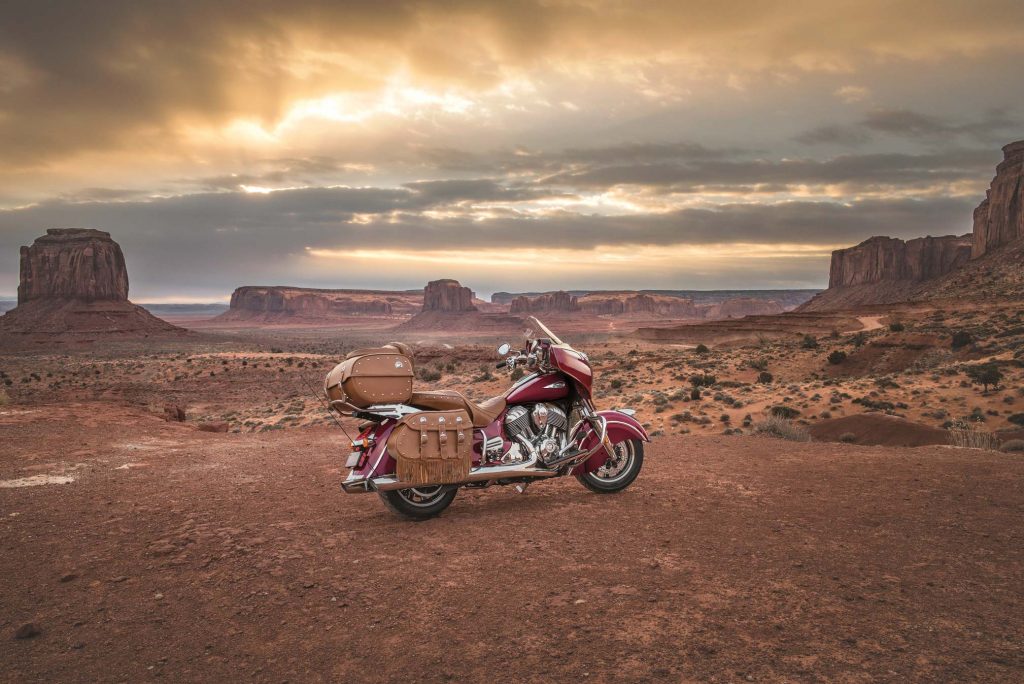 The Roadmaster Classic is the entry point into the Indian touring family, yet it brims with all the necessary touring features such as luggage and the Ride Command infotainment system.
Indian Roadmaster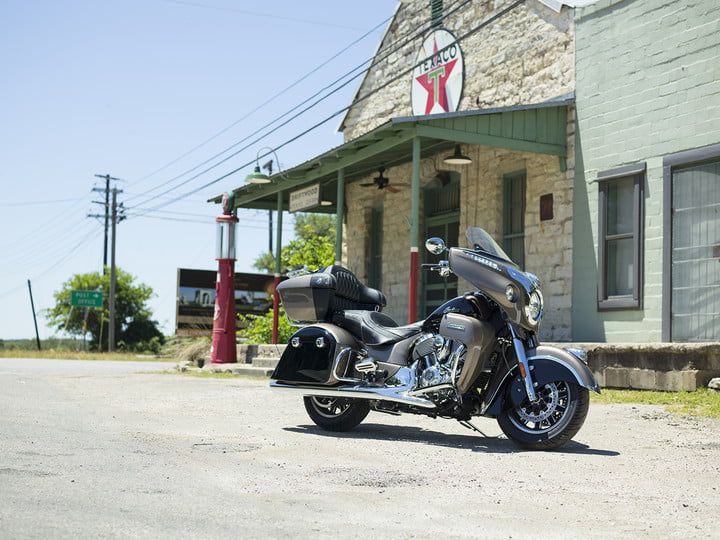 With hard panniers and top case, the Roadmaster looks more contemporary then the Roadmaster Classic. There are also hard wind deflectors ahead of the rider's shins. The sound system is bumped up to 200 watts.
Indian Roadmaster Elite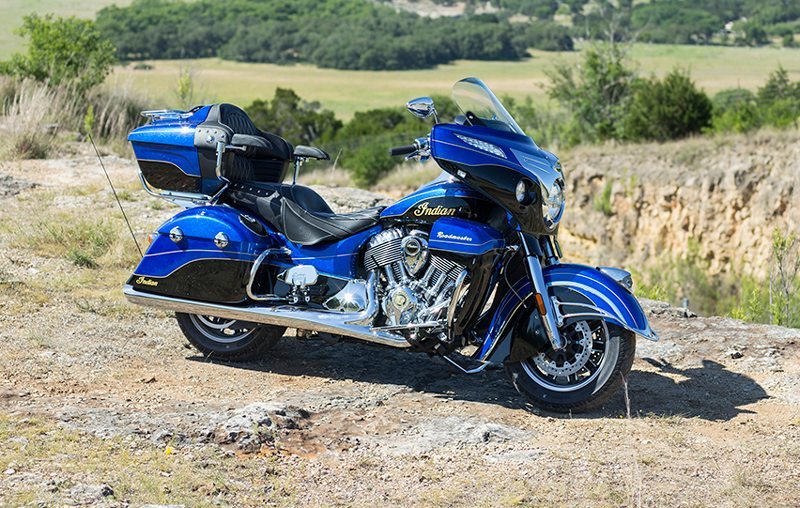 The Roadmaster Elite is the Big Chief of Indian Motorcycle tribe.
It comes only in Cobalt Candy over Black Crystal, which is individually hand-finished in more than 30 hours. Real 23K gold leaf badging is then applied to the tank and engine components.
The Ride Command infotainment system packs a 300-watt punch. There are armrests for the passenger. The rider and passenger footboards are billet aluminium. A premium touring console tops the fuel tank.