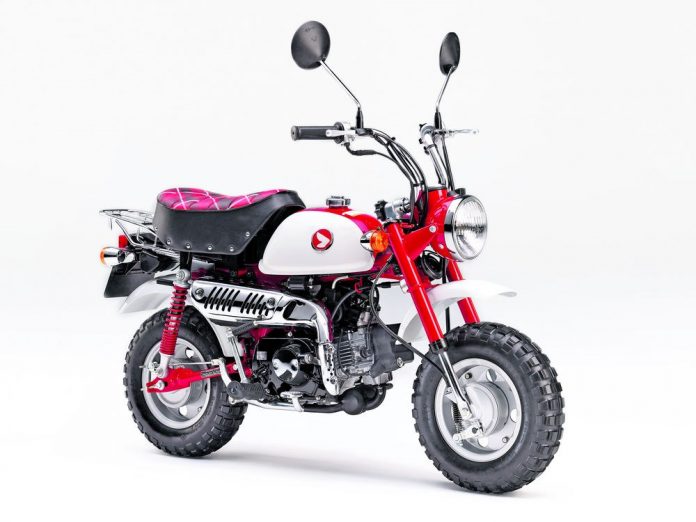 To celebrate the legendary mini bike's 50th anniversary, Honda has commemorated the occasion with the release of the renowned Honda Z50 aka "Monkey Bike". This special edition will be on limited release and will also be the last ever Monkey Bike to be produced by the Japanese manufacturer.
The bike recently launched in Japan comes with a unique Magna Red and Shasta White colourway together with a 3D insignia on the fuel tank. Apart from the crisp paint job, they have also included the 50th anniversary logo on the seat and key to mark this joyous occasion.
How rare is this beauty? Only 1,800 will be made for public consumption and we believe that most of them will stay in Japan. You might need to make quite a few phone calls, pull a few strings and maybe pull a bunny out of a hat just to get one of your own.
Weighing at an impressive 68kg, the Monkey Bike or sometimes referred to as a Gorilla Bike(judging by how people look when riding the mini moto), the 50th anniversary Z50 gets all of its power from a 49cc fuel-injected, air-cooled engine that churns out 3.3hp and 3.4Nm of Sunday stroll torque.
Transferring all that power to the rear wheel gets the help from a modest four-speed gearbox. This is no superbike numbers but it's reasonable especially with the 68kg payload.
It is also not surprising that the Z50 is shorter than most bikes as it stands at only 850mm with a ride height of 660mm of the ground but the nostalgic feeling alone is more than enough to draw a big grinning smile on your face while rolling around the neighbourhood on this baby.
Looking to buy one of your own? Honda has set the price at 352,080 Yen (around RM13,803 after direct conversion). The price might be a bit steep but you'll be getting a legend or become one yourself when you're seen on the road with this bad boy.