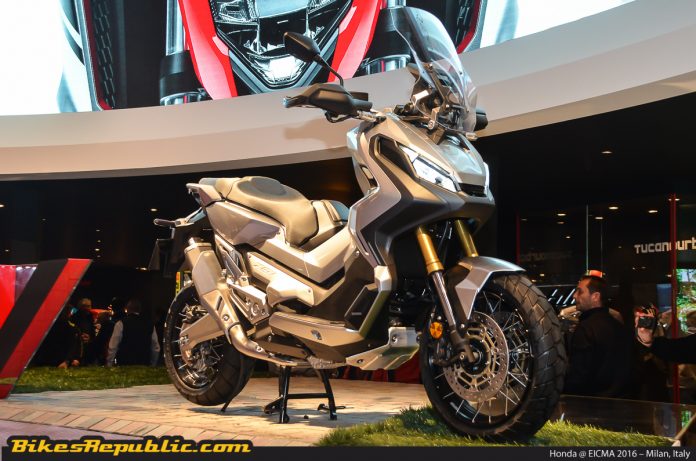 Honda @ EICMA 2016: Honda shows off new X-Adv scooter alongside base Fireblade and more in Milan.
The mighty Japanese red wing marque took centre stage in the halls of EICMA 2016 with a sleuth of new models and concepts bowing. Leading this charge is of course its new X-Adv adventure maxi-scooter and CBR1000RR Fireblade base mode.
There were plenty more on show and here's our round up of Honda @ EICMA 2016.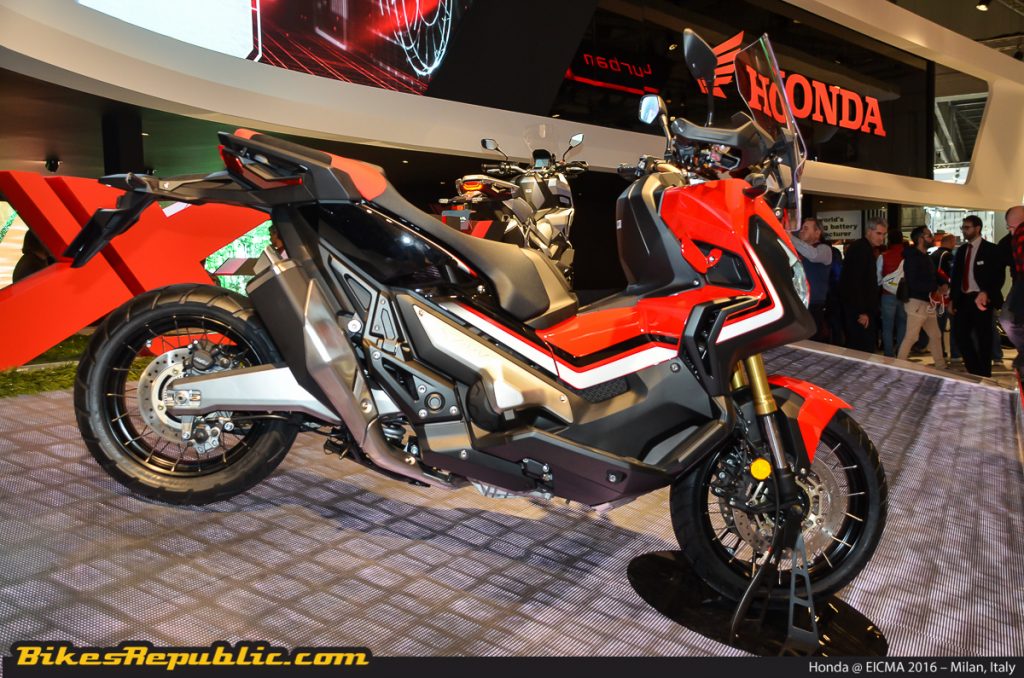 X-Adv
After previewing it as a concept at last year's show and teasing it heavily over the last few months, the Honda X-Adv finally bowed in Milan, bringing forth the dawn of the adventure maxi-scooter hybrid genre with its arrival.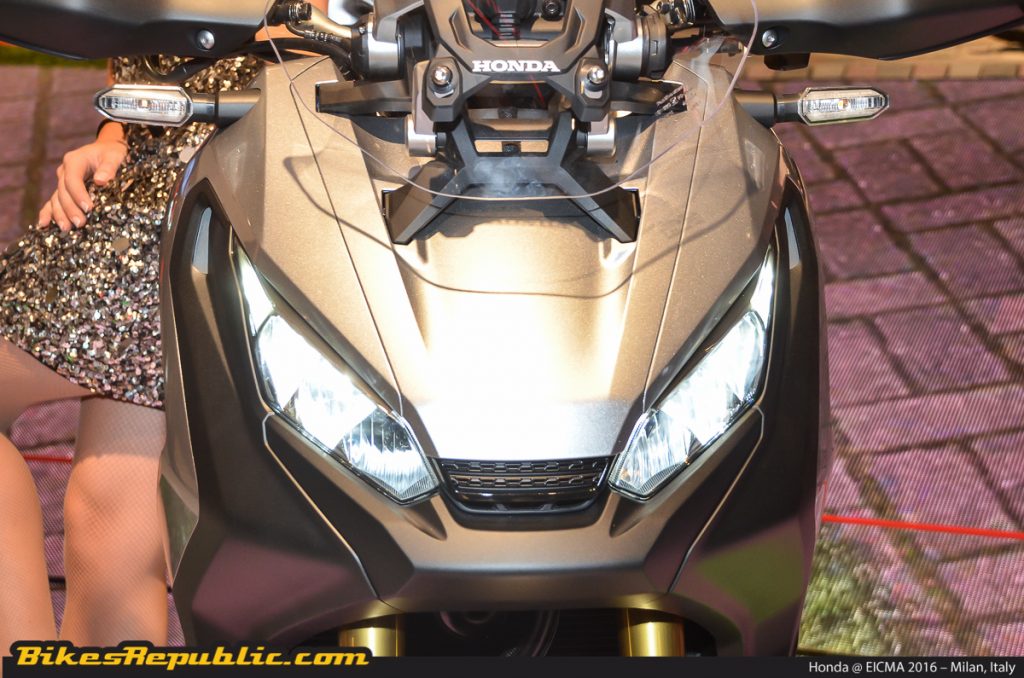 Aesthetically, the Honda X-Adv doesn't differ too starkly from its original City Adventure concept. Its rugged stance and styling is complemented further with edgy and sharp panels all-round whilst all-LED lighting front and aft adds a more current touch to things.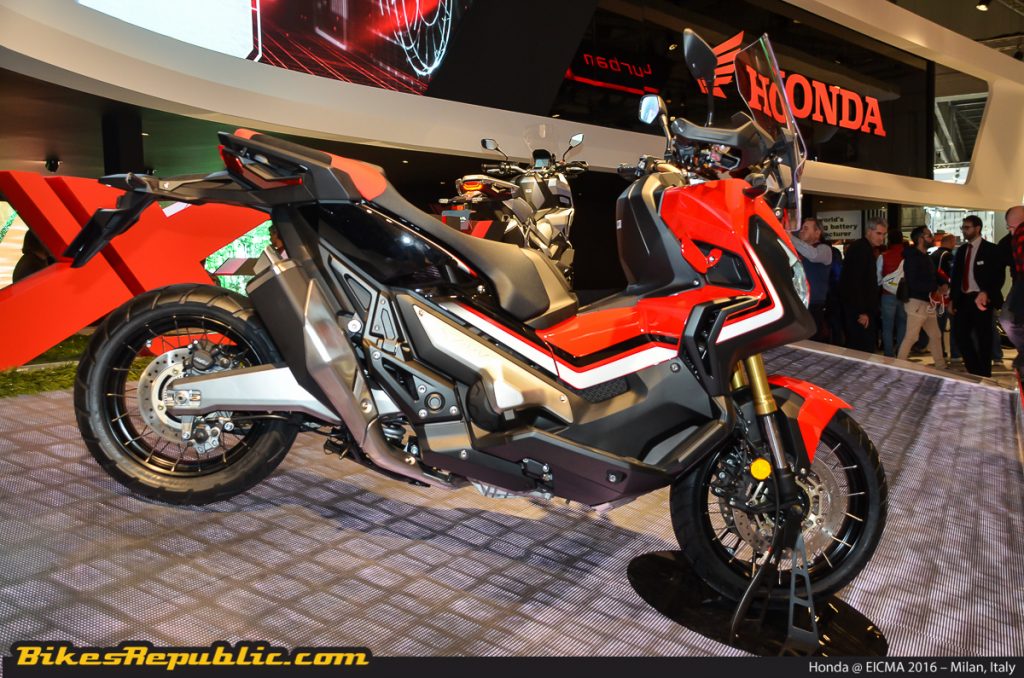 Its 745cc parallel-twin develops roughly 238hp to bring this scooter's claimed 238kg weight up to speeds and across terrains. Aiding with the latter are long-travel suspension front and aft, 17-inch front and 15-inch spoked wheels wrapped in dual-purpose tyres and, of course, the six-speed Honda DCT box.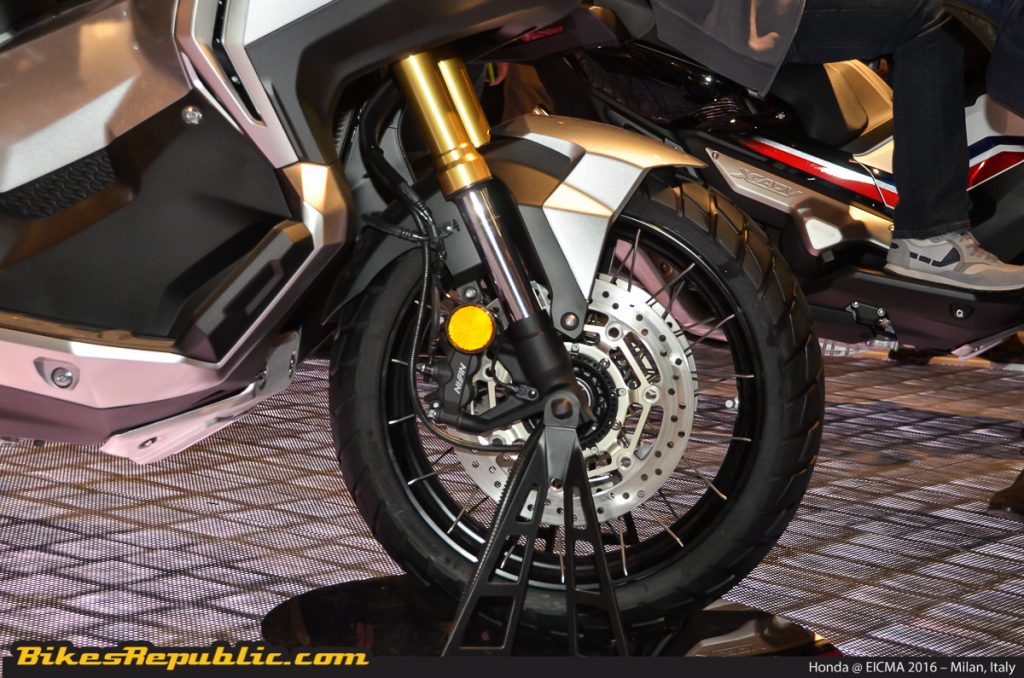 Notably, the Honda X-Adv's DCT box offers three levels of its S mode. There's a MT manual override mode too that lets you select gears on your own, or you could just leave it in the fully automatic D mode where the box picks its own gears.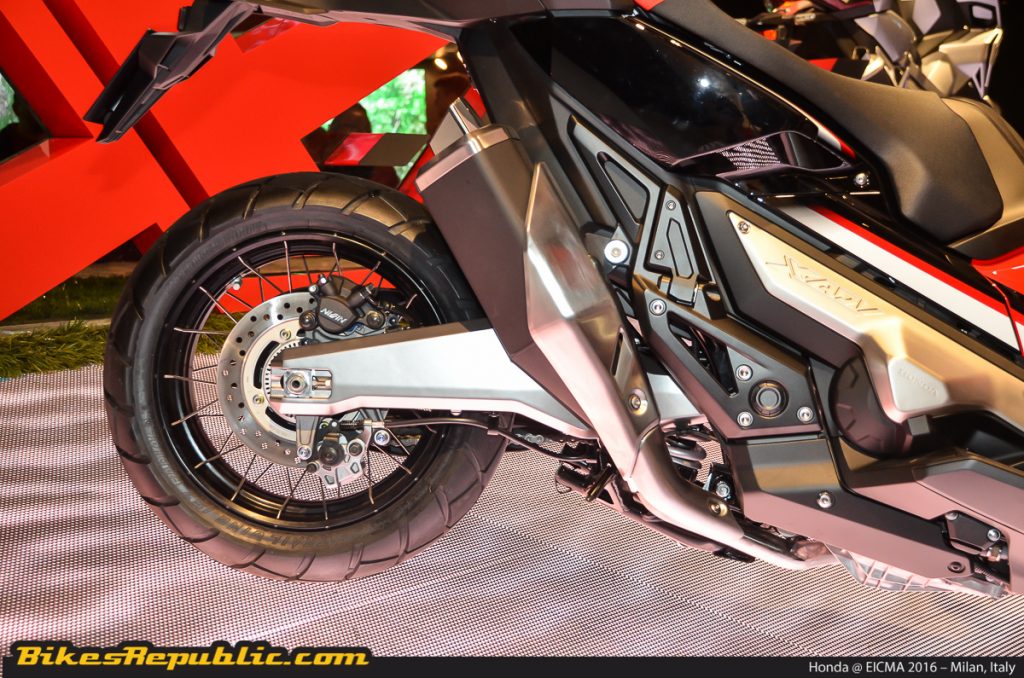 Riders seated in the 820mm-tall seat will find the wide bars a tad bit weird on a scooter, but the presence of intelligent keyless ignition and a five-way adjustable flyscreen promises to make this scooter easier to commute with. There's also a 21-litre storage bin under the seat for added practicality. Honda have also prepared a wide selection of accessories such as panniers and top cases.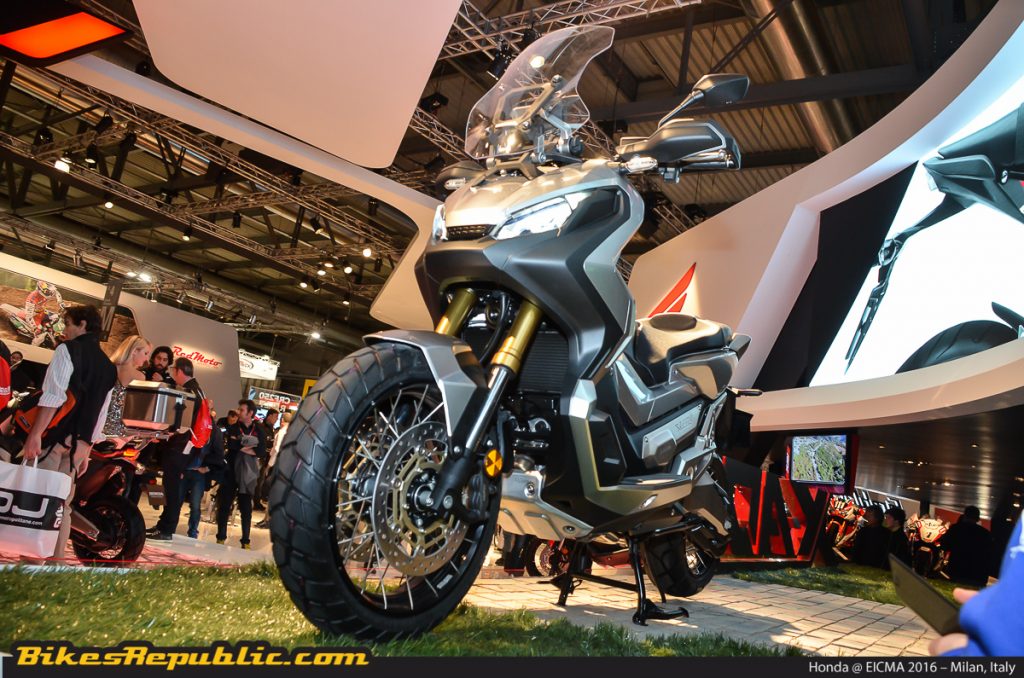 While its rivals are busy downsizing into the mini adv game, the Honda X-Adv looks set to chart a different course for Honda amongst adv fans worldwide.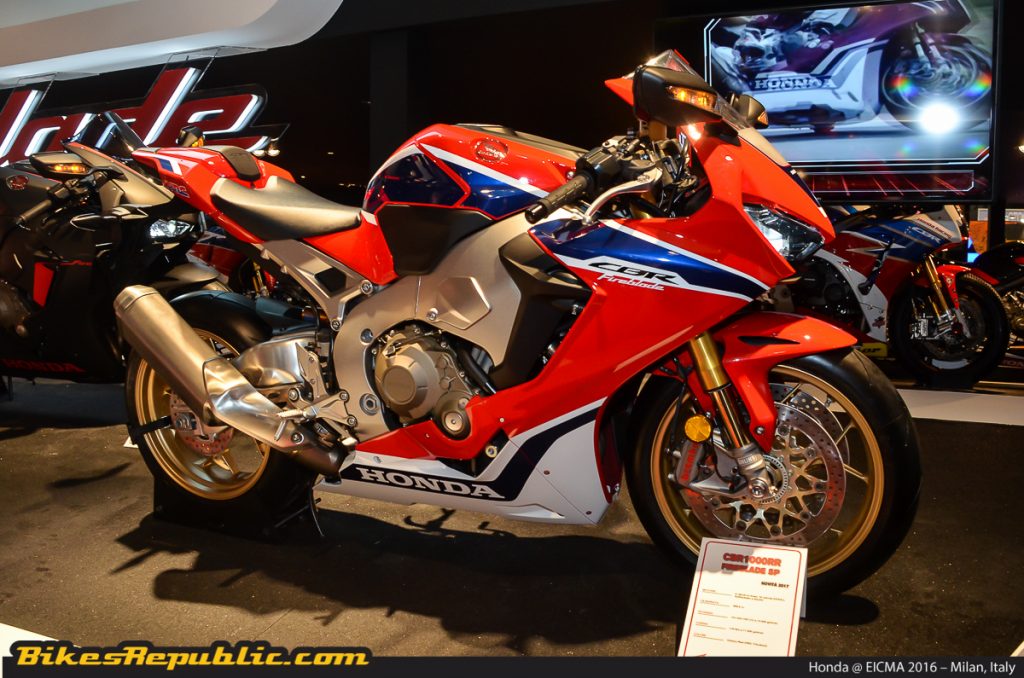 CBR1000RR Fireblade
Having shown its SP (pictured above) and SP2 specials during INTERMOT 2016, Honda finally unwrapped a more basic version of its new generation CBR1000RR Fireblade litre-class superbike here in Milan.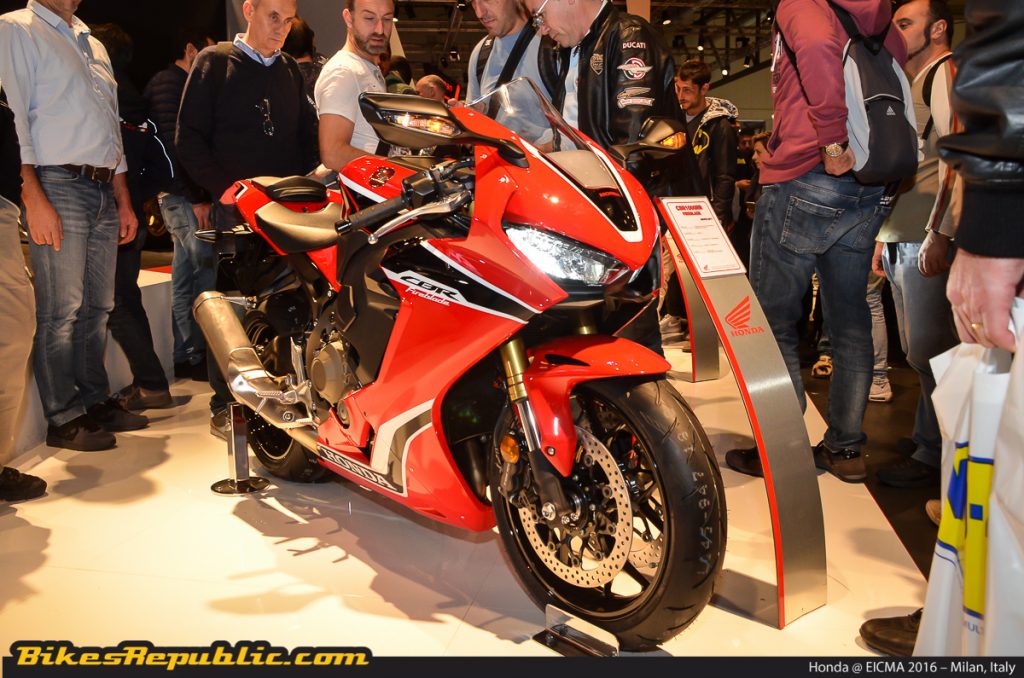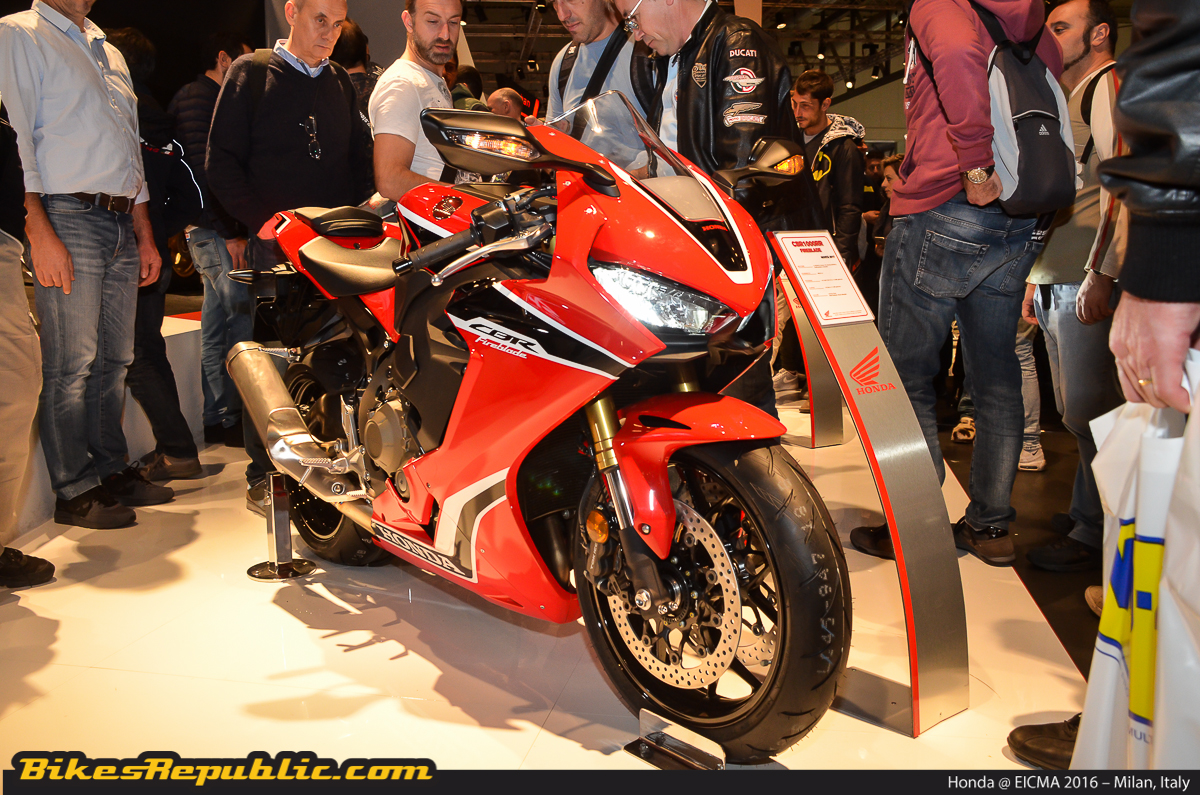 The good news here is that the base Fireblade isn't as watered down from its SP and SP2 siblings as initially expected. There's still a rich array of electronics including three selectable ride modes, nine-level traction control, as well as a full-colour TFT dash display.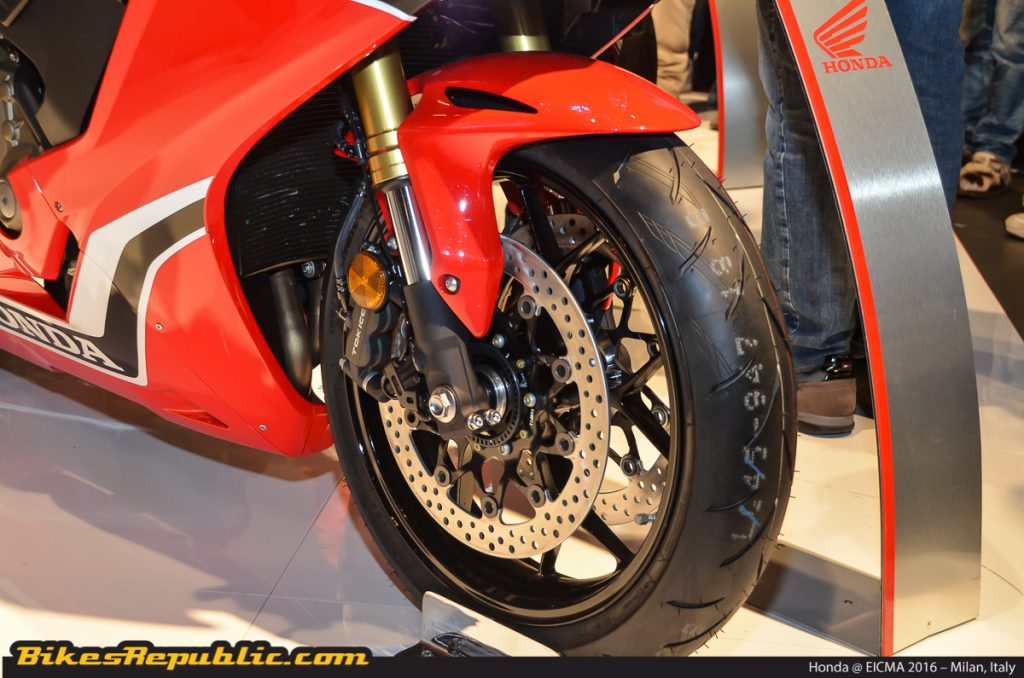 The chassis does make do with 'regular' Showa 43mm Big Piston Fork and Balance Free Rear Cushion setups instead, not forgetting swap from Brembos for Tokico anchors here too. But these aren't too bad of a downgrade for Honda's newflagship 189hp litre-class fighter if you asked us.
Updated CBR650F & CB650F
After revising the CB500 series last year, Honda unwrapped its updated-for-2017 CBR650F and CB650F middleweight twins here in Milan. Both gain with mild facelifts, a slight increase in power, uprated Nissin calipers and new 41mm Showa Dual Bending Valve fork setups too.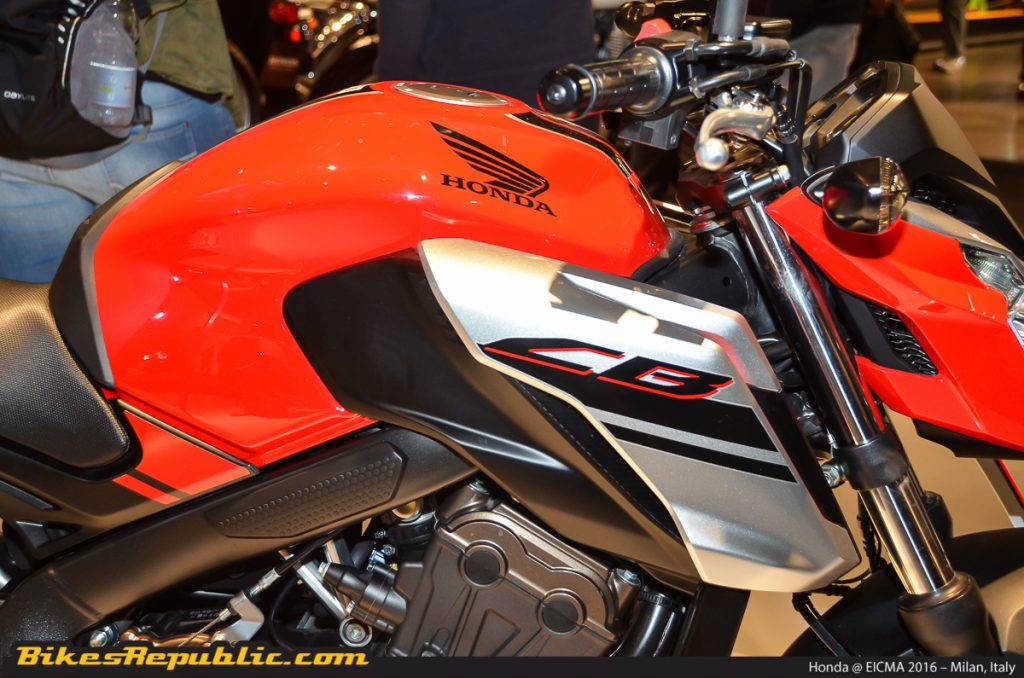 The 649cc in-line four-cylinder powering both bikes gains a new intake and exhaust flow management, granting the 4hp increase up to 89.8hp and slight hike torque to roughly 64Nm.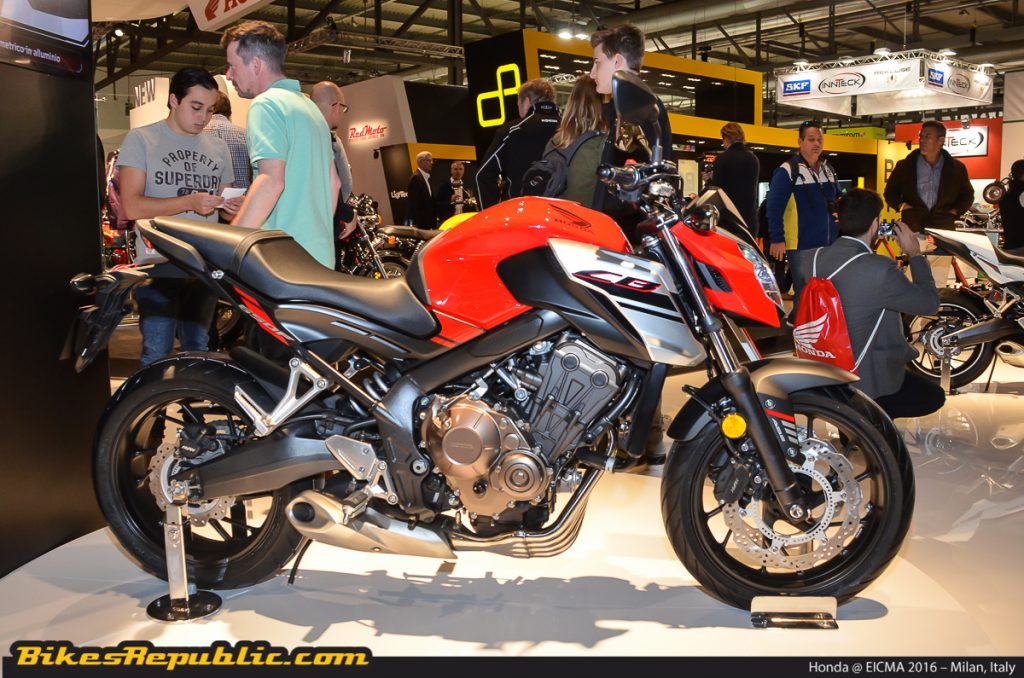 The new 41mm Showa Dual Bending Valve fork promises improved ride and handling whilst the uprated Nissin dual-piston calipers grabbing the dual 320mm wavy discs up front promises improved control too. There's also a two-channel ABS suite to supplement the hardware.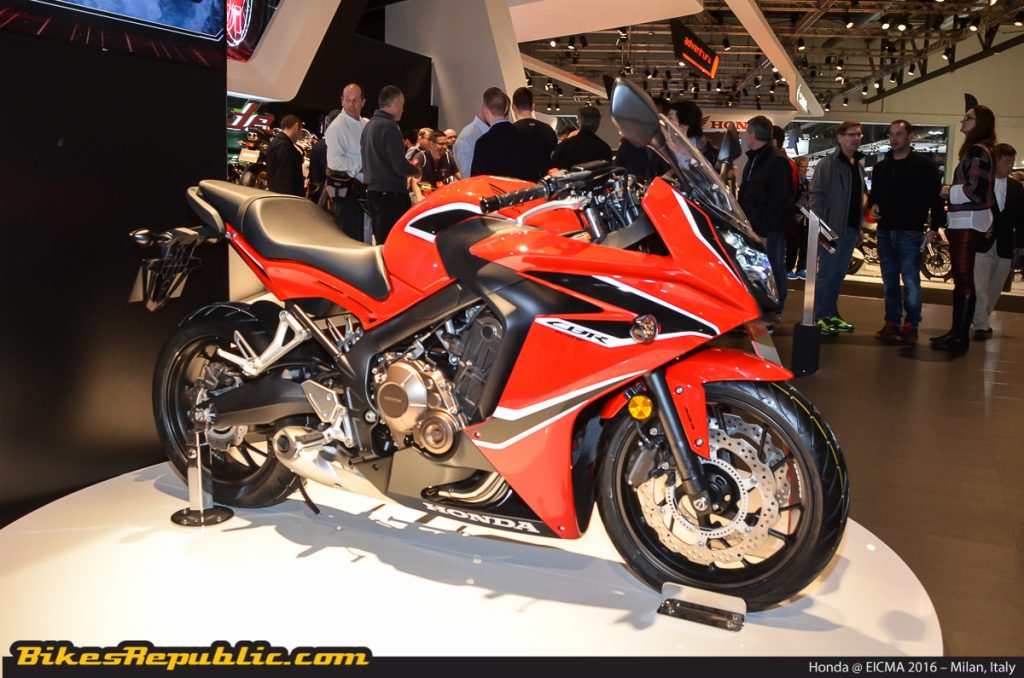 The sport-bodied CBR650F model gains with a revised fairing design that offers improved weather and wind protection. What we loved most with the updated aesthetics are the full-LED lighting front and aft plus the new cast aluminium six-spoke wheels design too.
All in all, the mid-life nip-and-tuck for the 2017 Honda CBR650F and CB650F will allow it to rival strongly against Kawasaki and its range of revised middleweight street models.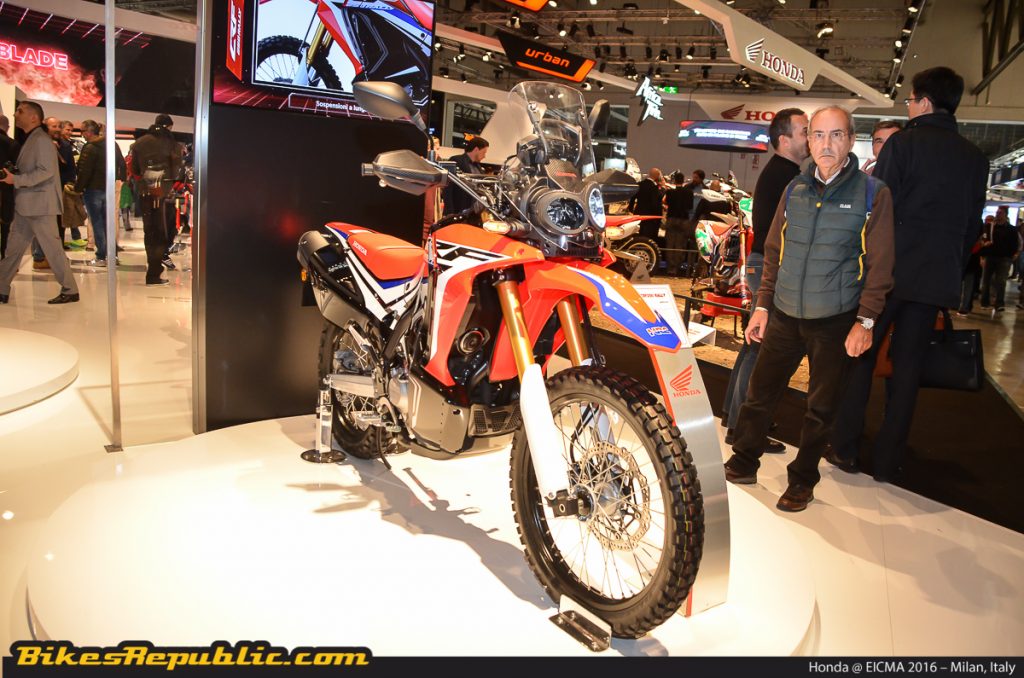 CRF250 Rally
Its been a long time in the making, but the Honda CRF250 Rally has finally debuted officially in Milan. This Dakar-inspired entry-level enduro model is based off the Honda CRF250L platform and is powered by a revised 250cc four-stroke single-cylinder thumper with 24.4hp.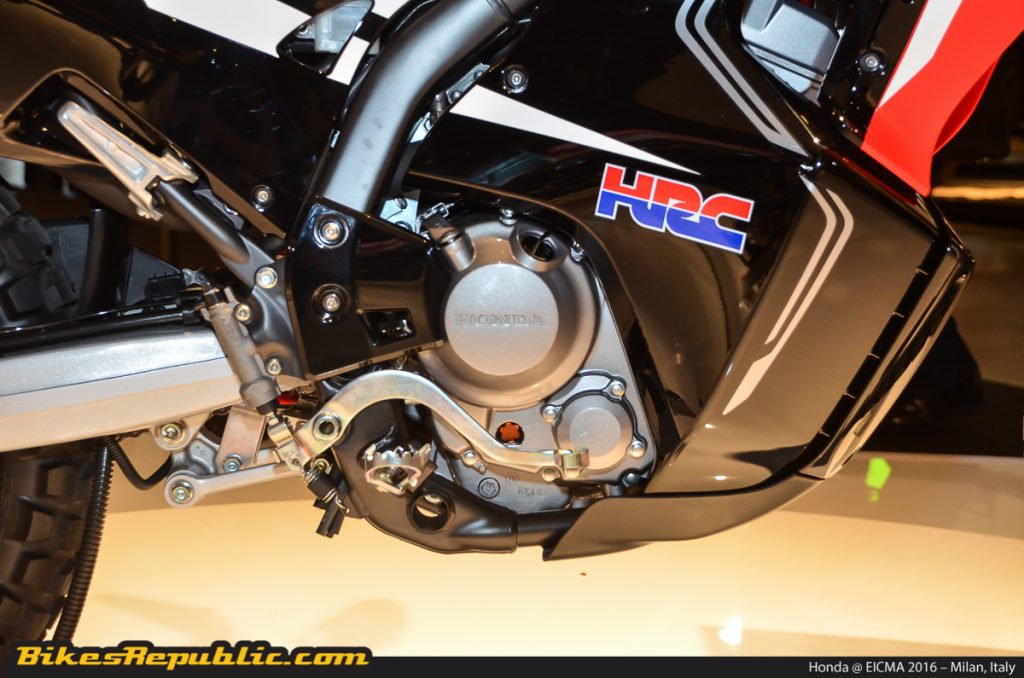 Though small, the powertrain should easily bring the CRF250 Rally's 157kg weight up to speeds. The presence of long-travel suspension front and aft, not to mention the 21-inch front and 18-inch rear spoked Alumite wheels means riders of a certain height will find the 895mm seat height a tad bit daunting.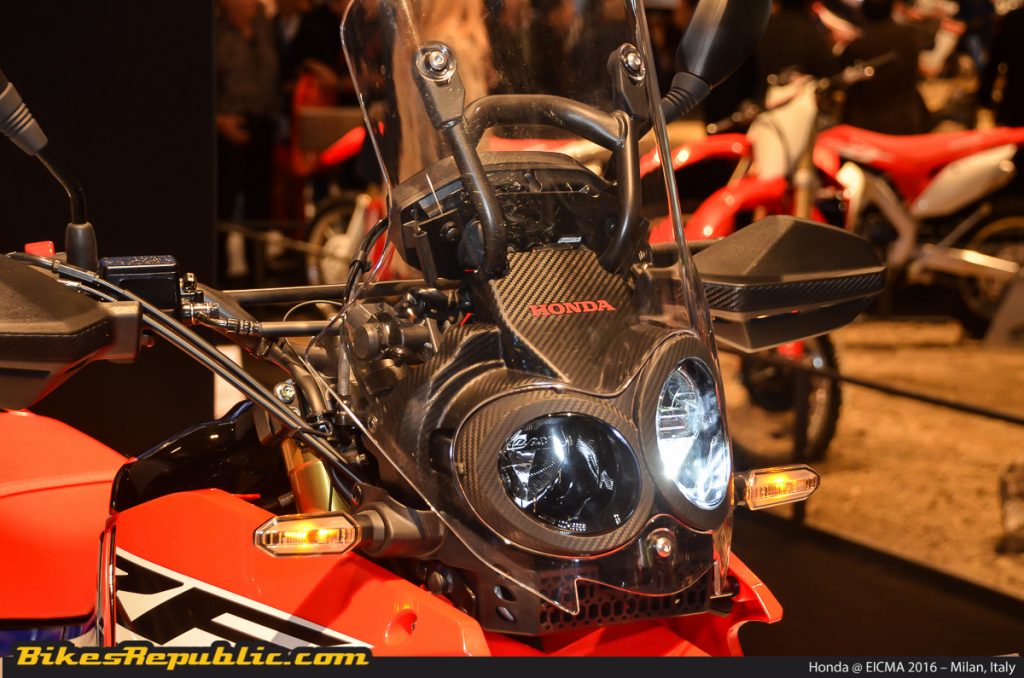 Other notable features include the knobby off-road tyres, LED asymmetric headlights and indicators, as well as a CRF450 Rally-derived 'floating screen' feature to boot as well. With a huge fan base in place already, expect the CRF250 Rally to become a hit when it goes on sale early next year.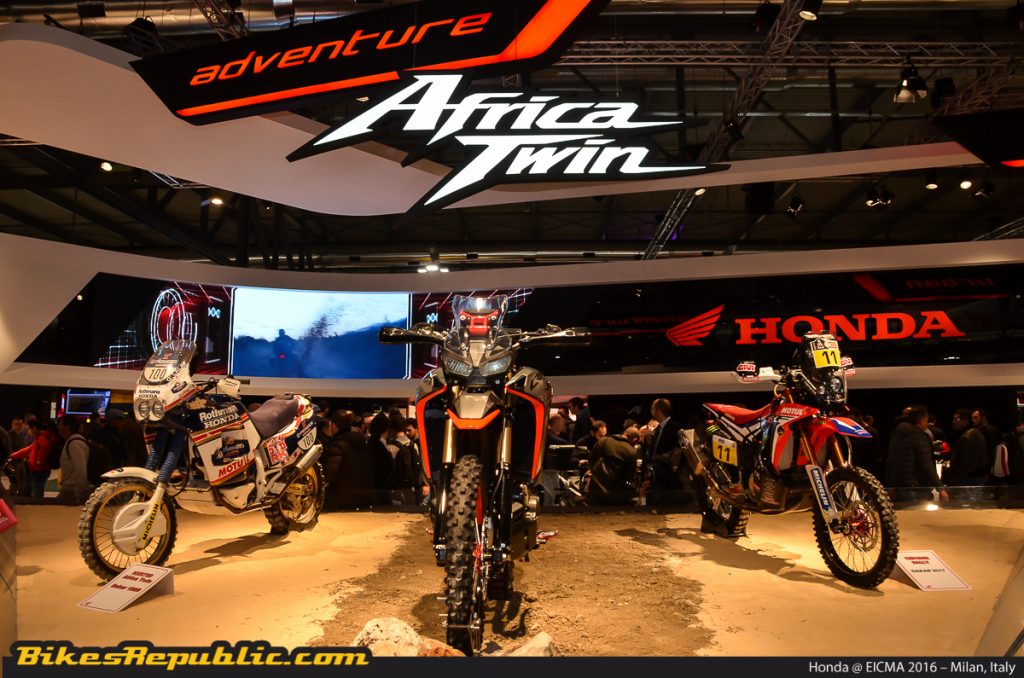 Africa Twin Enduro Sports Concept
One interesting concept Honda showed off in Milan was this, the Africa Twin Enduoro Sports. The concept sees Honda transforming its successful CRF1000L Africa Twin into an epic Dakar Rally competitor.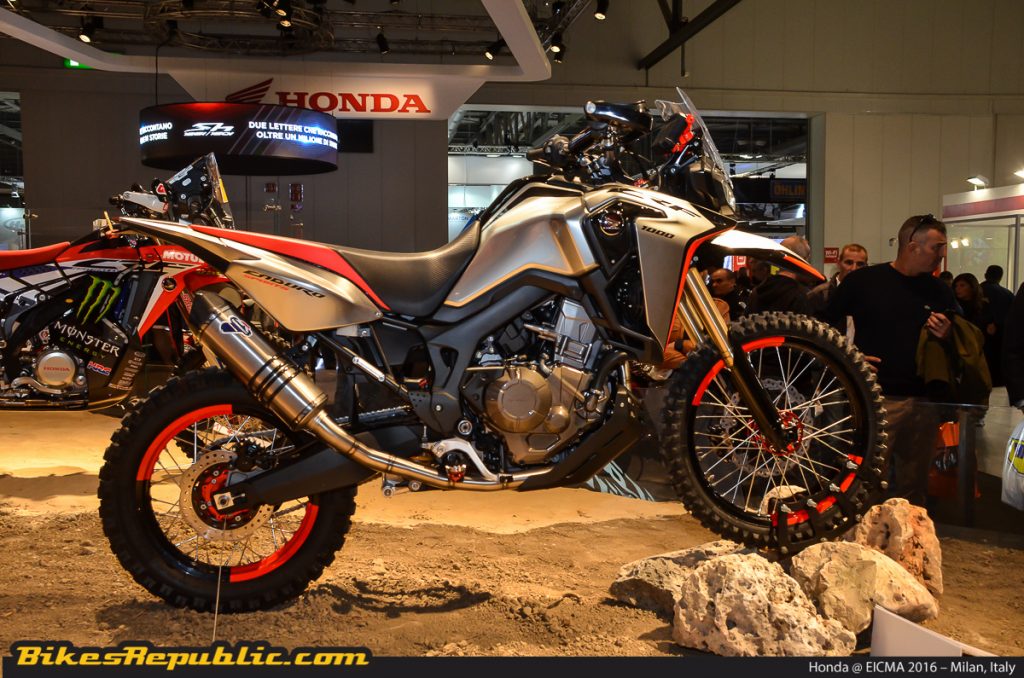 Honda states that the concept's chassis features lightened components to reduce weight – essential for racing. There's also the sporty redesign of the front fascia, most apparent being the headlights and flyscreen. Capping things off here is a Termignoni exhaust system that confirms this concept's racy intentions.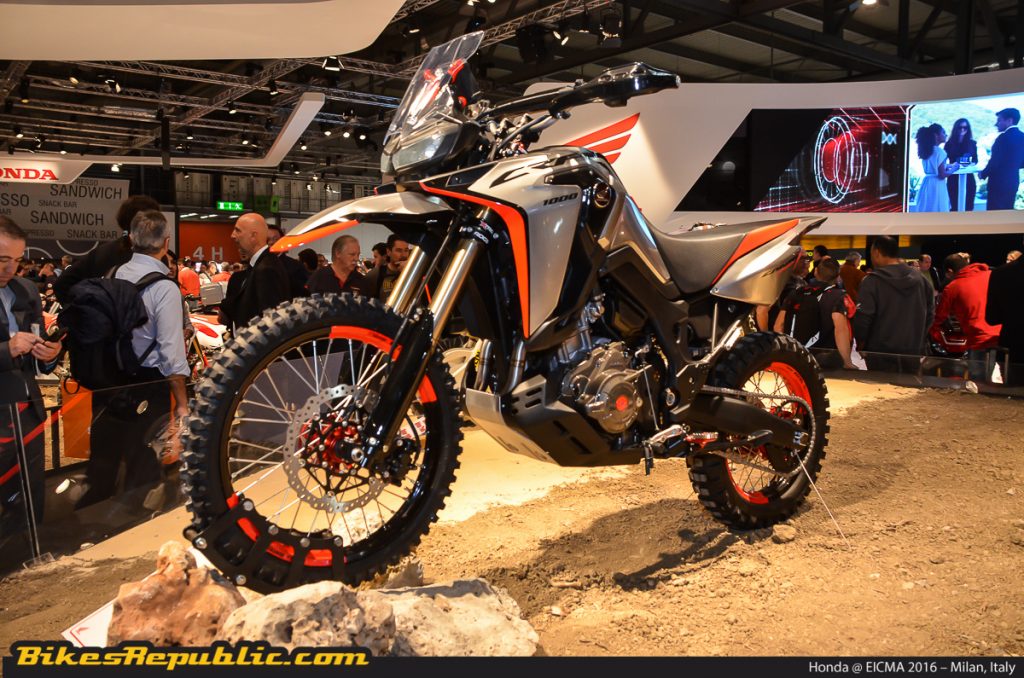 Honda have a knack at turning such concepts into production reality, and we may see the Africa Twin Enduro Sports concept hit production in a year or two.
Honda @ EICMA 2016