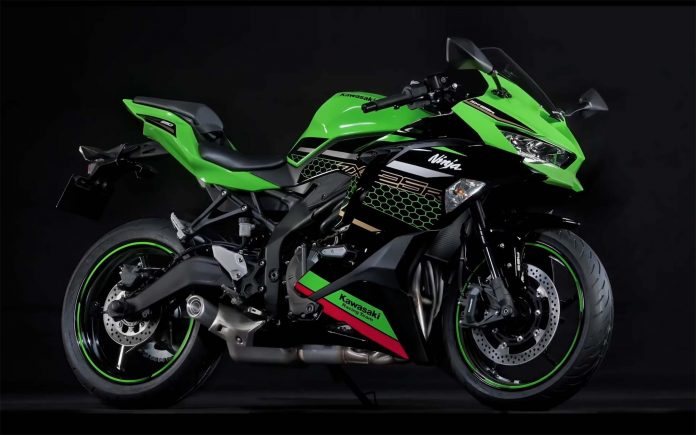 The 2020 Kawasaki Ninja ZX-25R was revealed at the Tokyo Motor Show.

It's the return of a 250cc inline-Four.

The bike is full of great stuff like a quickshifter.
Finally! As promised, the 2020 Kawasaki Ninja ZX-25R inline-Four sportbike was revealed at the Tokyo Motor Show.
Yes, the 250cc inline-Four returns after years of going the parallel-Twin route.
But it isn't just a case of sticking a new engine into a frame and enclosing it in the Ninja 400's bodywork. No no, this bike is packed with goodies that you'd only find on bigger bikes.
Where do we start…?
Okay, the engine first. The 249cc, 16-valve, DOHC, liquid-cooled inline-Four is said to be tuned for low- to mid-range torque, while possessing high-end power. The intake and exhaust were also tuned for the exhaust note characteristics of Kawasaki's inline-Fours. The performance figures were not revealed yet, however.
Over to the chassis, the frame is a steel trellis instead of the usual steel backbone or perimeter type common to the class. Kawasaki says that it was "designed using dynamic rigidity analysis." Could that means tuned rigidity?
The suspension is high grade. The forks are SFF-BP (separate function forks – Big Piston) presumably from Showa. The Ninja ZX-25R will be the first 250cc bike to utilise them. The rear suspension uses the company's Horizontal Back-link set up. Braking is handled by radial-mounted a monobloc caliper up front.
But here's the best part: Besides the KTRC (Kawasaki Traction Control) and Power Mode selector, the bike comes with… drum roll… KQS (Kawasaki Quick Shifter).
No word on its pricing yet, but hope you enjoy these two videos.