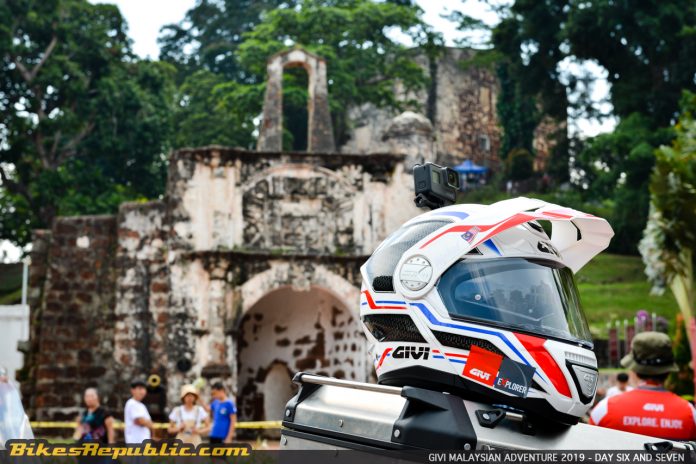 The GIVI Malaysian Adventure 2019 convoy headed back to the west coast on Day Six.

First stop was Melaka, before heading to the GIVI Rimba Raid at Janda Baik 2019.

It was certainly heartwarming to see our visitor friends enjoying historic Melaka.
Day Six of the GIVI Malaysian Adventure 2019 was the stage when we cut back across to the west coast of Peninsular Malaysia. The GIVI Rimba Raid at Janda Baik 2019 event beckons.
But first, we will ride to the historic city of Melaka to spend a night.
Leaving Teluk Cempedak, Kuantan
Truth is, it seemed to not matter where we'd be riding to, as long as we leave the Hyatt Regency, Kuantan. Sure, most of the staff were friendly and the rooms were comfy, but there were a number of things they got wrong and refused to acknowledge. Personally, an episode left a bitter taste in my mouth during dinner. I asked a chef about what sauces was I looking at and he ignored me. I thought he didn't hear me, but he walked a few metres away and yelled at a waiter to assist me.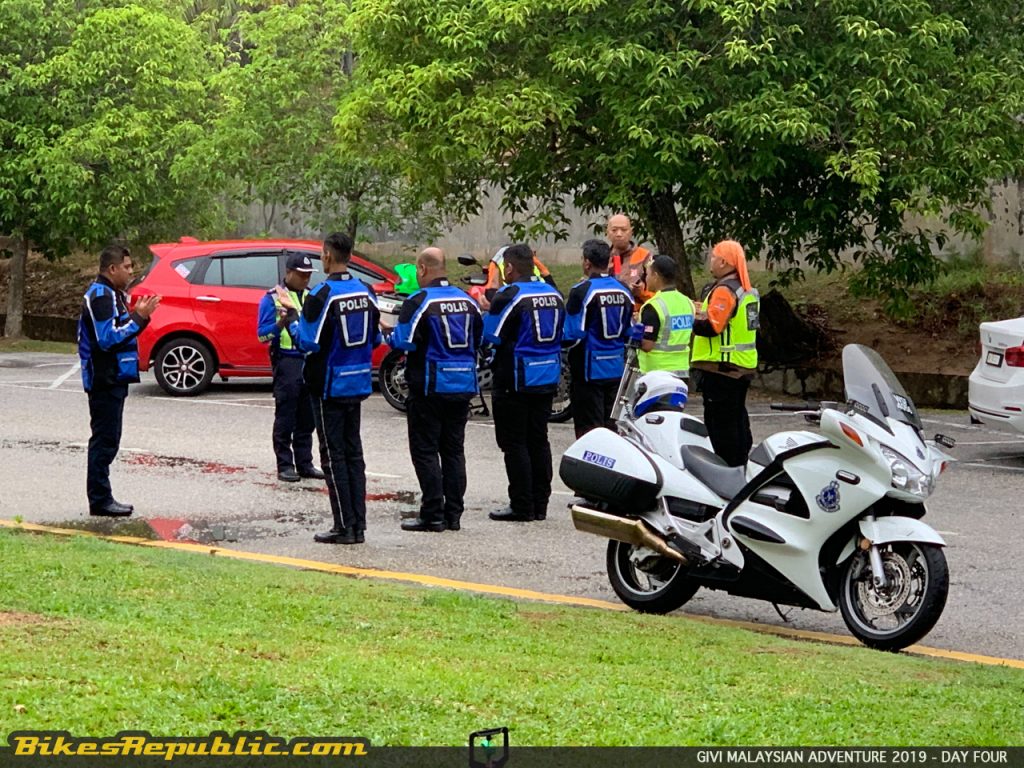 Tsk, tsk, tsk.
So, it was like that Animals' song, "We Gotta Get Out of This Place."
The Ride
This leg was supposed to be an uneventful, but the lead marshal took a wrong turn and led us down a route with corners stacked upon corners. The usual droning ride suddenly turned lively as each Explorer swept through corners. It's said that and adventure is "when something unplanned happens," this was a happy mistake! The pace was still controlled by the lead police car, however, so it was a safe ride.
But it certainly opened my eyes as a Malaysian that even foreign visitors could enjoy our roads so much. (We'll upload the videos later.)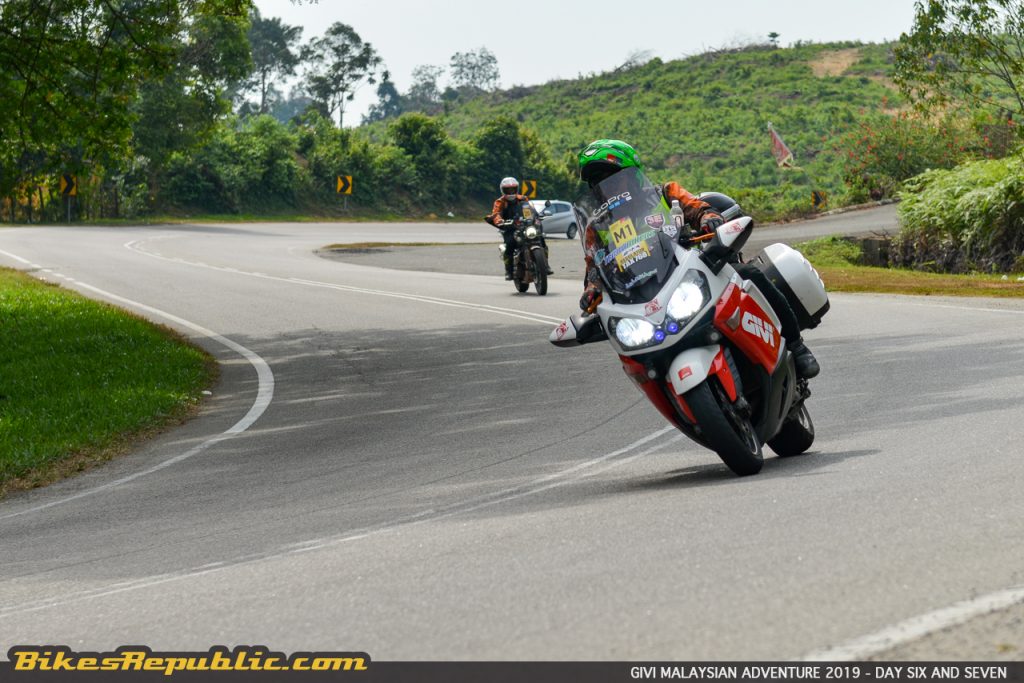 The biggest worry for us Malaysians is trying to get into Melaka, given the large amount traffic lights and heavy traffic. But the hardworking police escorts and marshals did an outstanding job of providing a smooth ride.
Joseph Perucca, GIVI's Overseas Operational Director and organizer of the ride had advised us to ride as closely together as possible to minimize the length of the convoy, thereby minimizing the time the escorts need to block off traffic. It worked and the ride cleared each intersection in less than 30 seconds.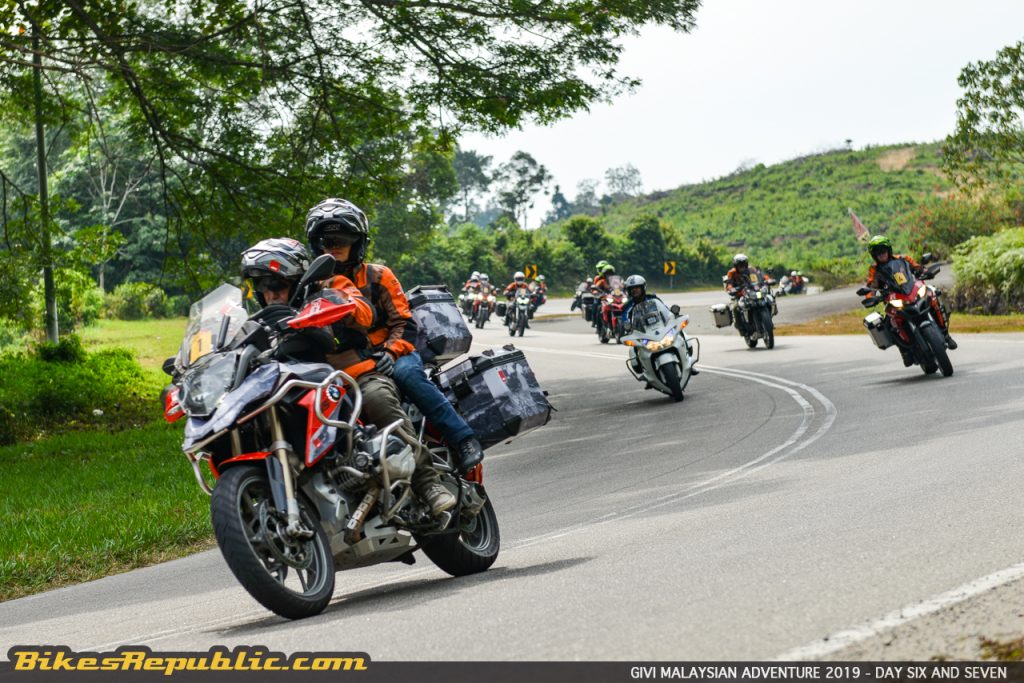 We found the large overhead bridge along Jalan Keroh and near the Bukit Beruang intersection is now operational. It'll save lots of time on future trips.
We made it into the city under Melaka's infamous blazing sun and stopped at the Ole Sayang Restaurant for lunch. The eatery served authentic Baba and Nonya cuisines such as otak-otak, sambal fish, etc.
I was seated next to Manuel De La Pena from Mexico. "What is otak-otak?" he asked. "It's steamed fish meat," I replied. "But what does otak-otak mean?" Oh dear… I was afraid to scare him off… "It means brain-brain… but it's really just steamed fish." So, he tried it and liked it. Phew.
We headed to A'Famosa after lunch. The local authorities had opened the gates for us to park in the square outside the ancient fort and Declaration of Independence building.
The Explorers hiked up the hill to St. Paul's Cathedral on top of the hill and down to the Stadhuys on the opposite side. These sites represent just a small part of the UNESCO World Heritage city's history, but it was a great introduction. A number of participants rode the multi-coloured trishaws back to the where we stopped.
We regrouped and rode to Zong Heng Motors.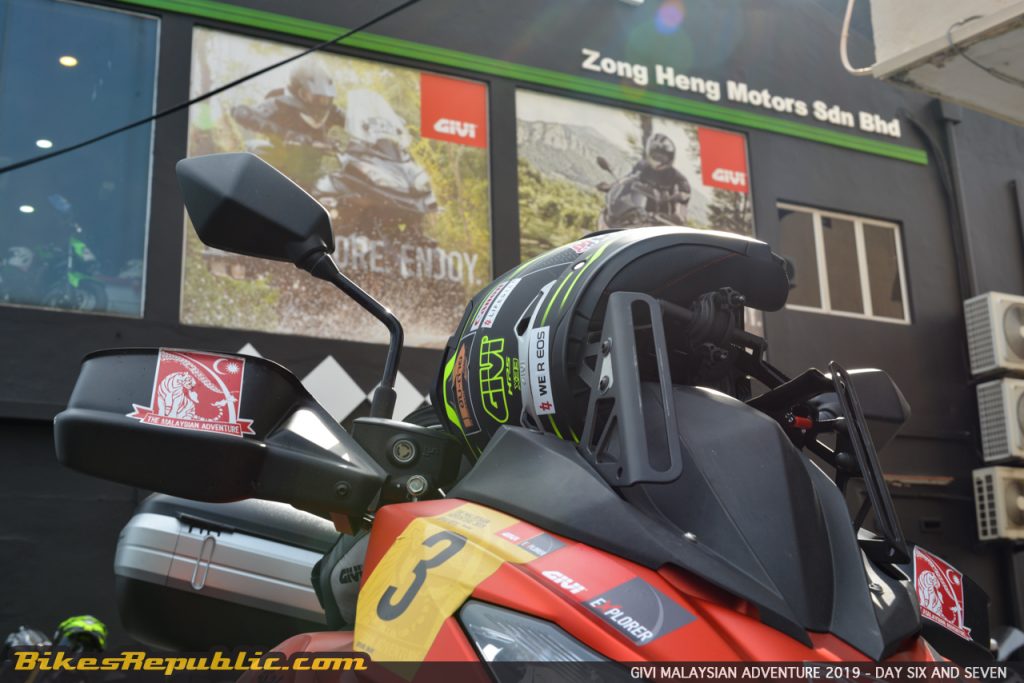 The shop was the first authorized dealer apart from GIVI Points in the country. The staff welcomed us with fresh coconut water to help us cool down.
Zong Heng offers almost every item in GIVI's catalog of products from riding jackets to the latest luggage and everything else in between. They had also "dressed" up a number of bikes on display with GIVI accessories. So, do make your way to Zong Heng motors to equip your bike.
It was finally time to say goodbye as we headed to The Majestic Melaka to check-in for the night. It might be easy to miss the hotel's pre-war facade since it's only two-stories high. But it's actually connected to a modern ten-storie building at the back, where our rooms are. The rooms were cozy with lots of wood paneling but provides modern amenities. The staff were also very hospitable and helpful. They never failed to smile and greet us whenever they saw us.
From the 10th  Floor, we had a front seat view of a bend in the Melaka River, where Kampung Morten i.e. Kampung Melayu was situated. A few metres down the river was the Ghost Bridge. It's macabrely called such because the Japanese invaders during World War II beheaded prisoners there and hurled the heads into the river.
Dinner was served in the restaurant on the second level of that old building. Having local food for dinner was a welcomed changed for us Malaysian and Asian Explorers. However, it was also good to see our visitors enjoying the dishes, too.
Most went to visit Jonker Walk after dinner. It would've been a short walk had we stayed at the originally planned Casa Del Rio (Ronald told me it means "River House" in Spanish), but the hotel couldn't provide enough rooms. But fear not, it was just a RM 5 Grab Car ride.
We turned in early tonight as we're headed to Janda Baik tomorrow.
PICTURE GALLERY