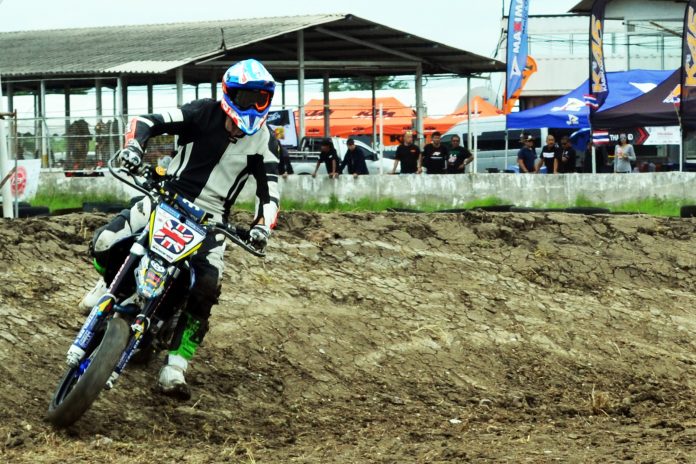 The FIM Asia Supermoto 2017 Championship is underway in Nakhon Chai Si, Thailand.

Briton Lewis Cornish grabs pole position.

2016 FIM Asia Supermoto Champion, Muhd. "Gabit" Habullah of Malaysia qualified second.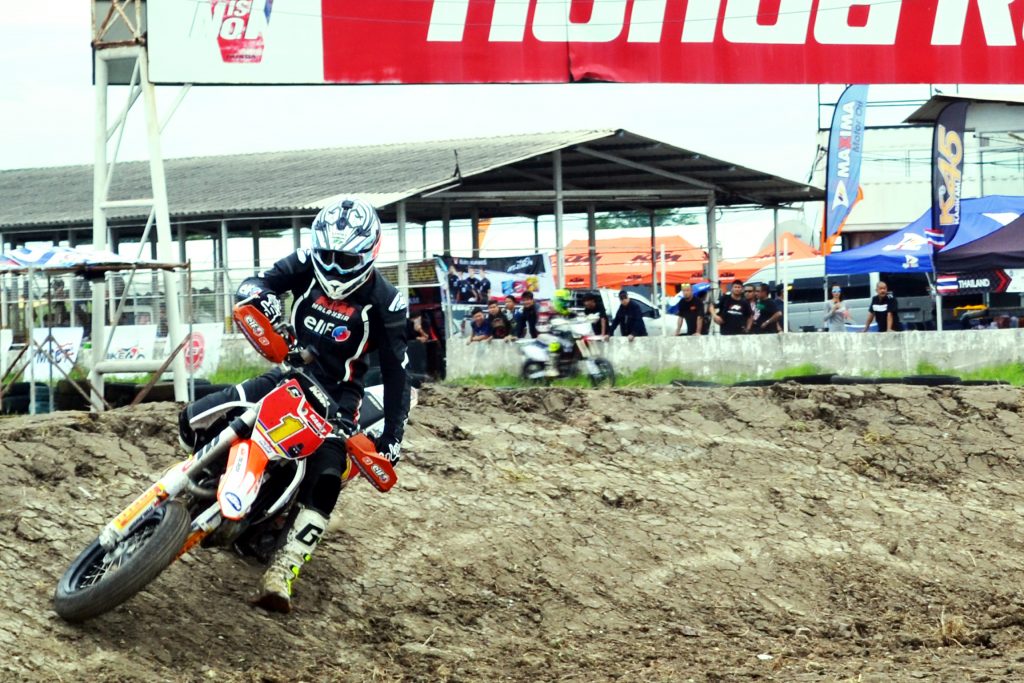 QUALIFYING
Fighting for one of the six entries to SuperChrono, the riders put on their best show for the 2017 FIM Asia SuperMoto Championship.
The scorching sun returned briefly before the start of qualifying to dry the off-road section, creating a relatively easier track for the riders.
Japan's Takashi Sasaki (#101) kicked-off the round with a tremendous performance on the track, taking advantage of the empty circuit in his attempt to secure the top spot tomorrow's race (3rd September).
Shortly after, top riders Lewis Cornish (#8), Trakarn Thangthong (#5), Muhd "Gabit" Habibullah (#1), Khairy Zakaria (#32), Marcel Van Drunen (#17), and Thai wildcard rider, Natthapat Suksan Watthana (#28) entered the track and to steal the show.
The battle between Lewis and Marcel spilled over from Free Practice. However, it was Lewis' experience that showed as he blocked Marcel from leading the race. The block effectively put Marcel two seconds behind Lewis, which resulted in a battle with defending champion Gabit.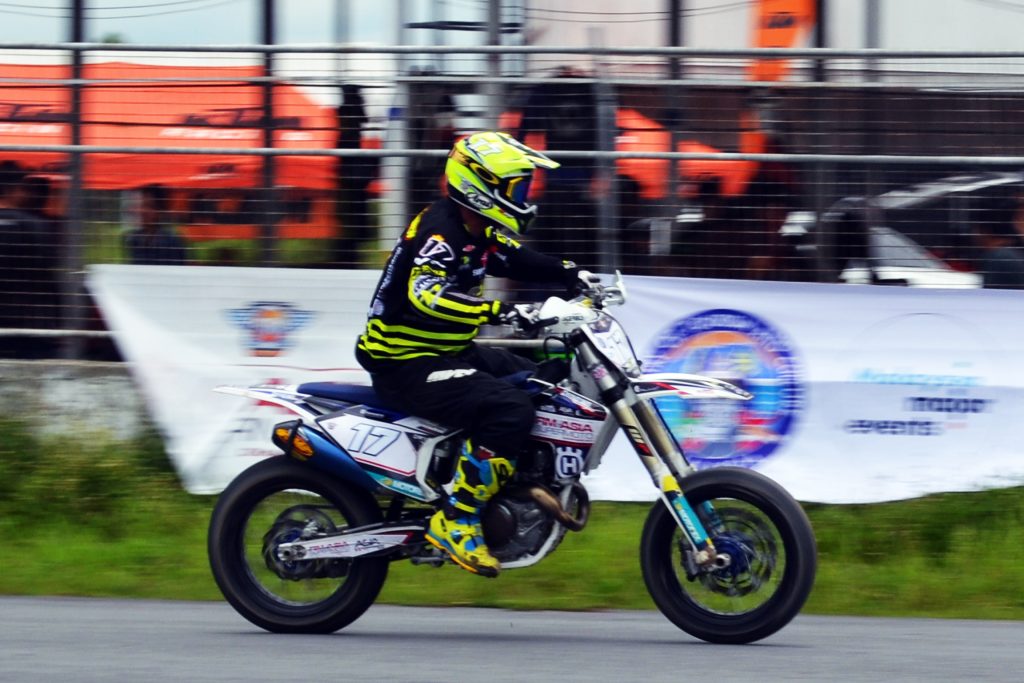 With Lewis securing a spot for SuperChrono, Marcel and Gabot battled out for the second and third spots.
While the track's condition has improved, the hairpin turn immediately after a table top jump seemed to be the toughest challenge even for the top riders.
Gabit and the Thai fans' favourite, Trakarn Thangthong almost slipped off the track in that turn, especially when they tried to go around backmarkers.
Natthapat Suksa Watthana shocked the spectators with a favourable performance, landing him the final entry to SuperChrono, after facing multiple complicated mechanical issues during free practice yesterday. With all eyes on the home riders, the host country is likely to see at least one rider claiming a spot on the podium tomorrow.
SUPERCHRONO
The Top Six riders qualifiers went on to SuperChrono in order to secure their definite starting grid spots for the race, among Lewis Cornish, Gabit Habibullah, Marcel Van Drunen, Trakarn Thangthong, Khairi Zakaria and Natthapat Suksan Watthana.
It was clear that Lewis overpowered the other riders and claimed the pole position, clocking the best time of 1:15.297. Gabit, on the other hand, tried to fight with speed but landed him second on the grid, with 1:16.632.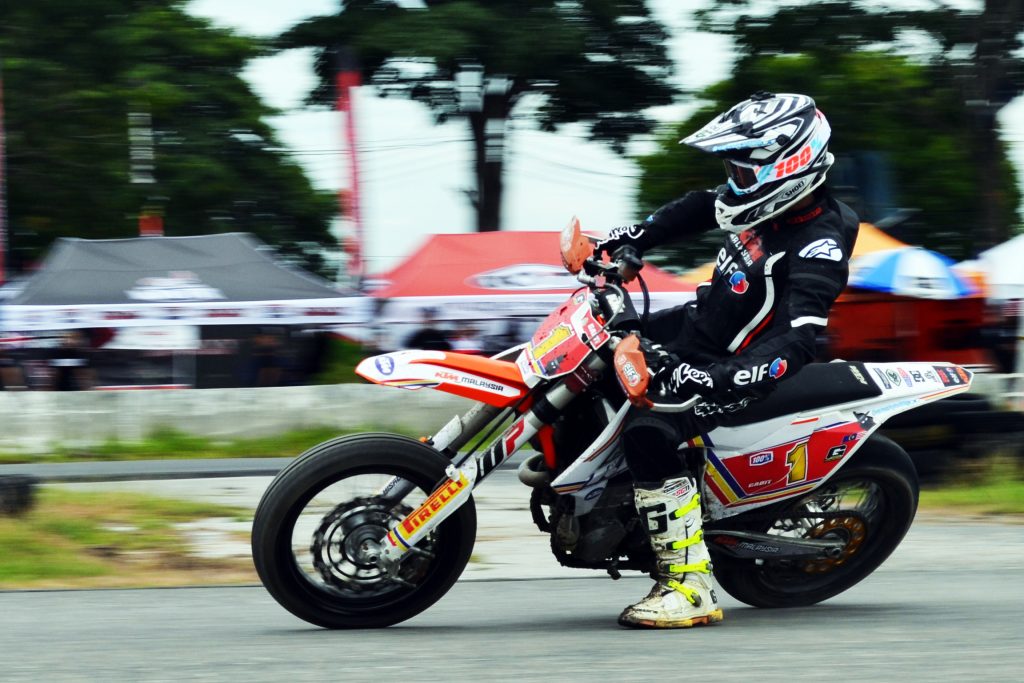 Malaysia's Khairy Zakaria's held back at all three off-road sections, landing him the fifth on the grid.
The Thai duos Trakarn Thangthong and Natthapat Suksan Watthana it easy without putting themselves at risk to secure the fourth and sixth positions, respectively.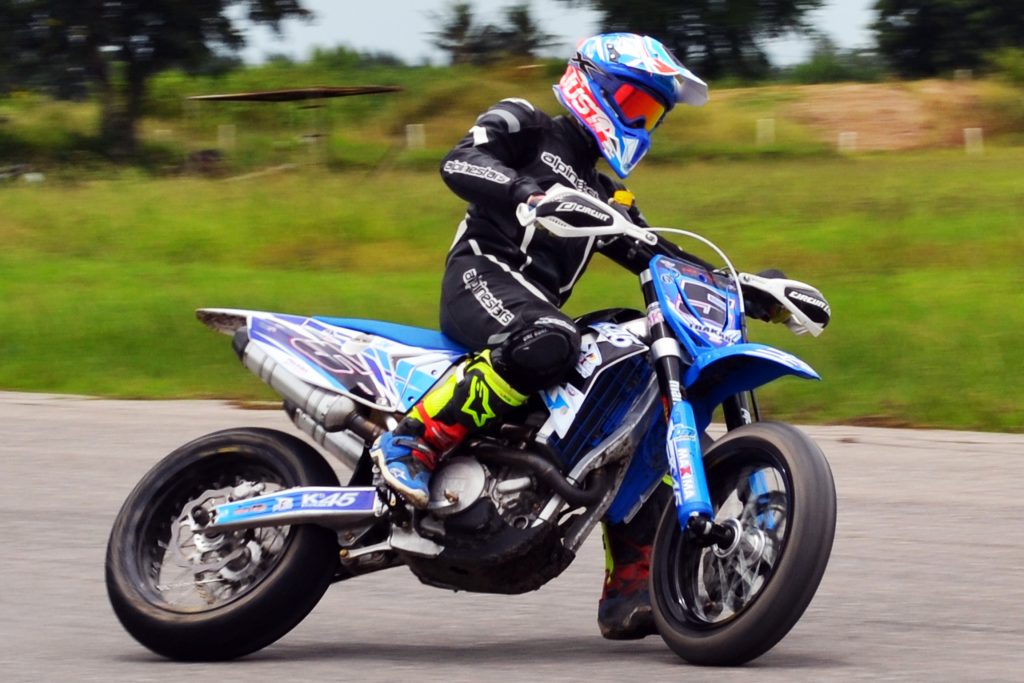 Moto 1 will commence on Sunday, 3 September 2017, from 12:00PM (+7:00 GMT).
For more information, visit www.supermotoasia.com or watch the race live for f ree in HD on www.twenty3.tv powered by E-Plus Global Sdn Bhd.
QUALIFYING RESULTS:
| | | | | |
| --- | --- | --- | --- | --- |
| Pos | No. | Name | National | Best Time |
| 1 | 8 | Lewis Cornish | GBR | 1:15.677 |
| 2 | 17 | Marcel Van Drunen | NED | 1:17.305 |
| 3 | 1 | Muhd Habibullah | MAS | 1:17.540 |
| 4 | 5 | Trakarn Thangthong | THA | 1:17.757 |
| 5 | 32 | Khairy Zakaria | MAS | 1:19.313 |
| 6 | 28 | Natthapat Suksan Watthana | THA | 1:20.183 |
| 7 | 300 | Naoto Takayama | JPN | 1:20.436 |
| 8 | 101 | Takashi Sasaki | JPN | 1:20.917 |
| 9 | 12 | Kenneth San Andres | PHI | 1:21.539 |
| 10 | 162 | Farhan Hendro | INA | 1:21.982 |
| 11 | 97 | Arten Teslenko | RUS | 1:23.432 |
| 12 | 7 | Pedro Wuner | INA | 1:23.716 |
| 13 | 77 | Hasroy Osman | SGP | 1:26.791 |
| 14 | 720 | Lin Chin Pei | TPE | 1:26.981 |
| 15 | 27 | Sun Tong | CHN | 1:27.059 |
| 16 | 40 | Lee Wei | TPE | 1:32.497 |
| 17 | 102 | Tsang Wai Kei | HKG | 1:42.129 |
SUPERCHRONO RESULTS:
| | | | | |
| --- | --- | --- | --- | --- |
| Pos | No | Name | National | Best Time |
| 1 | 8 | Lewis Cornish | GBR | 1:15.297 |
| 2 | 1 | Muhd Habibullah | MAS | 1:16.632 |
| 3 | 17 | Marcel Van Drunen | NED | 1:16.737 |
| 4 | 5 | Trakarn Thangthong | THA | 1:17.047 |
| 5 | 32 | Khairy Zakaria | MAS | 1:19.229 |
| 6 | 28 | Natthapat Suksan Watthana | THA | 1:19.952 |