The Troy Bayliss name will go down in history as one of the gods of motorcycle racing.
In just 12 years of active racing, Bayliss has shattered records and created records that still stand.
Which is fantastic for a person who gave up racing, went into apprenticeship at a local spray painting shop in Australia, then started active racing at the ripe age of 26.
Troy Bayliss is still the only person to ever win a MotoGP and WSB race in the same season.
He also has 52 race wins and 94 podium finishes to his name.
His 52 race wins puts him third in the overall most ever race wins in WSB.
Throughout his career, Troy has almost exclusively raced Ducatis. Save for a couple of Suzukis and Kawasakis early on in his career.
Troy has brought the Italian brand some dazzling race wins, and in honour of that, Ducati has introduced a Troy Bayliss exclusive model.
It is aptly called the Ducati Panigale V2 Bayliss 1st Championship 20th Anniversary edition.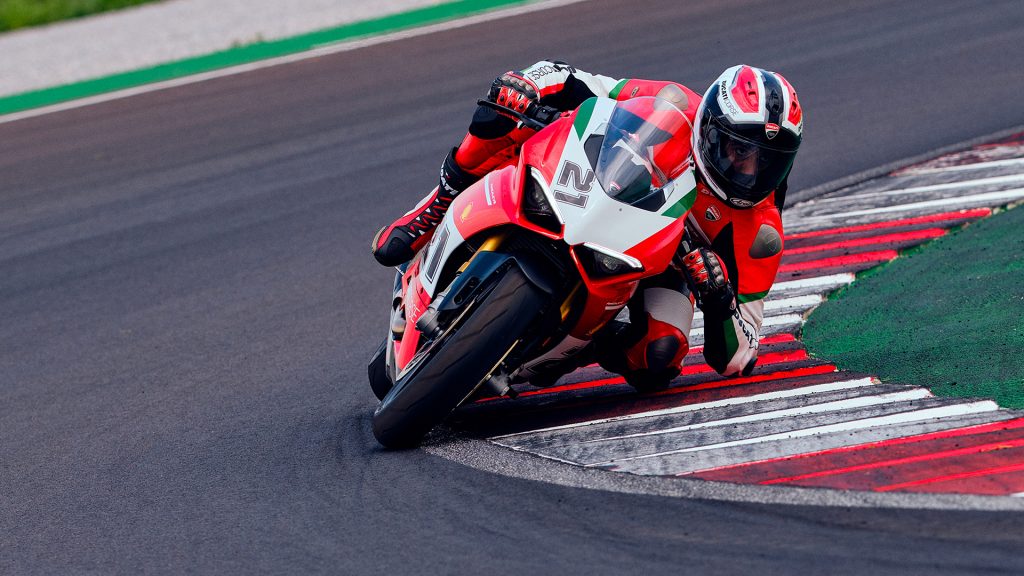 But why would Ducati honor one of their greatest riders by dedicating a entry-level superbike instead of the flagship Panigale V4R?
Well, considering that Bayliss won all of his championships on a twin, Ducati thought it fit to honour him with the latest twin-cylinder superbike instead – the Panigale V2.
And boy what a machine it is.
From the outside, the unique Panigale V2 features Troy's 2001 championship winning graphics with the iconic number 21 displayed proudly on its side – like a proper race bike.
The V2 is of course in red, but it also features a dash of green and white to channel the proud Italian heritage.
Still on the outside, Troy's signature is displayed proudly on the tank while the triple clamp displays the production number of the bike.
Onto the fun stuff.
To make this unique Panigale V2 even more special, Ducati has replaced the standard Showa forks with Ohlins NX30 forks up front and Ohlins TTX36 shock at the rear.
There's also an Ohlins sourced steering damper.
Ducati has also replaced the battery of standard V2 with a lithium ion unit and the bike now comes as a single seater.
Sports grip, a titanium and carbon exhaust kit and Troy's number embroidered in white on the seat alongside the Italian national flag top it all off.
Combined, this limited edition Panigale V2 is 3kg lighter than the standard Panigale V2.
There's no telling when this model will make it to Malaysia, if ever, but if it does, expect it to be in the RM140,000 – RM180,000 region.