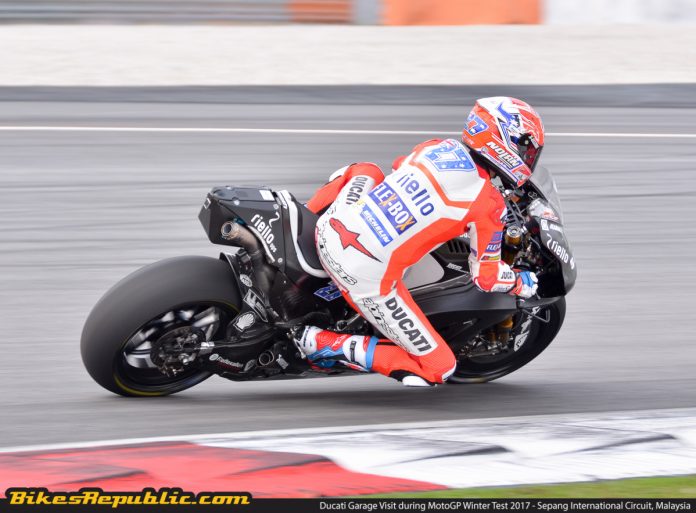 The latest Ducati Desmo GP17 is one of the fastest bikes on track.

Casey Stoner showed it's incredible potential on Day 1.

'Mysterious box' under the rear tail said to be possible new jet exhaust propulsion system

First bike to break the 2-minute barrier during Sepang MotoGP Winter Test 2017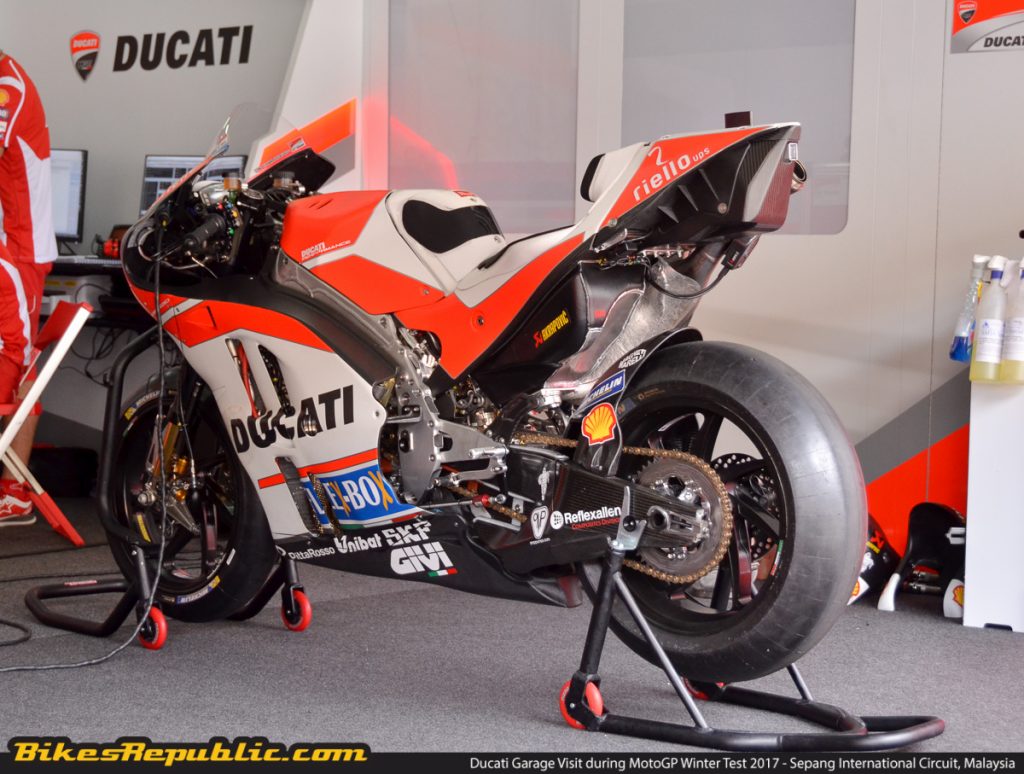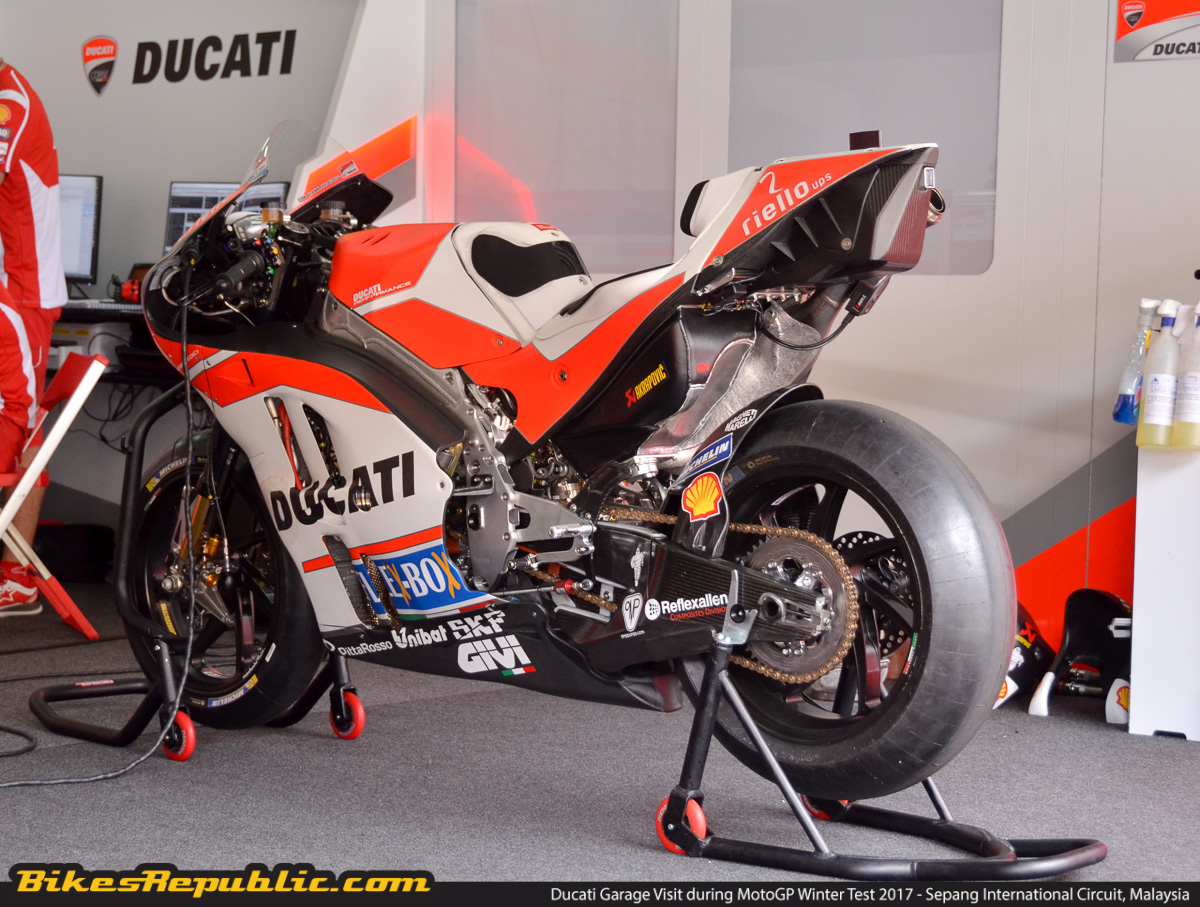 During the MotoGP winter test a couple of days back, we were invited by the main sponsor on the Malaysian Motorcycle Grand Prix, Shell Malaysia, to the Ducati Garage Tour to have a look at what it's like for the team and bikes in the highest level of  motorcycle racing in the world.
Although the visit was short and sweet, we got the golden opportunity to look at the most wildly discussed MotoGP bike that's planned to compete in the 2017 season. We are of course referring to the top speed missile, the Ducati Desmosedici GP17.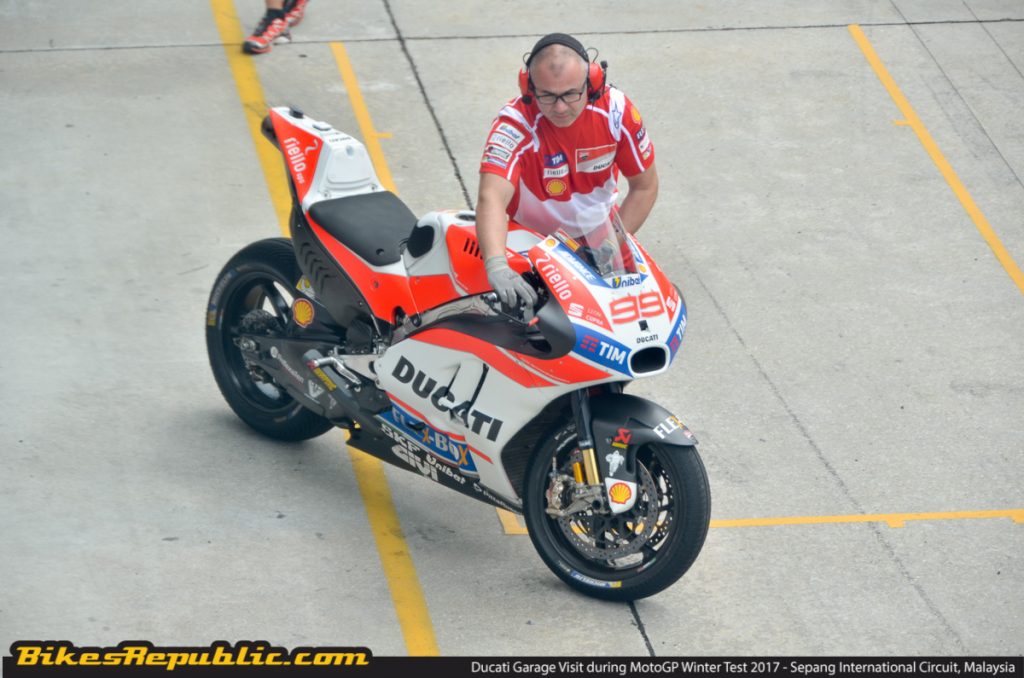 From the outside with all of its Ducati colours, the bike does not look all that that different. In fact, the colours are quite similar when compared to the design used last season. What intrigued us the most was the back end of the GP17, the exhaust.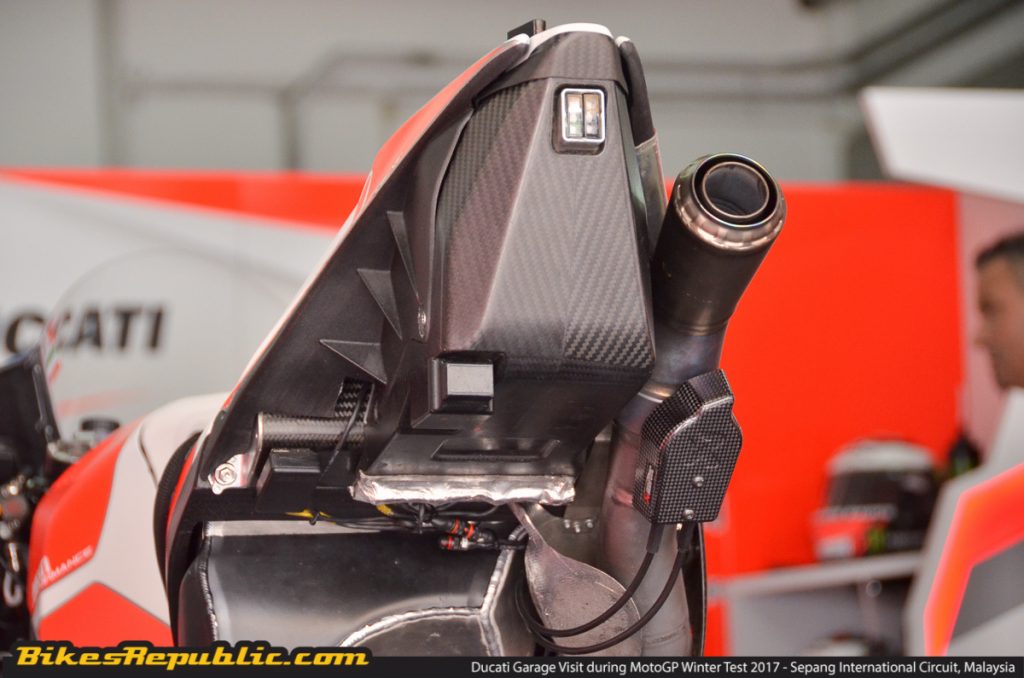 As seen last week during the Ducati private test session, there was a mysterious box right under the tail of the bike. The presence of the black carbon fiber box offsets the exhaust to the right and most of us have been cracking our brains on what could be the content of this mysterious compartment.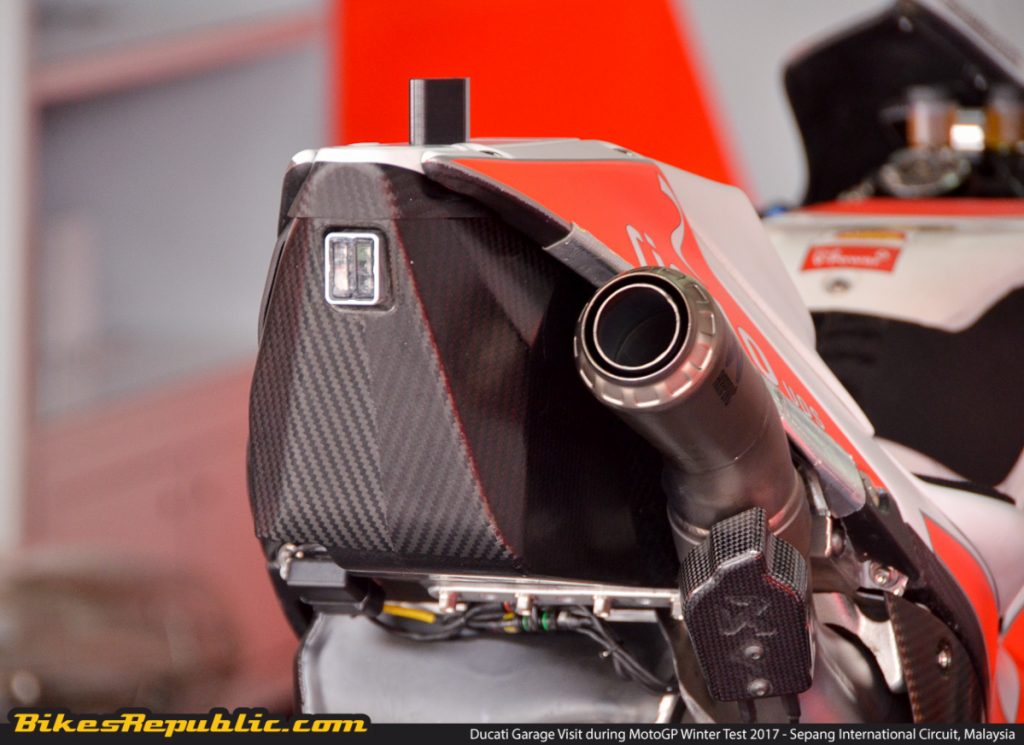 Just a few days ago, Ducati filed a patent on what seems to be a jet exhaust system for motorcycles that works in a similar fashion of an exhaust found in jet fighters like the F22 Raptors. That leaves the rest of the world freaking out thinking that the new Desmosedici might use a jet-style exhaust to compensate the effects of the banned winglets.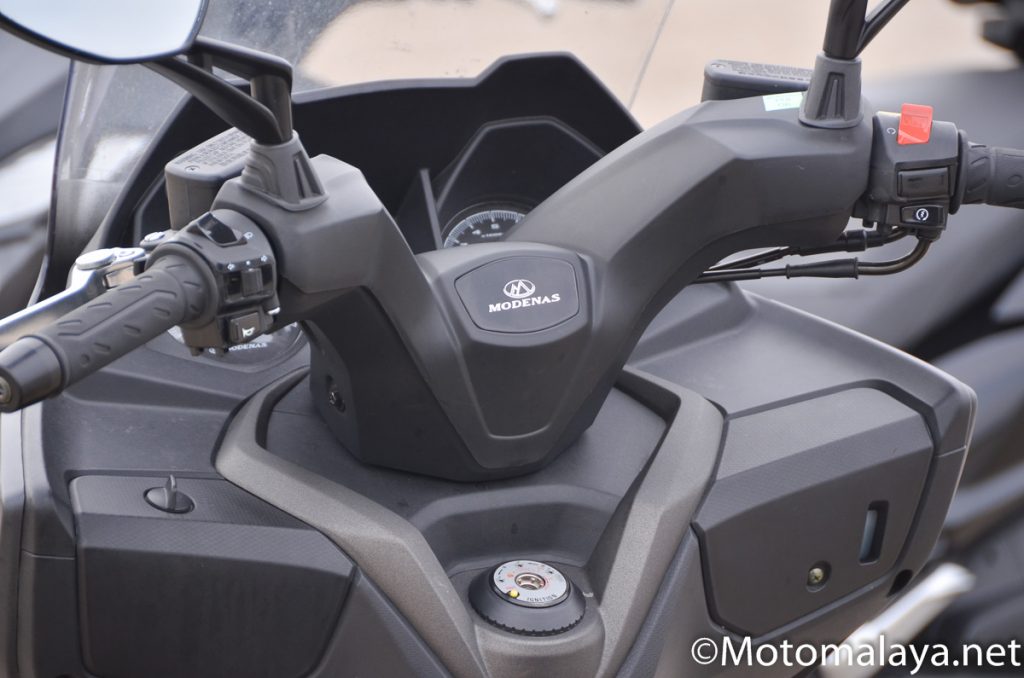 During the Sepang winter test itself, Casey Stoner managed to set the fastest lap in Day 1 on board the GP17. Jorge Lorenzo and Andrea Dovizioso opted for the older GP16 at first but later in the day, we noticed that Dovizioso hopped on his own GP17 and set the second fastest time of the day. Only Stoner and Dovizioso managed to break the 2-minute barrier of SIC in the first day, both did so while riding the Desmosedici GP17.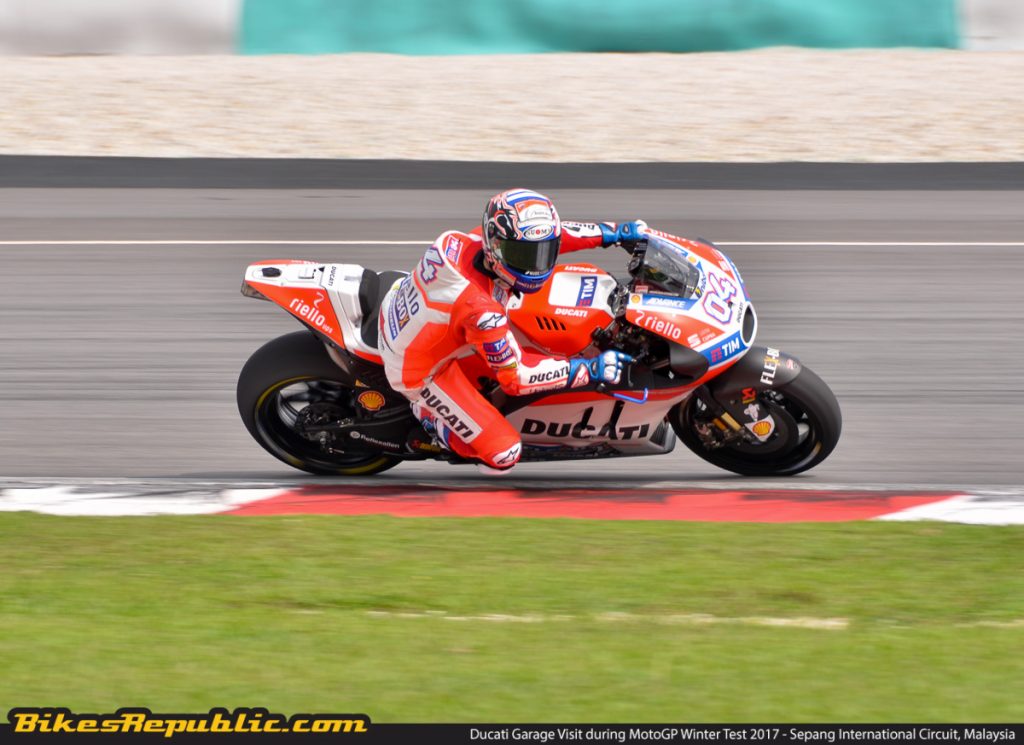 We did not really see much of Lorenzo with the new GP17. Based on what Stoner commented previously, Lorenzo needs time to get used to the unique characteristics of the Desmosedici after having spent years on a very different Yamaha M1. Based on time sheets, we can see that Lorenzo is making great improvements and we're confident he will be a contender for the MotoGP crown.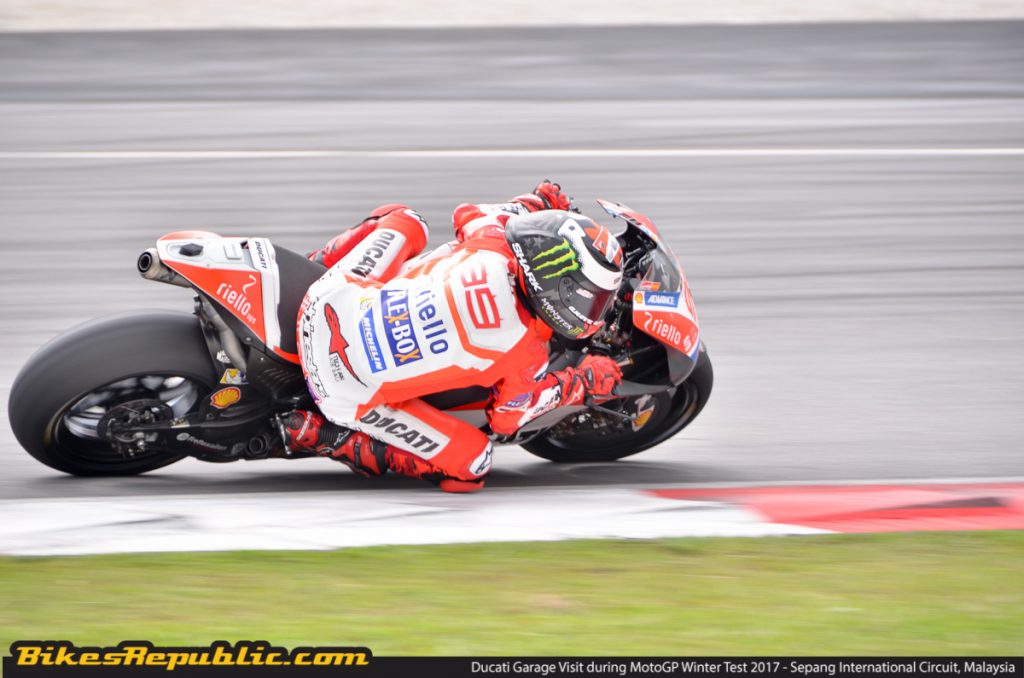 Stay tuned to Bikes Republic for more updates.