You can probably 3-D print your own parts one day.

French design firm VIBA 3-D printed the components on this Honda Monkey.

The components are aluminium, not plastic.
Remember Bugatti showing off the world's first brake calipers using 3-D print? Yes, 3-D printing is starting to take root these days. Take this custom Honda Monkey, for example.
The parts are aluminium, not plastic. The 3-D printing process is called Selective Laser Imaging. In this bike's case, it's the fancy name of using lasers to superheat aluminium alloy powder to create specific shapes. 3-D printing can also be used for polymers and other materials, resulting in solid projects. (Check out the video below.)
Anyhow, a French design firm called VIBA 3-D bolt-on parts for a Honda Monkey.
These aren't just bunch of aluminium knock-off parts, mind you. For example, the fuel tank has an internal honeycomb structure to avoid fuel from sloshing around. The headlight's frame is one piece with the fender and includes a luggage rack. That necessitated the change of the headlamp.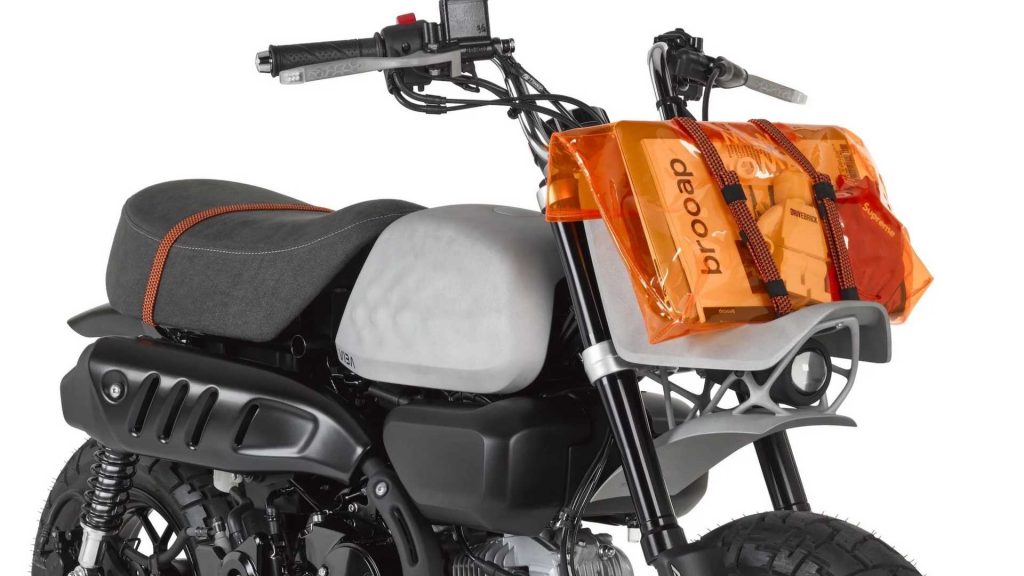 The brake and clutch levers are hollow to allow the wiring to run to the turnsignals at the end.
VIBA will only build 23 of these kits but did not specify if you could obtain the components individually. They look cool, though.