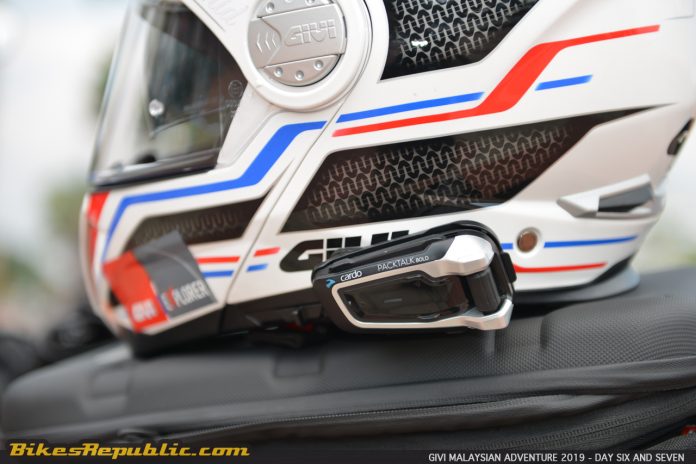 A Bluetooth communicator is indispensable when riding.

The top of the lot is the Cardo Packtalk Bold.

It is full of great features, especially the JBL speakers.
We'll start off this Cardo Packtalk Bold review by saying why a Bluetooth communicator is indispensable in motorcycling.
The Cardo Packtalk Bold is the latest and best product from the company, hence it offers lots of stuff that other manufacturers could only emulate but not surpass. We'll touch on this later.
1. Streaming music/radio
Streaming music or radio broadcasts turns your long rides into a more entertaining affair, especially if your drone along our many highways. Certain stretches are just too mind-numbing, offering nothing but the same features over and over again.
Having your favourite songs or radio programmes piped into the helmet keeps the mundane away.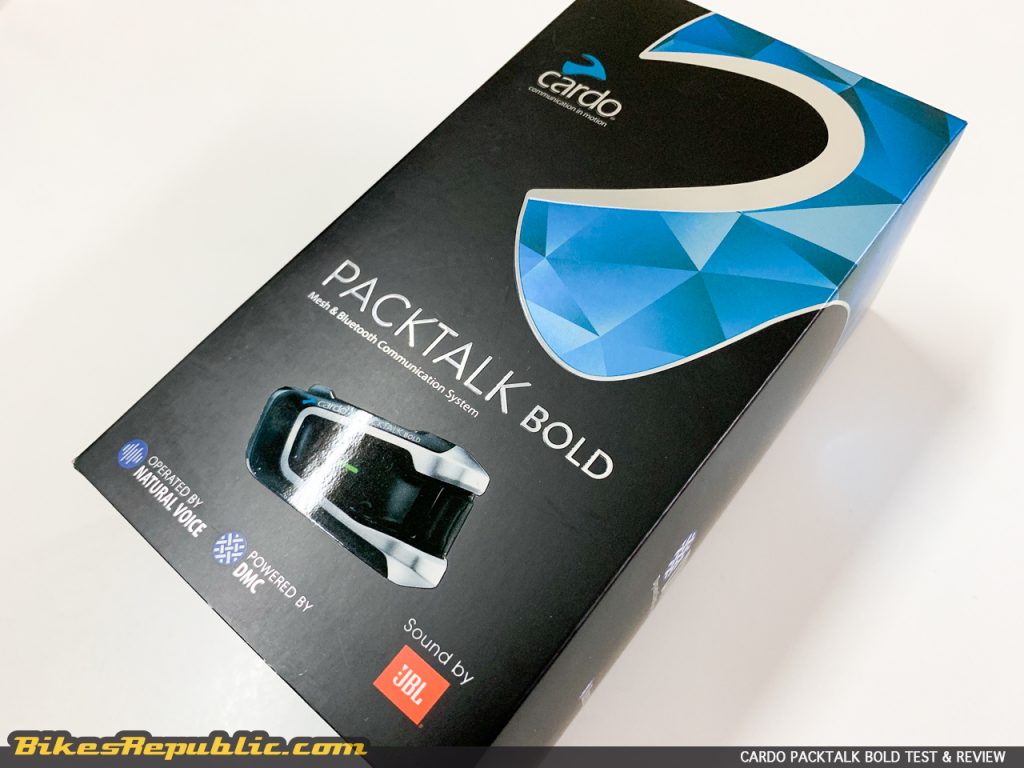 2. Ease of navigation
If you've got a phone or GPS in front of you, the voice prompts are sent to the communicator's speakers. It means you don't have to keep looking at your device in finding your route.
3. Make/receive phone calls
Got that important phone call that you can't afford to miss while you're riding? Having a communicator is the best way. We've found out about this a long time ago when we were separated from a convoy!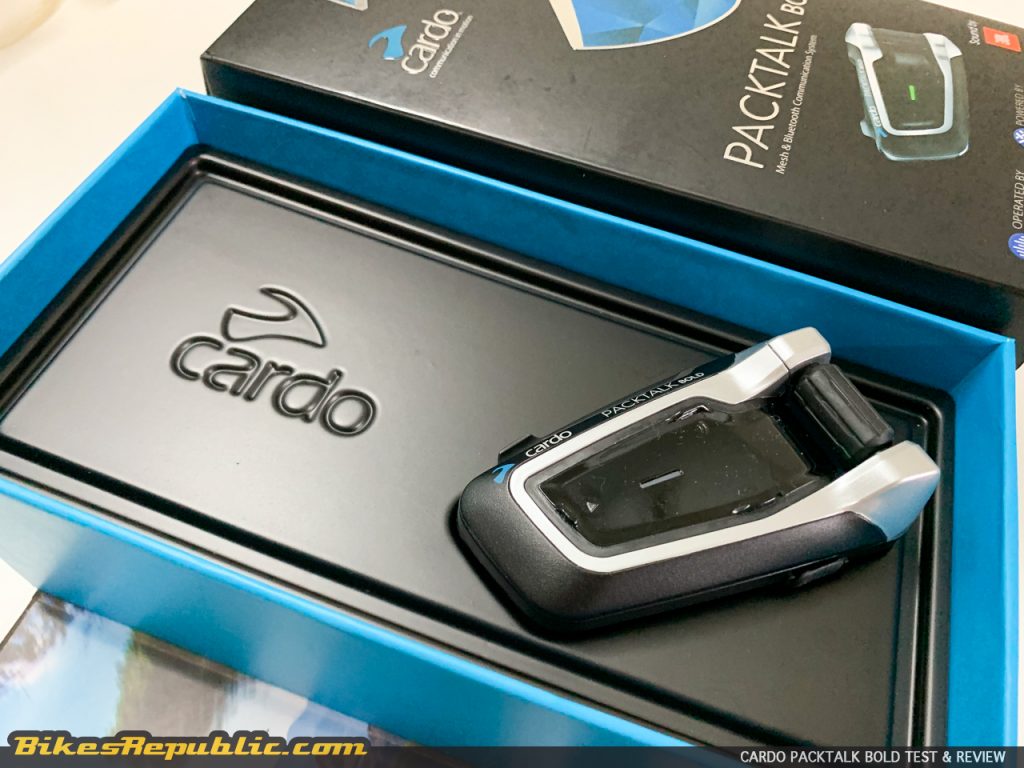 4. Rider to rider communication
This is important in a convoy, especially if you are one of the marshals; or the lead marshal having a communicator at the very least. The sweeper (last rider) or runner can easily call up the lead marshal or vice versa regarding the dynamics of the convoy.
5. Rider to passenger communication
This is another indispensable aspect of having a Bluetooth communicator (unless your other half and you are fighting). In one way, both of you can communicate clearly along a ride i.e. in urgent need of a toilet break. In another way, talking to your passenger can keep both of you awake during the long, dreary rides.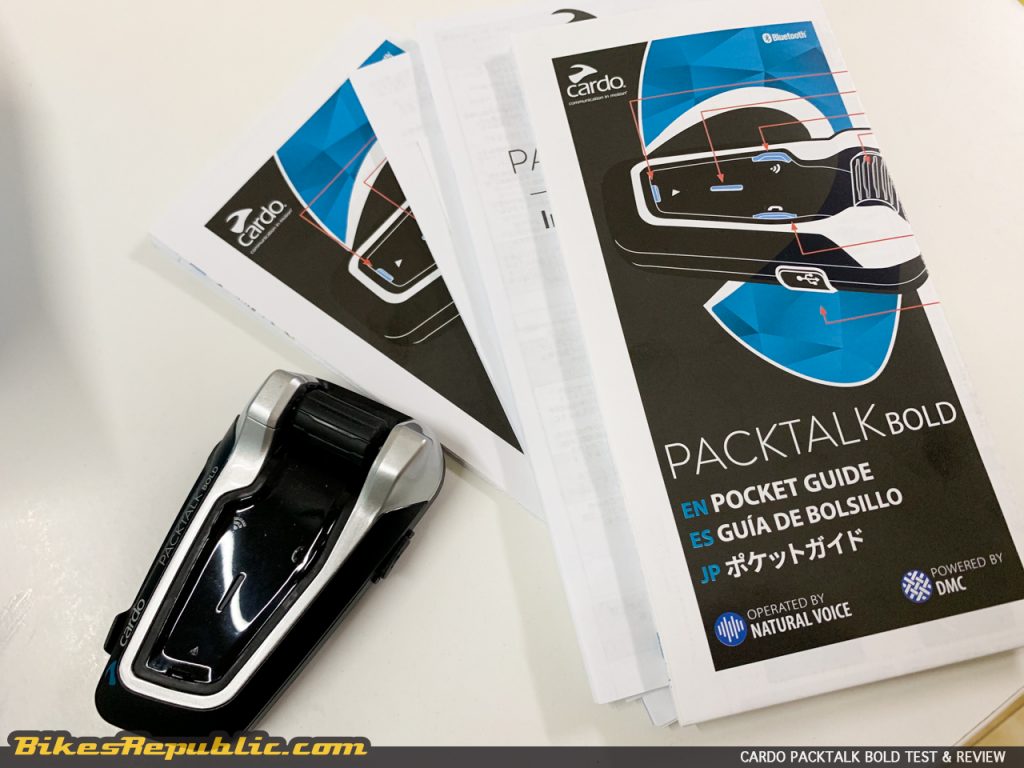 So how does the Cardo Packtalk Bold fit in?
1. JBL speakers(!)
Listening to music is one thing, but it becomes irritating when the speakers produce tinny sounds i.e. no bass, no clarity.
The Cardo Packtalk Bold (the "Bold" really does stand for something) is equipped with the largest speakers in the industry at 40mm. Not just that, they are by JBL, who are a part of the Harman Kardon group. You can find JBL and Harman Kardon speakers in luxury cars such as Mecedes-Benz, BMW, et al.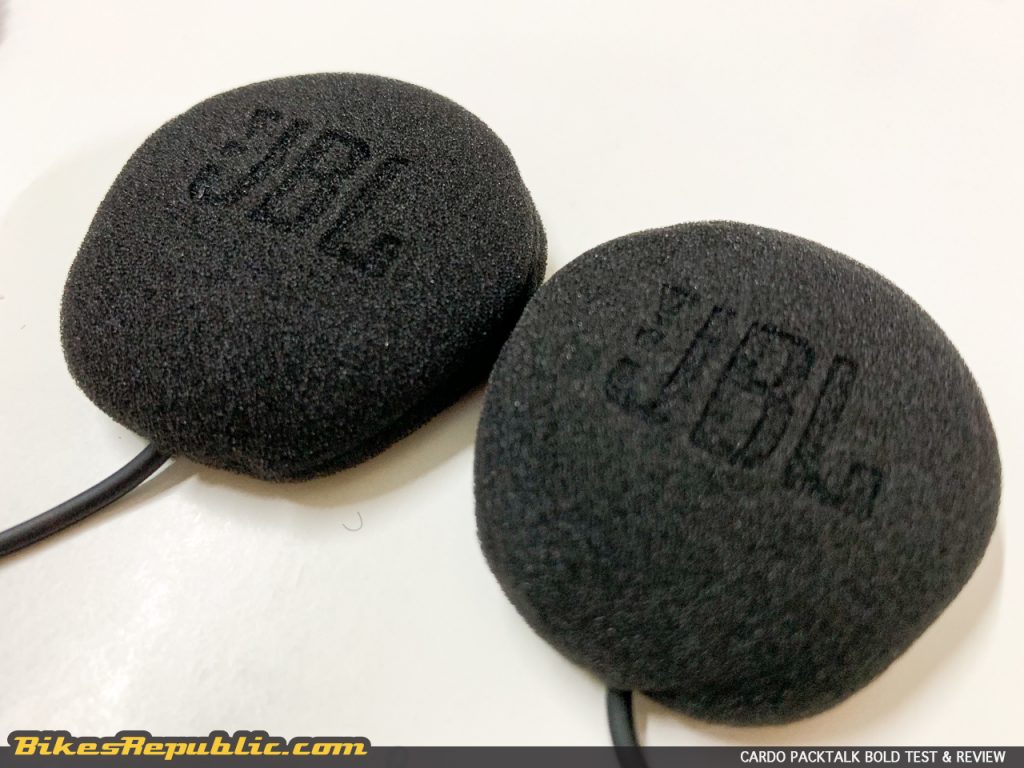 Hence, audio reproduction is top notch. All audio frequencies sound natural and you can hear them clearly. The speakers are loud too, so do listen to music at a volume that doesn't impede on your senses while riding.
Additionally, the voice command feature of the Cardo Packtalk Bold allows handsfree operation while you're riding. For example, say "Hey Cardo, music on." A female voice seconds your command and starts the music. Say, "Hey Cardo, volume up" and the unit turns it up.
2. Receive/make phone calls
Phone conversation is uncannily clear with the unit. All you need is to say "Answer" when there's an incoming call and the Cardo will patch you through.
But get this, I've asked the callers how the call sounded. They replied, "Nothing unusual." They were surprised when I told them that am currently riding my bike at 120 km/h and talking to them.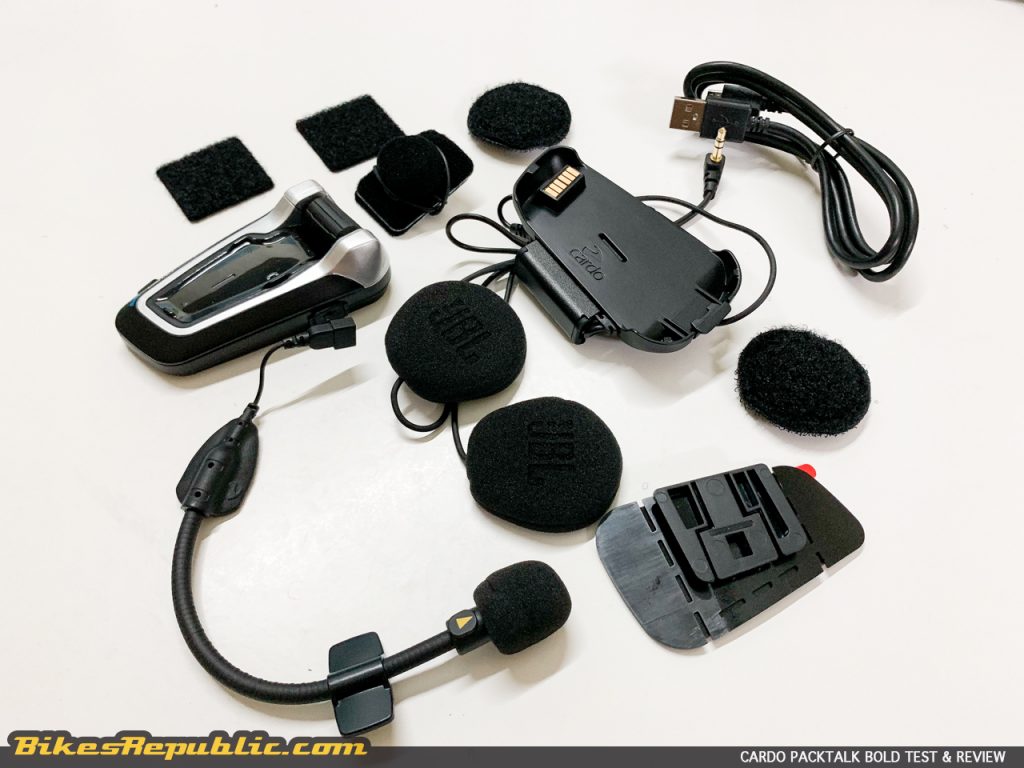 You see, Cardo pioneered the Bluetooth phone communicator before Sony and Motorola's became popular. But Cardo brought the technology to a higher level with their noise cancelling algorithm. Not only that the person couldn't hear wind noises on their phones, but you too, in the helmet. The speakers emit cross frequencies to kill wind noise during your calls!
Making phone calls is also easy. The best way is to set your favourite number for speed dial in the Cardo app. Then, all you have to do is say, "Hey Cardo, speed dial."
The unit also awaits your command to Siri (iOS) and Google. With Siri enabled, you only say, "Hi Siri…." and follow up with your command.
But what if you want to avoid phone calls? Just say, "Ignore," and Cardo will turn off the ringtone in the speakers and let the call end by itself.
3. Rider to rider communication
This is where Cardo stands head and shoulders above the rest. While the JBL speakers are exclusive to the Packtalk Bold, other Cardo products carry the feature called Dynamic Mesh Communication (DMC).
DMC keeps up 15 riders connected via a network. Each control unit plays the role of receiver and signal enhancer.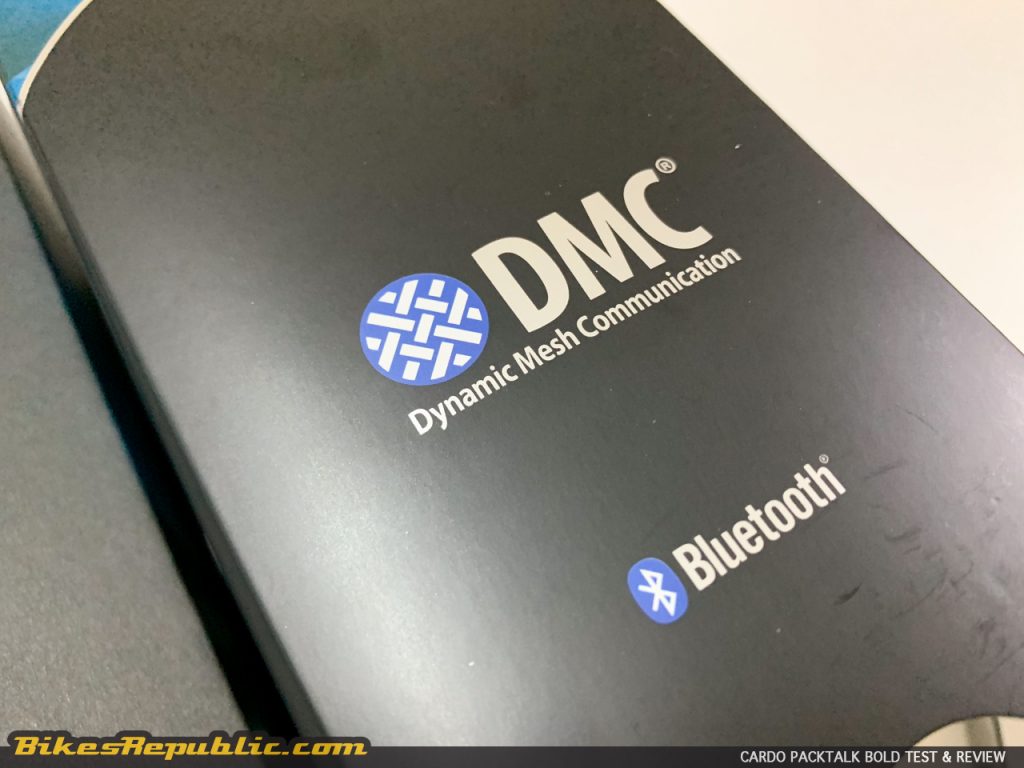 Here's a scenario: In a convoy, a rider or riders need to slow down and falls behind the coverage distance (1.6 kilometres). But doing so doesn't disconnect the entire network, unlike if they are all hooked up via Bluetooth. That way, the network among the group of riders is still active and riders can still relay information to each other. The network will automatically reconnect the disconnected riders when they catch back up rather than having to go through the process of reconnecting via Bluetooth.
The lead rider can also set different groups of the DMC network. Say, one group for the marshals and another for other riders with DMC.
Cool, huh?
4. Rider to passenger communications
Remember we spoke about noise cancellation technology? Talking with your passenger is so easy with the crystal clear audio. You don't have to slow down to hear what each of you is saying.
Other features
1. Natural voice command
Note that we said, "natural voice command" instead of "voice control." While that sounds the same, it's very different for Cardo because it obeys your commands in your natural voice and intonations. Which means you could have a heavily-accented English yet the unit recognizes your voice.
But the algorithm is also smart to filter out non-commands, so that you can sing to your hearts content and not prompting the unit to send your singing to others in the group.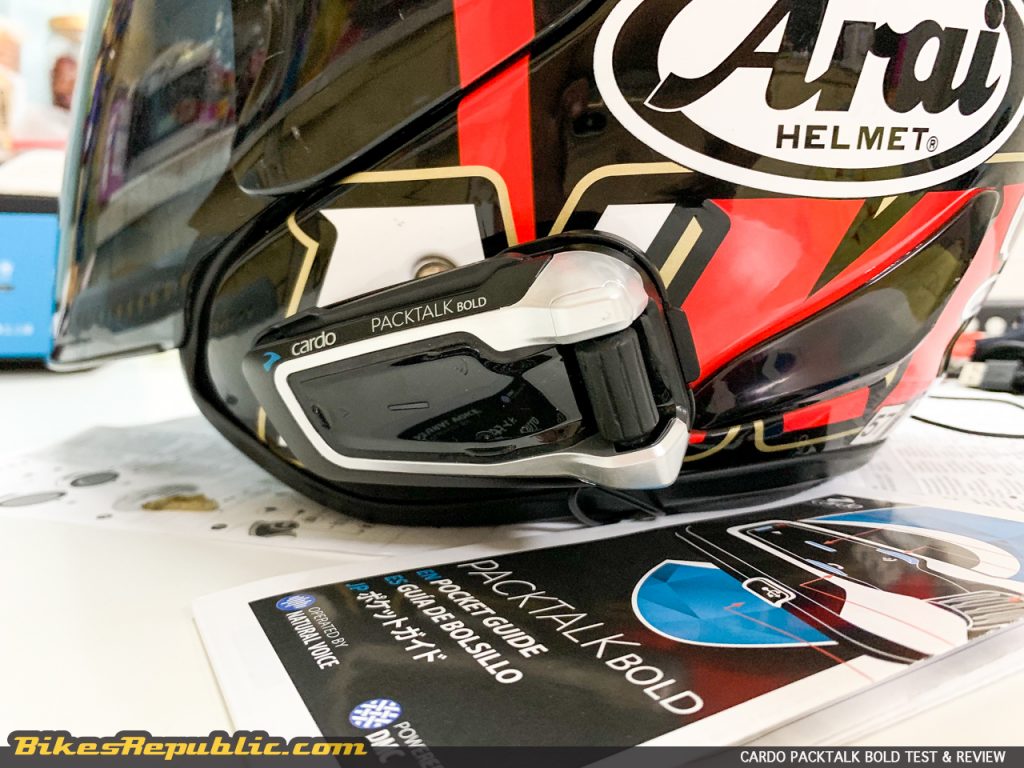 2. IP67 water and dust proofing
This is especially important. We've ridden through the heaviest rains and the unit just kept on working.
3. Long lasting battery
A full charge lasts for at least two days of riding, provided that you switch it off when you stop for a break. You could also say, "Hey Cardo, battery status" and the friendly lady will announce the level to you.
Conclusion
There are many other features of the Cardo Packtalk Bold that we didn't cover here, because it'll probably be as long as a university dissertation if we did. Just check out the official videos on YouTube and see what the amazing things it could do to help you enjoy motorcycling even more.
If you want the best of the best, the Cardo Packtalk Bold has it all.
For us, we just couldn't ride without it!