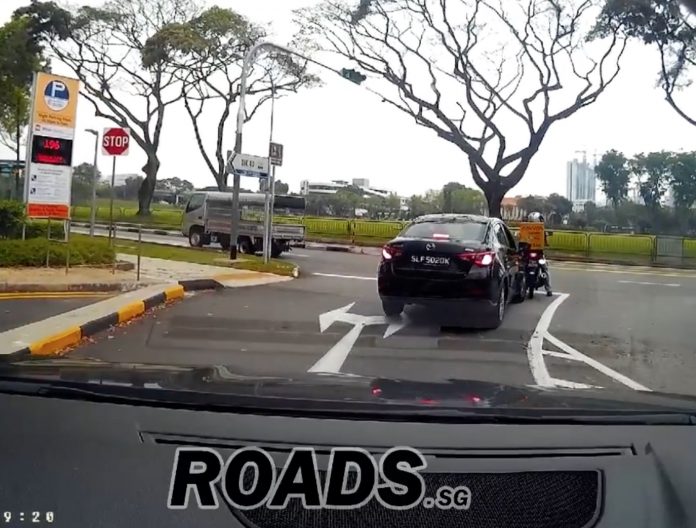 A car in (again) Singapore rear-ended a stopped motorcycle.

But the driver blamed the motorcyclist.

The video has since gone viral.
A car rear-ended a motorcycle, sending the rider and machine to the ground, but the driver refused to admist his fault.
The incident happened in yes, Singapore again. The post in ROADS.SG Facebook page described the location at the Teban Market intersection to Teban Gardens Road.
From the video submitted by Lim YK, the motorcycle had stopped for a long time at the three-way junction. He was waiting for the incoming traffic to clear before pulling out.
Along came a car bearing number plate SLF5020K which bumped into the bike's rear left, sending the machine down. Good thing the rider kept his brakes on otherwise he would've been shunted into the main road and into the path of an oncoming bus!
But the kicker was the car driver blaming the motorcyclists, saying that it was the latter's fault and refused to acknowledge his own harebrained driving.
The video shared on the page has since gone viral with everyone saying nasty things about the car driver. Some theorized that he was on his handphone. There were also who charged that he anticipated the bike taking off.
In our opinion, this hints strongly about inattention blindness i.e. the motorcycle didn't register in his brain at all.
Whatever it was, the car driver should be hunted down and summoned.