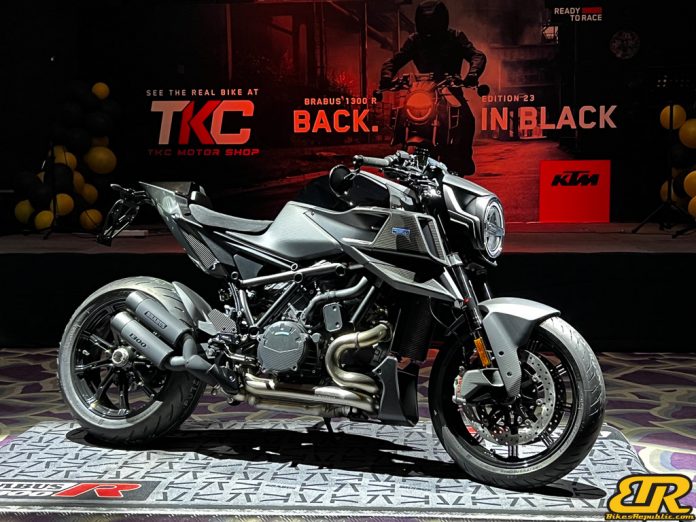 BRABUS is usually synonymous with high end luxury and performance cars. But since last year, BRABUS has been modifying high performance KTM motorcycles and sprinkling the bikes with their own version of luxury and high performance.
Working exclusively with KTM Motorcycles, BRABUS has created what it describes as "an undeniably statement of style and individuality". Officially called the BRABUS 1300R Edition 23, the exclusive ultra limited-edition motorcycle has officially been launched in Malaysia with a price of RM430,000.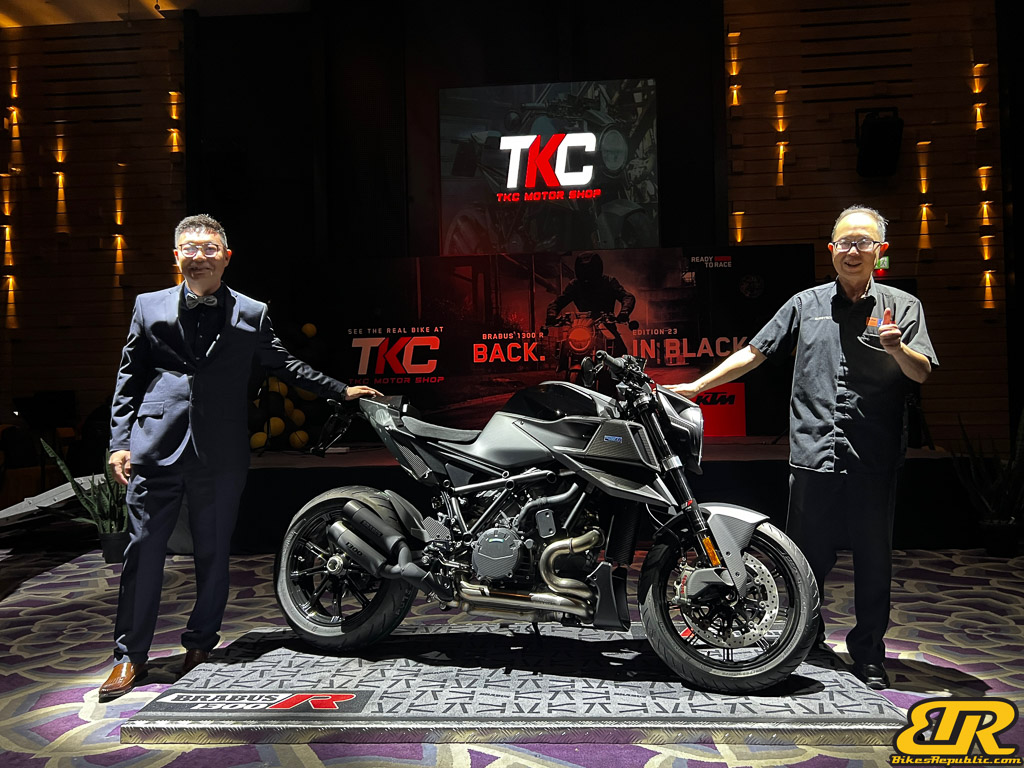 There are only 290 units available worldwide, and because there are only two colours available – Superblack and Stealth Gray – each colour will be limited to just 145 units. The colour allocated for the Malaysian market is the Superblack.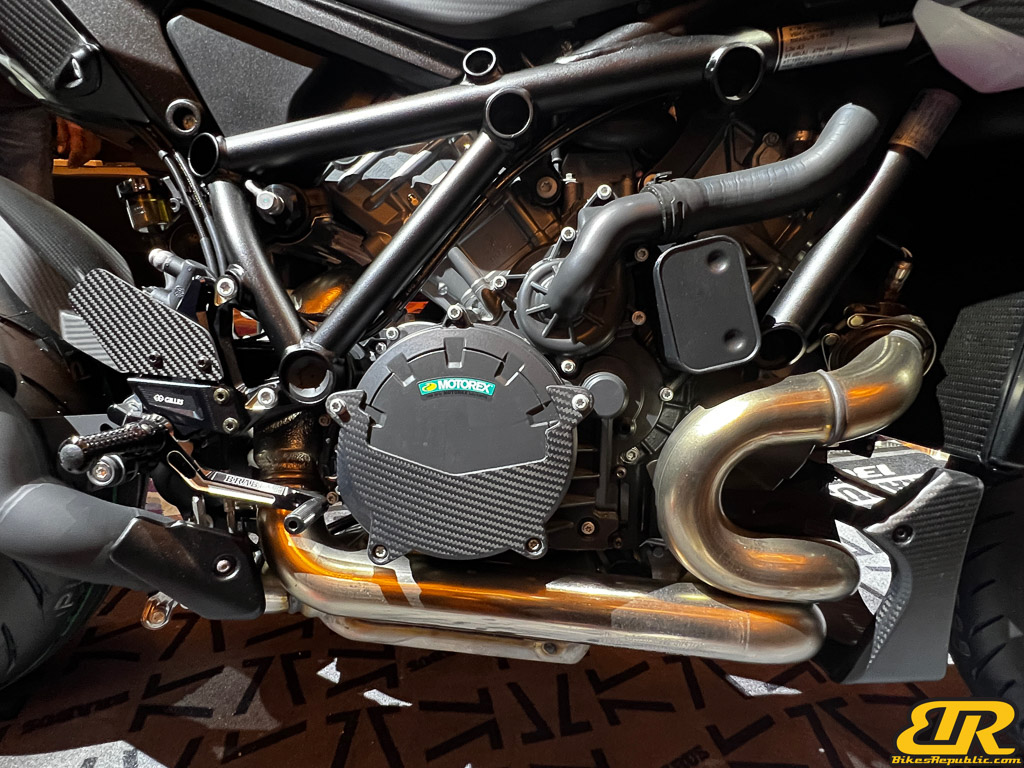 Underpinning the BRABUS 1300R Edition 23 is a KTM 1290 Super Duke R EVO. The BRABUS shares its technical and electronis package with the KTM and as such, it too is powered by the same 1,301cc LC8 V-Twin engine putting out 180hp at 9500rpm and 140Nm of torque at 8000rpm. With that much power and just 194kg of dry weight to manage, the 1300R is capable of a 0-100km/h sprint in just 3.2 seconds and reaches a maximum velocity of 270km/h.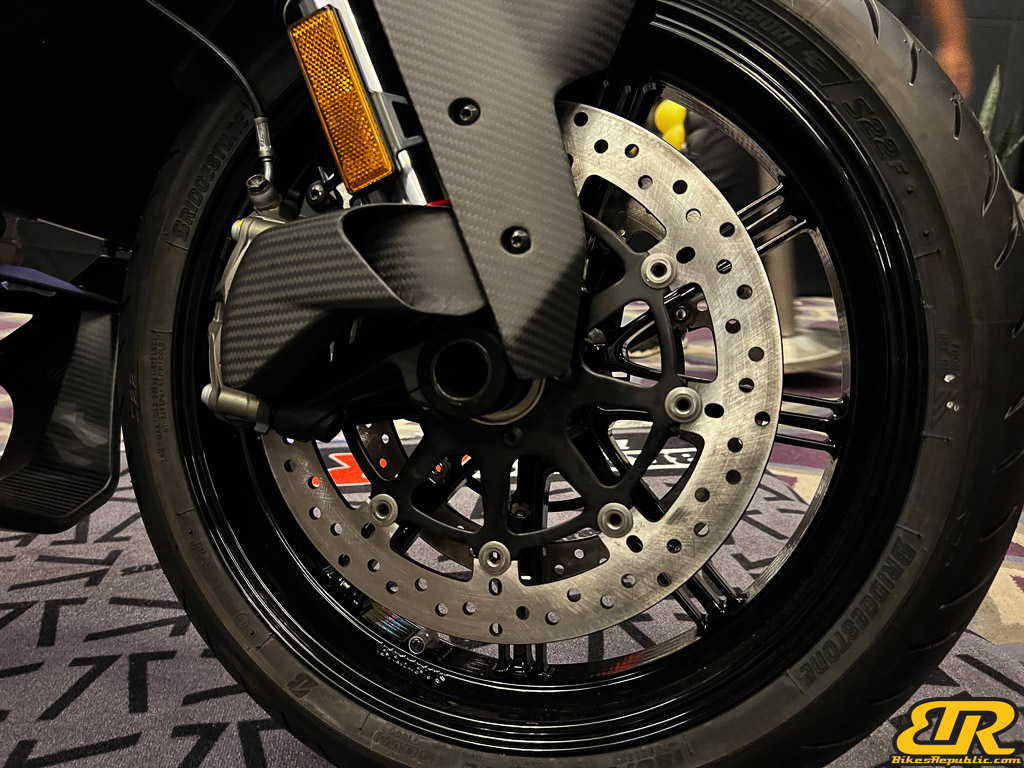 The 1300R also rides on the same WP APEX semi-active suspension technology as the KTM, and that comprises a 48mm upside down fork up front with 125mm of travel, and a rear shock with 140mm of travel. Both electronically adjustable of course.
The electronics package provide for six damping modes for the front forks (Comfort, Street, Sport, Auto, Track, Advanced) while the rear offers electronically controlled heigh adjustment with three levels – Low, Standard and High.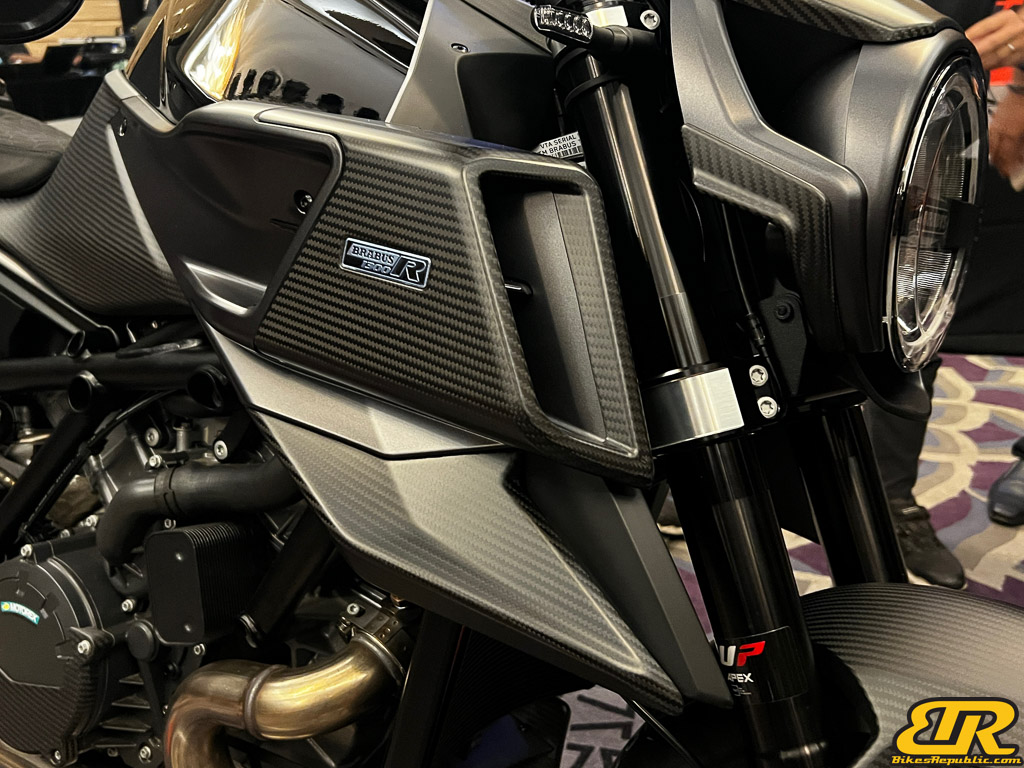 Also part of the electronics package is a MSR system that regulates wheel slip, a quick shifter, cornering and supermoto ABS and the electronically controlled suspension system as mentioned above.
Rolling stock comprises of a BRABUS Monoblock Z lightweight 9-spoke forged wheels wrapped in Bridgestone S22 Battlax hyper sport tyres. Both front and rear wheel measure in at 17-inches.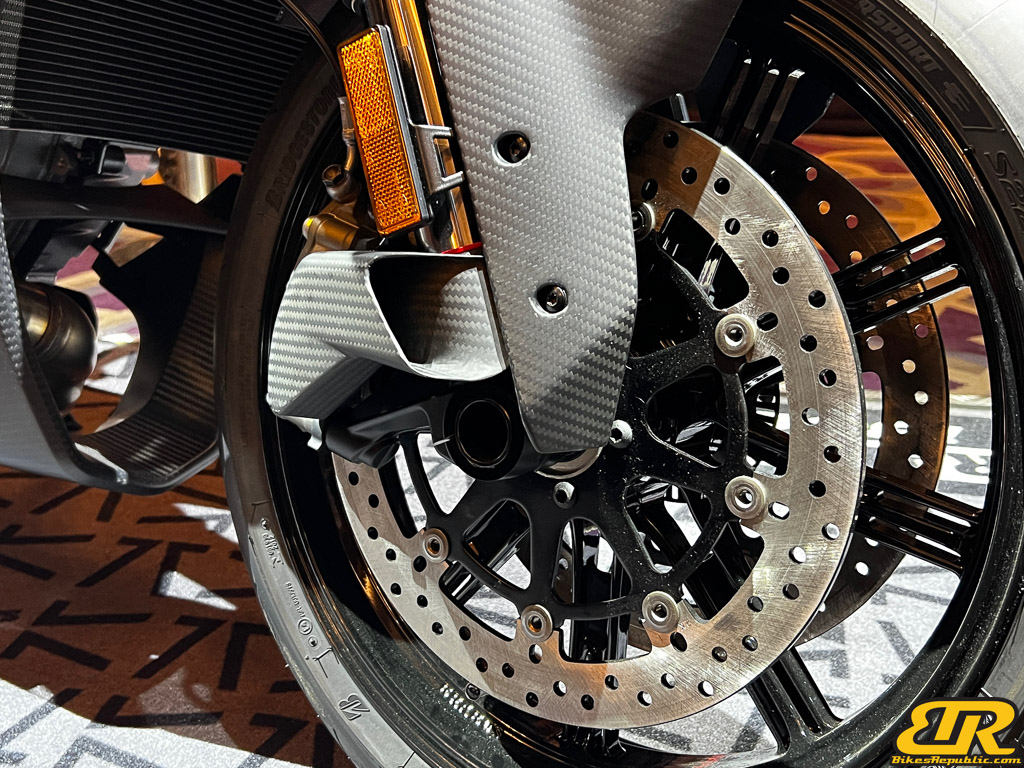 Braking power is provided by the same system found on the Super Duke R EVO and that consists of Brembo Stylema 4-piston brakes with 320mm twin floating discs up front and Brembo twin piston floating calliper with a single 240mm disc at the back.
By now you would have probably figured out that the BRABUS is mostly an aesthetics exercise, but judging from sheer drama the bike has to offer, that is not a bad thing. Lets break it down: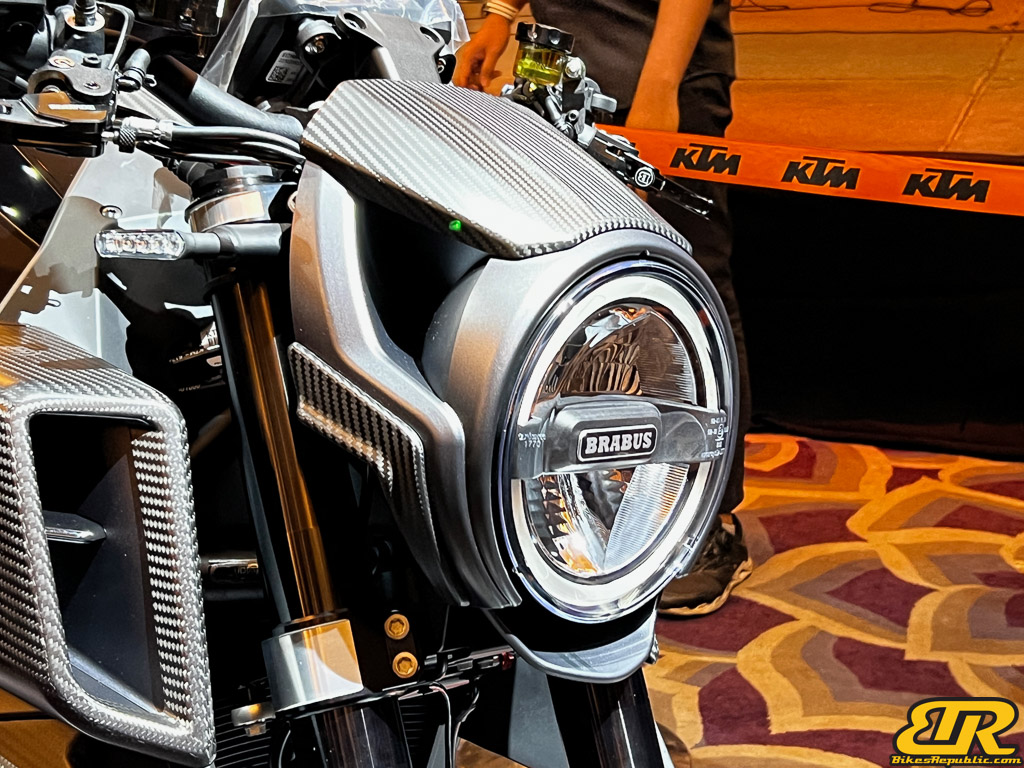 1. Round headlight
This is probably the biggest design update besides the carbon fibre body work. KTM says the headlight has been specifically designed to reminisce styling cues found within a selection of BRABUS supercars, most notable the BRABUS 900 Rocket Edition and the BRABUS 900 XLP. The headlight is embedded in an aerodynamic headlight mask to "ensure maximum airflow to the engine's air box".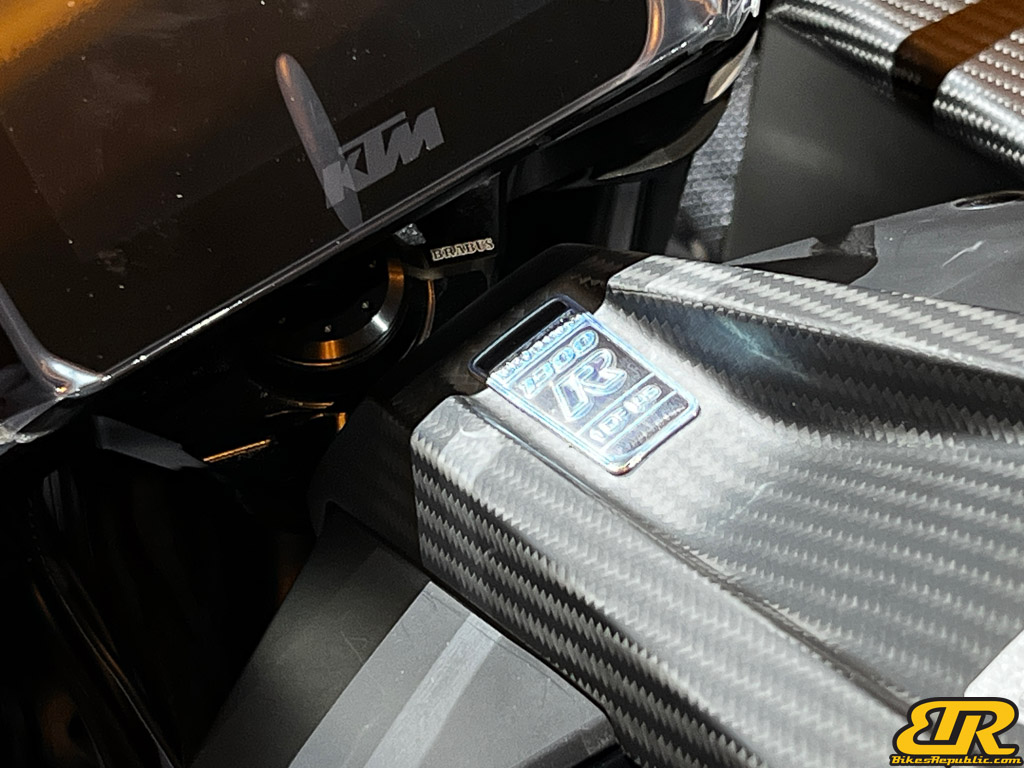 2. BRABUS Carbon Fibre elements
BRABUS and carbon fibre are synonymous and the 1300R Edition 23 is no different. The lateral air ducts, headlight mask and the belly pan are all manufactured from lightweight and ultra-song carbon fibre.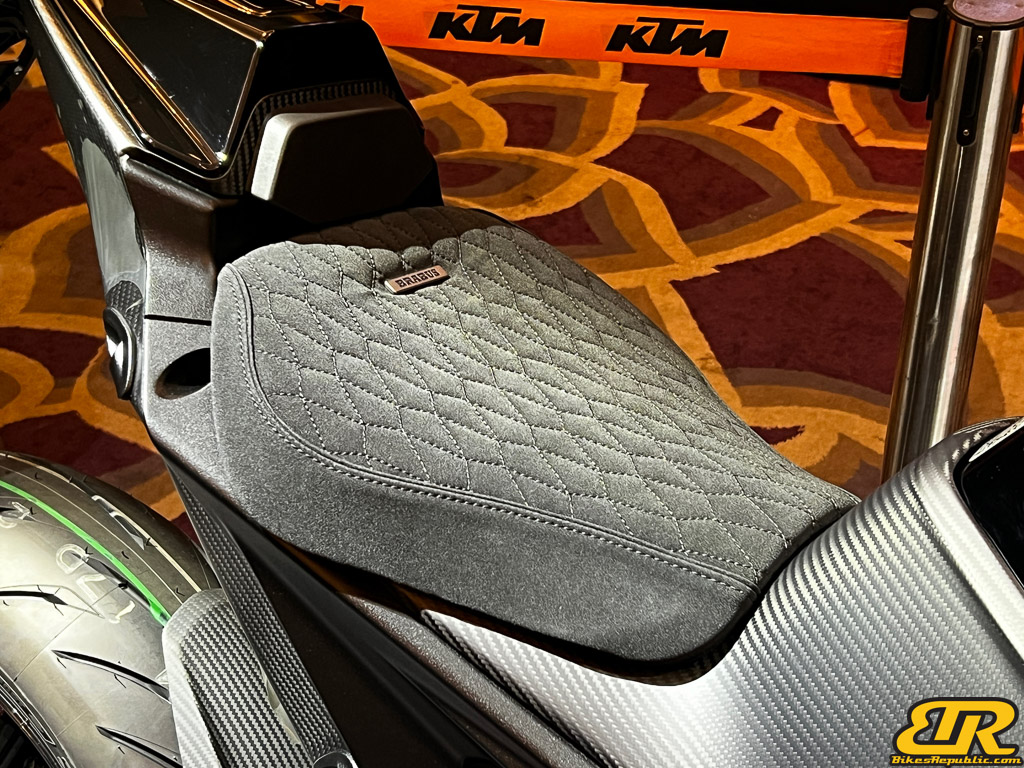 3. Custom heated seat
Specially developed to under the luxurious character of the bike, it also offers the same diamond design and "crest" stitching pattern as some of the BRABUS supercars. It offers a high level of grip and sits 845mm off the ground.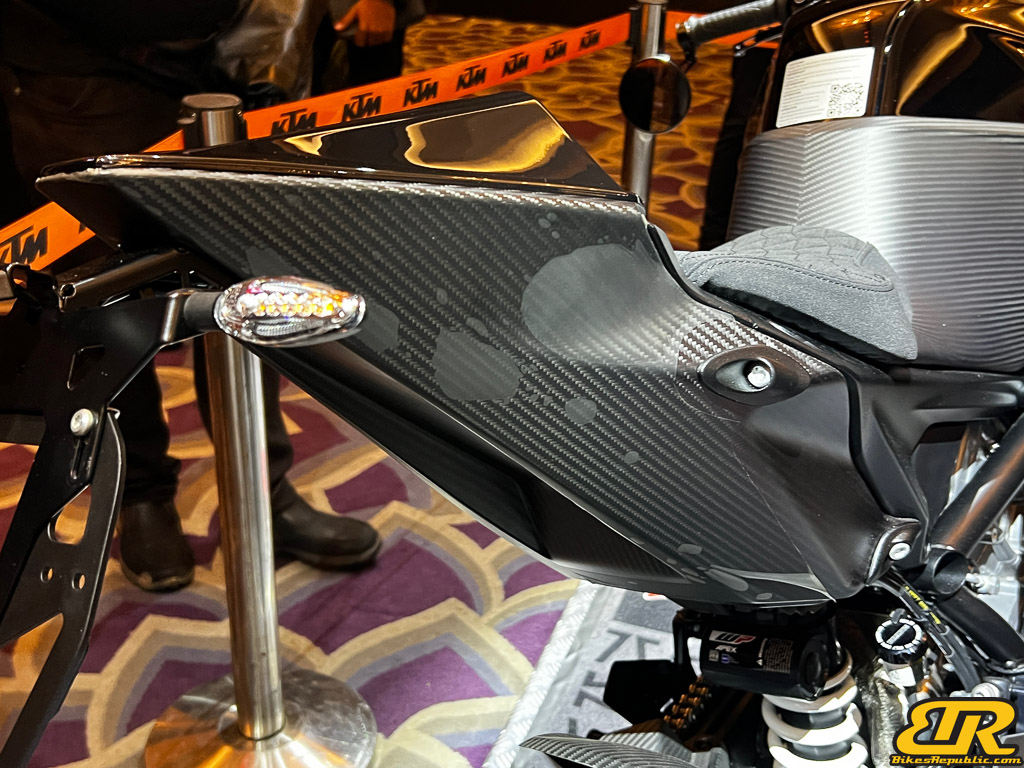 4. Carbon Fibre under tray
The under tray of the bike is composed of a single piece of carbon and weighs in at just 800 grams and is neatly integrated into the single seat tail.
5. Pillion seat cover
This is part of the 1300R Edition 23's sporty and aggressive flair. The ultra-lightweight carbon fibre one-piece undertray now features an all-new pillion seat cover. This matches the body colour which BRABUS says gives the 1300R Edition 23 a more compact and powerful silhouette.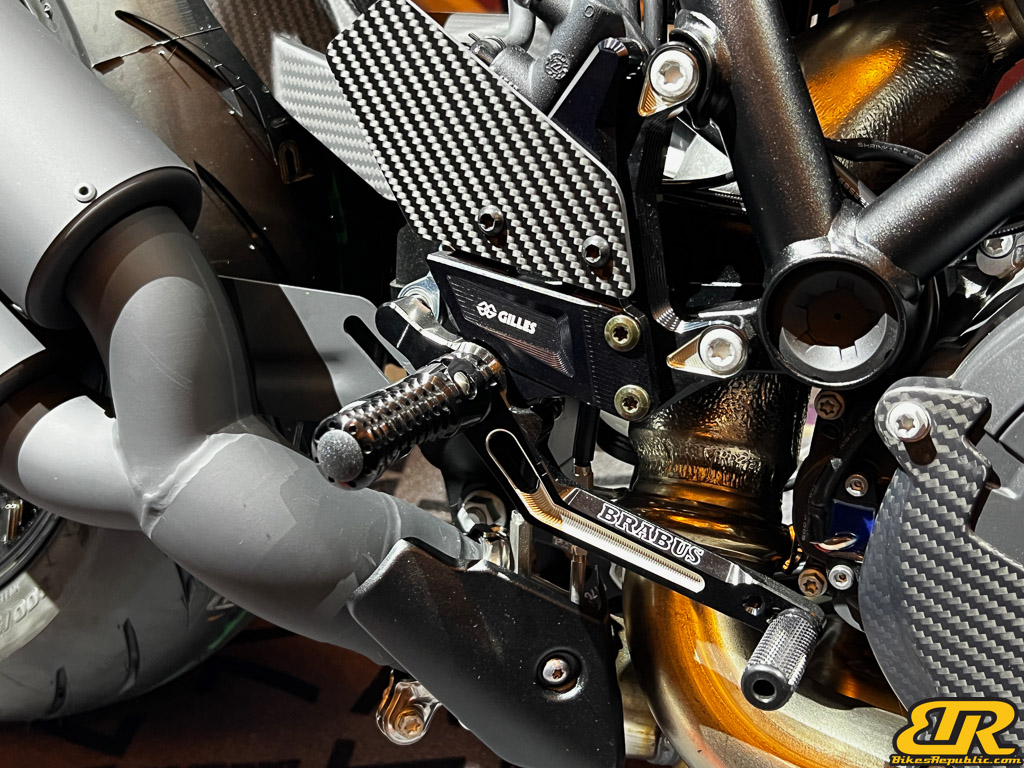 6. BRABUS CNC-Machined Adjustable Footpads
The bespoke BRABUS footpads were CNC-machined from high-strength aluminium with a carbon fibre heel guard. It offers 12 levels of adjustability and is tastefully rounded off by a premium black and silver colour scheme.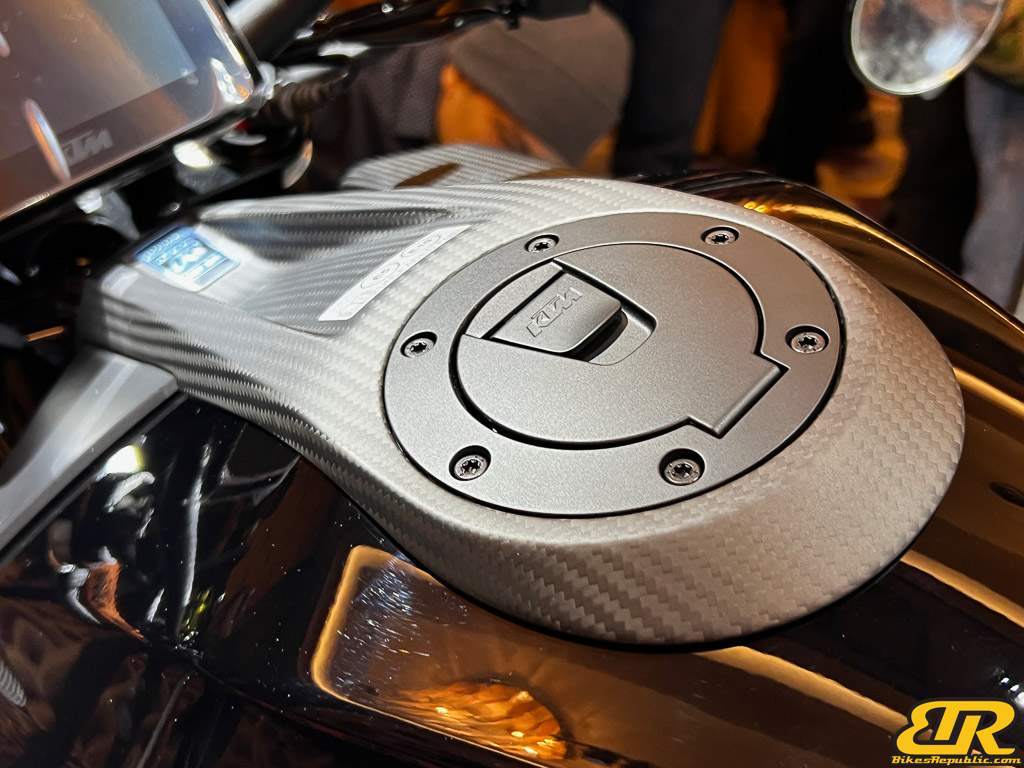 7. BRABUS CNC-Machined Triple Clamp
The triple clamp was specifically designed for the BRABUS 1300R Edition 23. It is enhanced for weight and stiffness while maintaining a 32mm offset. It also ensures less friction in the fork clamping area and provides better pressure distribution. It is a signature part of the BRABUS bike that further accentuates the BRABUS design DNA.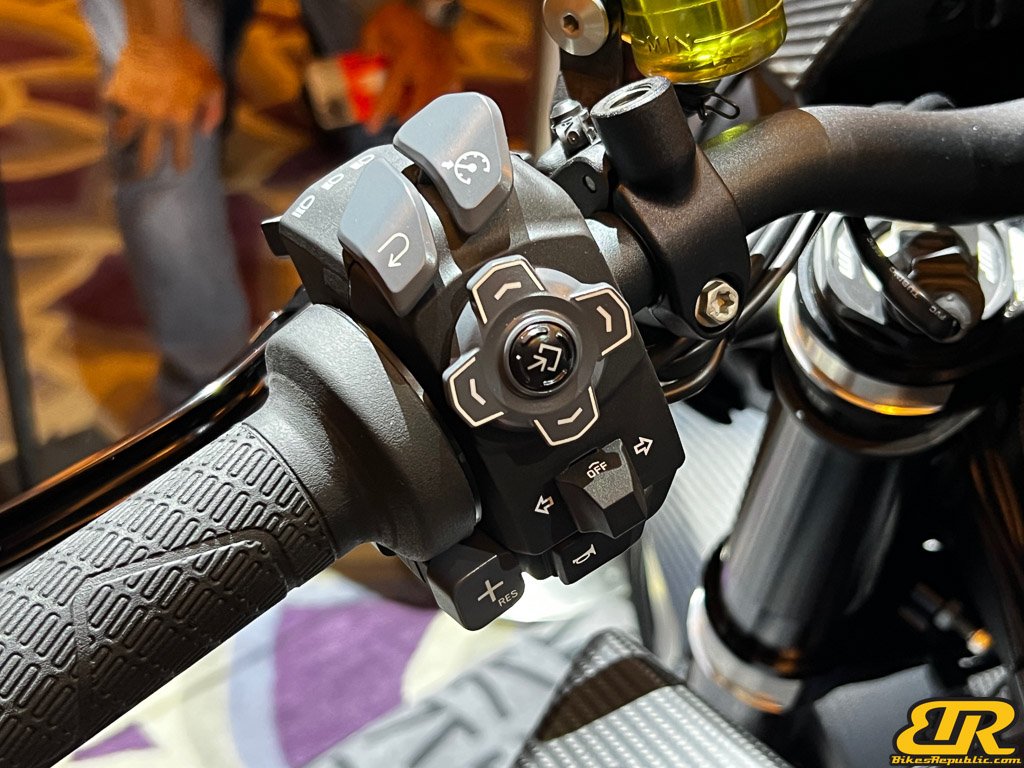 8. BRABUS CNC-Machined Adjustable Front Brake and Clutch Levers
The brake and clutch lever of the bike have been CNC machined and are fully adjustable. Both levers offer three mounting positions for length and height adjustability – including the option for a reverse shift pattern.
9. BRABUS CNC-Machined Reservoirs and Oil Tanks Caps
No update is complete without an updated to the reservoirs and oil tank caps. As such, the BRABUS 1300R Edition 23's cockpit is rounded off by CNC-Machined reservoirs that have been manufactured from billet aluminium.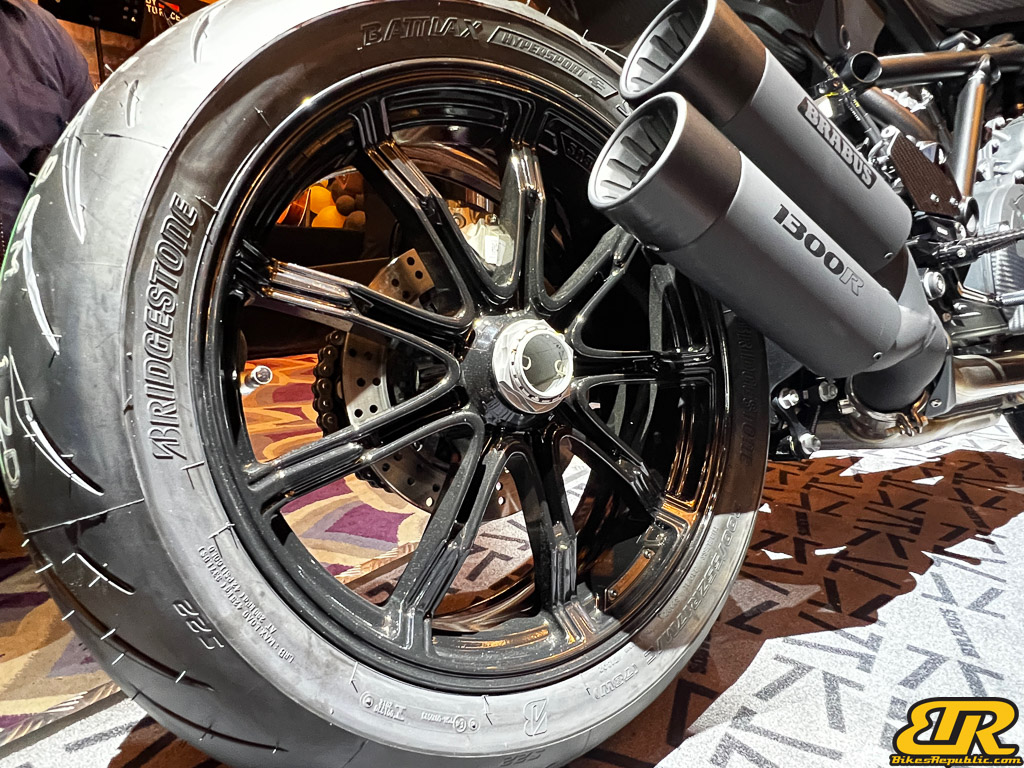 10. BRABUS Slip-On Double-Pipe Exhaust
This is a hallmark of BRABUS products since 1977. The 1300R Edition 23 offers a distinctive sound from a expertly engineered, performance-orientated design with a deep root in BRABUS heritage. The unique slip-on exhaust features a double-pipe design that underlines the powerful but unconventional character of the motorcycle.

The BRABUS 1300R Edition 23 holds a unique place in the Malaysian motorcycle industry, and because there is only one available in the country, it is also extremely rare. For those interested to view it, they can do so at the TKC Motor Shop in Pusat Perniagaan Gemilang in Penang.
However, we hear that it has been sold already.