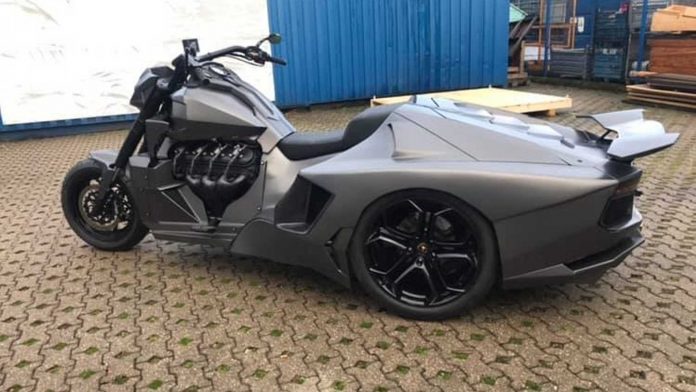 A client in Germany commission this Boss Hoss Lamborghini.

It combines a Boss Hoss motorcycle and Lamborghini Aventador.

The engine is probably the 6200cc, V-8 LS 445 for the Corvette.
So, you've got a whole shed-load of bikes and sportscars sitting idle in the garage, including a Boss Hoss V-8 cruiser and Lamborghini Aventador. What do you do? Yeah, what do you do?
Turn it into a bike/Lambo trike! Yikes!
That's what might have happened when the customer commissioned this build. Although the first thing that springs to mind might've been the American Boss Hoss who built it, that's actually half right because it was actually put together by their branch in Germany.
The heart of this monster is the 6200cc (not a typo!), V-8, 445 hp, 445 lb. ft. LS 445 Corvette engine. The powerplant is the weapon of choice since the founder Monte Warne created the first Boss Hoss in 1990.
While we're not so much of car fans, we do feel a twinge of sadness seeing a bike and car were sacrificed this way. But that's his money, probably too much of it in this case!