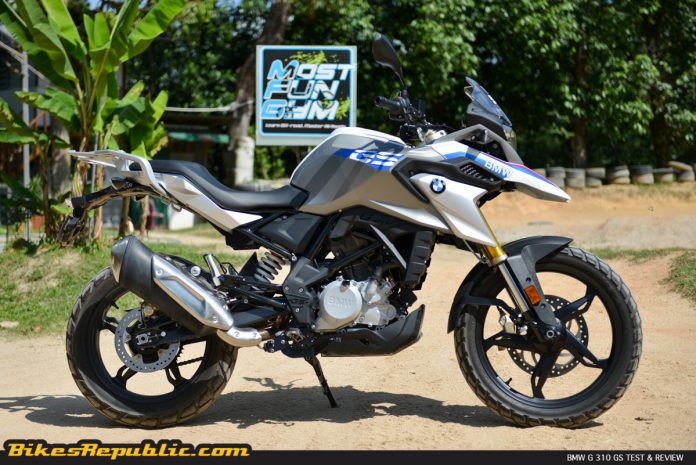 The BMW G 310 GS is the adventure-tourer of the G-family.

It is more offroad-oriented than the G 310 R.

It is suitable to veteran, returning and new riders.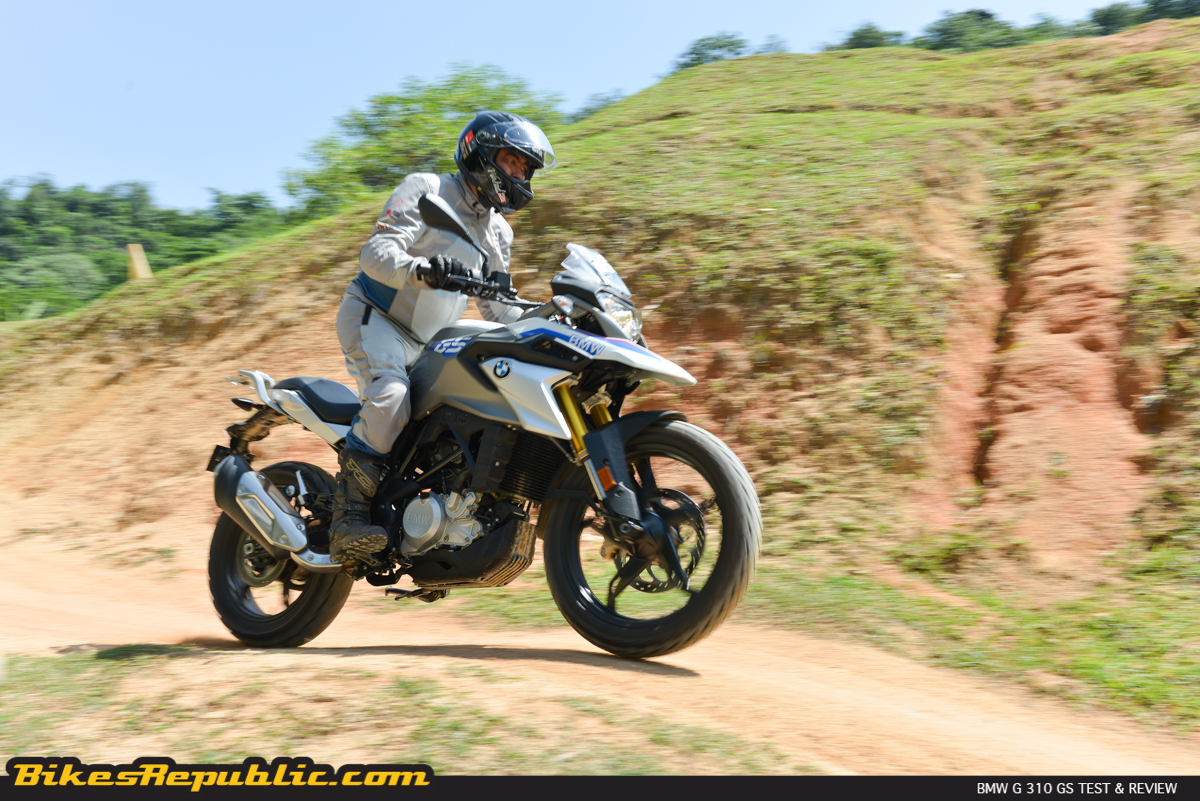 When people discover that part of my job is to test and review new motorcycles or every kind, their first words would be, "Oh, how lucky you are."
And then I'd brace myself for the next questions, which invariably includes, "What's your favourite bike among those you've tested?" Uh oh. That's like the missus asking whether she should go on a diet.
Now, it's not that I mind sharing my personal Top Ten Bikes (which consists of Triumphs, KTMs, BMWs, Yamahas, Ducatis, et al – not necessarily in that order), nor am I afraid of being called biased and risk angering our advertisers, instead I dread the prospect of having to debate (read: argue) about my choices for two hours. And there's no place for contravening views or dissent these days – everyone wants to be right and you're always in the wrong.
On the other hand, there are bikes that are truly worth defending.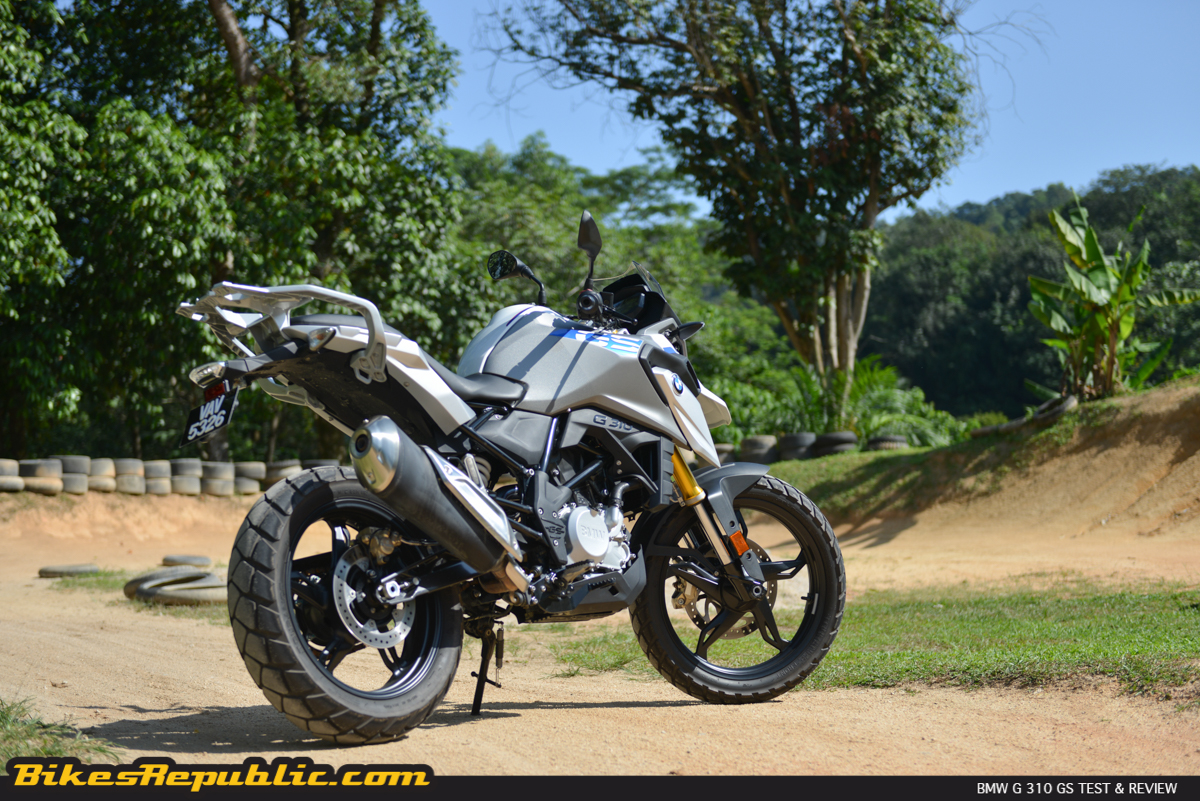 When BMW Motorrad launched the G 310 R, the whole world went ga-ga over the prospect of owning a BMW that's accessible to a wide range of audience, judging from the point of unintimidating power output and of course, price (story of the G 310 R launch here).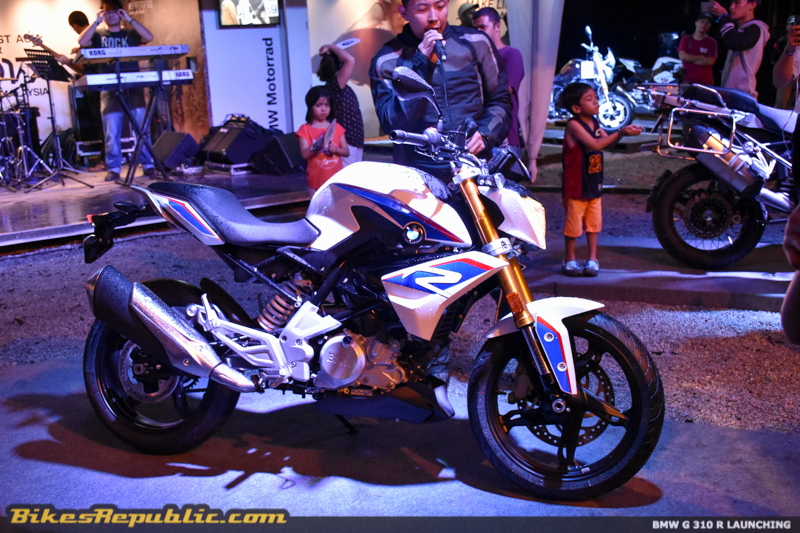 Sure enough, BMW Motorrad was inundated with overwhelming orders, justifying their decision to build a small capacity motorcycle. However, the G 310 R couldn't shake its "BMW for beginners" assumption., although it isn't by a wide margin.
Then, BMW Motorrad pulled the wraps off the G 310 GS at the Malaysian MotoGP in October this year (story of the launch here). Many took an instant liking to it especially for its looks which consists of many styling cues from its F 800 GS and R 1200 GS brethren.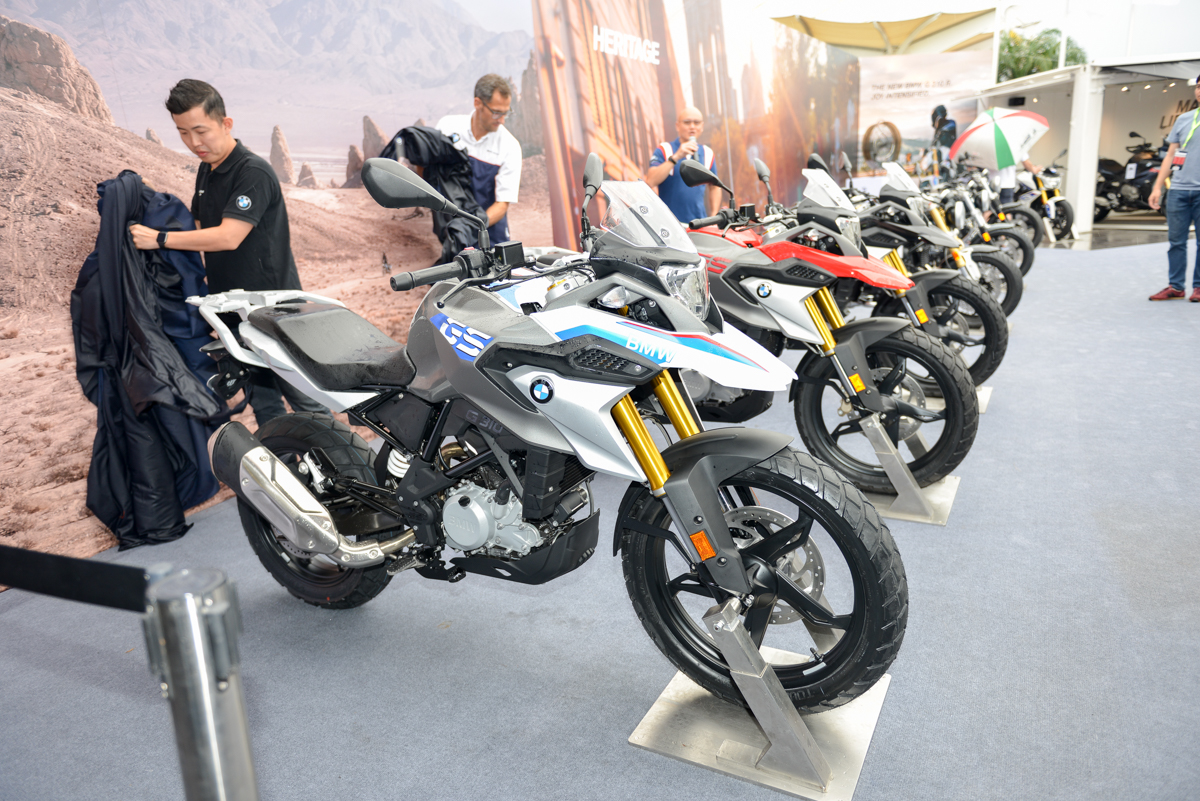 But the questions from the market are "Good no cheap, cheap no good, right?" based on the Chinese saying of, "Yat cham chin yat cham for (1 sen for a 1 sen good)." The second question is, "Has BMW Motorrad compromised on their quality?"
Okay. It's time to address these queries.
First up, yes, the G 310 GS is based on the G 310 R (R for roadster), which means both share many common components, including the 313cc, DOHC, 4-valve, liquid-cooled, single-cylinder engine. It's worth mentioning that the cylinder block is rotated by 180-degrees for the exhaust to face the rear and throttle body to the front. The whole block is also tilted backwards into the frame, for better mass centralization and lower center of gravity.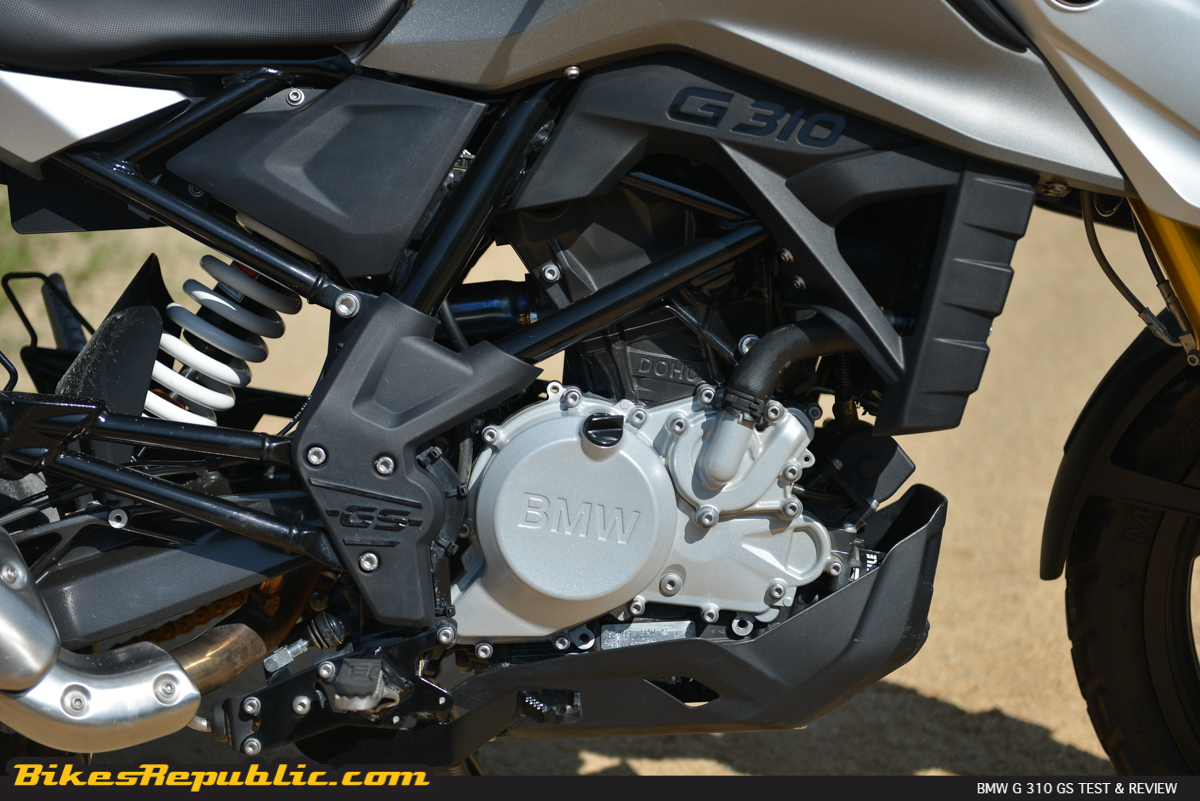 Another positive consequence is a much more compact power and drivetrain unit, since there isn't the need to create a space if the exhaust was up front. From this, BMW Motorrad could use a longer swingarm for more stability, while still maintaining a short wheelbase for agility and front wheel feel.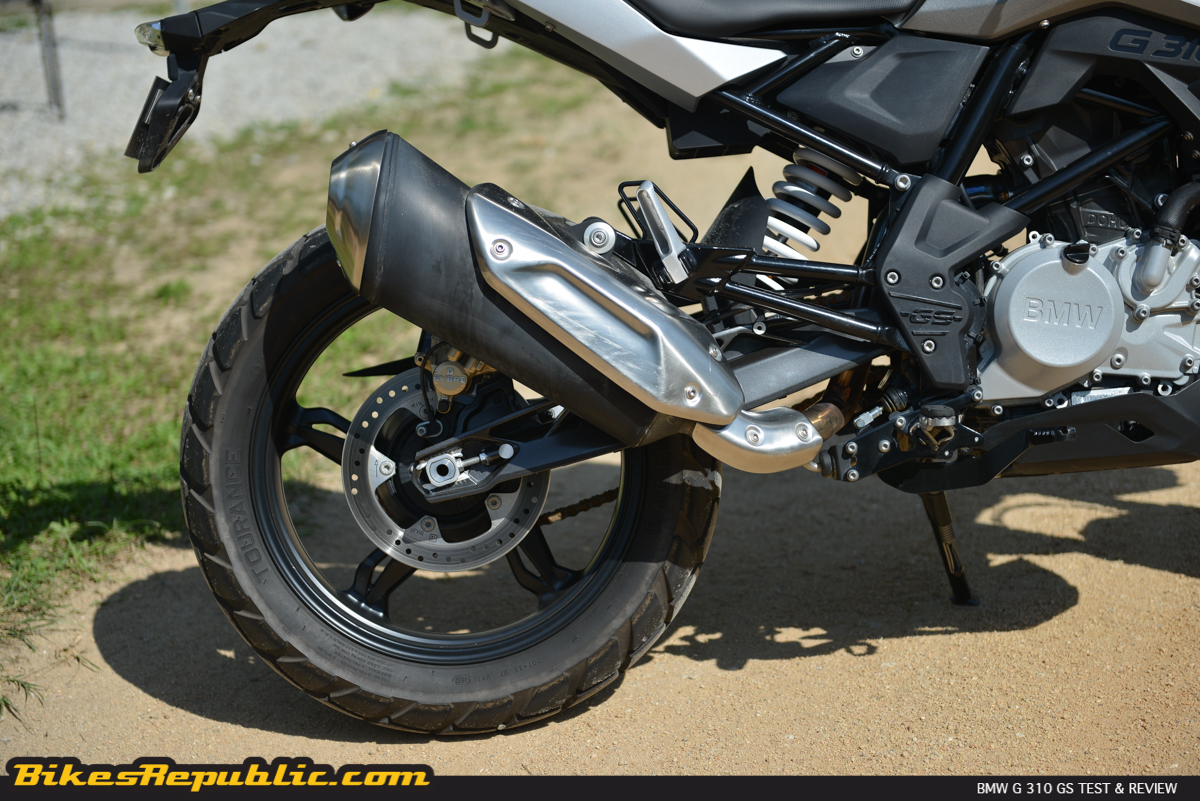 The frame of the G 310 GS is similar to the roadster's but the suspension has gained extra travel by 41 mm up front and 48mm out back, to a total of 180 mm on both ends. The front is suspended by non-adjustable upside forks, while the rear shock is adjustable for preload only. Seat height is 835 mm.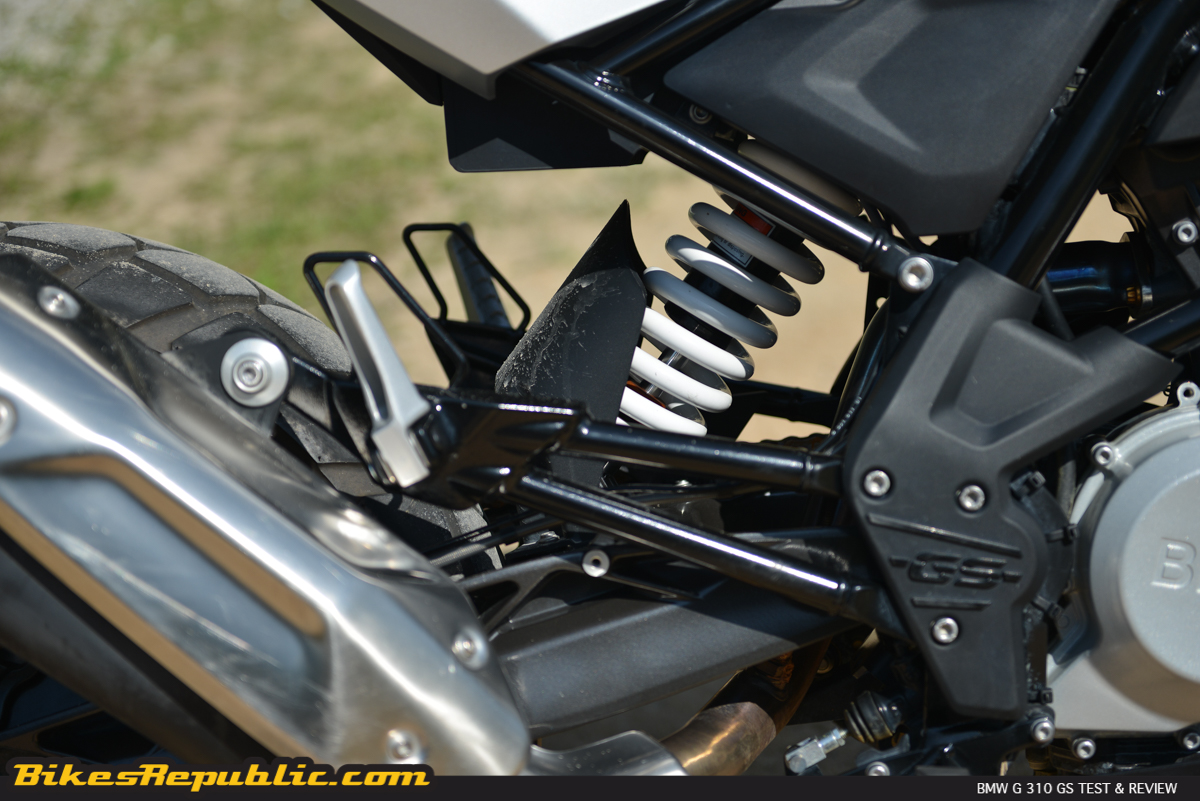 But how does it perform since it's wearing the infamous "GS" (for Gelände/Straße – offroad/road) moniker? Does the G 310 GS deserve that honour?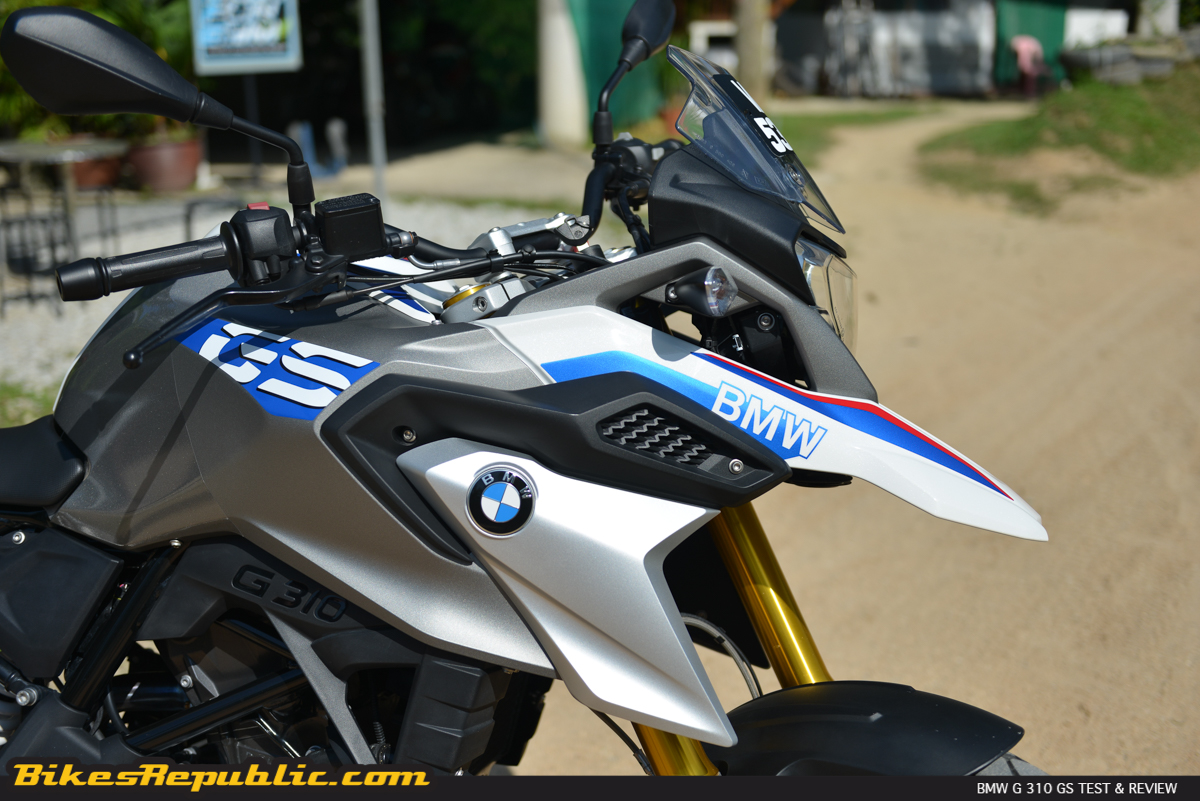 Approaching the bike for the first time, it looked pretty much like any of BMW's adventure-tourer bike, especially the R 1200 GS. Its profile is slim and tall, with many wedges in its lines. Getting on confirmed that it was tall, but it wasn't difficult to lift off the sidestand since its super light (170 kg wet weight).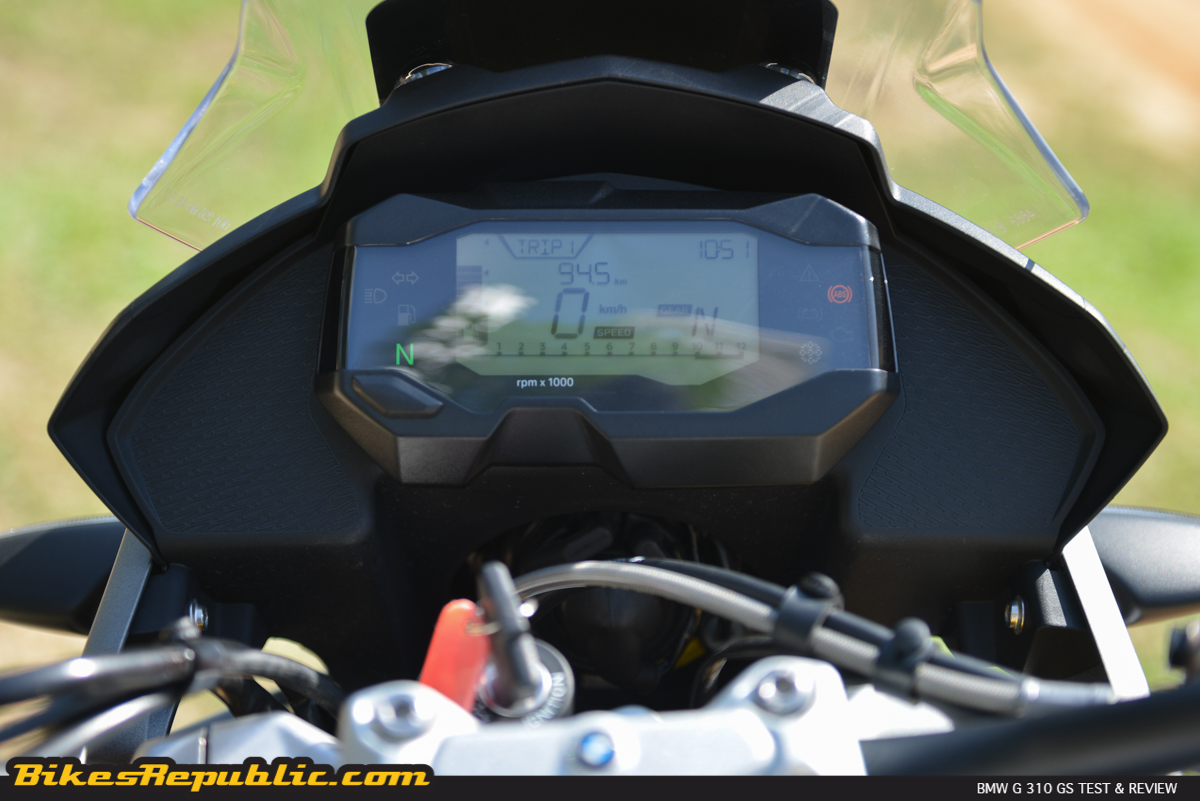 The single-cylinder engine fired up without fuss, but it needed some revs to get going. Out there on the road, the long travel suspension was supple leaning towards soft and soaked up every bump. Slamming the bike into fast corners produced a perceptible compression while the Metzeler Tourance tyres dug into the road. But there was hardly any wobble. However, the front forks dived quickly under hard braking. Those Bybre brakes are good!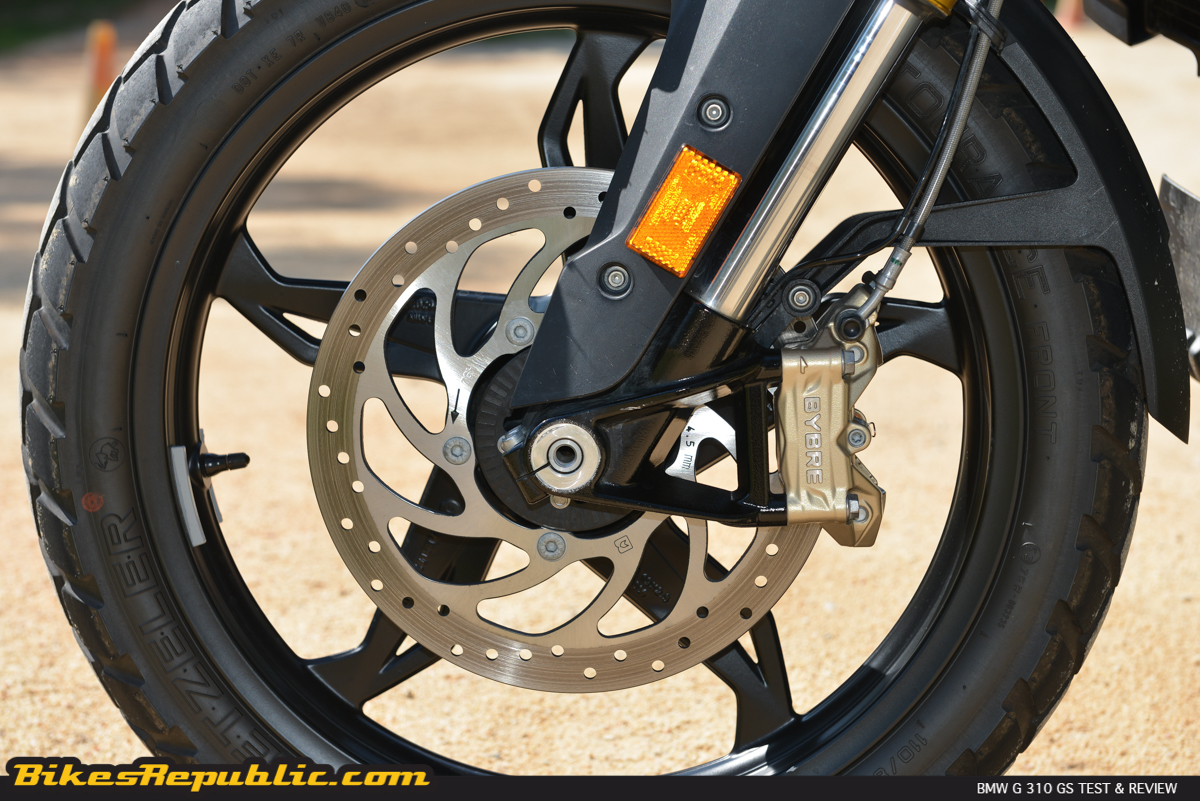 With maximum revs is at 10,000 RPM, 130 km/h comes up at 8,000 RPM. At this juncture, you're reminded by the buzziness in the handlebar and footpegs that you are riding a single. It didn't numb my hands, but I believe the addition of dampers to the handlebar mount would be sweet. Torque is commendable, although you need to be in the correct gear.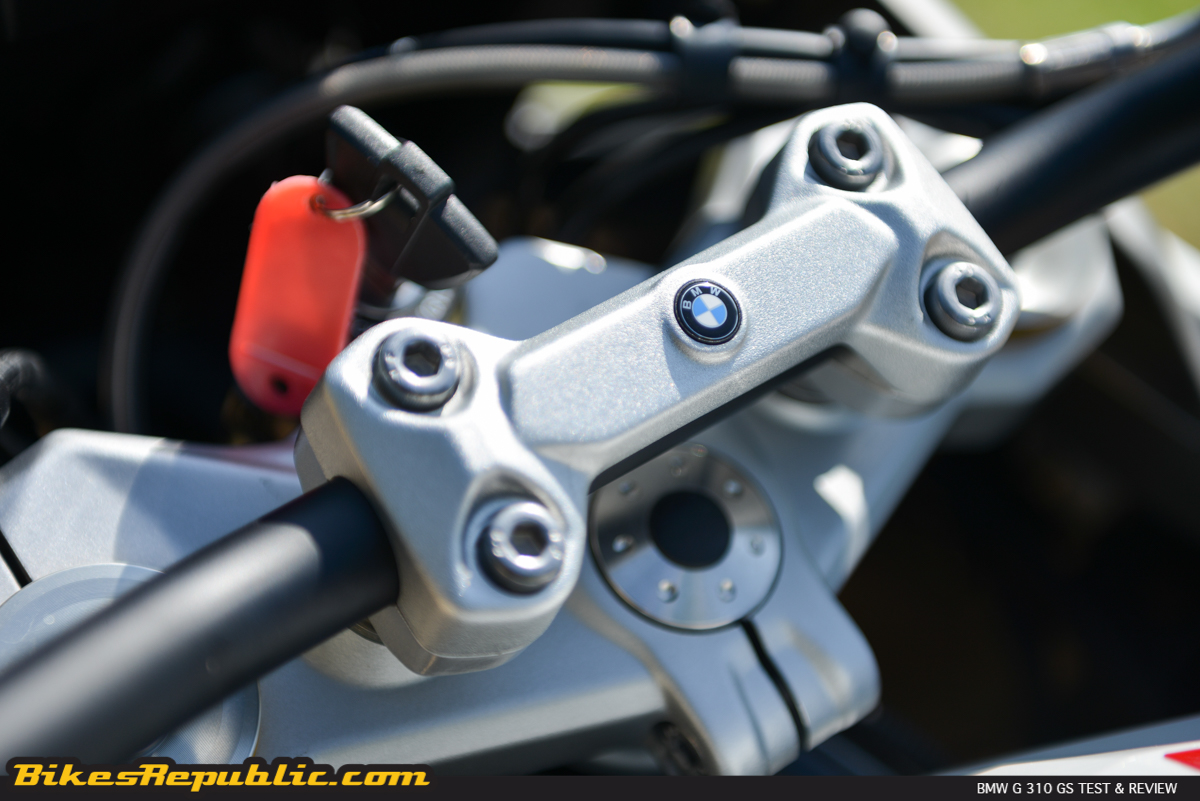 But oh my, the bike was really agile. The biggest fun about riding it on the daily commute was the enjoyment of sitting high up over traffic, giving you a view far ahead. Besides that, you could actually swing the Baby GS in and out of traffic. Ah, the joys of a lightweight bike. The seats are pretty comfortable too.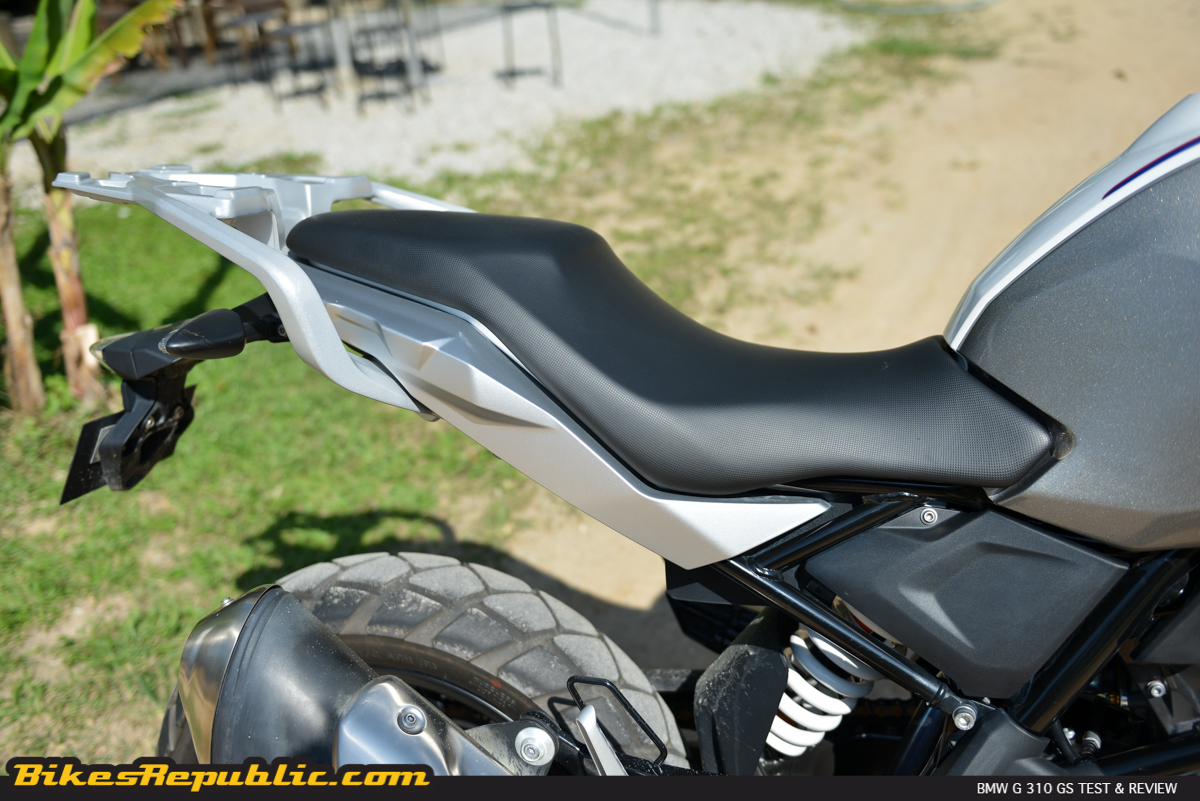 We've tested its Strasse capabilities so it's now over to the Gelande part.
Where's the best place to do some offroading? At Oh Kah Beng's Most Fun Gym, of course. We had also wanted "Foreman" Oh or KB, as some call him, to ride the G 310 GS and provide his feedback since he's the Sifu. KB had also trained his nephew, Oh Jin Sheng who went to qualify second on the first day of the BMW Motorrad GS Trophy Asia Qualifier.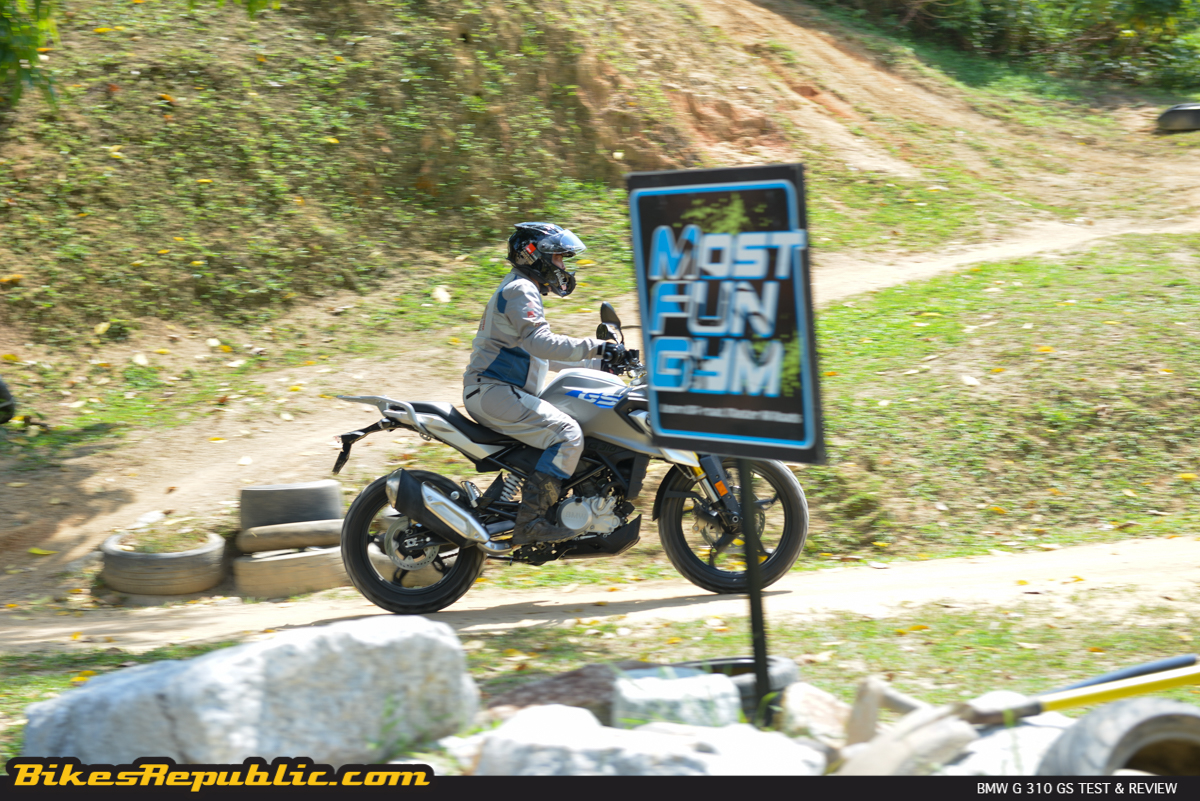 But KB was caught up at the bank when we arrived so we decided to go ahead and ride the bike around the basic flat-track course.
I started out gingerly since the tyres were 50/50 offroad/road, compared to knobbies. Apart from that, the seat is rather far behind compared to a pure-bred motocrosser, hence I had some reservations if I could really lean the bike into dirt corners. (Cornering in the dirt calls for the rider to sit as up front as possible and stick out his inside leg to put more weight on the front tyre.)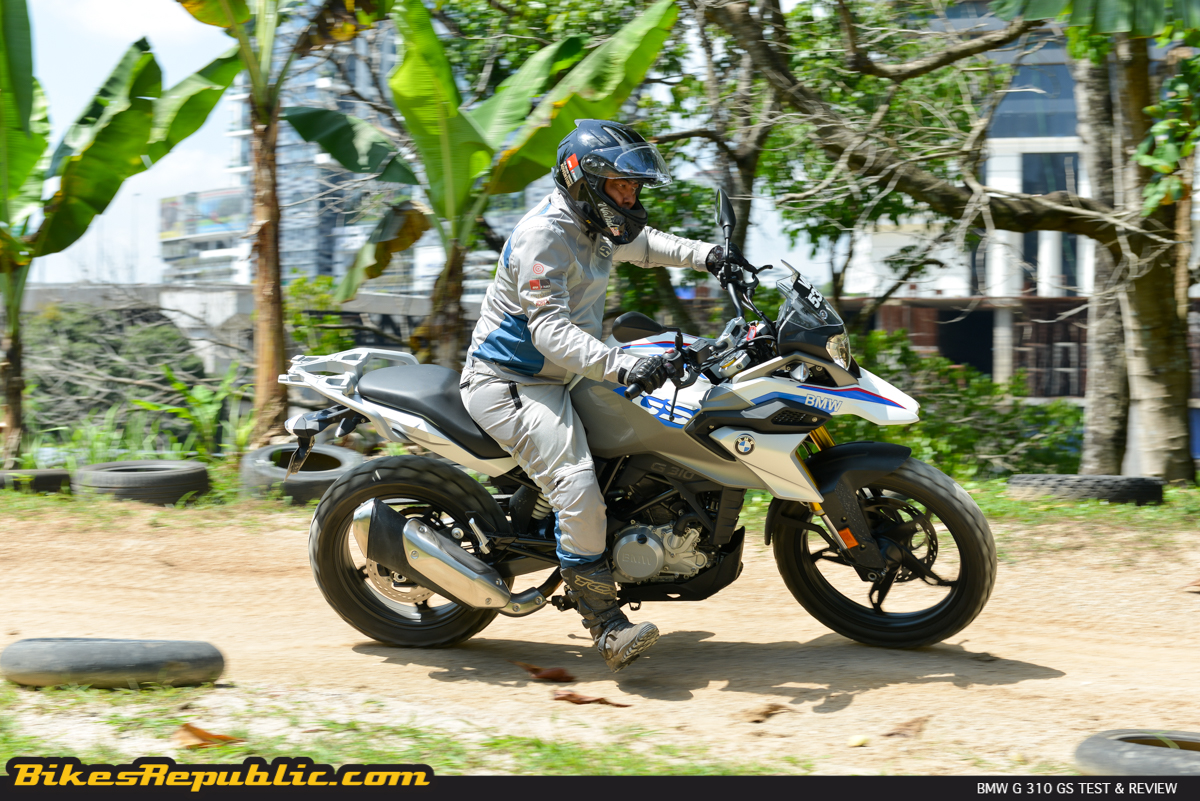 But as soon as it hit the first berm it was apparent that the G 310 GS was setup towards offroading. Standing up on the straights the bike exhibited a totally natural balance at both ends. I went faster and faster, even did a couple of small jumps as confidence picked up.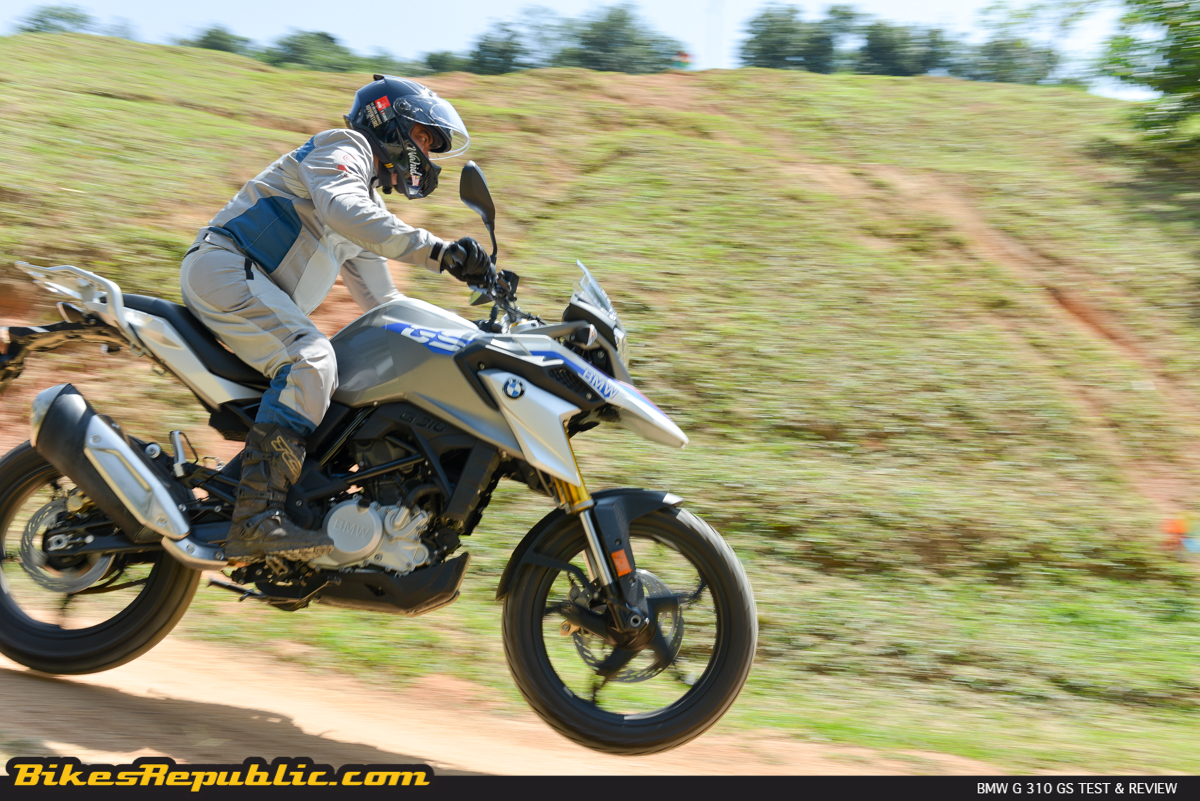 The track's surface was dry with loose soil and sand, but the tyres surprisingly slipped very little. I had to kick my leg further out to displace my weight and give it lots of throttle to slide the rear around. Otherwise, it was as if the bike has traction control (it doesn't, it only has ABS).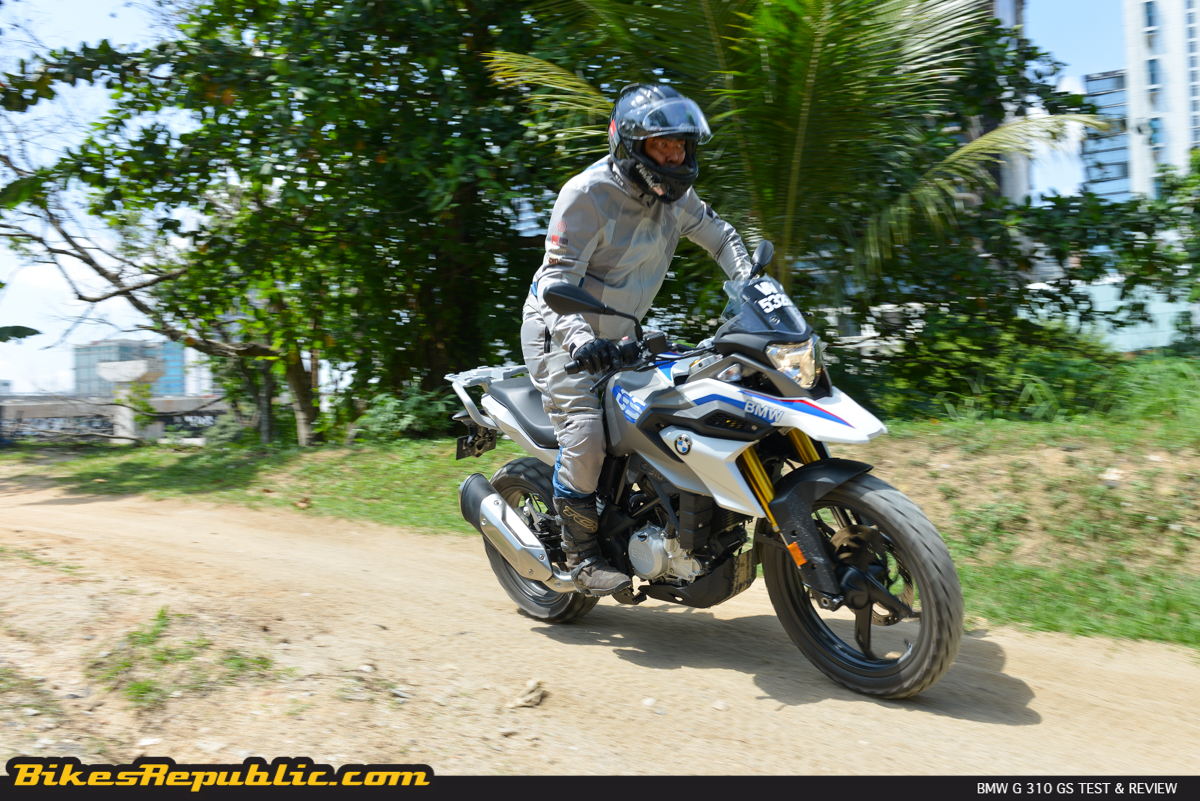 While the suspension soaked up the bumps on the road, on the offroad course it was magic! It ran over those offroad bumps as if they weren't there. It suddenly didn't matter that the fuel tank was tall and slightly long, the G 310 GS was amazingly well-balanced whether I was seated or standing up (as I've mentioned earlier).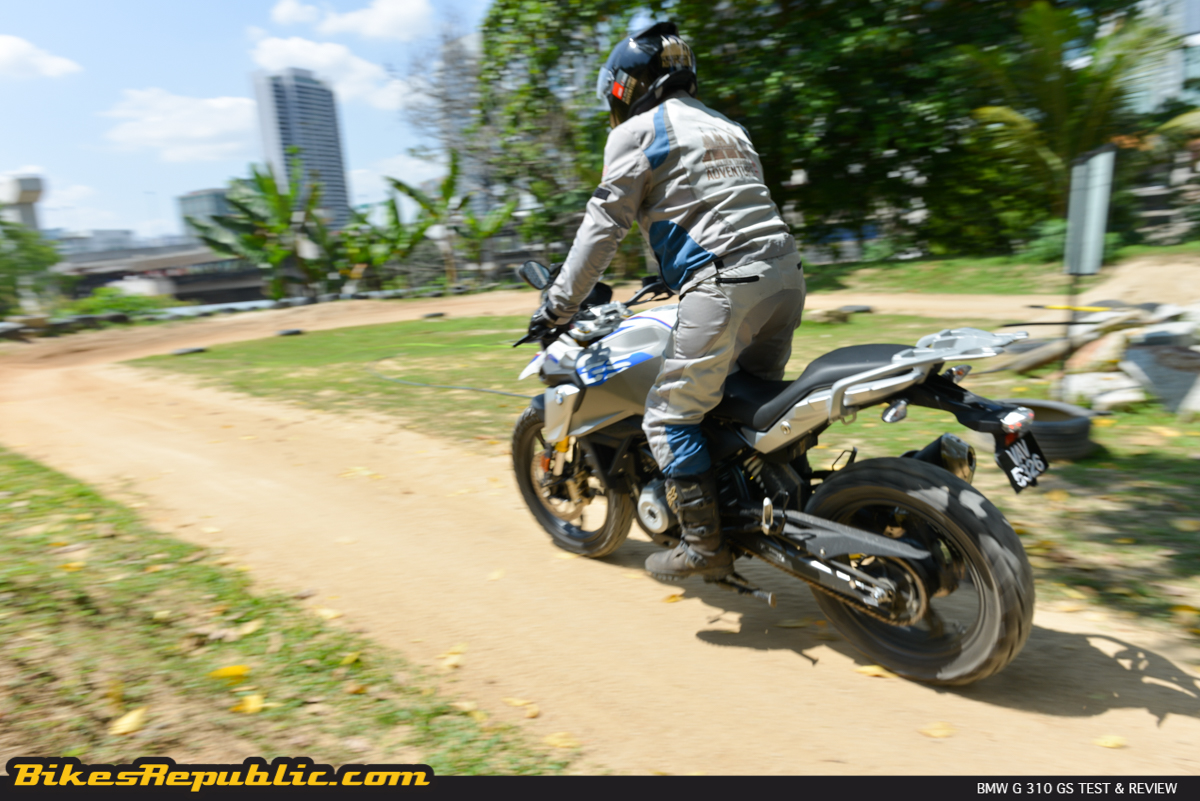 The only gripe I had with running it offroad was the road-oriented rear sprocket size. For true offroading, a 4-teeth bigger sprocket would provide the punch out of corners by rear wheel slide-steering.
KB showed up a little later in the afternoon, a bit agitated from his experience at the bank.
But his expression lit up as soon as he saw the G 310 GS, "Whoa, that's a beautiful bike! Really looks very close to the R 1200 GS."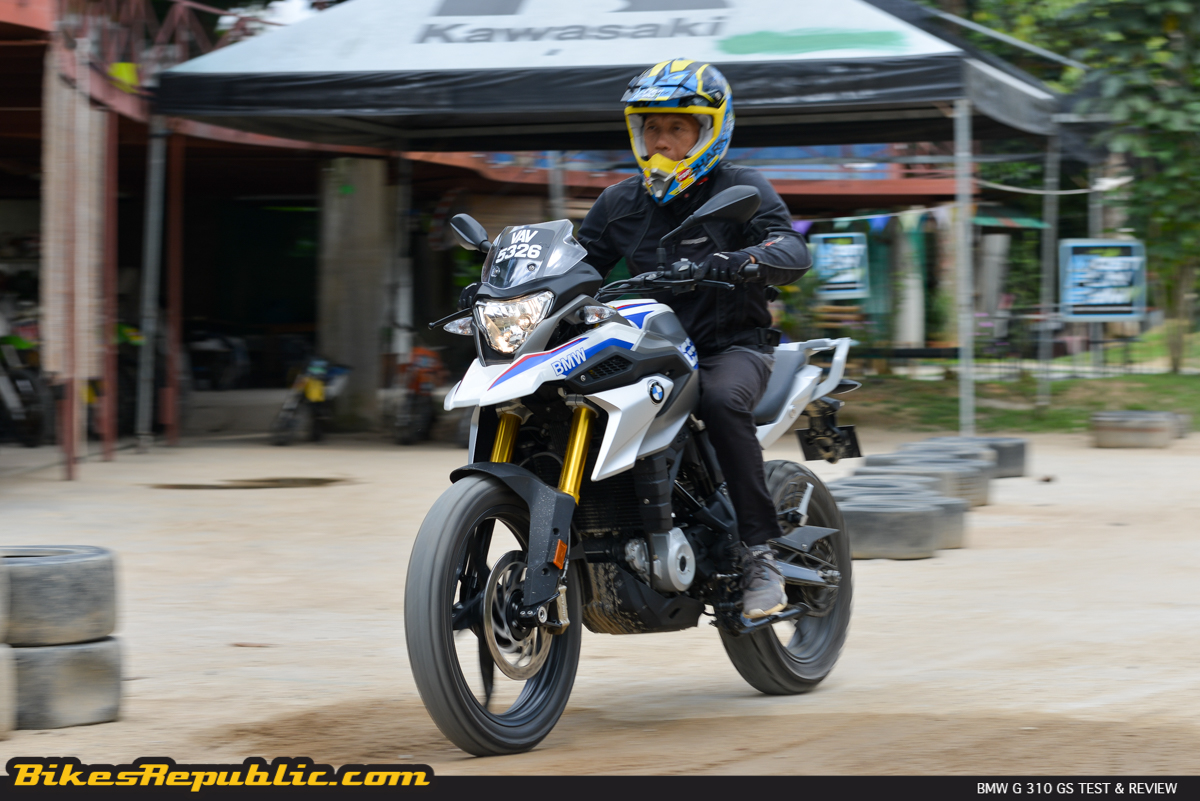 He didn't waste time in suiting up and hopping on. "The seat's a little tall for most Malaysians, but the rear shock compresses when you sit on it, like a motocrosser's."
As soon as he hit the corner berm, he remarked, "Wow! The balance!" He proceeded to traverse down a steep slope. Both of us wanted to find out about the ground clearance. Nothing touched down.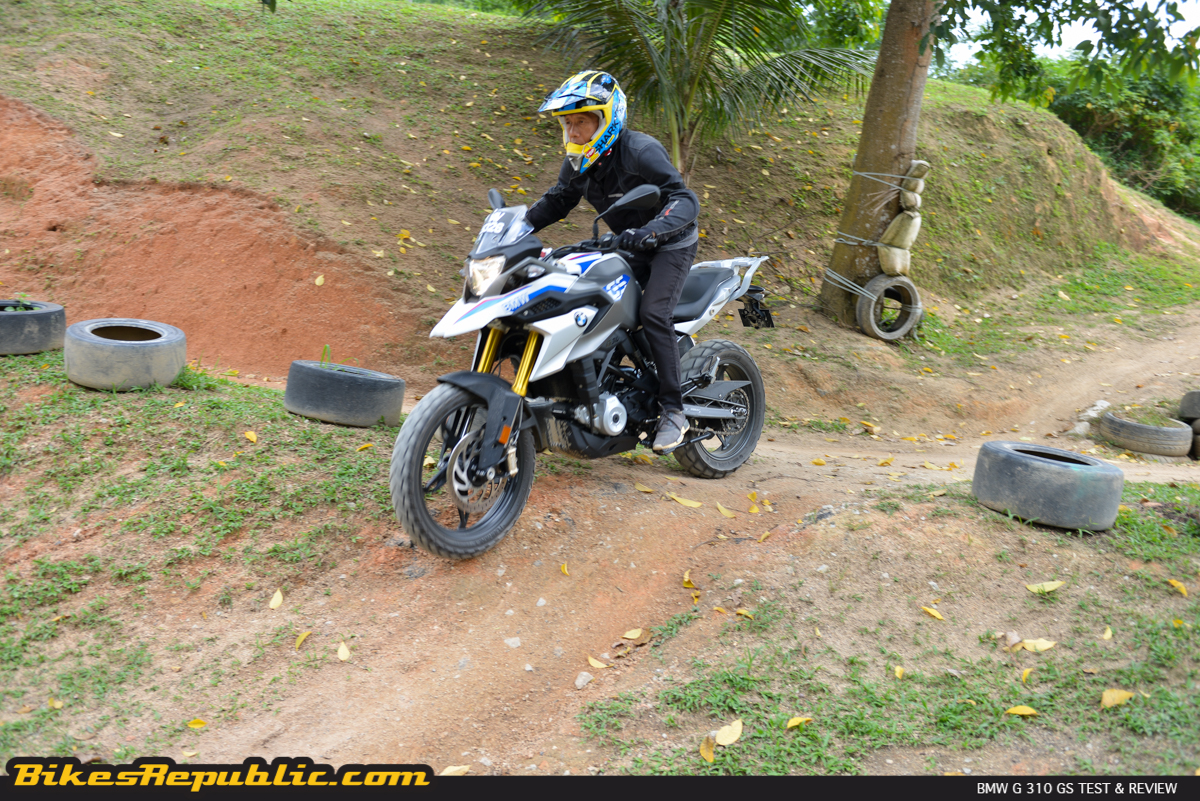 Next, KB rode the bike down a trail behind the "pit building." A trail that I would never for the life of me ride on. He just kept going, "Wow this is really good," and continued on up the hill to the Expert's Course. He kept riding steadily without jumping, "I don't want to risk bottoming out the suspension and injuring the bike," he explained.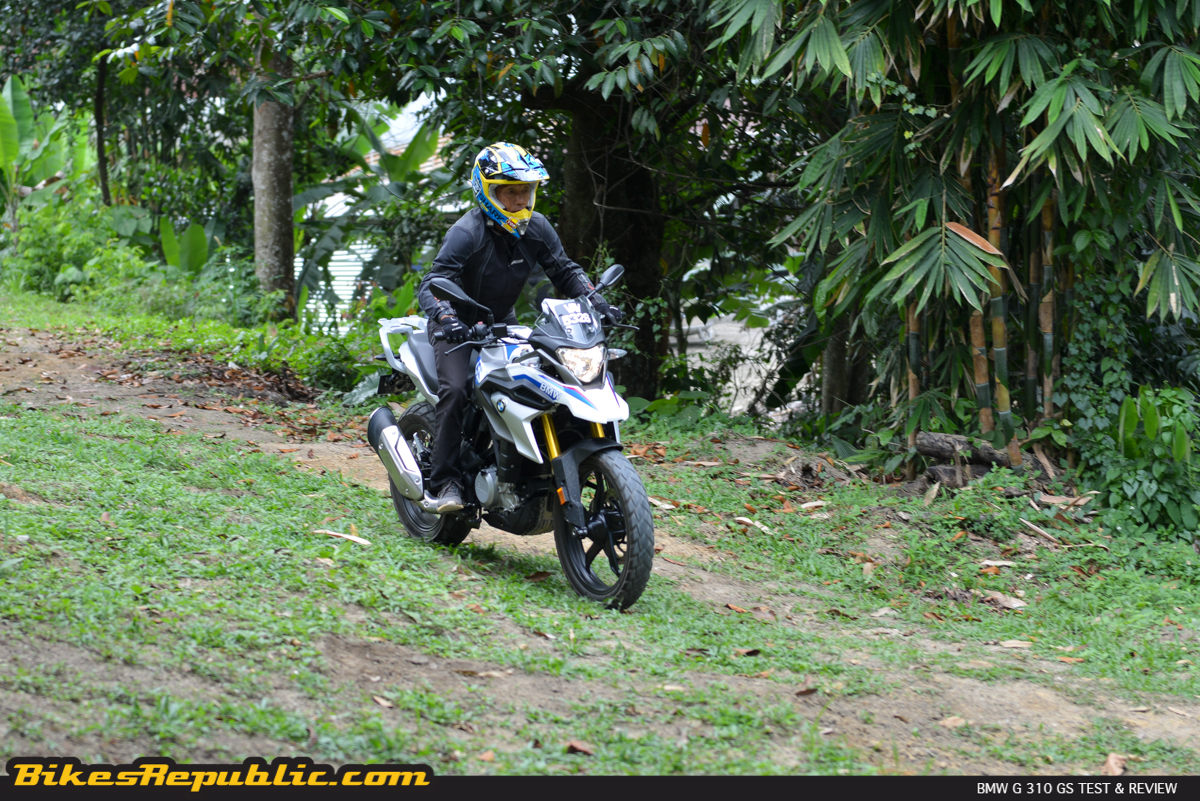 And he just kept going and going, with a smile underneath his MX helmet, while I chased him around to grab a few shots.
When he finally pulled in, there were nothing but superlatives from him. "This bike is truly amazing. It soaked up the bumps, it steered beautifully, gripped a lot, and the throttle was very smooth." (A smooth throttle response is of utmost importance when riding offroad or on slippery surfaces.)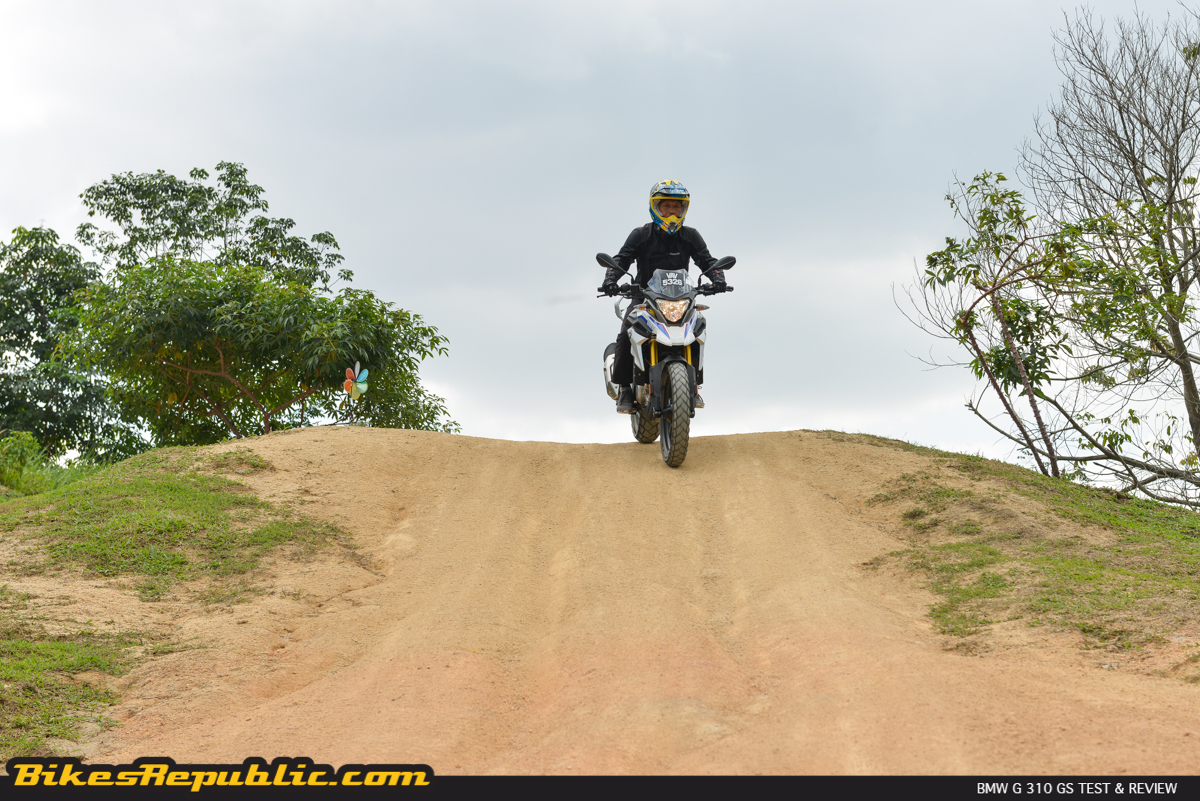 His conclusion was, "It may be an affordable bike at 29K, but it felt like something way more expensive. Plus, it's really pretty. BMW should extend a test bike at MFG so those who visit MFG could take a look at it. It's capabilities and quality."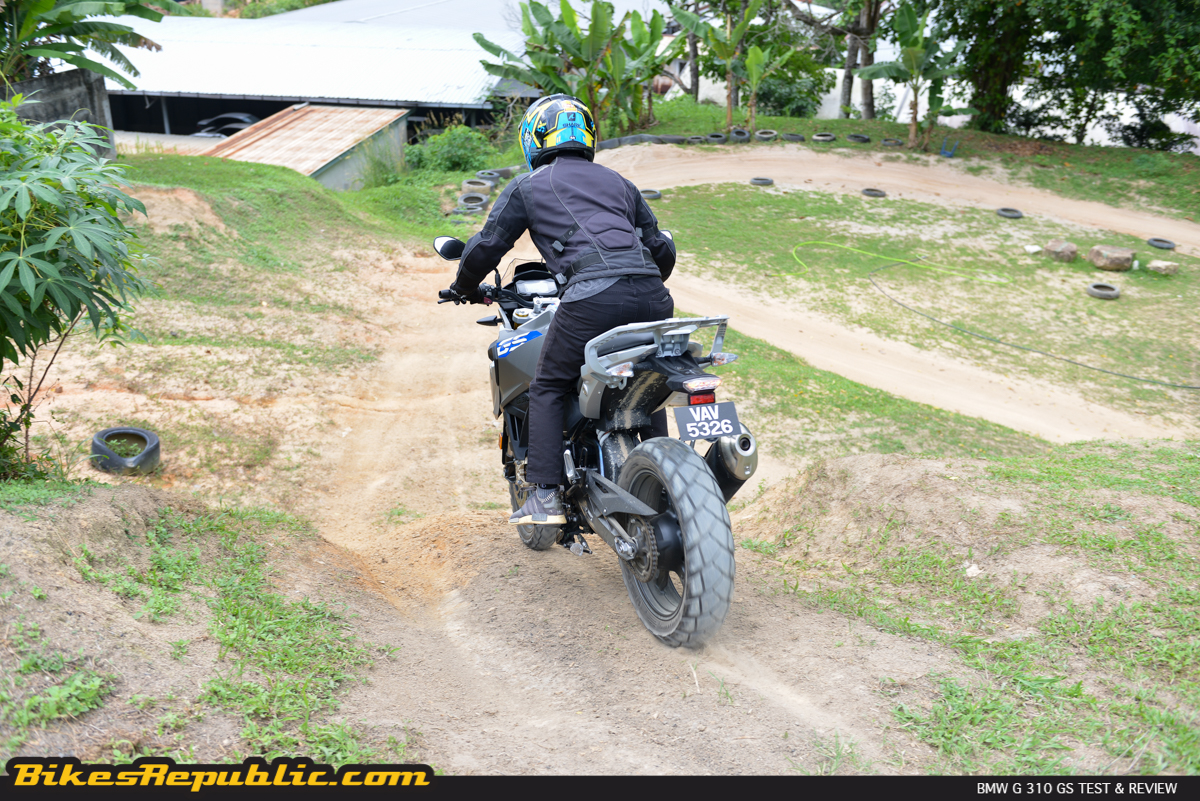 If a racing legend and super coach who has done it all, seen it all says that, then the G 310 GS is truly special. The bike truly caters to both new and veteran riders. It's practical for the daily commute, comfortable for long-distance rides and fully capable when the paved road disappears.
Just like in the opening story, the BMW G 310 GS is one bike worth defending – not because it's a BMW.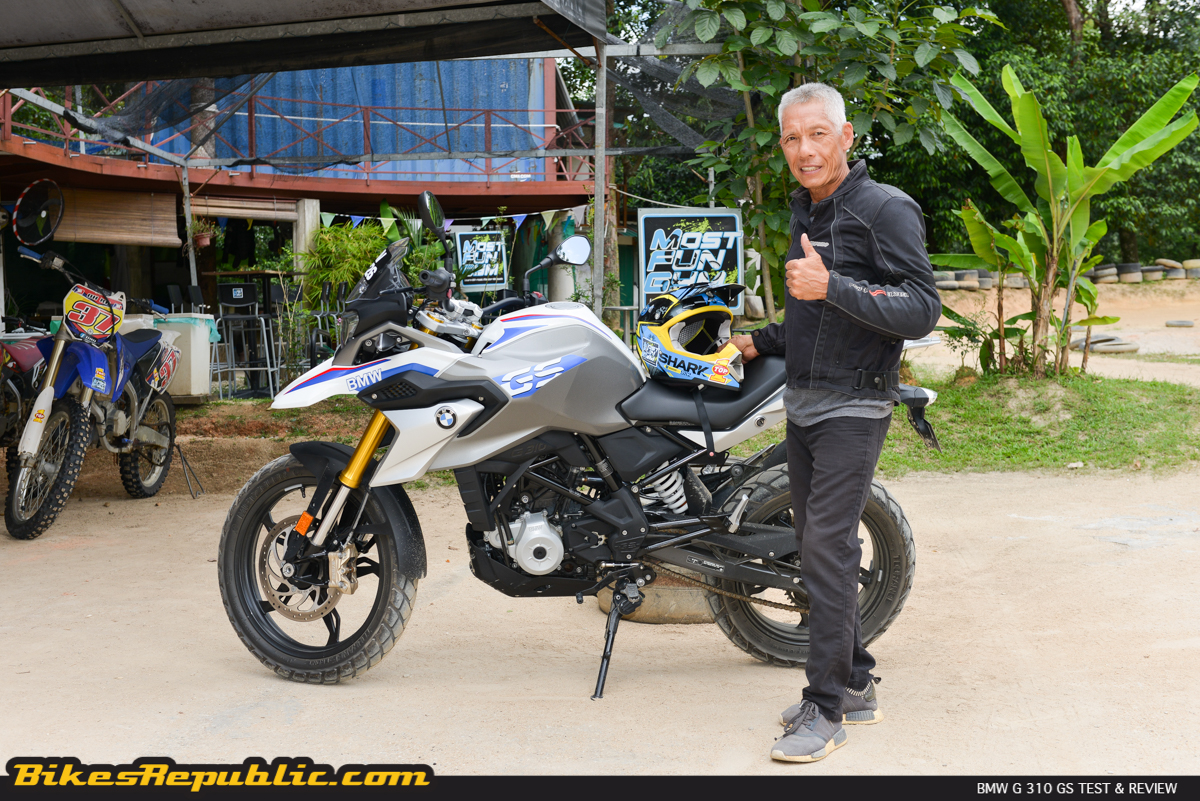 TECHNICAL SPECIFICATIONS
| | |
| --- | --- |
| ENGINE | |
| Engine type | Liquid-cooled, 4-stroke, DOHC, 4-valves, single-cylinder |
| Compression ratio | 10.6 : 1 |
| Bore X Stroke | 80.0 mm X 62.1 mm |
| Displacement | 313 cc |
| Fuel system | BMS-E2 electronic fuel injection |
| Maximum power | 34 bhp (25 kW) @ 9,500 RPM |
| Maximum torque | 28 Nm @ 7,500 RPM |
| | |
| TRANSMISSION |   |
| Clutch | Cable-operated, multi-plate, wet clutch |
| Gearbox | 6-speed synchromesh |
| | |
| CHASSIS | |
| Front suspension | 41mm USD forks, 180 mm travel |
| Rear suspension | Single shock, adjustable for preload, 180 mm travel |
| Front brakes | Single 300 mm disc, single four-piston radially mounted Bybre caliper |
| Rear brake | Single 240 mm disc, single-piston floating caliper |
| ABS | BMW Motorrad ABS |
| Front tyre | 110/80-R19 |
| Rear tyre | 150/70-R17 |
| | |
| FRAME & DIMENSIONS | |
| Frame | Tubular steel |
| Swingarm | Solid die-cast aluminium |
| Trail | 98.0 mm |
| Rake | 26.7 degrees |
| Wheelbase | 1420 mm |
| Seat height | 835 mm (unladen) |
| Wet weight | 169.5 kg (ready to ride) |
| Fuel capacity | 11.0 litres |
PICTURE GALLERY