The MCO (Movement Control Order) has left a lot of bikes and cars vulnerable to theft as the usual crowded places are now temporarily deserted without the usual heavy traffic. A group of scumbag thieves in Penang has taken this opportunity to steal a bunch of wheels from several motorcycles at the Bukit Tengah KTM train station.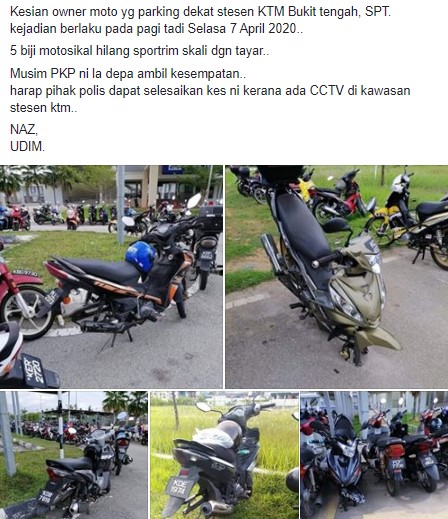 We're guessing that the bikes were left in the vicinity when fellow Malaysians were scrambling back to their beloved hometowns (or parked there to go to work at places which are still open during the MCO). Several posts on Facebook showed a total of five bikes affected by this particular theft case (four Yamaha bikes, one Honda).
We're guessing that the stolen wheels were sport rims that caught the eyes of these scumbag thieves. The Royal Malaysian Police (PDRM) and KTM will be looking into the matter to find out the culprits behind this hideous crime and hopefully, bring them to justice.
For those who are affected by this unfortunate situation, we wish you all the best in getting things back on track once MCO is over. The authorities are doing their level best in every manner possible to ensure the safety of everyone during these hard times. We as citizens can help monitor the surrounding areas and report any suspicious behaviours to the authorities.