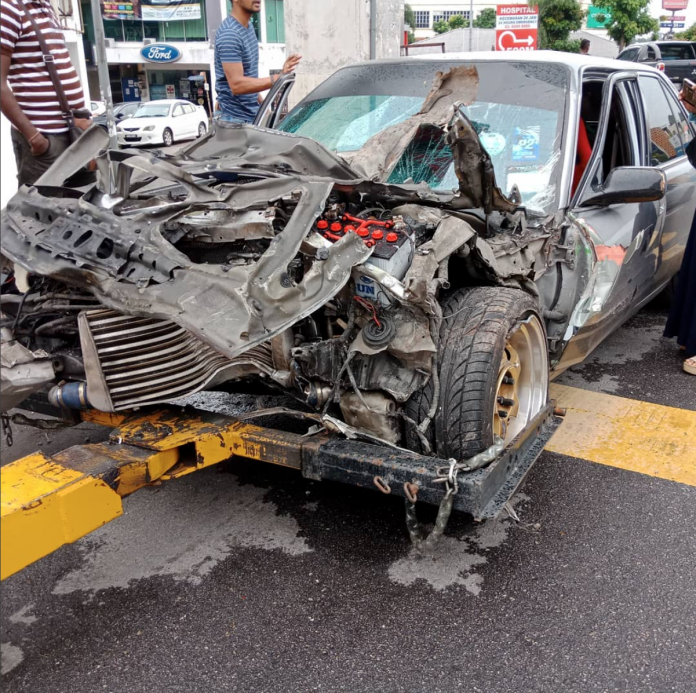 Azlan Shah is the 2017 ARRC 600cc Champion.

He didn't sustain bad injuries in the accident although his tongue required seven stitches, besides losing his phone and money.

Azlan is slated to begin his 2018 season preparation soon.
2017 Asia Road Racing Championship (ARRC) 600cc champion, Azlan Shah was involved in a traffic accident later yesterday.
"I was travelling home from Sunway. The road was very dark and I suddenly hit a lorry. I blacked out immediately and realised I was in the hospital when I came to," said the rider when speaking to Malaysian daily, Berita Harian.
Onlookers rushed Azlan to the Selayang Hospital after witnessing the crash which totalled his Toyota.
"I'm thankful that I escaped relatively unscathed, although I've lost my cellphone and money," he continued. He received a deep cut to his tongue for which it received seven stitches. "I could eat or talk much due to the multiple stitches. It's only porridge for me at the moment."
Azlan will be heading to the Chang International Circuit at Buriram, Thailand to being his pre-season preparations today.
"The accident will not affect my focus on defending my championship this year. My determination and motivation remains unchanged from last year. It's going to be more competitive this year but I believe I could still put up a big challenge."
Azlan will be riding for the Manual Tech KYT Kawasaki Racing team from Indonesia this year.