FIM ARRC 2016 ends season with a bang as national rider Zaqhwan Zaidi snatches second SuperSport 600 title.
The FIM Asian Road Racing Championship 2016 season concluded in Buriram, Thailand on a high note for national rider Zaqhwan Zaidi after being crowned as the SuperSport 600 class' champion for a second time in his career.
The 21-year-old native of Semenyih who rides for the MUSASHi Boon Siew Honda outfit qualified seventh on the grid and finished seventh as well in Saturday's Race 1 just behind championship leader Tomoyoshi Koyama.
Race 2 on Sunday saw Zaqhwan holding the advantage over Koyama instead as he raced consistently in ninth place. Koyama's luck ran out when he suffered an engine failure while Zaqhwan's teammate Yuki Takahashi ran wide ahead, allowing the Malaysian the edge forward for a sixth place finish.
Despite the gallant efforts of finishing in fourth place for both races and standing as an early favourite for the title, a mid-season absence due to injury ruled Team BikeART Kawasaki rider and fellow Malaysian ace Azlan Shah out of the contention for the crown.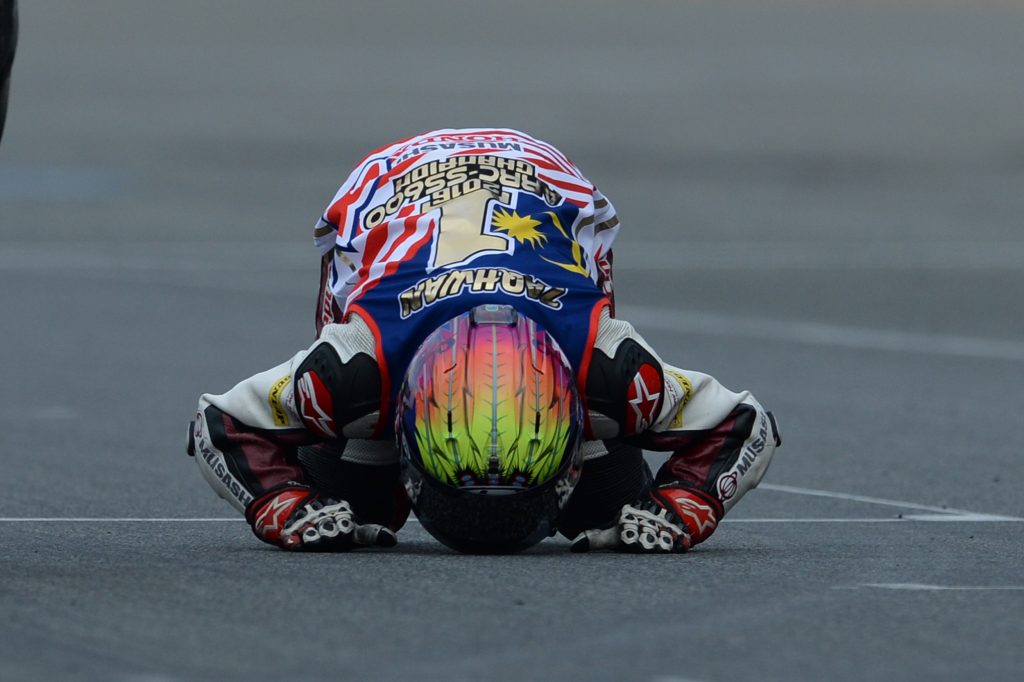 That, plus the total points haul Zaqhwan had for the weekend was enough bring his season's total up to 162 points, with Koyama relegated to second with 158 points followed by Azlan Shah Kamaruzaman in third with 142 points.
I honestly did not know that I had won the title. There was no information on my pit board and I was unaware that Koyama had retired halfway through the race. I was just focusing on pacing myself and making sure that I finished as high as I could. I was surprised to be greeted by the pitlane marshalls and instructed to ride to the podium. That was when I saw my team celebrating our fifth Asian win," said Zaqhwan as he summed up Sunday's final race.
For the MUSASHi Boon Siew Honda outfit, Zaqhwan's title win sees the team bagging its fifth consecutive FIM Asian title as well. Notably, Zaqhwan is also the team's first rider to win the title twice, with the first scored back in 2014.
Taking both race wins was Yamaha-powered local ace Decha Kraisart with fellow Yamaha-powered compatriot Decha Kraisart scoring second in both races too. Completing the all-Thai and all-Yamaha podium in Race 1 was rider Anucha Narkcharoensri who finished third whilst Australian Anthony West took third in Race 2 ahead of Azlan Shah.
ARRC 2016 Round 6 Full Results
Race 1
SuperSports 600cc
1. Decha Kraisart (THA) Yamaha 30'00.113s
2. Chalermpol Polamai (THA) Yamaha 30'00.364s
3. Anucha Narkcharoensri (THA) Yamaha 30'00.819s
4. Azlan Shah Kamaruzaman (MAS) Kawasaki 30'07.212s
5. Anthony Keith West (AUS) Yamaha 30'07.272s
Asia Production 250cc
1. Anupab Sarmoon (THA) Yamaha 19'38.679s
2. Peerapong Loiboonpeng (THA) Yamaha 19'38.897s
3. Yusuke Nakamura (JPN) Yamaha 19'39.440s
4. Somkiat Chantra (THA) Honda 19'39.479s
5. Imanuel Putra Pratna (INA) Yamaha 19'39.511s
Underbone 130cc
1. Md Haziq Fairues (MAS) Yamaha 17'26.285s
2. Florianus Roy Brilyan (INA) Yamaha 17'26.340s
3. Md Amirul Ariff Musa (MAS) Honda 17'26.480s
4. Md Shah Khairil Hisham (MAS) Yamaha 17'26.557s
5. Wahyu Aji Trilaksana (INA) Yamaha 17'26.613s
Race 2
SuperSports 600cc
1. Decha Kraisart (THA) Yamaha 29'56.605s
2. Chalermpol Polamai (THA) Yamaha 29'57.553s
3. Anthony Keith West (AUS) Yamaha 29'59.565s
4. Azlan Shah Kamaruzaman (MAS) Kawasaki 30'01.049s
5. Dimas Ekky Pratama (INA) Honda 30'03.247s
Asia Production 250cc
1. Apiwat Wongthananon (THA) Yamaha 19'25.546s
2. Takehiro Yamamoto (JPN) Kawasaki 19'26.248s
3. Imanuel Putra Pratna (INA) Yamaha 19'34.062s
4. Anupab Sarmoon (THA) Yamaha 19'34.219s
5. Kasma Daniel Kasmayuddin (MAS) Yamaha 19'34.347s
Underbone 130cc
1. Wahyu Aji Trilaksana (INA) Yamaha 17'16.687s
2. Florianus Roy Brilyan (INA) Yamaha 17'20.286s
3. Md Shah Khairil Hisham (MAS) Yamaha 17.20.728s
4. Md Fareez Afeez (MAS) Yamaha 17'21.498s
5. Md Amirul Ariff Musa (MAS) Honda 17'38.120s
Overall Standings
SuperSport 600
1. Md Zaqhwan Zaidi (MAS) Honda 162pts
2. Tomoyoshi Koyama (JPN) Honda 158pts
3. Azlan Shah Kamaruzaman (MAS) 142pts
4. Yuki Takahashi (JPN) Honda 136pts
5. Decha Kraisart (THA) Yamaha 135pts
Asia Production 250
1. Apiwat Wongthananon (THA) Yamaha 246pts
2. Takehiro Yamamoto (JPN) Kawasaki 171pts
3. Anupab Sarmoon (THA) Yamaha 166pts
4. Peerapong Loiboonpeng (THA) Yamaha 148pts
5. Galang Hendra Pratama (INA) Yamaha 106pts
Underbone 130
1. Wahyu Aji Trilaksana (INA) Yamaha 149pts
2. Md Amirul Ariff Musa (MAS) Honda 133pts
3. Md Izzat Zaidi (MAS) Yamaha 117pts
4. Ahmad Fazli Sham (MAS) Yamaha 115pts
5. Florianus Roy (INA) Yamaha 105pts