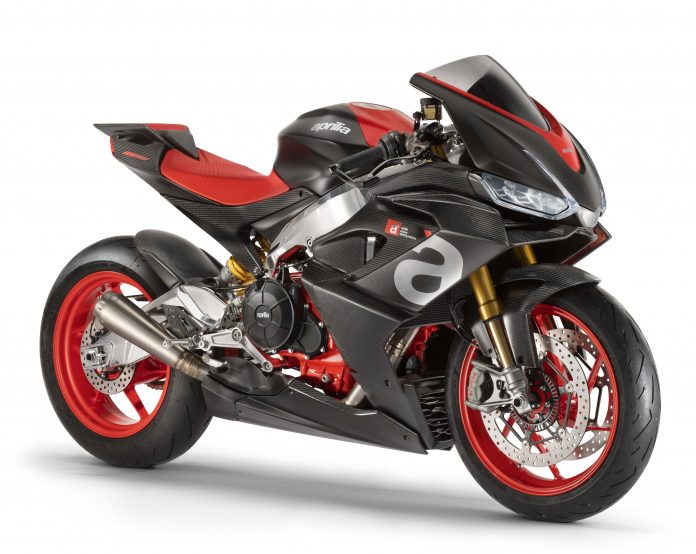 A video surfaced of an Aprilia RS660 being tested at Imola.

While it wears the RSV4's bodywork, the video is titled as RS660.

Will we see the revival of the middleweight supersport class?
The upcoming Aprilia RS660 middleweight supersport bike garnered plenty of attention and anticipation since its unveiling at EICMA 2018.
As the Noale-based manufacturer said before, it's basically an RSV4 minus the rear two cylinders. That turns the engine into a parallel-Twin.
Since then, Aprilia confirmed that the bike will make production and slated for 2020. That just leaves months to go before Intermot and EICMA 2019 for the purported official launch. So, there's still plenty of work to do.
Lately, a video surfaced in the Aprilia Cup Facebook page claiming to be the RS660 prototype undergoing testing at the Imola racetrack. You can check out the video by clicking on the link below:
https://www.facebook.com/ApriliaCup/videos/2577483428964228/
However, we'd like to point out that the bike sounded a whole like a V-Four and the fairing is that of an RSV4. However, if you could spot a rough-looking parallel-Twin just ahead of the rider's shin. Our conclusion is that it could very well be the test mule for the RS660. Furthermore, the video is titled RS660.
As the 1000cc superbike market keeps shrinking, we are hoping to see the revival of middleweight supersport class. Not only that they are cheaper than the 1000s, their level of power is more accessible to a wider range of riders. Fingers crossed for the RS660 to be priced reasonably.