The Conditional Movement Control Order (CMCO) has kick-started a lot of services, including Pos Malaysia. All services provided at all post offices and Pos Laju outlets are back on track, including any businesses related to JPJ (Road Transport Department).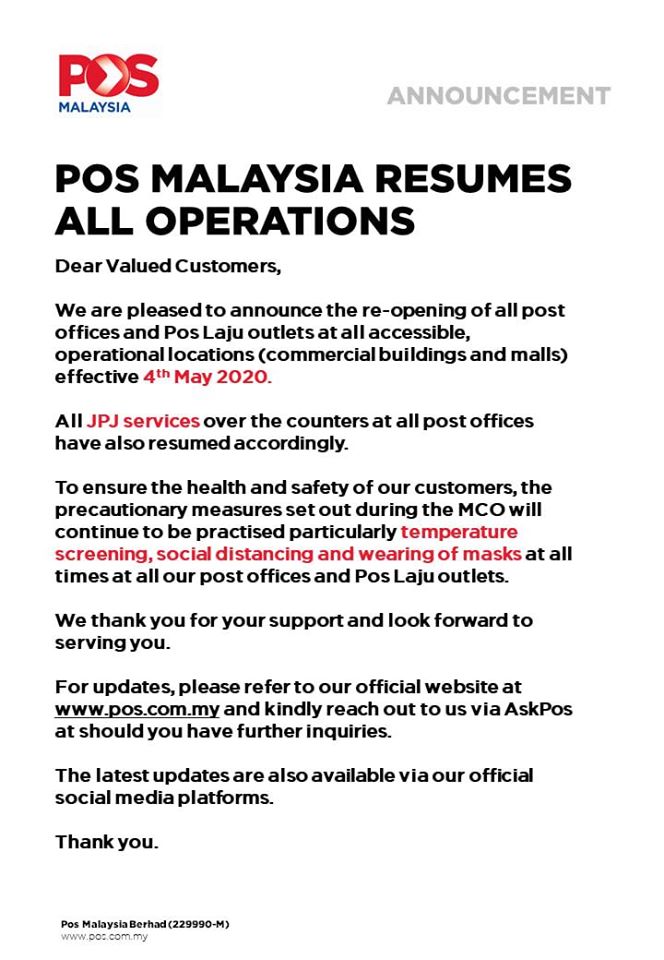 The official notice states that "All JPJ services over the counters at all post offices have also resumed accordingly." As of 4 May 2020, you can expect these services to resume and while the authorities have stated that you don't need to renew your road tax or driving license during MCO (as long as the vehicle's insurance is still valid) until 12 May 2020, it's better to just have them renewed at any Pos Malaysia counter available nationwide (you know, better safe than sorry kind of scenario).
As part of their efforts to curb the spread of COVID-19, customers will need to adhere to some rules and guidelines placed by Pos Malaysia such as temperature screening, social distancing, and the wearing of masks. Operating hours have also been limited to 8.30am – 3.00pm from Monday to Friday (1.00pm for Saturday).
For those who are planning to head for post office counters located in shopping malls, their services will start at 10.00am – 3.00pm. There will be a lot of unfinished or delayed businesses by a lot of folks, so we suggest that if you need any services done by Pos Malaysia, head there early. Be safe!