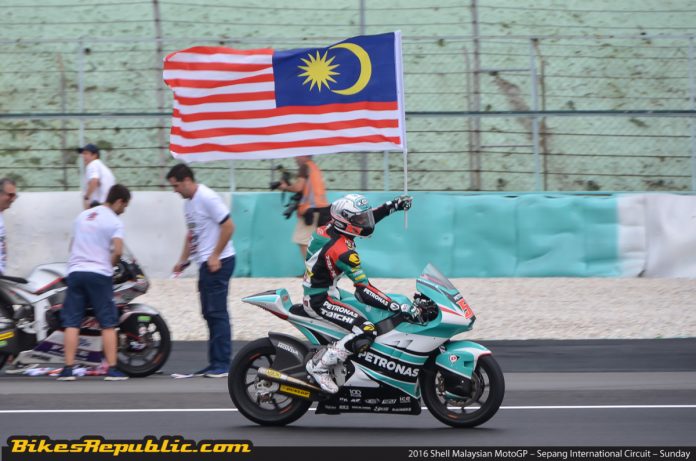 Hafizh Syahrin, Khairul Idham Pawi and Adam Norrodin cemented Malaysia's name on the map of motorsports
It has been an amazing season for MotoGP, Moto2 and Moto3. With so many amazing things happening throughout all three classes, we looked at how our own hometown heroes did in the world stage of the greatest motorcycle racing event in the world. These boys are none other than Hafizh Syahrin, Khairul Idham Pawi and Adam Norrodin.
Hafizh Syahrin aka "Pescao" or "Little Fish"
Hafizh Syahrin aka "Pescao" or "Little Fish" definitely gave everyone a show in the Moto2 races for this season. The 22 year old together with the Petronas Raceline Malaysia team ran an amazing season and definitely gave a performance worth watching.
On board his Kalex machine, Hafizh Syahrin is ranked 9th in the 2016 Moto2 world rankings, scoring 118 points overall. In the standings, he's ahead of Simone Corsi (Speed Up Racing) and even the brother of Marc Marquez, Alex Marquez (Estrella Galicia 0,0 Marc VDS) who is 13th in the world standings with only 69 points.
His best finish was during the first Moto2 race of the season in Qatar. He gave a stunning performance and even a fight for podium with the likes of Thomas Luthi (Garage Plus Interwetten), Luis Salom (SAG Team) and Simone Corsi (Speed Up Racing). He also finish 4th in Silverstone and 5th in Mugello and Sepang.
Out of the 42 riders who competed in Moto2 for the 2016 season (including wild card riders), our very own Malaysian rider is ranked in the top ten among all the other great riders from all over the world. Not bad, Little Fish, not bad at all.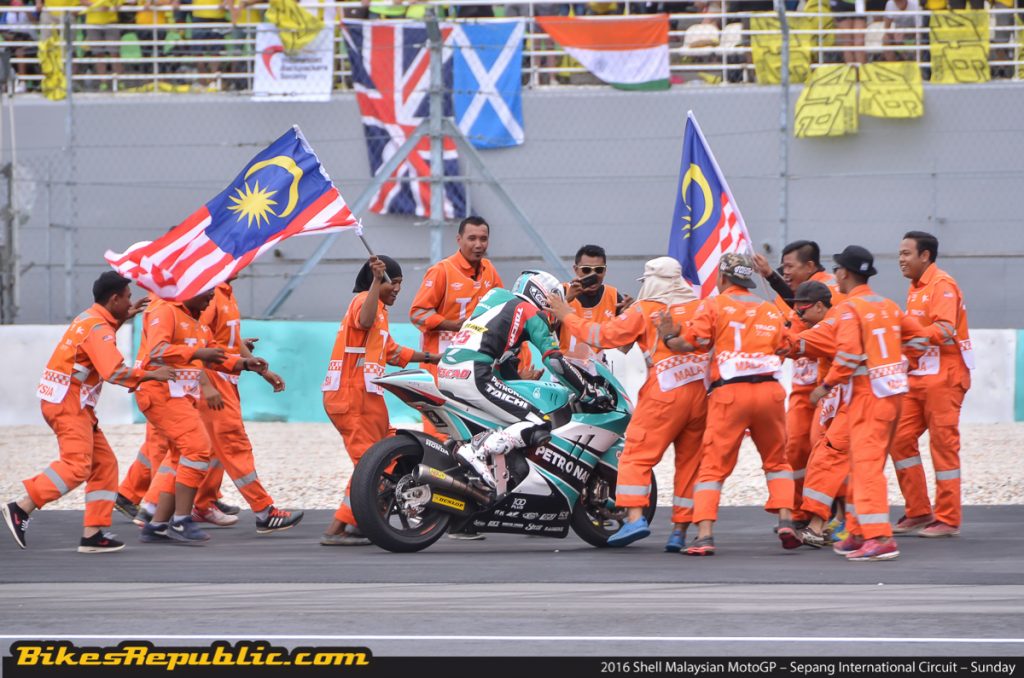 For the 2017 season, Pescao will continue to race in the Moto2 category with the same outfit. With his current progress in this year's races, we won't be surprised if he gets more podium finishes next year.
Khairul Idham Pawi aka "SuperKIP"
There's no denying who is the "King of the Wet" in this year's Moto3 season. Debuting as a rookie in Moto3, Khairul Idham Pawi quickly rose to stardom after winning a very wet race in Argentina.
This was only his second Moto3 race and he managed to win with a huge gap of 26 seconds from Jorge Navarro (Estrella Galcia 0,0) who finished second! He continued his assault in the rain in a few other races and he won again in Germany with a gap of 11 seconds ahead of Andrea Locatelli (Leopard Racing).
At this very moment, this 18 year old from Perak acquired the nickname "The King of the Wet". With two race victories, he is ranked at 19th overall in the Moto3 world standings having obtained 62 points. Ranked 19th out of 50 racers who competed in the Moto3 2016 season (including wildcard riders) is definitely something to brag about.
SuperKIP will move up to the Moto2 category next season in 2017 where he will be racing on the Kalex bike with Idemitsu Honda Team Asia outfit. It's quite a big jump after having spent only one season in Moto3 but we're positive that this lad will keep making Malaysia proud.
Adam Norrodin
The 18 year old from Johor Bahru also gave the motorsports fan something to think about of high potential of good riders hailing from Malaysia. With only his second year in Moto3 racing for Drive M7 SIC Racing Team, he also stormed and surprised the usual front runners in Argentina. Khairul Idham Pawi won that race with a huge 26 second lead and right after he crossed the finish line, all eyes quickly moved to Adam Norrodin, another Malaysian boy who was in third at the time.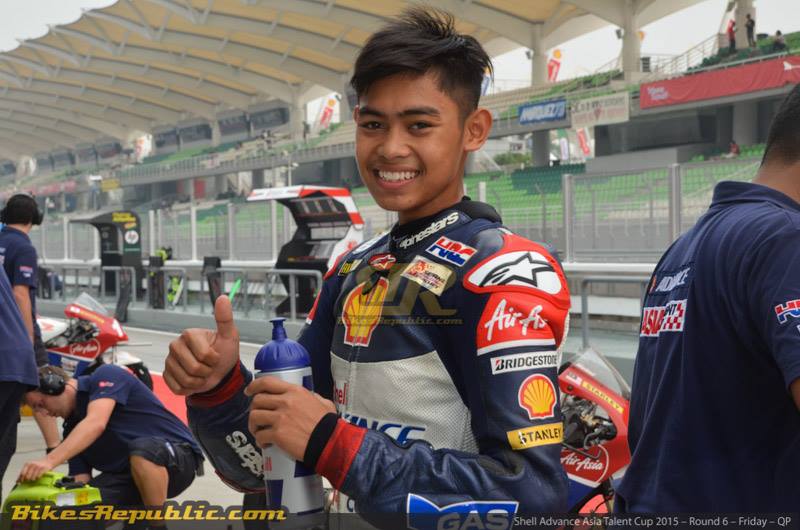 But the worst of luck struck Adam Norrodin when he highsided at the very last corner in the final lap. What we saw after that was simply remarkable when Adam picked his bike up and pushed it to the finish line, finishing his best result of the season with P11. That act of courage gained massive respect from audiences worldwide. It was definitely the epitome of not giving up.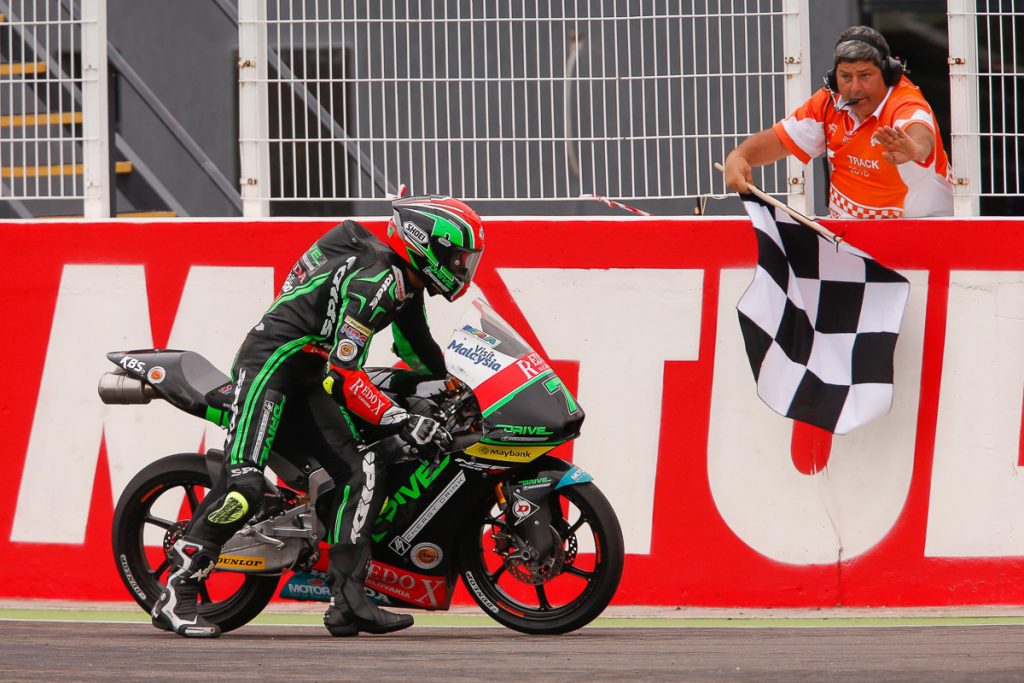 Adam Norrodin is ranked at 28th out of 50 riders who raced in the 2016 Moto3 season. He will continue racing in the same category next year with the same team. He will be paired with a new team mate, Ayumu Sasaki, a 16 year old from Japan who is also the 2016 Red Bull MotoGP Rookies Cup Champion.
We would like to take this opportunity to thank and congratulate all the Malaysian riders who have been amazing and also wish the very best to them in 2017 and beyond.