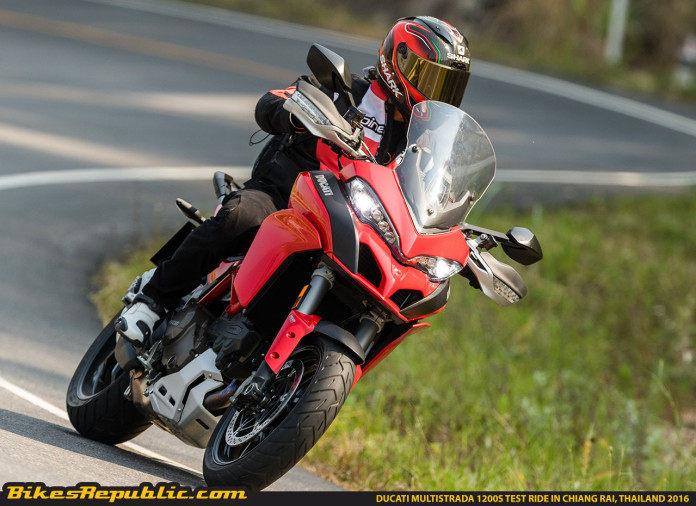 About month and a half ago, frequent readers of Bikes Republic would have noticed an increase in news on the 2015 Ducati Multistrada. Not a new bike in the "just introduced globally" sense of things, but new to Malaysia after its initial introduction towards the end of 2014. Sad that it took that long for the bike to get here but we are glad that it eventually did.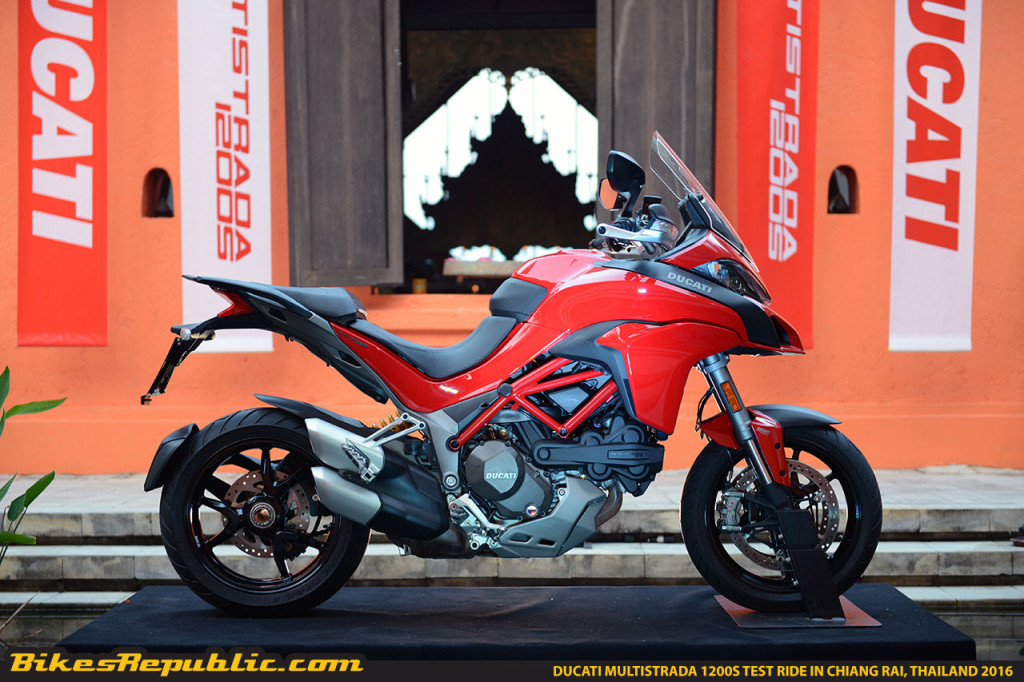 The test ride was organised in two stages; first a local test ride of the Multistrada 1200 up the winding roads of Cameron Highlands organised by Ducati Malaysia. And the Multistrada 1200S in Chiang Mai organised by Ducati Thailand. I don't know why it happened that way but both rides were great fun.
The Multistrada 1200 on a near 700 kilometre ride to Cameron Highlands was impressive, with ample time to get to know the 1200 better. I described it then as a bittersweet experience because it was a good package let down by shocks that were too limp for a Sports Adventure bike.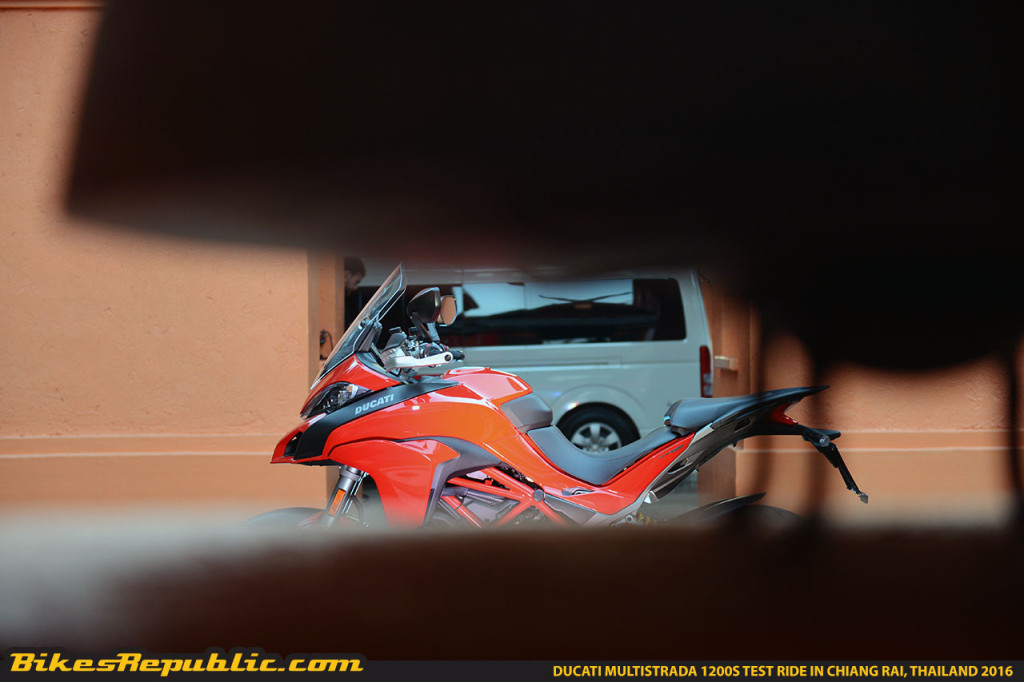 In the first review, which you can read here, I said, "The suspension up front and at the rear was set at soft and though it was nice and comfortable on straight roads, it felt nervous and twitchy in the corners. The front end seemed to pick up the slightest inundations and rarely settled down to grip into a corner. This made it tough to muscle the bike around corners." — That's how I described the suspension here.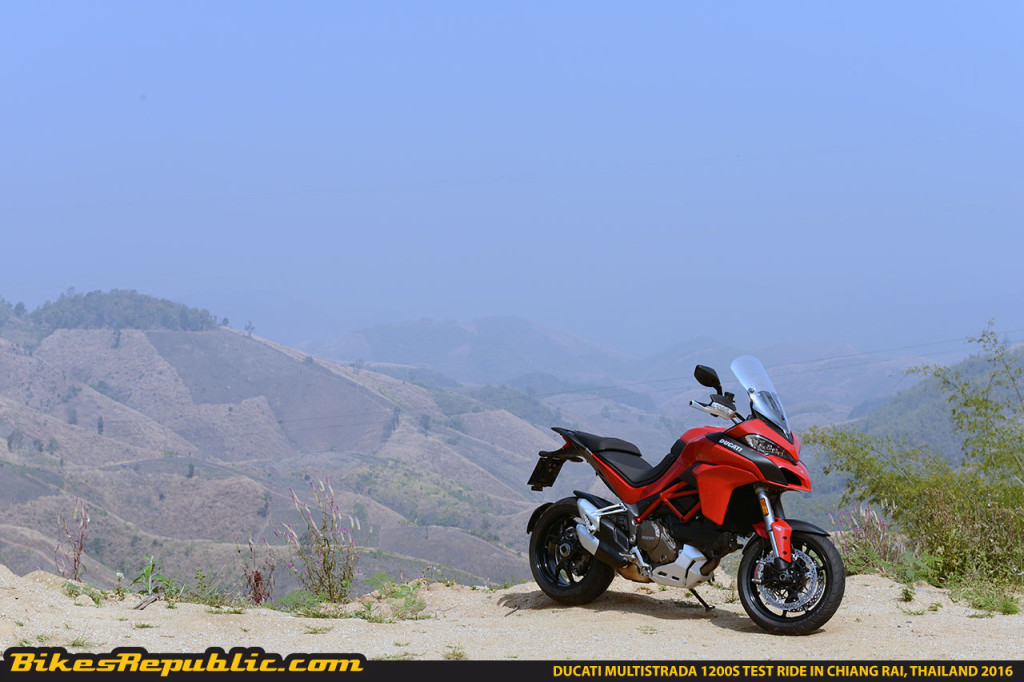 But I should have adjusted the suspension accordingly before leaving. Both front and back shocks were set at the softest and so the bike behaved strangely. We will be running a retest of the bike with the suspension adjusted so watch this space for that.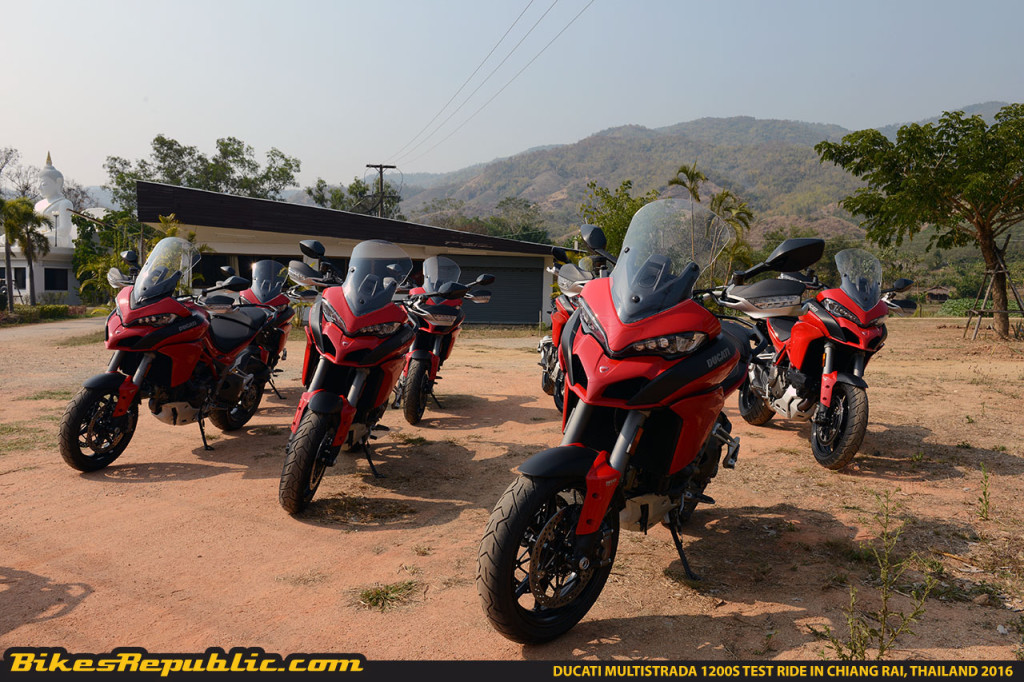 The Multistrada 1200S though (yes the one with the S, pronounced as twelve hundred essss), is something else, but what's different? I'll break it down for you:
Colour
You can buy the Multistrada 1200 in Ducati Red with black wheels only.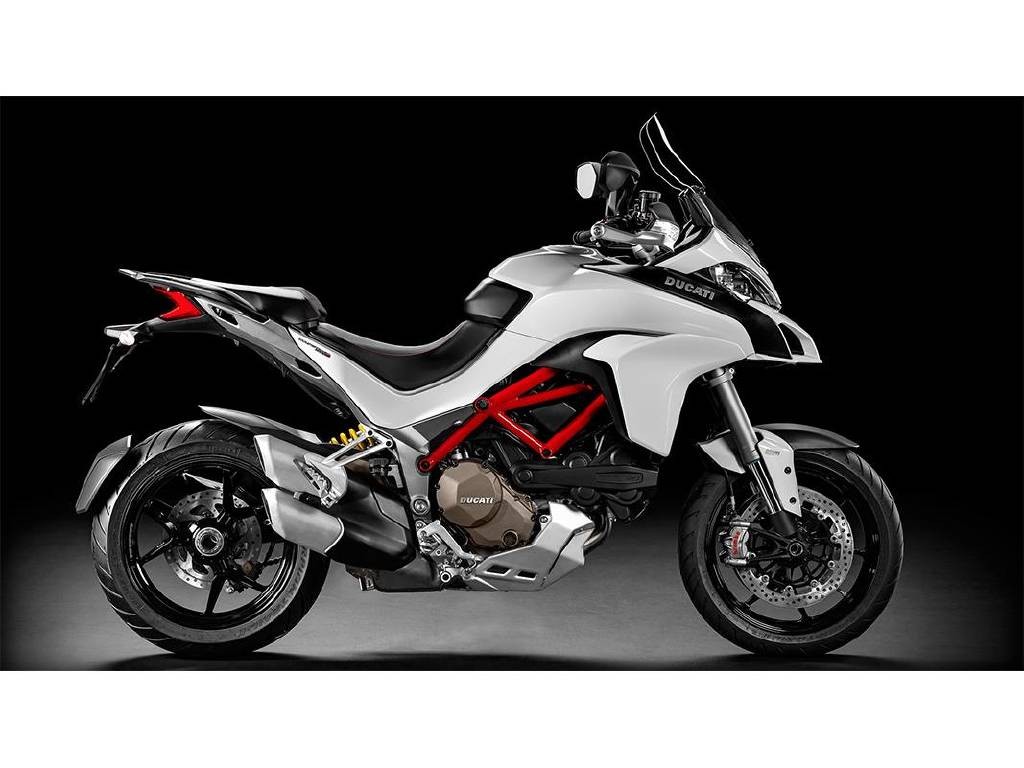 But you can have the the 1200S in Ducati Red AND in Iceberg White with black wheels, which looks really good actually.
Colour LCD screen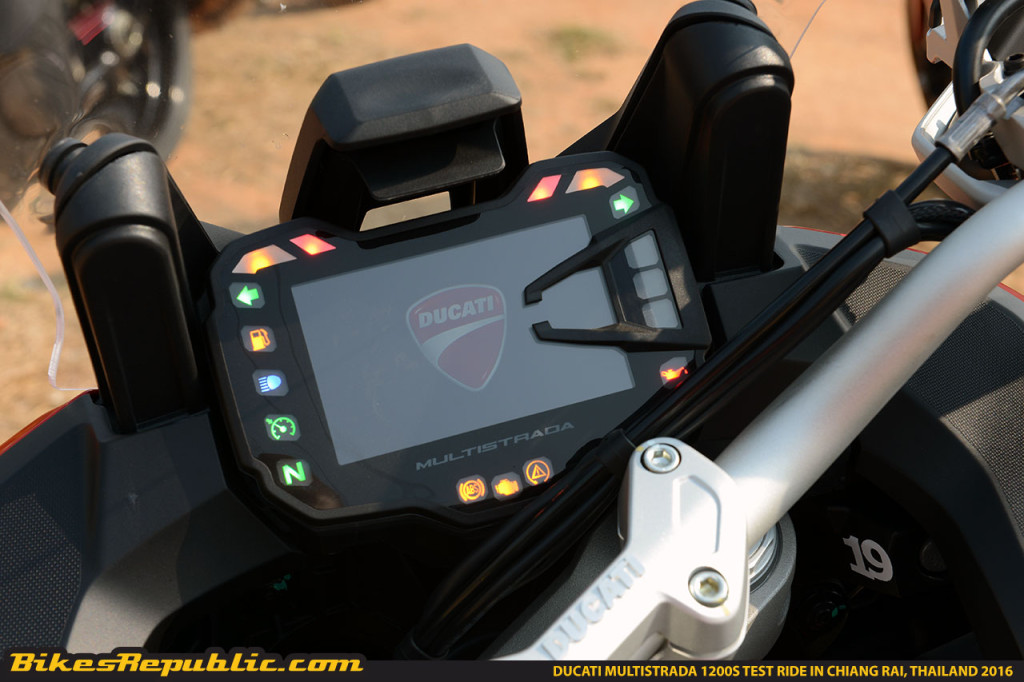 The 1200 gets the boring non-colour LCD screen (shown below) while the 1200S gets the superb 5-inch full colour TFT screen shown above. No prizes for guessing which is the better screen of the two.
Ducati Multimedia System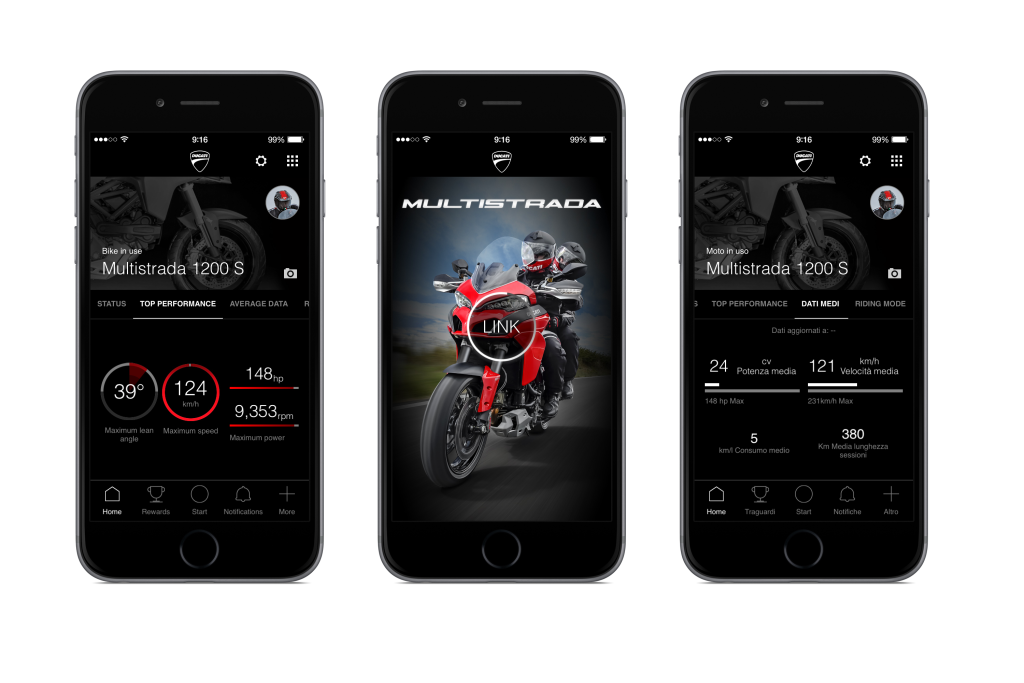 This is an entirely new system that comes as standard on the 1200S. Utilising bluetooth technology, the system allows incoming phone calls, selecting your favourite songs and shows a new SMS whenever you get one.
The system connects to your phones and displays all the main multimedia functions like the song that is playing, a new SMS icon, or the name of the incoming caller. And just in case you are wondering, both rider and passenger are able to tune in to the music that is playing via earphones. The system also allows both rider and passenger to speak to one another. Watch the video below to see how it all connects together, making the 1200S Ducati's first ever "connected" motorcycle.
Engine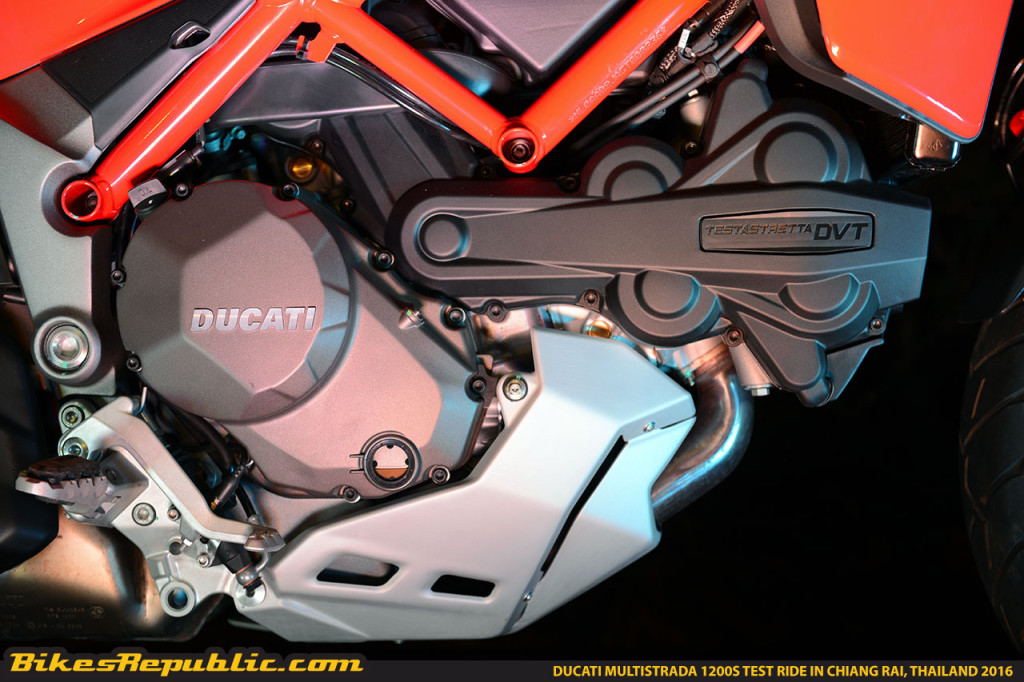 Both the 1200 and 1200S share the same liquid-cooled engine; the 1198.4cc Ducati Testastretta DVT with Desmodromic Variable Timing, with L-Twin cylinders, 4-valves per cylinder with Dual Spark.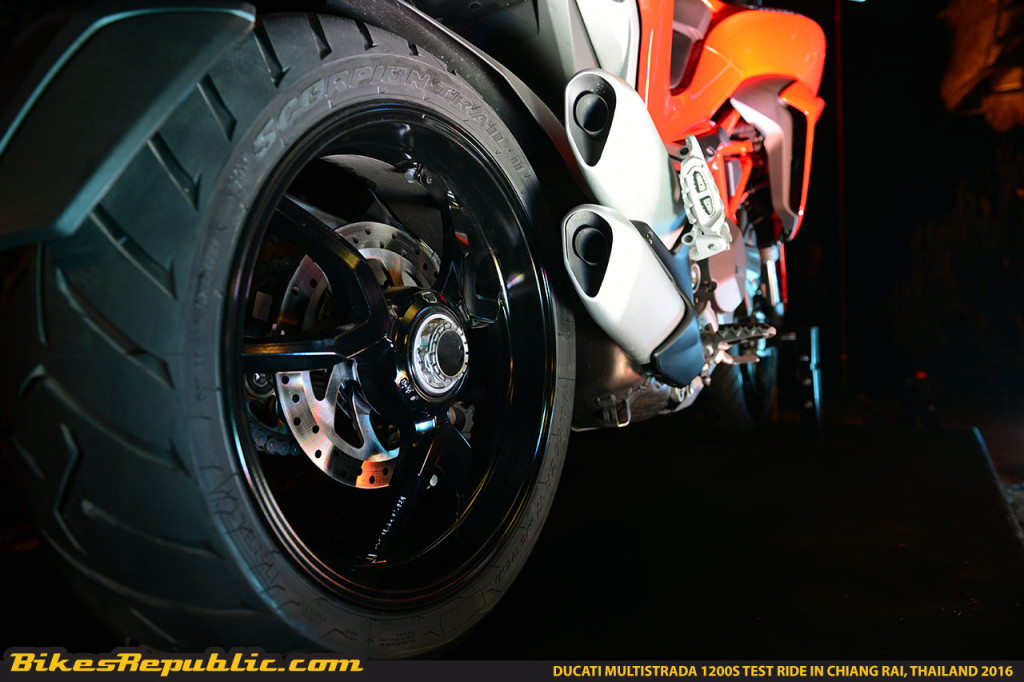 It outputs 160hp @ 9,500rpm and 136Nm of torque @ 7,500rpm. It is 10hp more powerful than the old Multistrada and yet is 8% more fuel efficient. How Ducati does it and how the DVT system works is a little sophisticated, so I suggest you watch the one minute video below.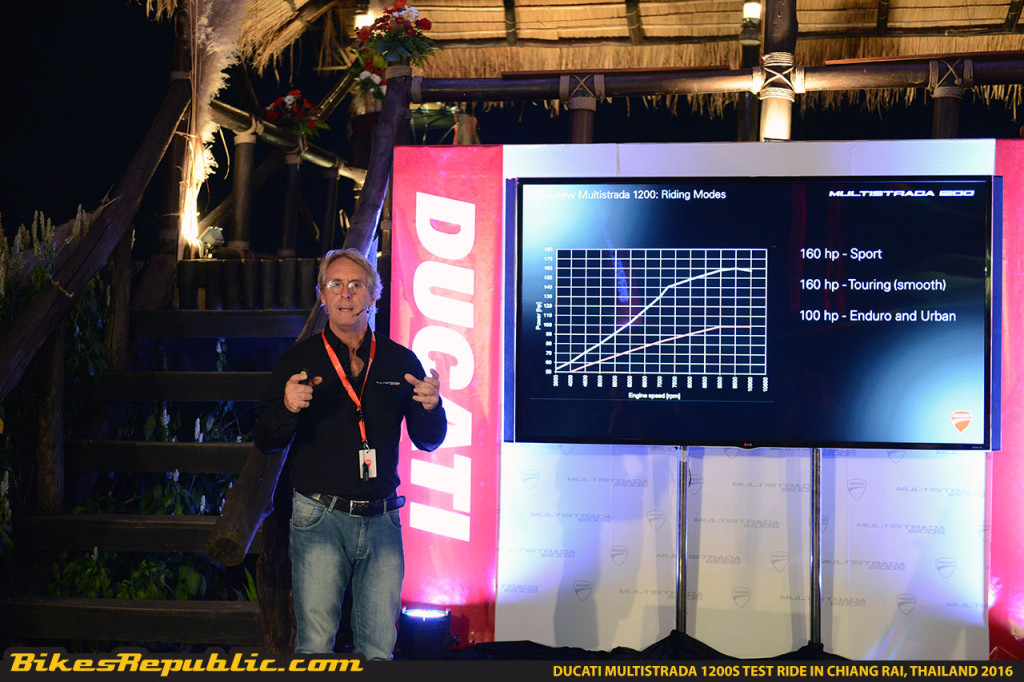 Skyhook suspension system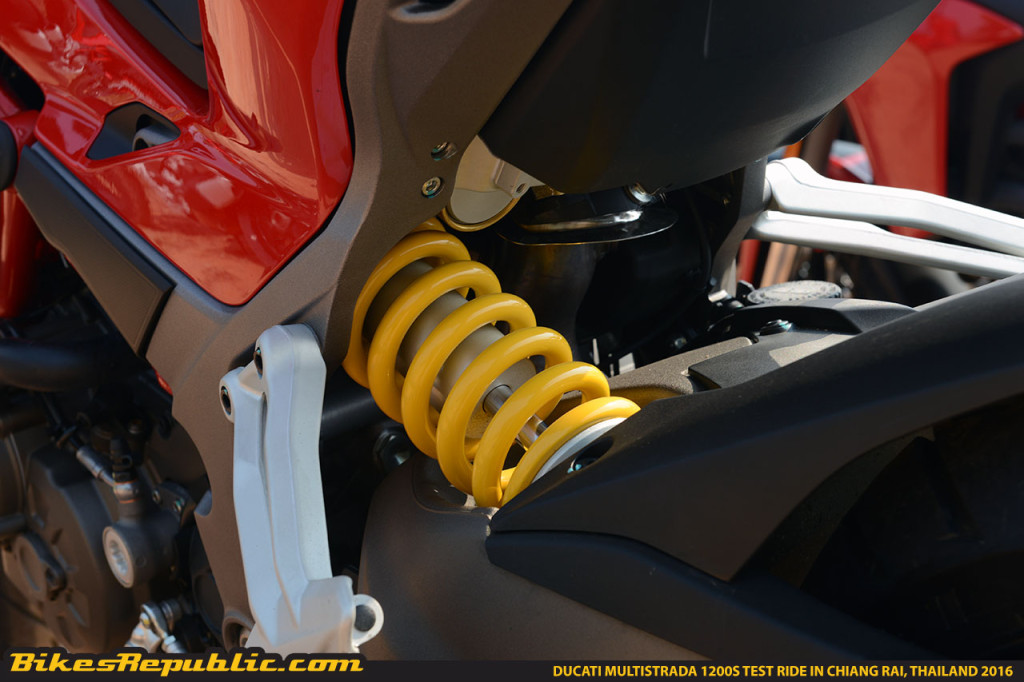 Now this is what makes the 1200S so much better than the standard 1200. Officially the system is called the Ducati Skyhook Suspension EVO. It consists of a 48mm front fork and Sachs rear monoshock. Together, the system works as a semi-active suspension control that automatically and continually adjusts damping according to road conditions and the riding mode selected (Sport, Touring, Urban and Enduro).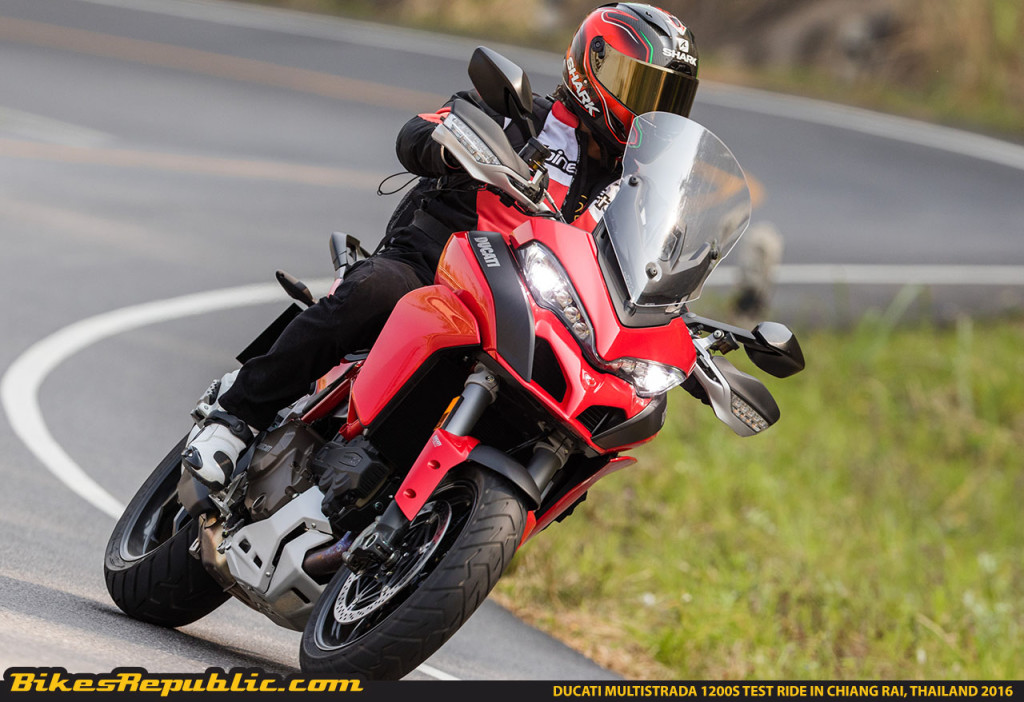 It is the evolution of the earlier Skyhook system, hence why it is called Ducati Skyhook Suspension 'EVO'. The EVO here basically means evolution, and there are three things that are new to the new EVO suspension system: new hardware with a new pressurised 48mm Sachs fork. New electronics with a new rear spring travel sensor, and lean and pitch angle data from the new Inertial Measurement Unit. There is also a new software strategy that works synonymously with the riding modes better enhance comfort, handling performance and better stability on trails.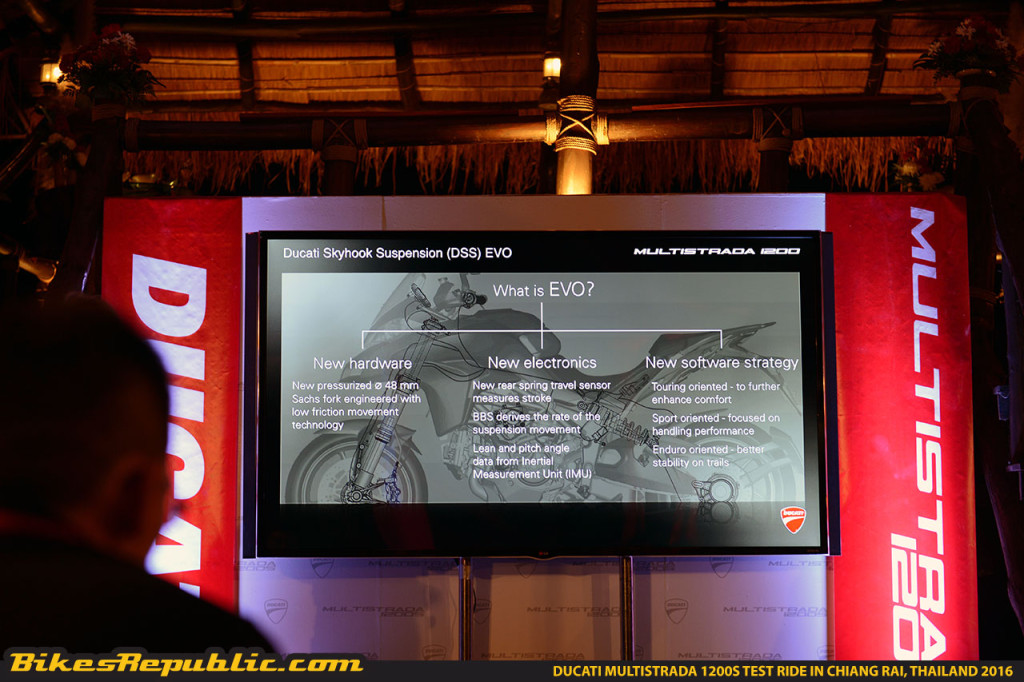 4-bikes-in-1 concept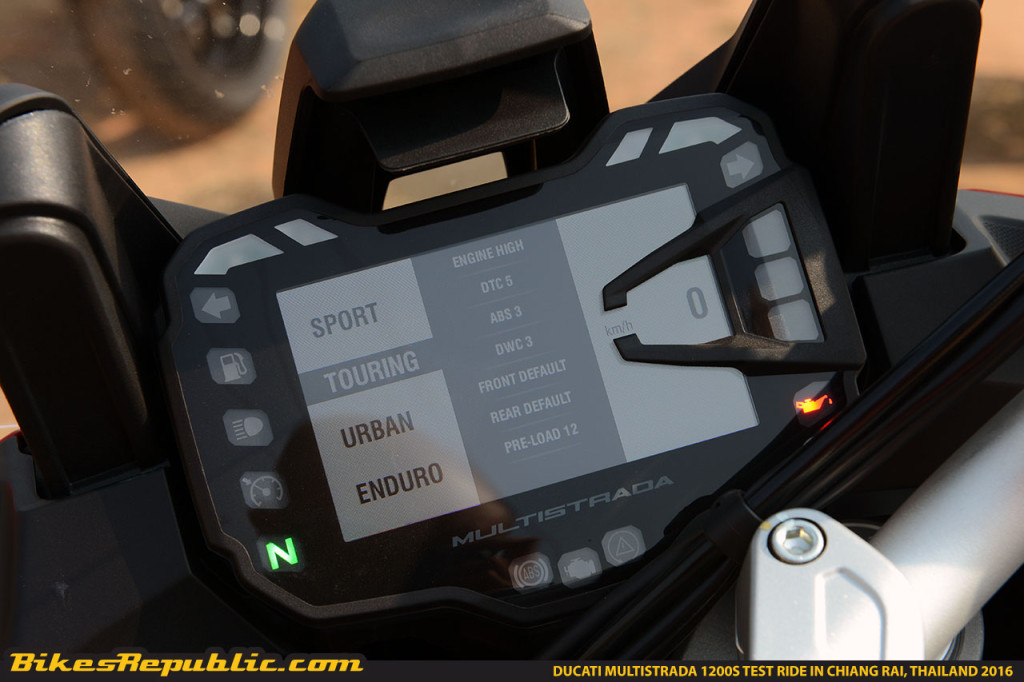 With four different electronically adjustable riding modes, the new Ducati Multistrada 1200S has been described as a four bikes in one package. But it is not just the electronics that give it that four bikes in one feel, the bike has also been designed to balance the demands of sport riders, tour riders and those who do most of their riding in urban conditions.
The chart below perfectly dissects power delivery, and electronic interference like ABS, Ducati Traction Control and Ducati Wheelie Control. Click here if you don't understand what I'm talking about.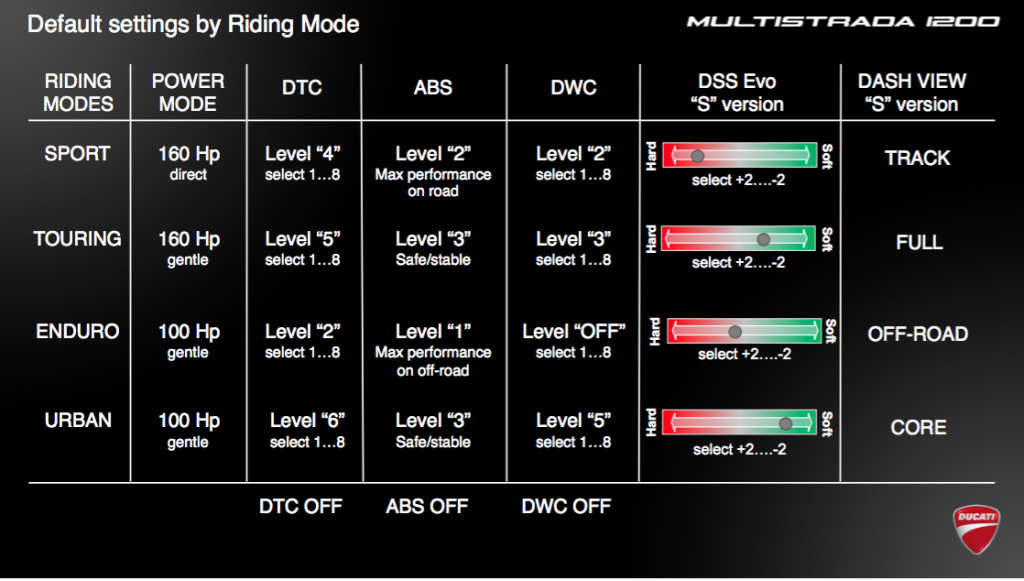 Sport mode
Gives you maximum power with direct throttle response, meaning it reacts to every single input. Traction control is at mid-setting (4 out of 8), ABS is also at mid-setting (2 of 3) and Ducati Wheelie Control is almost not on (2 out of 8). Suspension is set to stiff, and the bikes picks up every bump and tortures your spine on highways.
Touring mode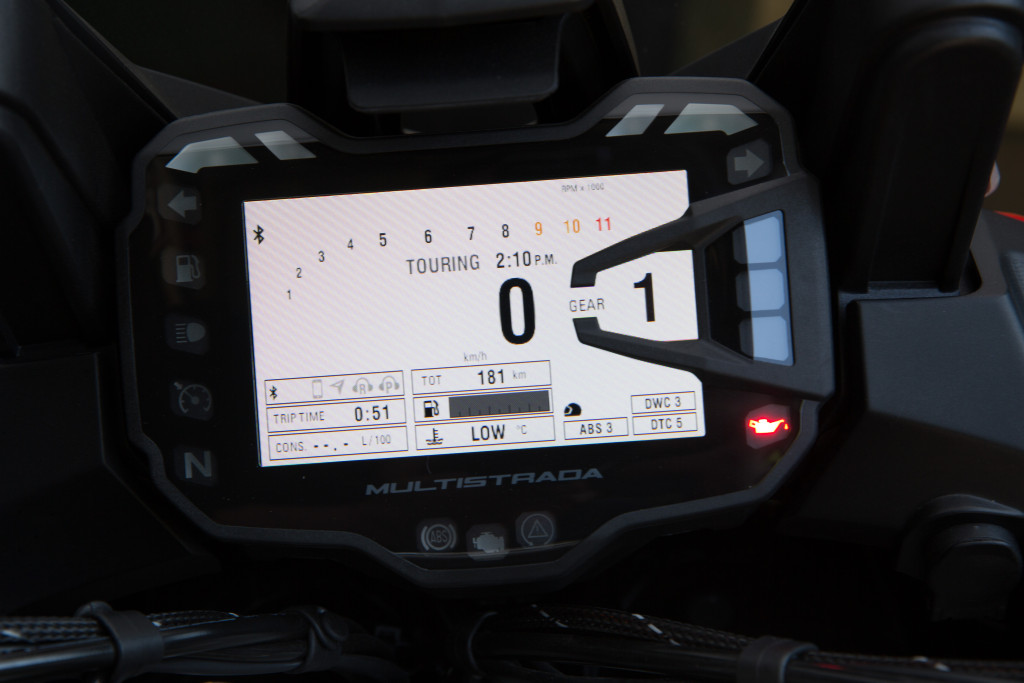 Also gives you maximum power but with a more gentle throttle response. It is perfect for those long highway rides when you are tired of hooning and just want to cruise. Traction control is set higher than in Sport (5 out of 8), ABS is set at max, and wheelie control is set at 3 out of 8.
Enduro mode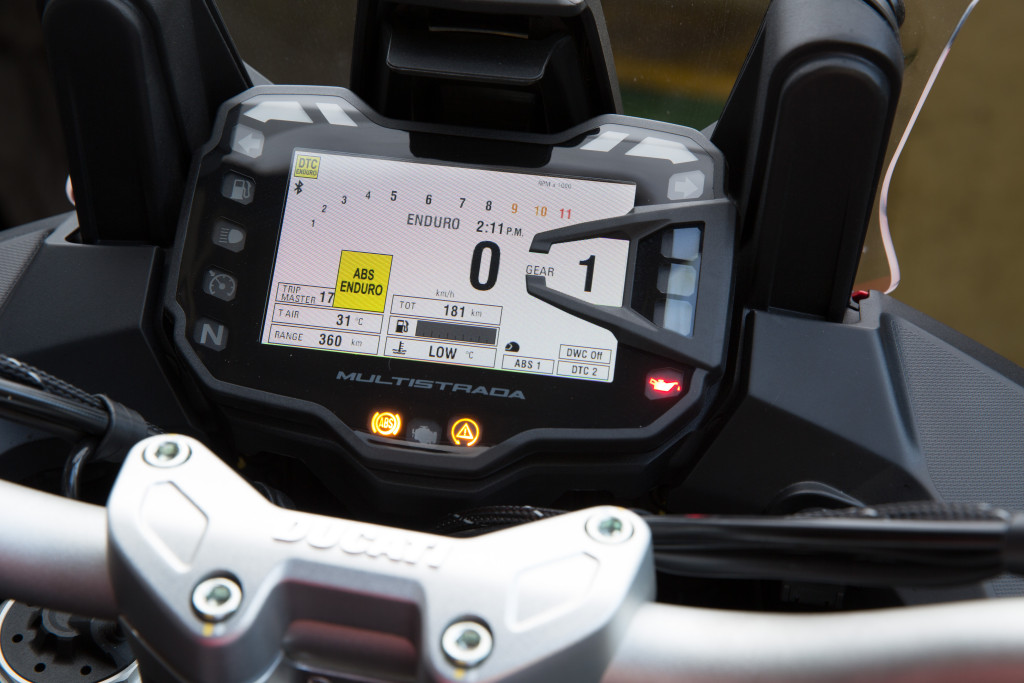 Limits power to just 100hp, also with a gentle response. All electronics are off or set at the lowest for those slippery, sandy moments.
Urban mode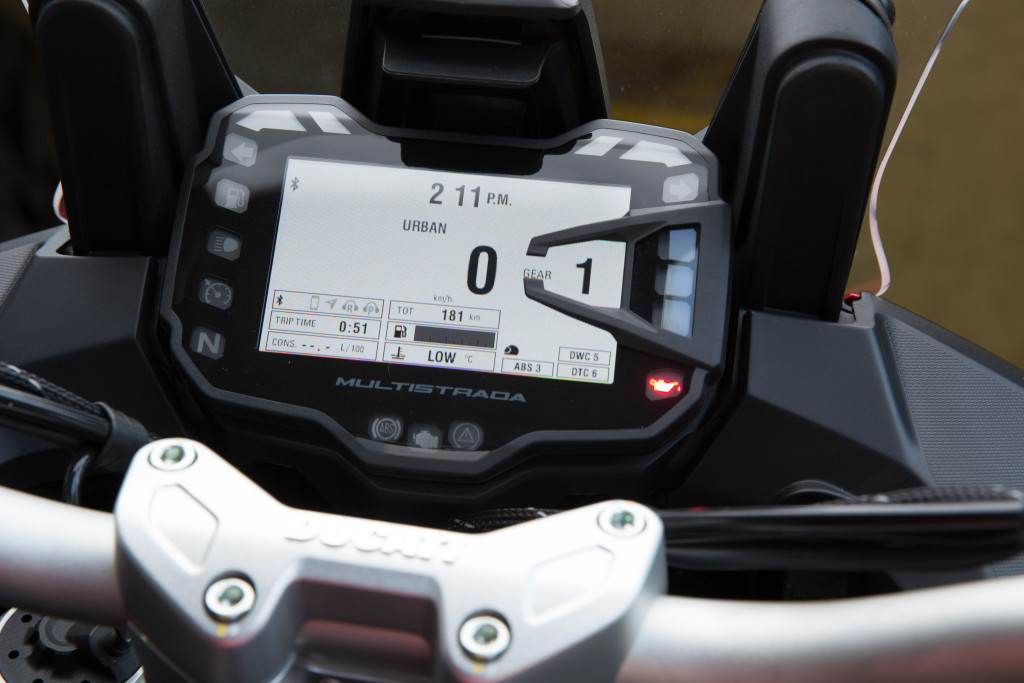 Power is again limited to just 100hp with a gentle throttle response. Electronics are almost at their highest because the last thing you want to do is start sliding around on tarmac with cars following close behind. Traction is at 6 out of 8 (8 being the safest), ABS is fully on (3 of 3), and Ducati Wheelie Control (DWC) is at 5 out of 8.
Ducati Cornering Lights (DCL)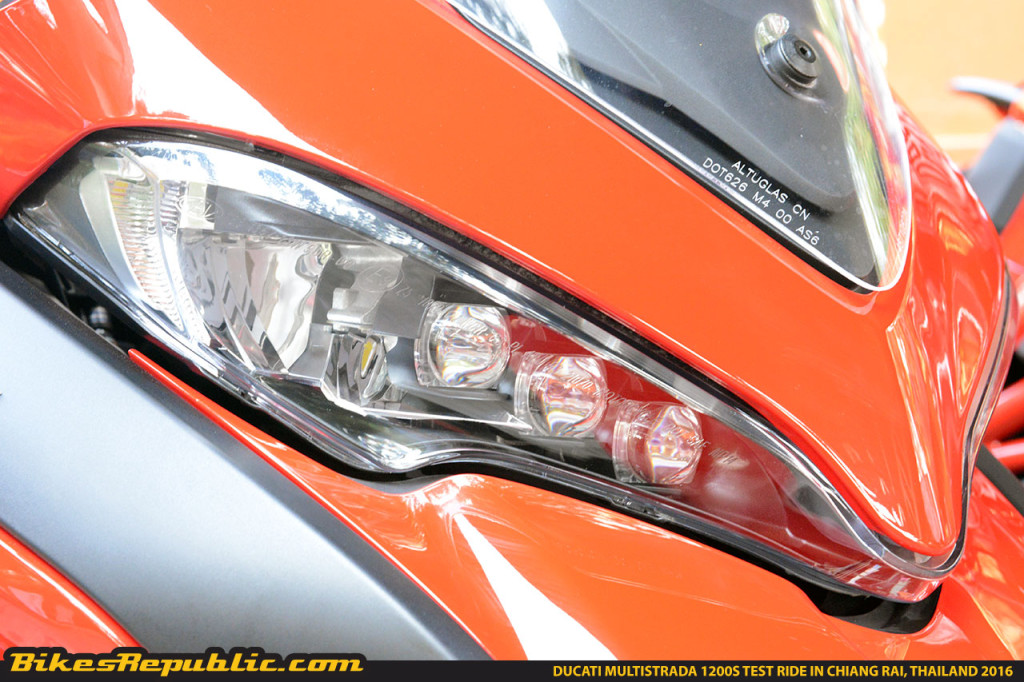 Utilising the onboard Inertial Measurement Unit (IMU), the LED lights on the 1200S light up bends and corners which otherwise would have been dark. When the sensors detect that the bike is leaning, the LED lights are turned on and illuminate the path ahead, revealing objects which otherwise would not have been visible.
What TF is the Inertial Measurement Unit?
It is a system developed by Bosch that uses complex algorithms derived from sensors located at strategic points around the bike to provide the information needed to create a greater level of safety and riding experience. It is basically small little sensors that that tell the bike when you are riding beyond your skill set, and to save your a** when grip, or luck, runs out.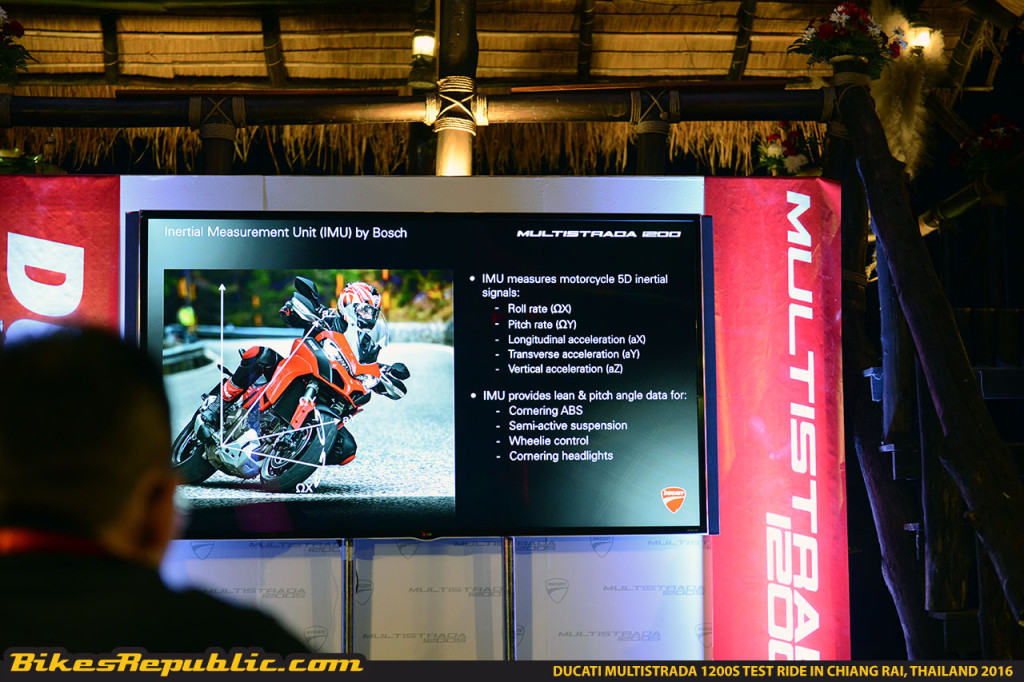 To break it down further, the sensors measure five things, roll rate, yaw rate, longitudinal acceleration, transverse acceleration and vertical acceleration of the motorcycle. This information is then processed at light speed to determine the lean and pitch angles, which is then used by systems like the cornering ABS, Ducati Wheelie Control, Ducati Skyhook Suspension, and Ducati Cornering Lights. This information then decides how much slide you can have or how close the front wheel gets to meeting the sky.
Superbike spec Brembo braking system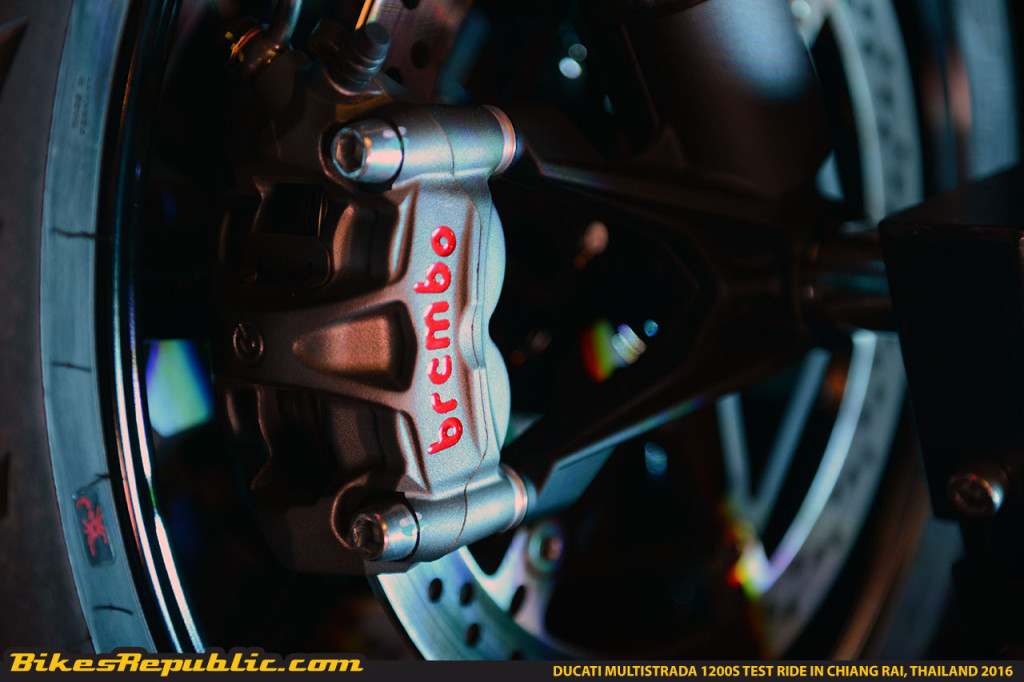 Different from the 1200, the 1200S features a braking system Ducati describes as 'superbike spec'. The system is sharper, reacts quicker and generally feels better than the standard system. It comprises a race oriented PR16 brake pump managing two 330mm front discs and is coupled with Superbike-spec Brembo Monobloc M50 callipers. The rear is kept in check by a huge single 265mm disc gripped by a single 2 x 28 floating Brembo caliber with sintered pads. The hardware is in turn kept in check with a dual channel Bosch 9ME multi-calibration ABS with cornering functionality that provides maximum braking performance in straight lines and in corners.
Pirelli Scorpion Trail II tyres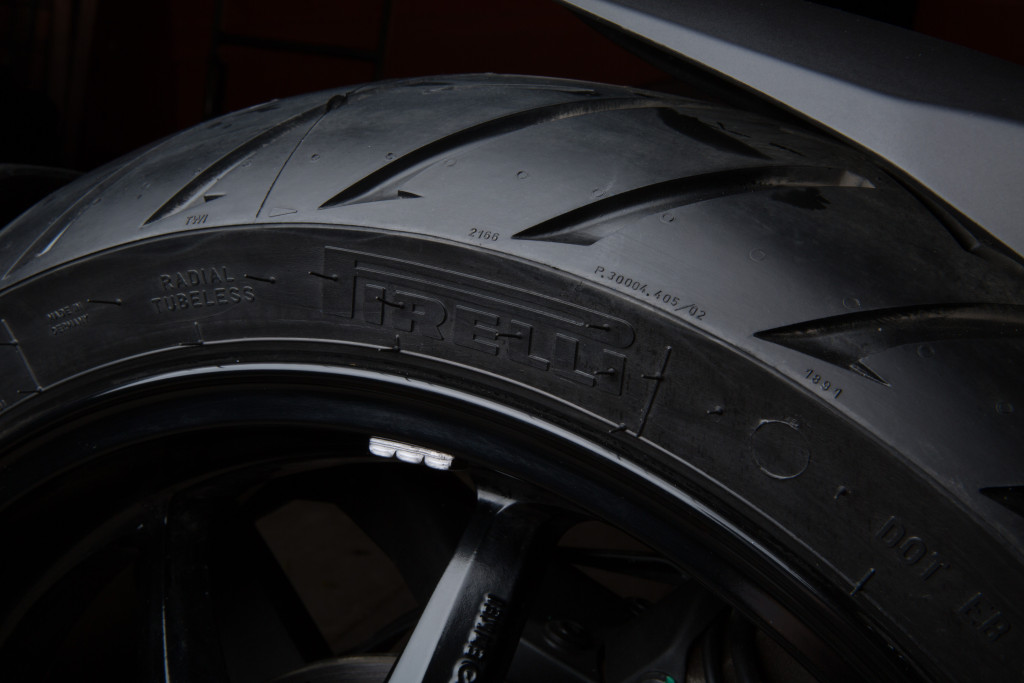 The first generation Pirelli Scorpion Trail was impressive with a good balance of grip, reliability and durability. The new Scorpion Trail II tyres picks up on this and offers better grip on the edge of the tyres with light and precise handling. Pirelli says that the new tyre is a whopping 60% more durable than the model it replaces, and with the new central tread pattern and compound, offers maximum mileage on the street.
Verdict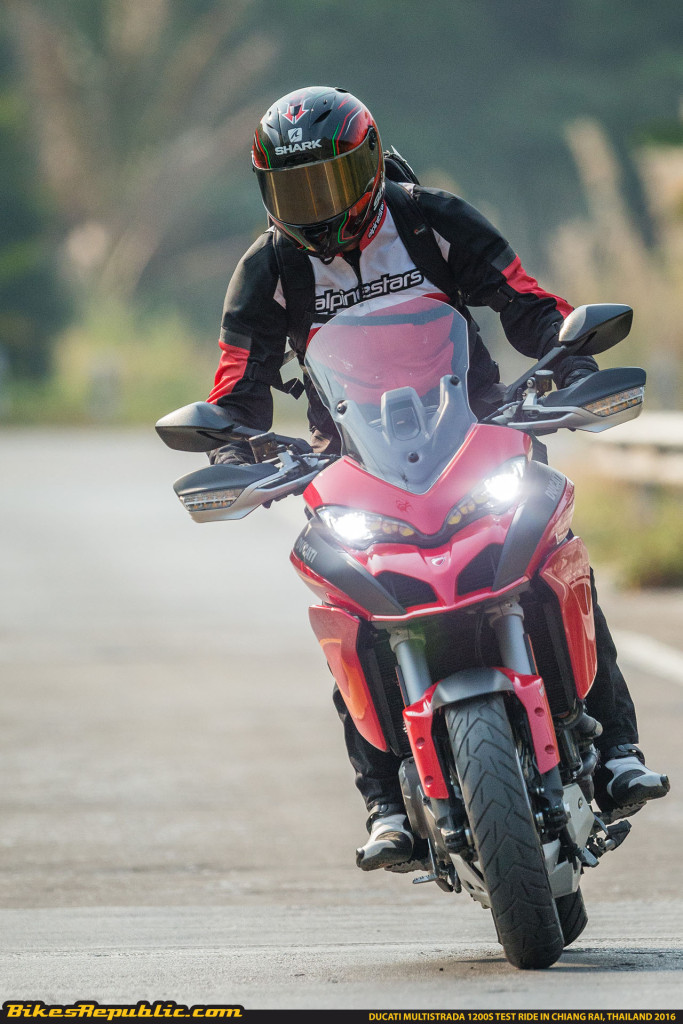 The Ducati Multistrada 1200S still isn't the ultimate Sports Adventure bike, but it is much closer to that title than ever before. The suspension system is pin point accurate, hops and skips in sports mode for maximum control and absorbs bumps and creases in all other modes for maximum comfort.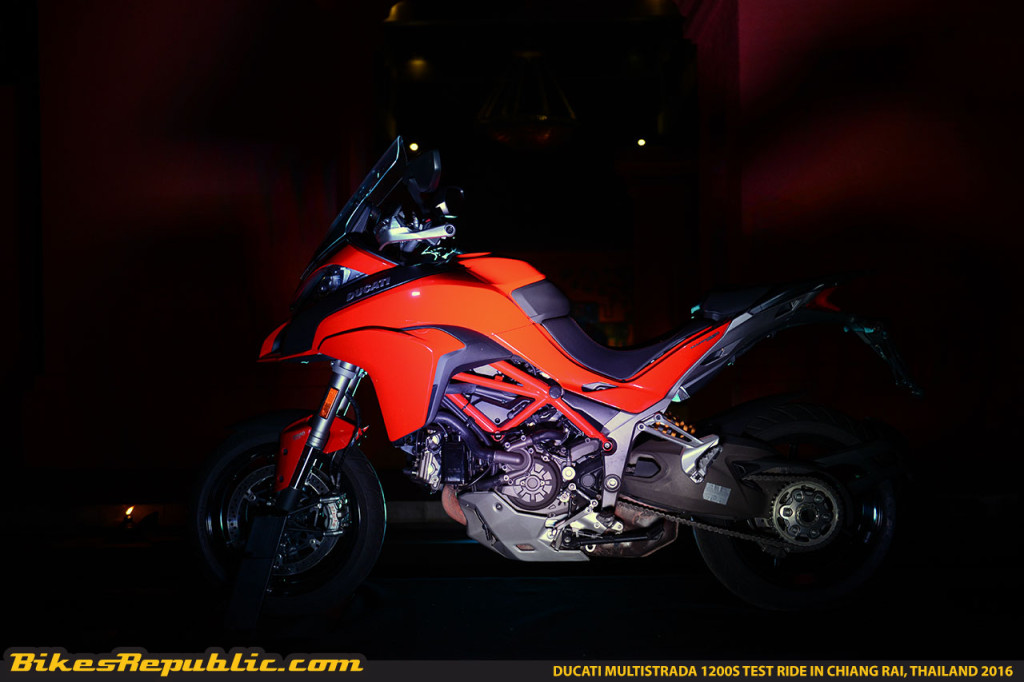 As for power delivery, it is absolutely savage in Sports mode. The other modes are great and balance power, comfort and efficiency beautifully. You don't get that annoying sharp jerk from the electronic throttle; throttle responsiveness is smooth and predictable. Of course the suspension adjusts itself accordingly as well; comfortable in Touring, Urban and Enduro, and brutally stiff in Sport mode, a feature not available in the standard 1200, manual adjustment only.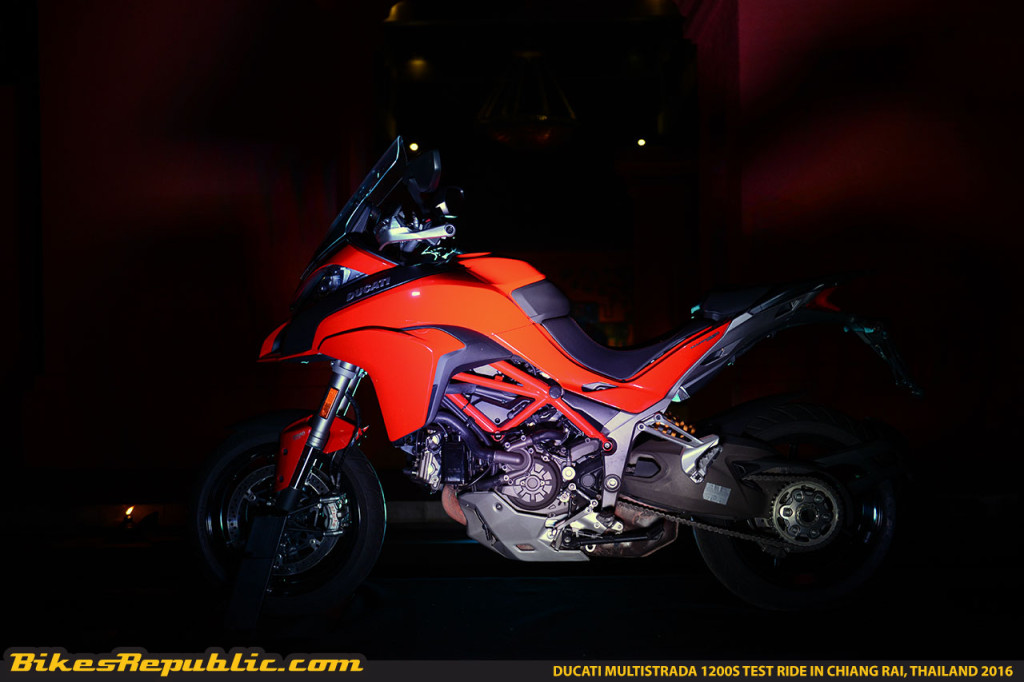 Electronic interference also depends on which modes you are in, for example Ducati Wheelie Control is set at maximum in Sport mode for maximum performance, while Enduro mode gives you nearly no electronic aid at all, because you may want to slide around in the sand and may need wheel spin to get you out of a tough situation.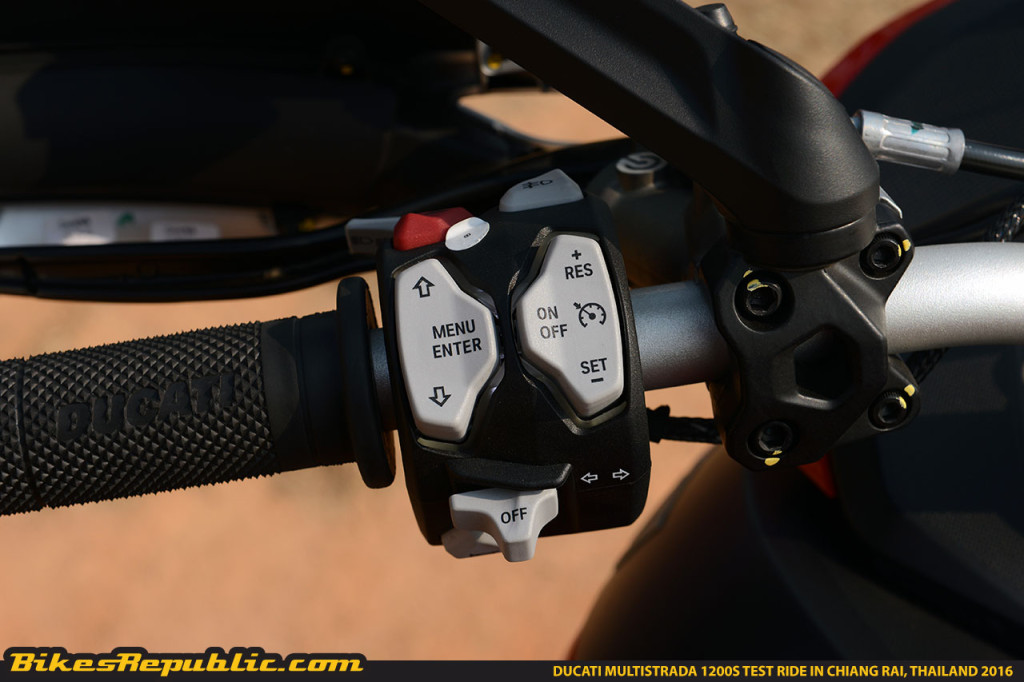 Is there anything we do not like? Not really, build quality is good and those big clear switches for the cruise control are great to to fiddle with even at 160km/h, and is one of my favourite updates to the new Multistrada.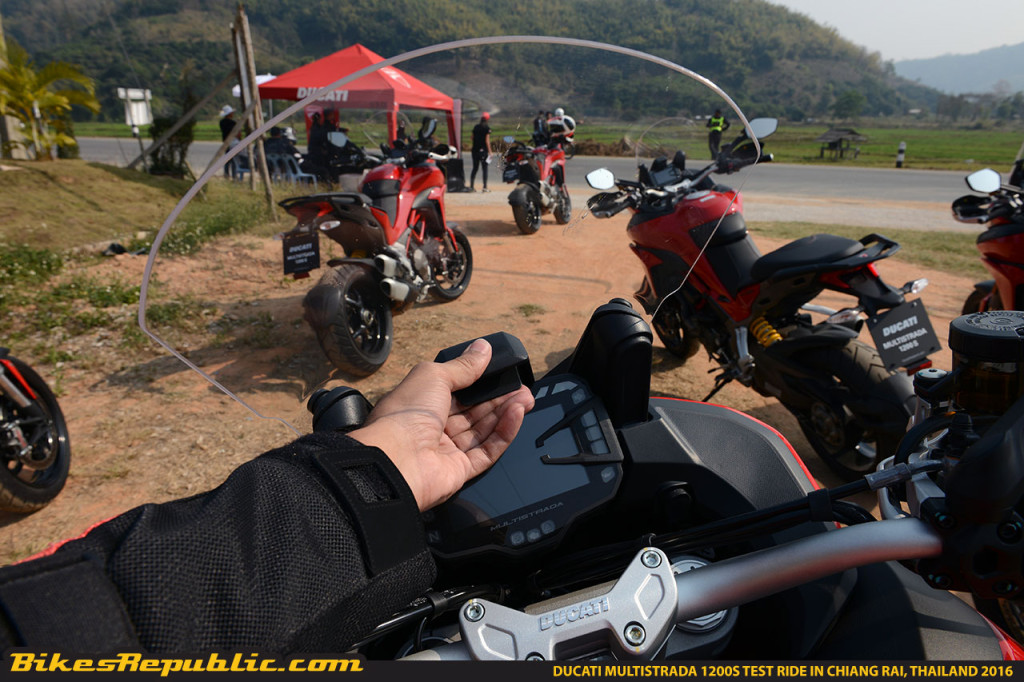 But there is also the fact that the screen adjustment still needs to be done by hand, which is quite primitive for a bike that costs RM135,999. The seat is nice and it is worth pointing out that I chose to opt for the highest seat setting (yes the seat is adjustable), which made the bike a lot more comfortable than the standard seat on which I rode to Cameron Highlands with (I am 5'10" in case you are wondering).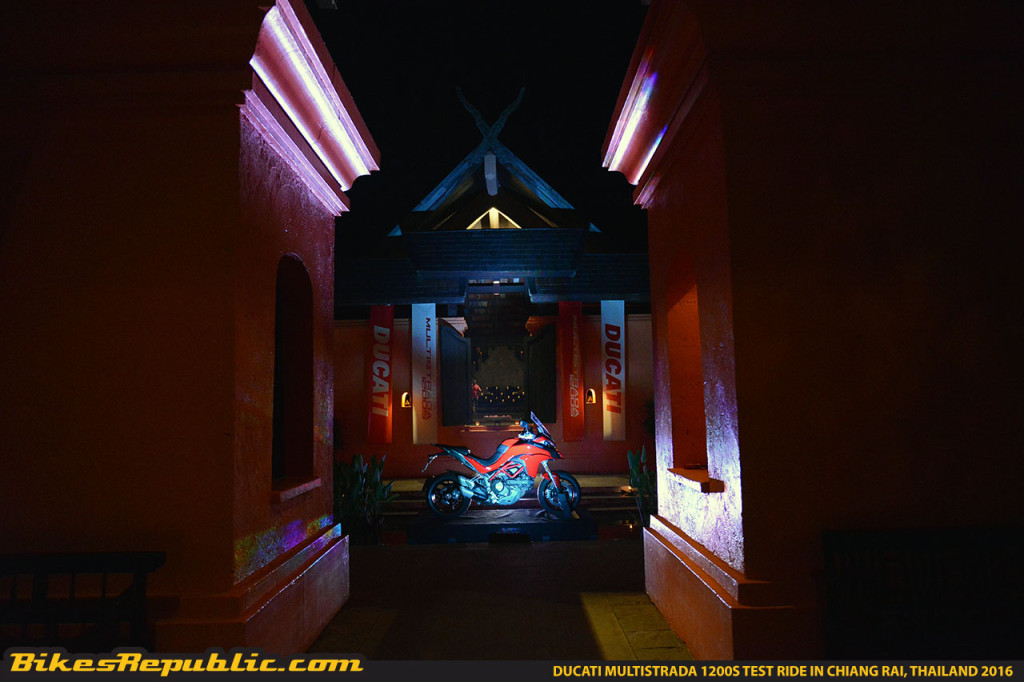 Other than that, the Ducati Multistrada 1200S is still a damn good bike, and one that offers a lot of fun and has plenty of style. In fact in the design department, there is no other Sports Adventure bike that comes close, and for some, and a part of me, that is all that matters.