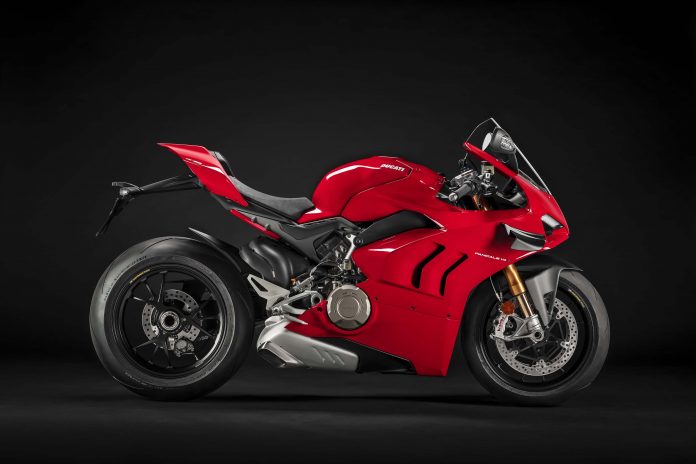 The 2020 Ducati Panigale V4 and 2020 Ducati Panigale V4 S were also updated.

They were revealed at the Ducati World Premiere.

Outwardly, they look like the Panigale V4 R.
More on Ducati; this was why they chose to debut new bikes away from EICMA because there are so many all at once. Included in the Ducati World Premiere were the 2020 Ducati Panigale V4 and 2020 Ducati Panigale V4 S.
The updates were aimed at moving the two bikes a little closer to the WorldSBK homologation Panigale V4 R model, but of course, the R still has more race-ready components.
First and foremost, they gain the V4 R's winglets and fairing, complete with gills. The fairing is also wider along with a taller windscreen to provide the rider with more wind protection. Those winglets really work, and provide 30 kg of downforce at 270 km/h — the same figures as the R's. The downforce they provide allows the rider to open the throttle earlier and keep on the gas while accelerating as wheelies are kept in check without having the anti-wheelie electronics cutting in. Ducati claims they obtained a 2.43m advantage over the 2019 model from the last corner to the finish line at Jerez.
The front of the frame was also made less stiff to provide more feedback. Better feedback equals better confidence. Additionally, the centre of gravity was moved 5 mm higher for better turning leverage.
Lastly, the already excellent traction control strategy was upgraded to DTC EVO 2, as per the new Streetfighter V4 and Panigale V2.
Ducati also released the prices. The Panigale V4 costs € 23,490 and the Panigale V4 S costs € 28,790. That marks a € 500 increase for both bikes.