Ducati introduced the 2019 Ducati Panigale V4 R at the World Ducati Première 2019.

The 998cc engine produces 217 bhp, but the race exhaust brings it up to 231 bhp.

The new bodywork has winglets.

It weighs only 193 kg, fully fueled and ready to ride.
We expected the unveiling of the 2019 Ducati Panigale V4 R during the Ducati World Première 2019 and it didn't disappoint.
The Panigale V4 R is the homologation model for World Superbike and other production-based superbike racing series. Production racing calls for the race bikes to have certain similarities to the road bike. Therefore, manufacturers build a specific number of "homologation" models, based on their production figures. The Panigale V4 R fills these requirements.
Its engine capacity is limited to 1000cc as per the rules for V-Four and inline-Four powered bikes, as a result. However, the Panigale V4 R's 998cc engine punches out 217 bhp and 112 Nm of torque. In the interest of superior power-to-weight ratio, it weighs only 193 kg, fully fueled and ready to ride.
Wait, hang on. 217 bhp not enough for you, sir? Well, you can always add on the Ducati Performance exhaust made by Akrapovic to pump it up to a vicious 231 bhp. That's the same power output as the Kawasaki Ninja H2 – without the benefit of a supercharger.
The 1103cc Desmosedici Stradale engine in the Panigale V4 and Panigale V4 S produces 212 bhp and 120 Nm of torque, by comparison.
The Panigale V4 R's weight reduction is also the result of using lighter engine internals components. Ducati used forged pistons, titanium valves, titanium conrods, new camshaft and larger throttle body. The lighter components allow the Desmosedici Stradale R engine to rev higher to a maximum of 16,500 RPM. Peak power output is at 15,520 RPM, 2,250 RPM higher than the 1103cc engine.
A "manual" suspension system also reduces weight compared to the electronic system found on the Panigale V4 S.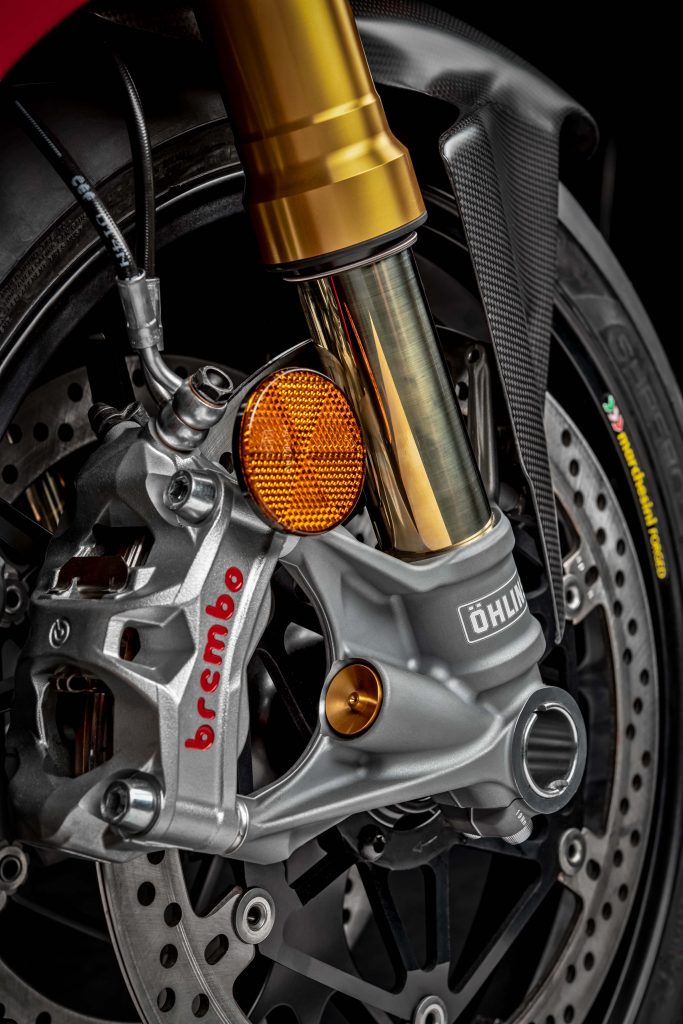 The updated electronics system includes a pitlane speed limiter, GPS-lap timer, besides the present IMU (Inertial Measurement System) based Cornering ABS and lean angle sensitive traction control, wheelie control, launch control, engine brake control and rear-wheel slide control.
The biggest news however, should be the winglets and new bodywork on the V4 R. The winglets represent Ducati's intensive research and development in that area. The new bodywork also features large "gills" on both sides to aid airflow through the radiator.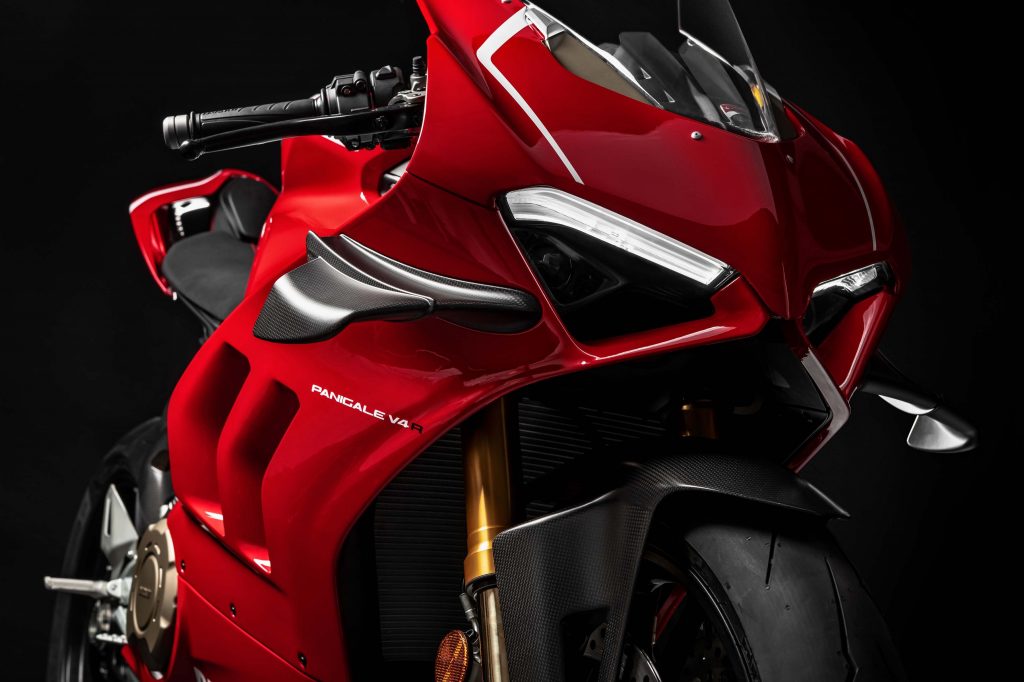 Its price should be released at the EICMA show later this week.