Marc Marquez destroyed the field in the 2019 Argentina MotoGP.

Valentino Rossi celebrated his 23 years in GP racing by finishing 2nd on the podium.

Andrea Dovizioso finished 3rdafter nursing his worn tyres.
While many had expected reigning MotoGP champion to win at the 2019 Argentina MotoGP, no one had thought he'd destroy the entire field. He left the riders behind him to fight tooth and nail for the last two podium positions, ending with Valentino Rossi claiming second place ahead of Andrea Dovizioso on the final lap.
Putting the nightmares of last season and the start of the weekend behind him, Marquez (Repsol Honda) blasted into the lead from the get-go and never looked back. He led as much as 12 seconds before backing off in the last few laps to take the chequered flag.
The battle for second and third position ensued among Rossi (Monster Energy Yamaha), Andrea Dovizioso (Team Winnow Ducati), Franco Morbidelli (Petronas Sepang Yamaha Racing Team), Maverik Vinalez (Monster Energy Yamaha), Danilo Petrucci (Team Winnow Ducati), Jack Miller (Pramac Ducati) and Cal Crutchlow (LCR Honda).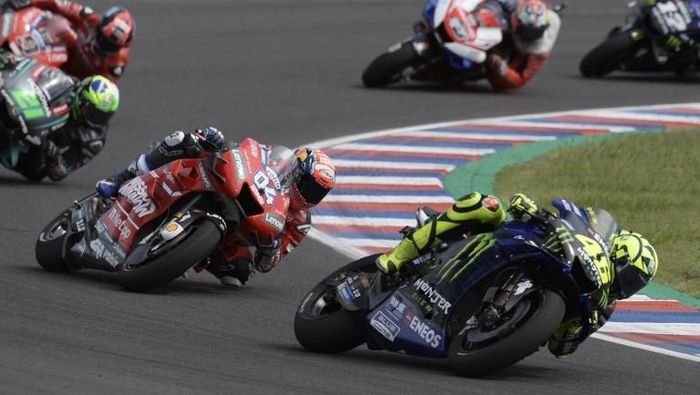 The group saw multiple position changes throughout the race, including trading paint and leaving tyre marks on rivals' leathers.
Early casualty was Crutchlow who was called to serve a ride through penalty due to jumping the start. Dorna and the FIM had installed new jumpstart cameras and caught the Englishman moving forward by just 0.0001s before the red lights went out. He would eventually finish 13th.
Soon, Petrucci was dropped by the group. Rossi, Dovizioso, Miller and Morbidelli were caught in an exciting high-speed duel. Rossi and Dovi managed to pull clear at the end, leaving the men behind to chop and block each other.
Rossi and Dovi exchanged position a number of times, but the Ducati rider couldn't pull away as he was trying to conserve his worn tyres. Rossi then put a block pass on Dovizioso at Turn 7 on the last lap and took off to take second place.
The podium finish celebrated Rossi's 23 years of his involvement in GP racing.
By now, Alex Rins (Suzuki Ecstar) rode a steady race from 16th on the grid to join the group. In the battle than ensued between Miller, Vinalez and Morbidelli, the trip went three wide as they headed into Turn 7. Miller was on the inside, Morbidelli on the outside, sandwiching Vinalez. Miller managed to slip through, followed by Vinalez and Morbidelli. Miller's block pass means Vinalez had to hold his throttle, causing Morbidelli to smash into Vinalez's back wheel. Both riders were knocked out of the race with just a few corners to go.
Alex Rins slipped through to claim 5thwith Petrucci behind him.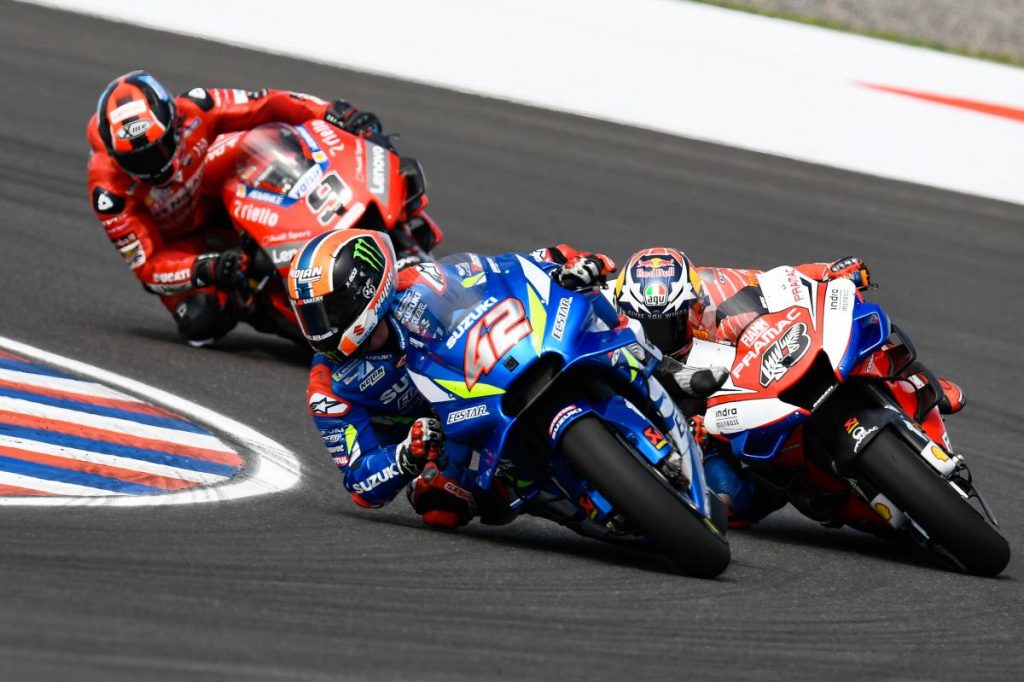 Takaaki Nakagami (LCR Honda) finished 7th to cap off a strong weekend; Fabio Quartaro (Petronas Yamaha Sepang Racing Team) impressed in 8th; Aleix Espargaro (Aprilia Racing) took 9th; and Pol Espargaro (Red Bull KTM Factory) rounded out the Top 10.
Further down the field, rookie Miguel Oliveira (Red Bull KTM Tech 3) put in another impressive race to come home in 11th; Jorge Lorenzo (Repsol Honda) had a horrid start and finished 12th; Crutchlow in 13th; Francesco Bagnaia (Pramac Ducati) in 14th; Johann Zarco (Red Bull KTM Factory) couldn't capitalize on his soft tyres and dropped all the way back to 15th; Hafizh Syahrin (Red Bull KTM Tech 3) in 16th; and Andrea Ianone (Aprilia Racing) took the last spot.