Andrea "Desmo" Dovizioso was the fastest man in both FP1 and FP2.

Danilo "Petrux" Petrucci was second fastest after being 0.006 second behind Dovizioso.

Biggest surprise were the Suzukis in 3rd and 5th.

Marc Marquez, Dani Pedrosa, Cal Cruthlow and Valentino Rossi were 6th, 7th, 8th and 9th separated by just 0.001 second from each other.

First to fourteenth spots were covered by less than 1 second.
The 2018 MotoGP season is underway with Round 1 at the Grand Prix of Qatar, held at the Losail International Circuit.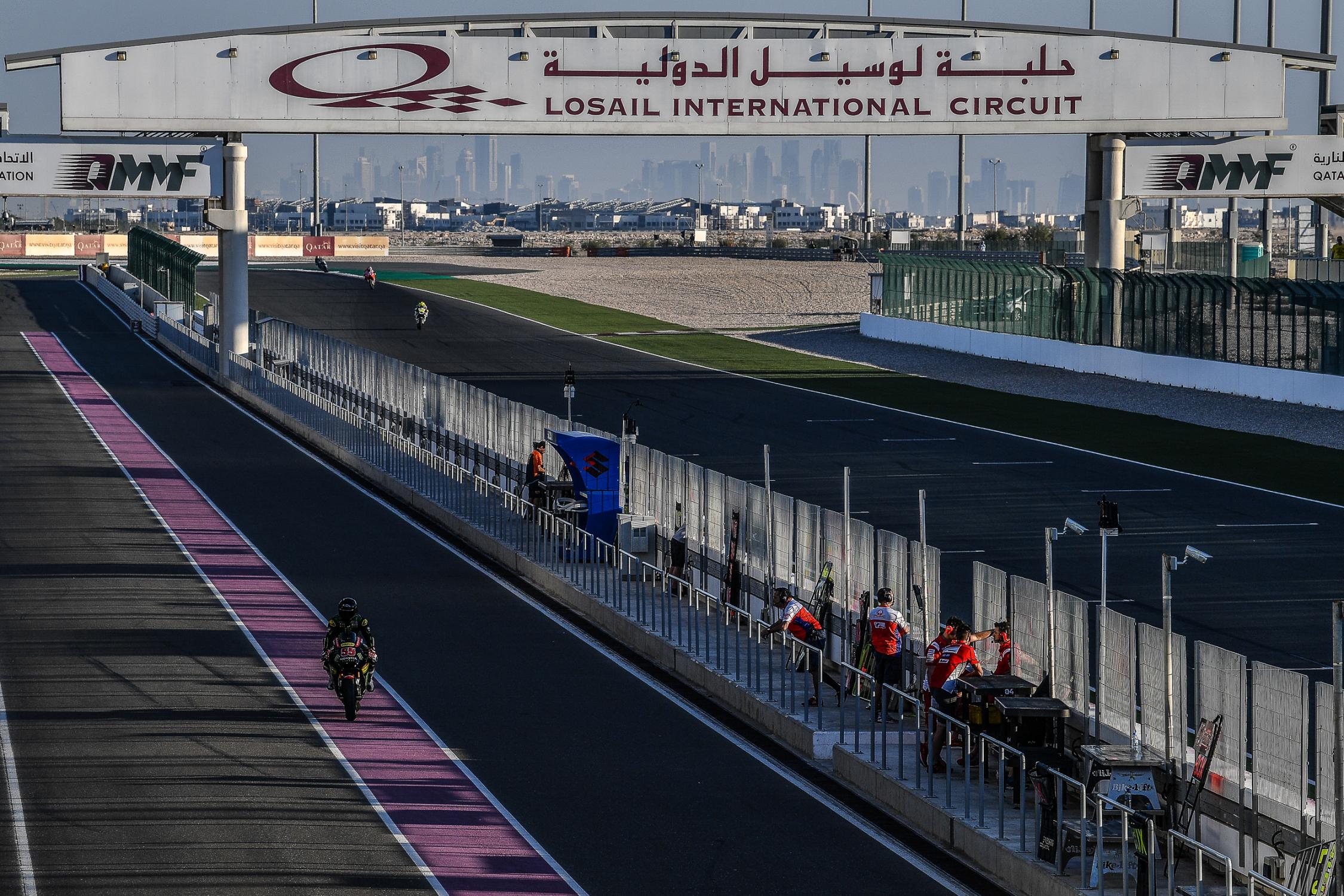 The Ducati Team must be elated with the Dovi's performance as the Italian hadn't posted many quick times in pre-season testing (although he was consistent with his lap times) except in Sepang, Malaysia. Dovi had been quickest in the earlier FP1 with 1'55.366" for an average speed of 167.8 km/h and hitting a top speed of 348.8 km/h, before improving to record 1'54.361" for an average speed of 169.3 km/h and top speed of 350.7 km/h.
Interviewed by Dorna, the soft-spoken Dovizioso said, "It's really good, and we've confirmed the good feeling from the test, which I'm really happy about. The speed is there but we need to manage the tyre in the best way, it's the key to manage it for 22 laps."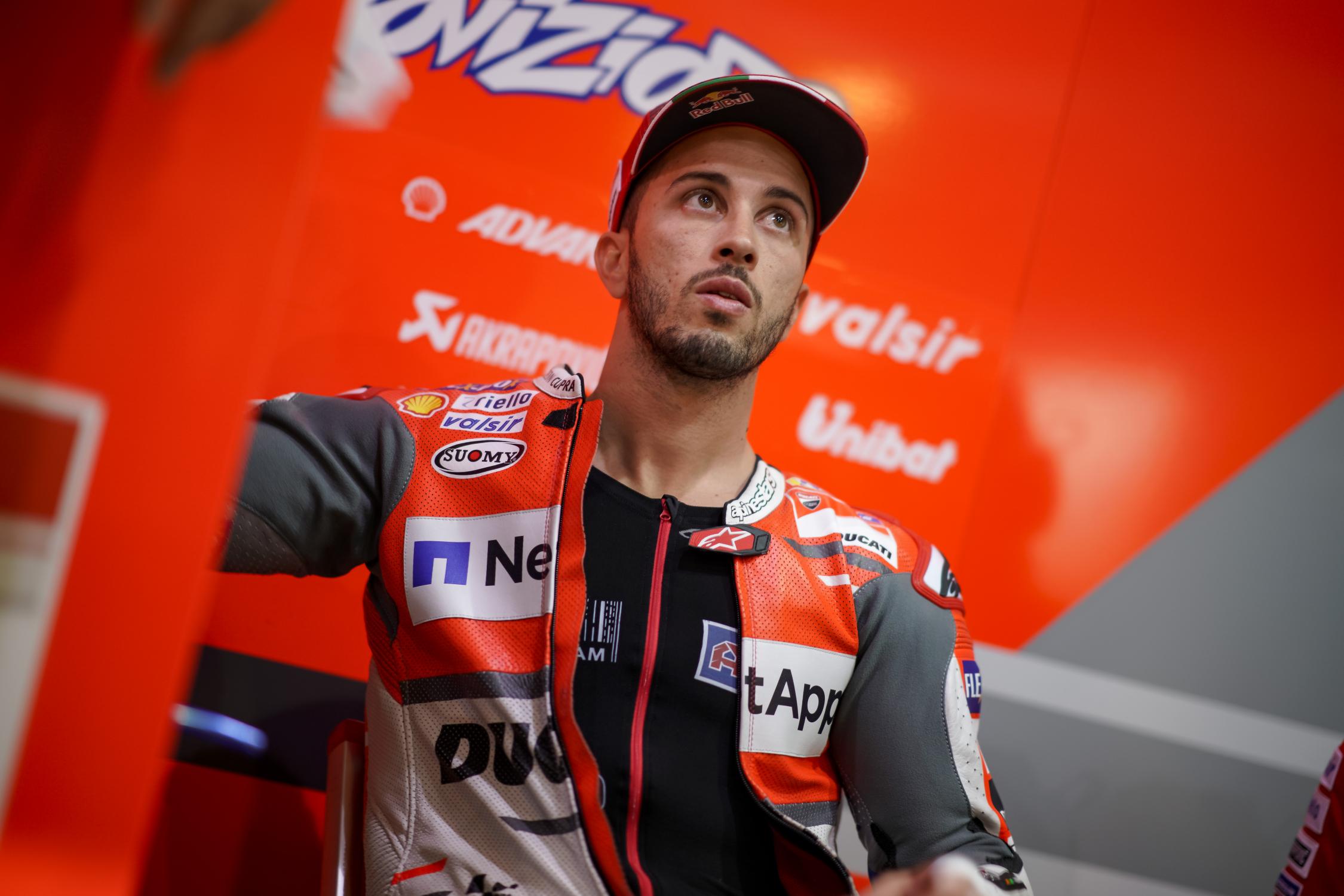 Temperatures have been hotter than usual in Qatar, as the race had been moved forward to make way for the additional round in Buriram, Thailand later this year. The air was 31o C, while the track was 39o C during FP1, before cooling down to 25o C and 27o C respectively in FP2. Did Michelin bring tyres that are more suited to lower temperatures? Well see.
Dovizioso continued, "The tyre worked well, like in the test. I'm not too worried, but in every race, you have to work on the details as there are a lot of riders with good pace."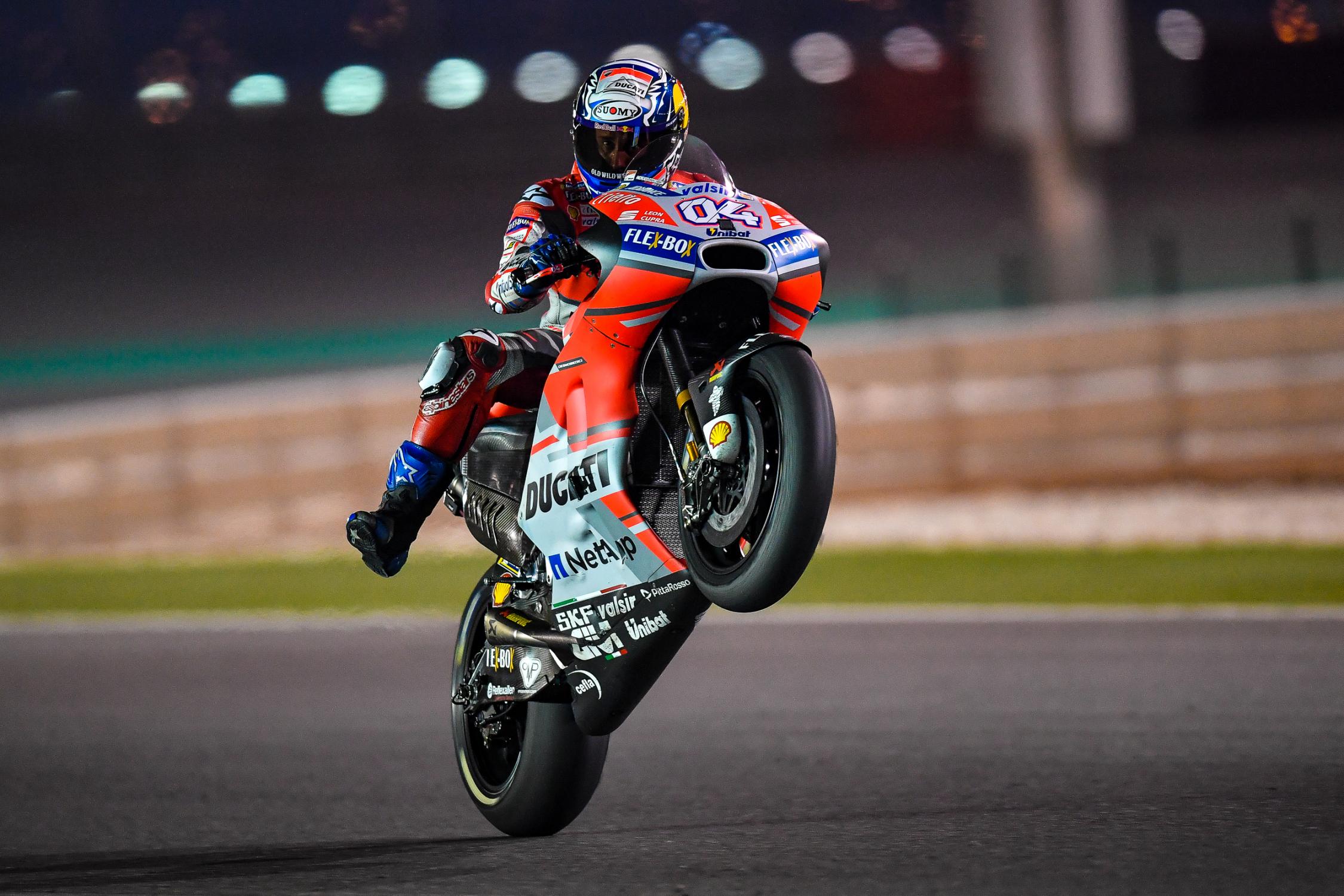 Danilo Petrucci, riding for the Alma Pramac Racing team, had been a revelation in 2017, coming close to winning his first MotoGP a number of times before having to settle second in the closing stages. His performance had impressed the Ducati factory that he is riding the same GP18 bike as the factory riders Andrea Dovizioso and Jorge Lorenzo. "Petrux" as he's popularly called finished 9th in FP1 with a time of 1'56.265", 0.079 second behind Dovizioso. He improved in FP2 to record 1'54.367", a mere 0.006 second behind.
The time surprised even Petrux himself, "I didn't think I could do a lap time like this, but we are here and happy."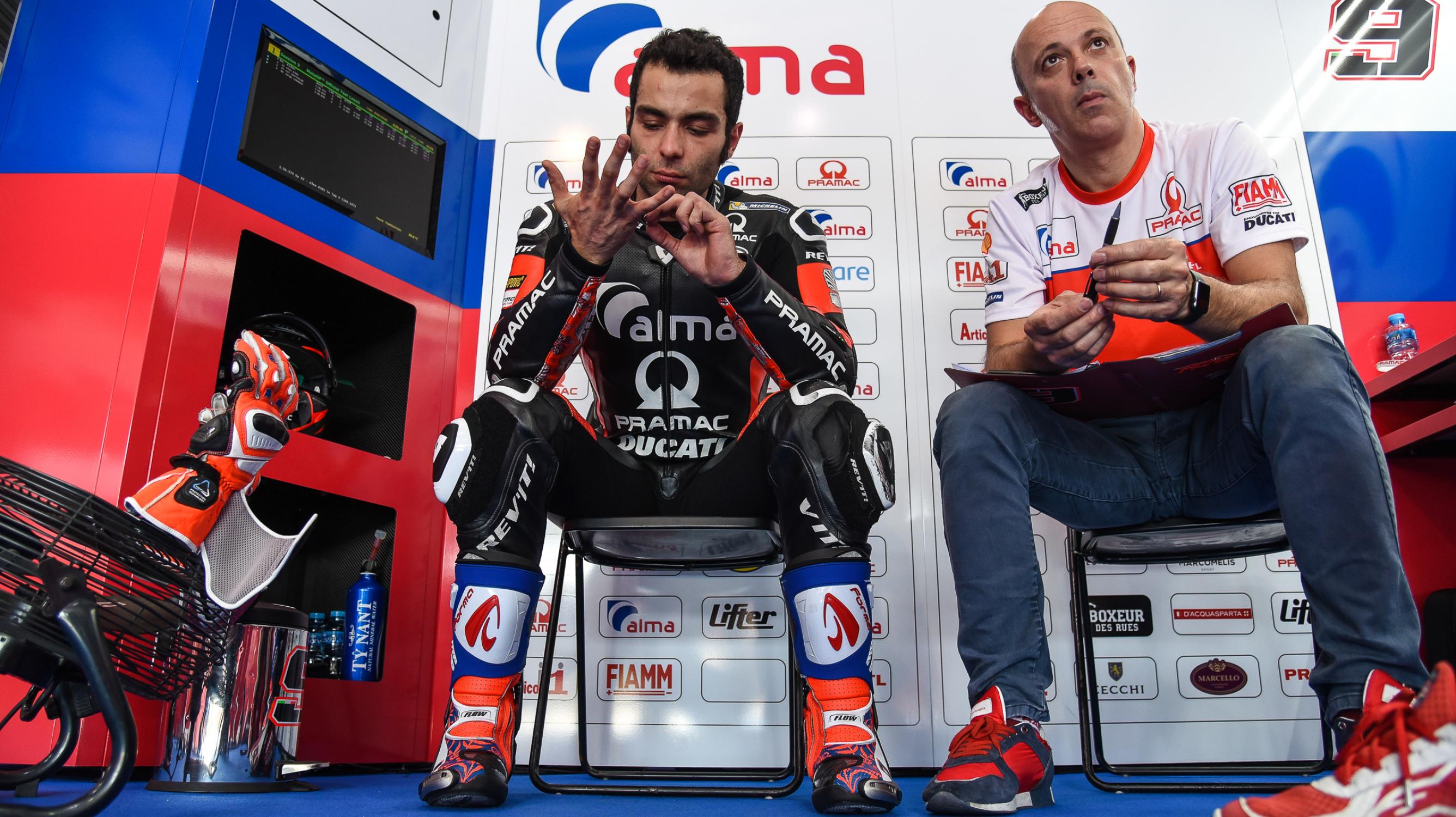 Even bigger surprise perhaps was Suzuki. Both riders had been showing impressive form throughout the off-season tests and it was again the returning Alex Rins who showed the way. It was the opposite in FP1 when Andrea Ianone went 4th fastest with a time of 1'55.816", 0.450 second off Dovizioso's pace, while Rins was in 8th with 1'59.557", 0.631 second from the front.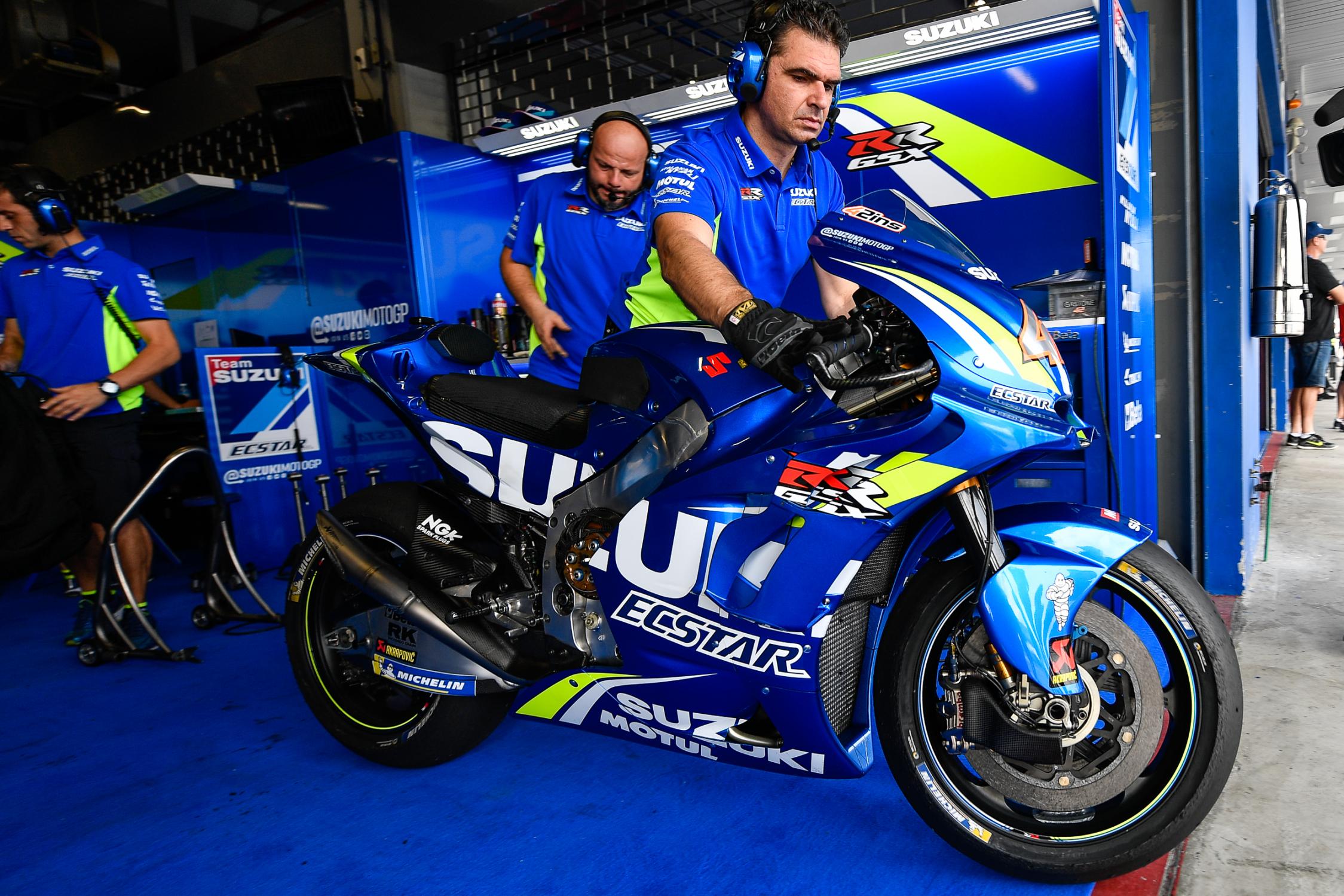 Then Rins turned the tables on his teammate in FP2 by recording a blistering time of 1'54.458", now just 0.097 second behind Dovi, and 0.373 second in front of the second factory Ducati of Jorge Lorenzo. That's a massive 5 seconds improvement! Ianone still did well put himself in fifth, by also improving his fastest lap time to 1'54.841".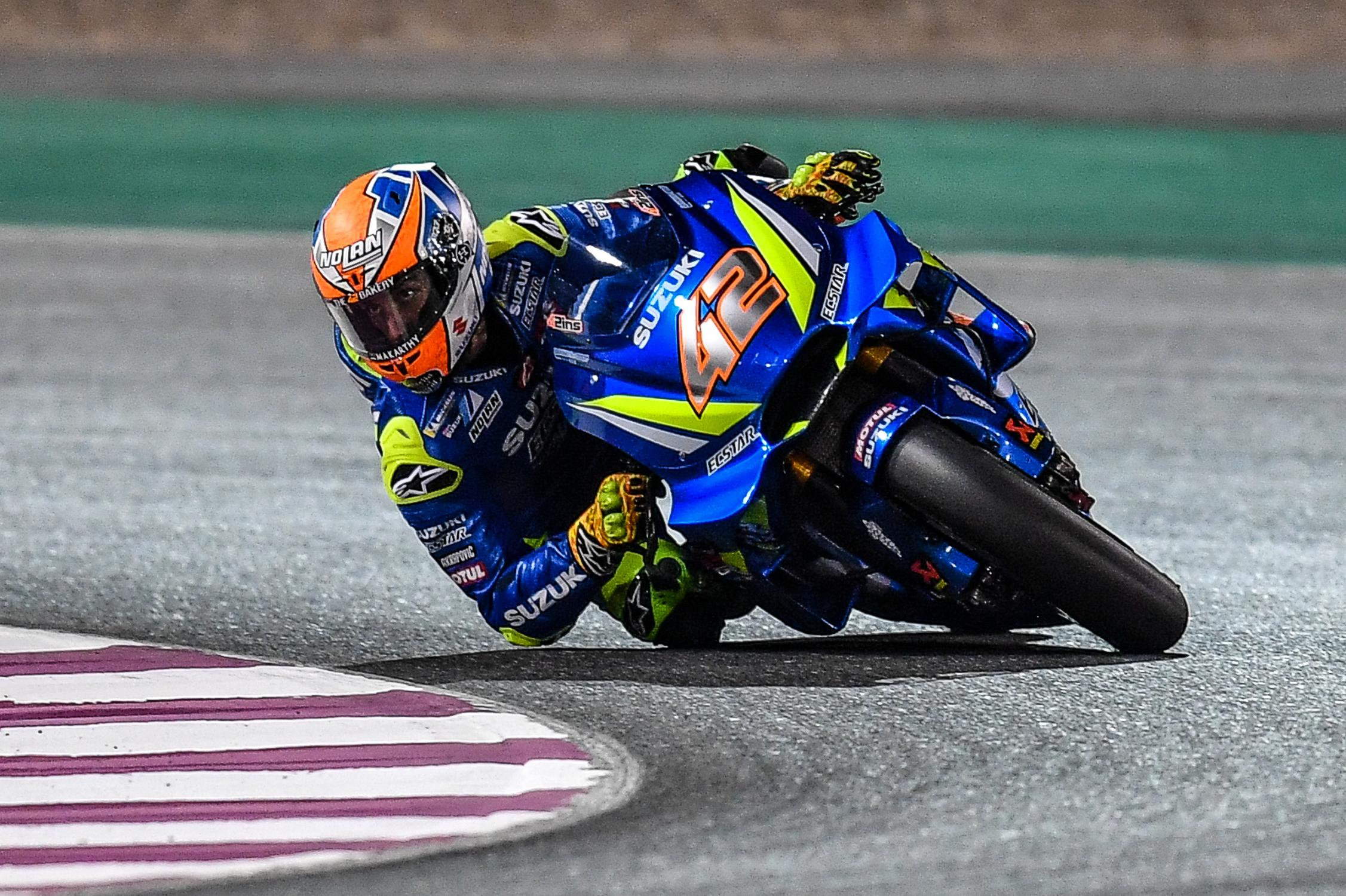 Now that we know who are in the Top 5, where are the rest of the usual suspects?
The three top Hondas were locked together. Defending 2017 champion and Repsol Honda rider, Marc Marquez was third fastest in FP1 but found himself kicked down to sixth in FP2 despite having gone faster with a time of 1'54.850".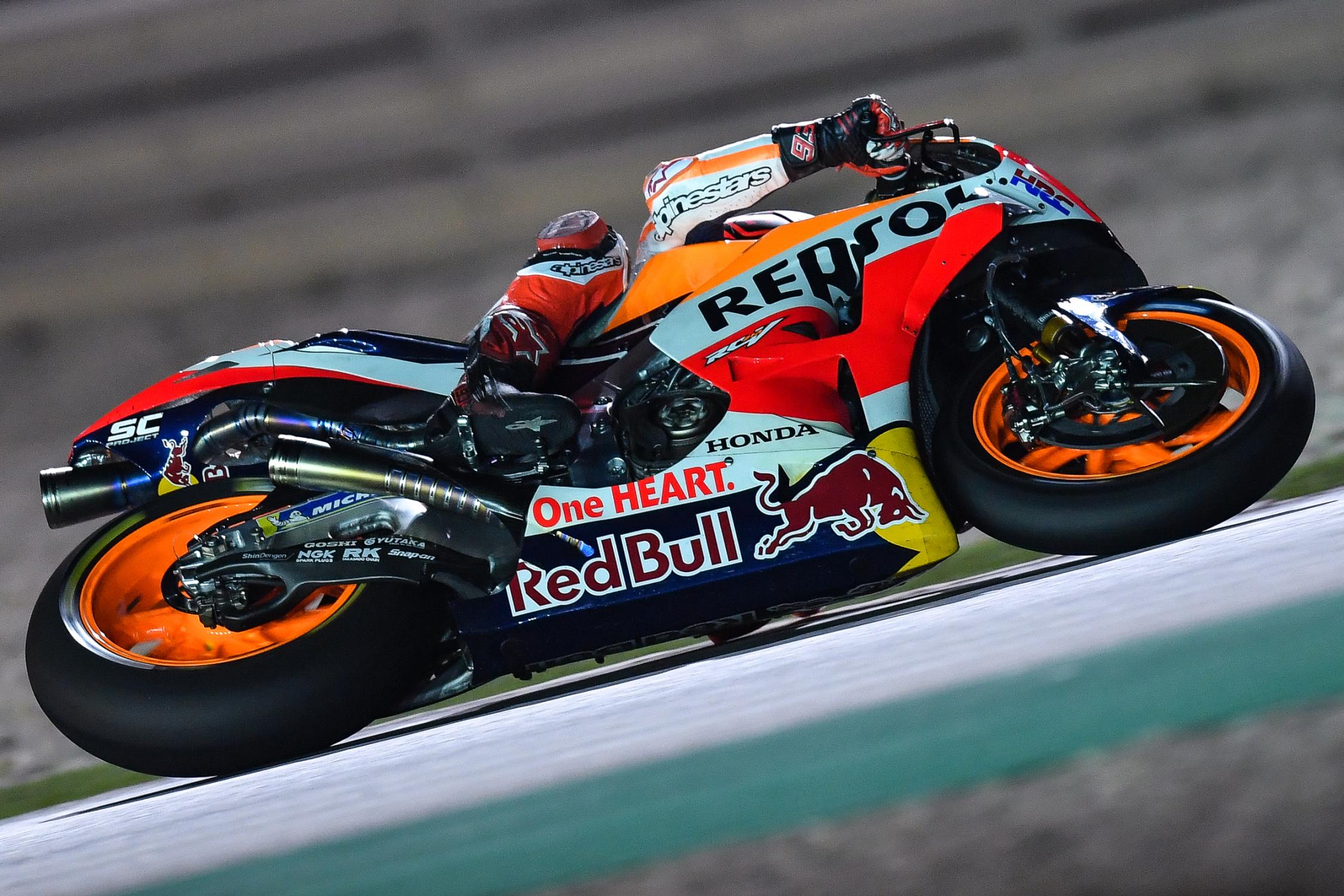 His teammate Dani Pedrosa also suffered the same fate, recording the seventh fastest time. The "Little Samurai" went faster in FP2, finishing 0.001 second behind Marquez in 1'54.851".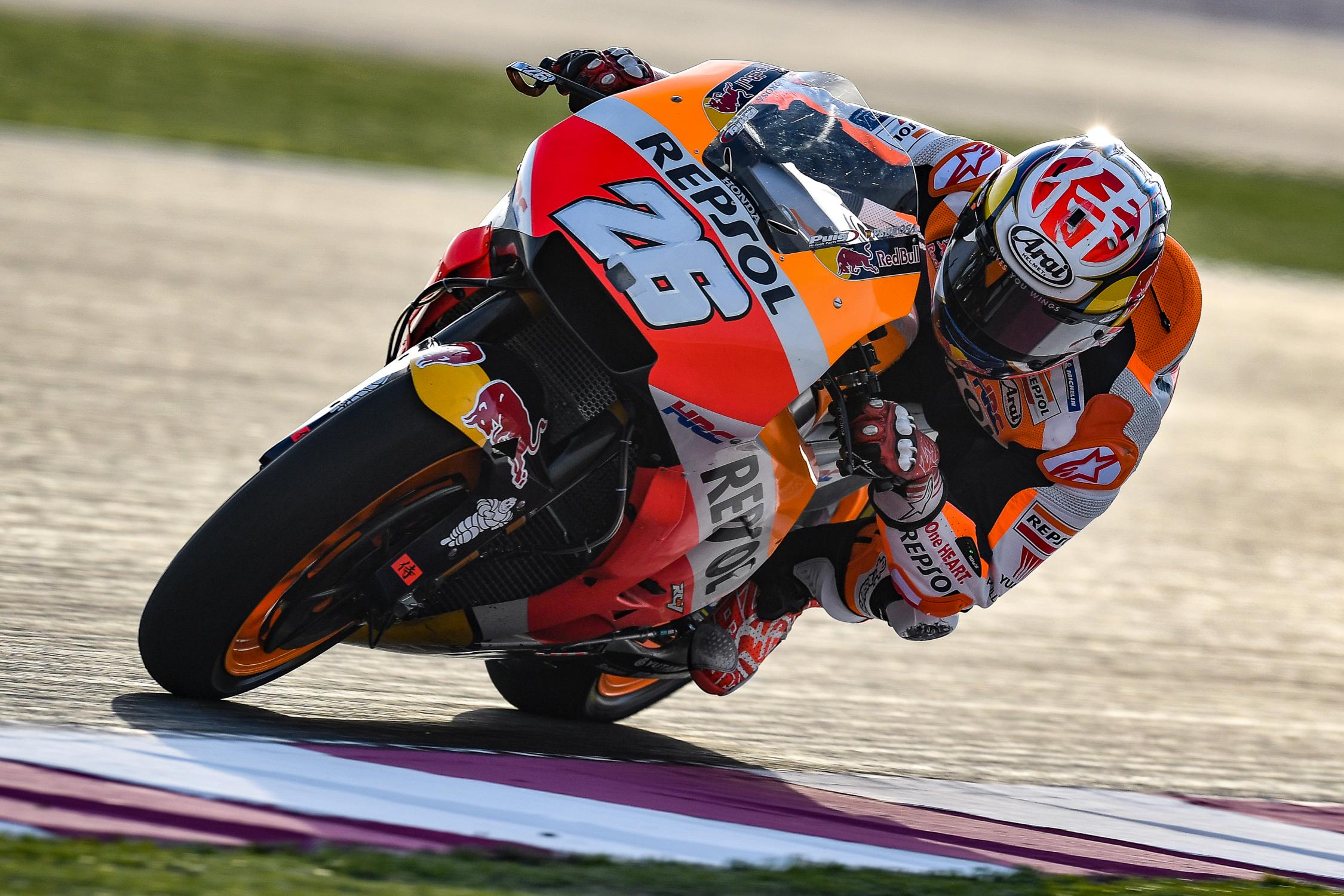 LCR Honda Castrol rider Cal Crutchlow was eighth after clocking his fastest time of 1'54.852" – again, 0.0001 second behind the man in front of him.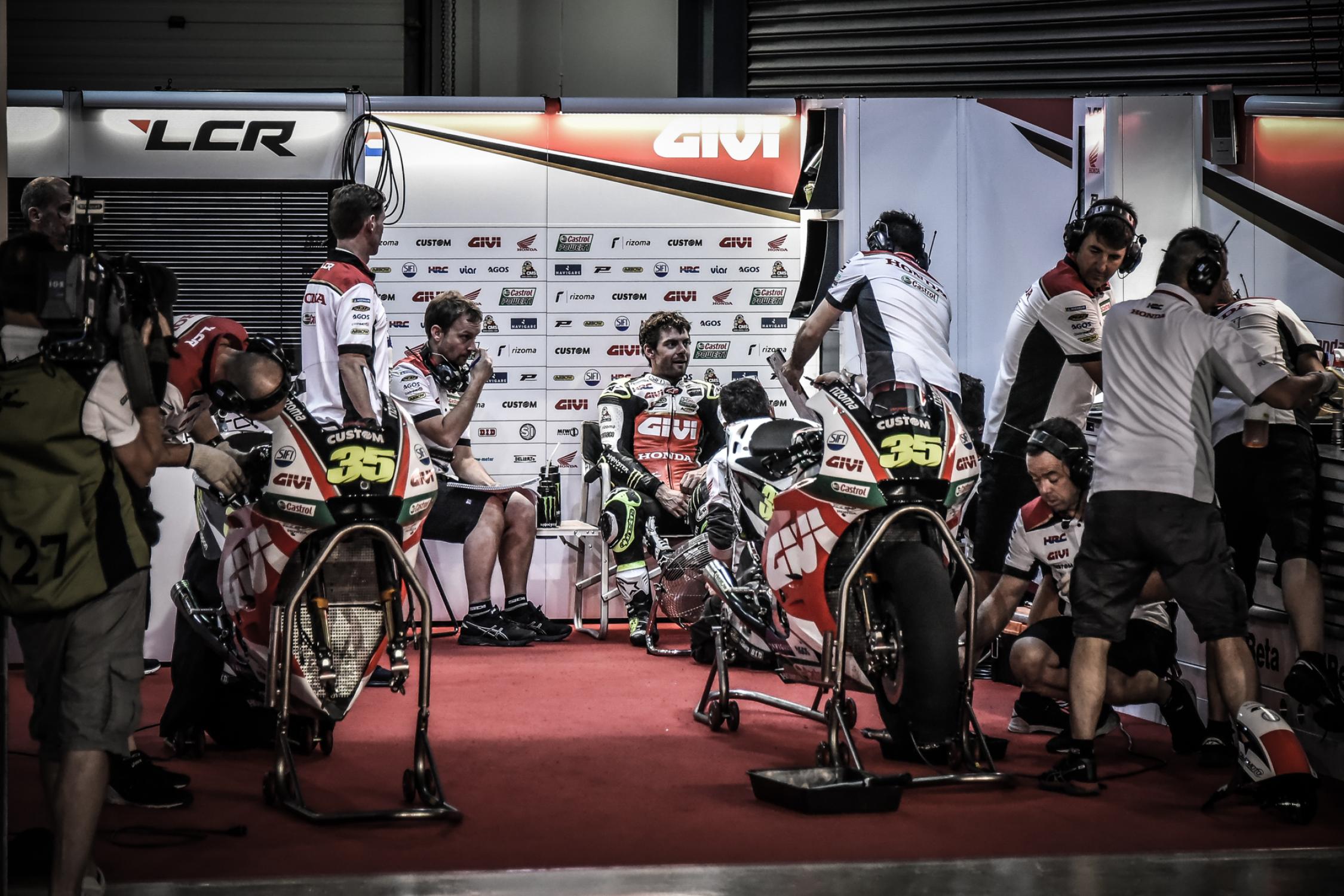 As with the Hondas, Yamahas were running together, too. Valentino Rossi of the factory Movistar Yamaha MotoGP team had been second quicket in FP1 but finished ninth in FP2; his fastest time was 1'52.853".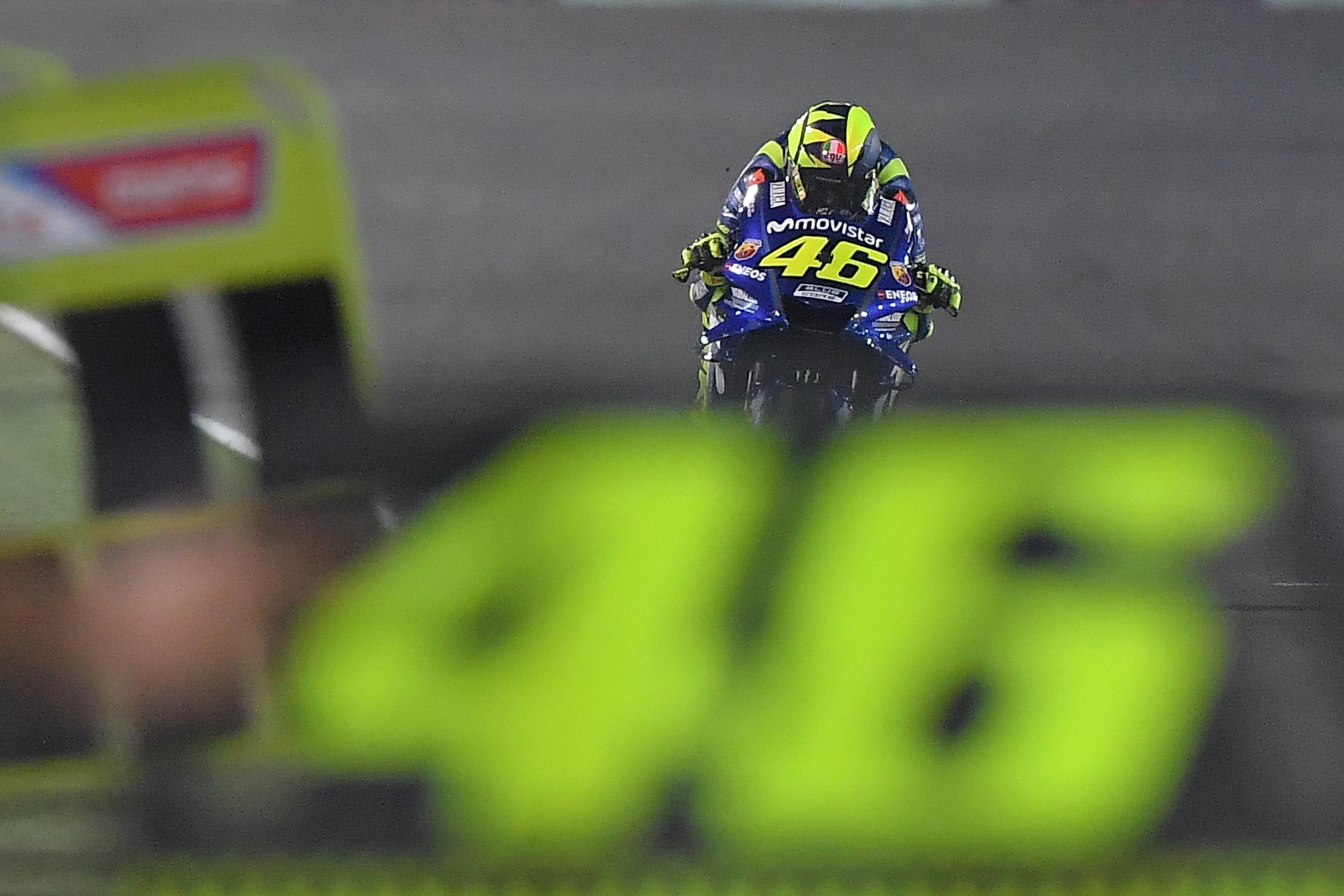 0.059 second behind him was Johann Zarco on the Monster Yamaha Tech 3 bike. The Frenchman still holds the fastest race lap record last year when he led the field, before crashing out.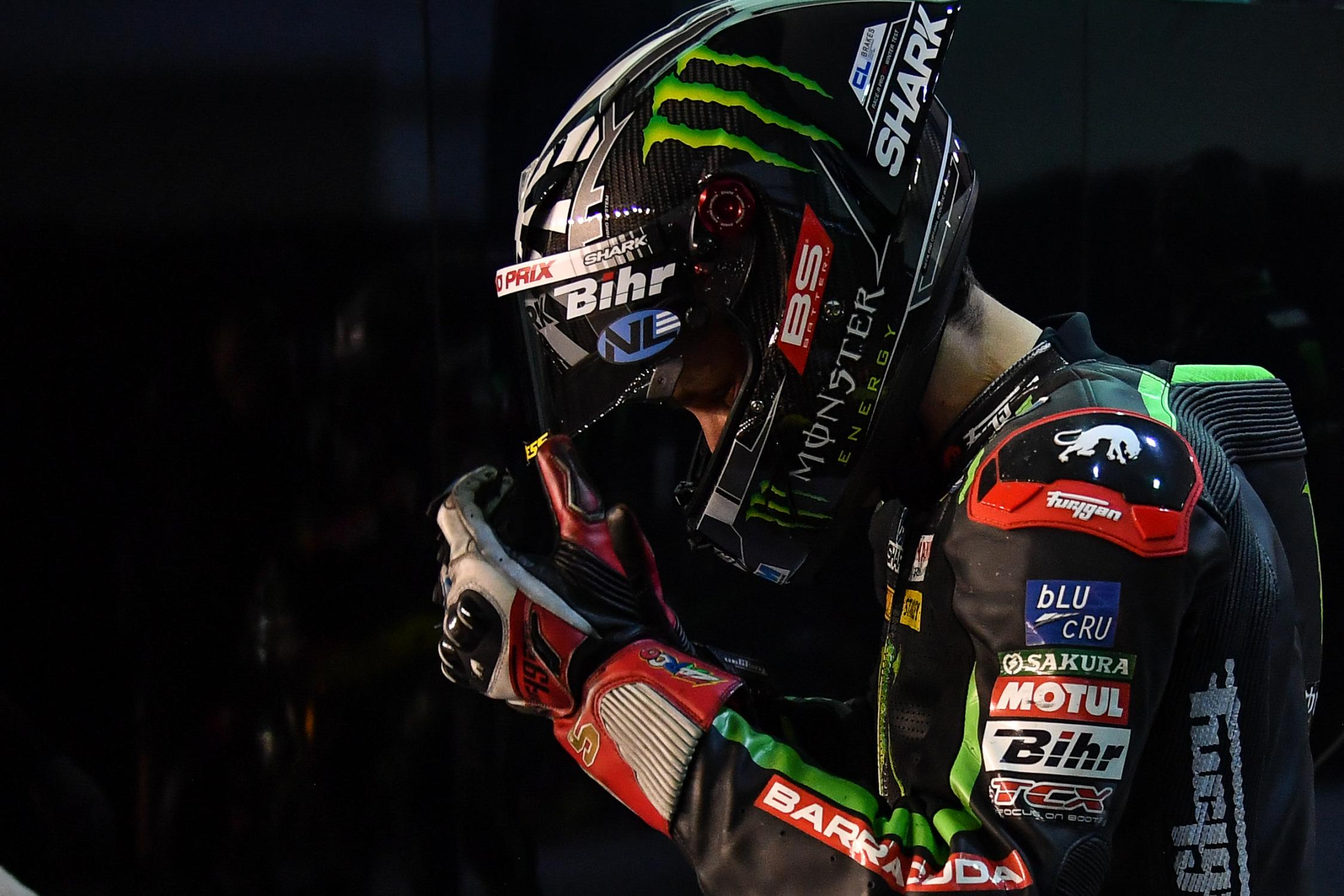 Last year's winner at Qatar, Maverick Vinalez seems to be struggling (purportedly due to tyres), going only eleventh quickest in both sessions. His improved time in FP2 was 1'55.195 – a massive 0.854 second off Dovi's and 0.283 second behind Zarco's.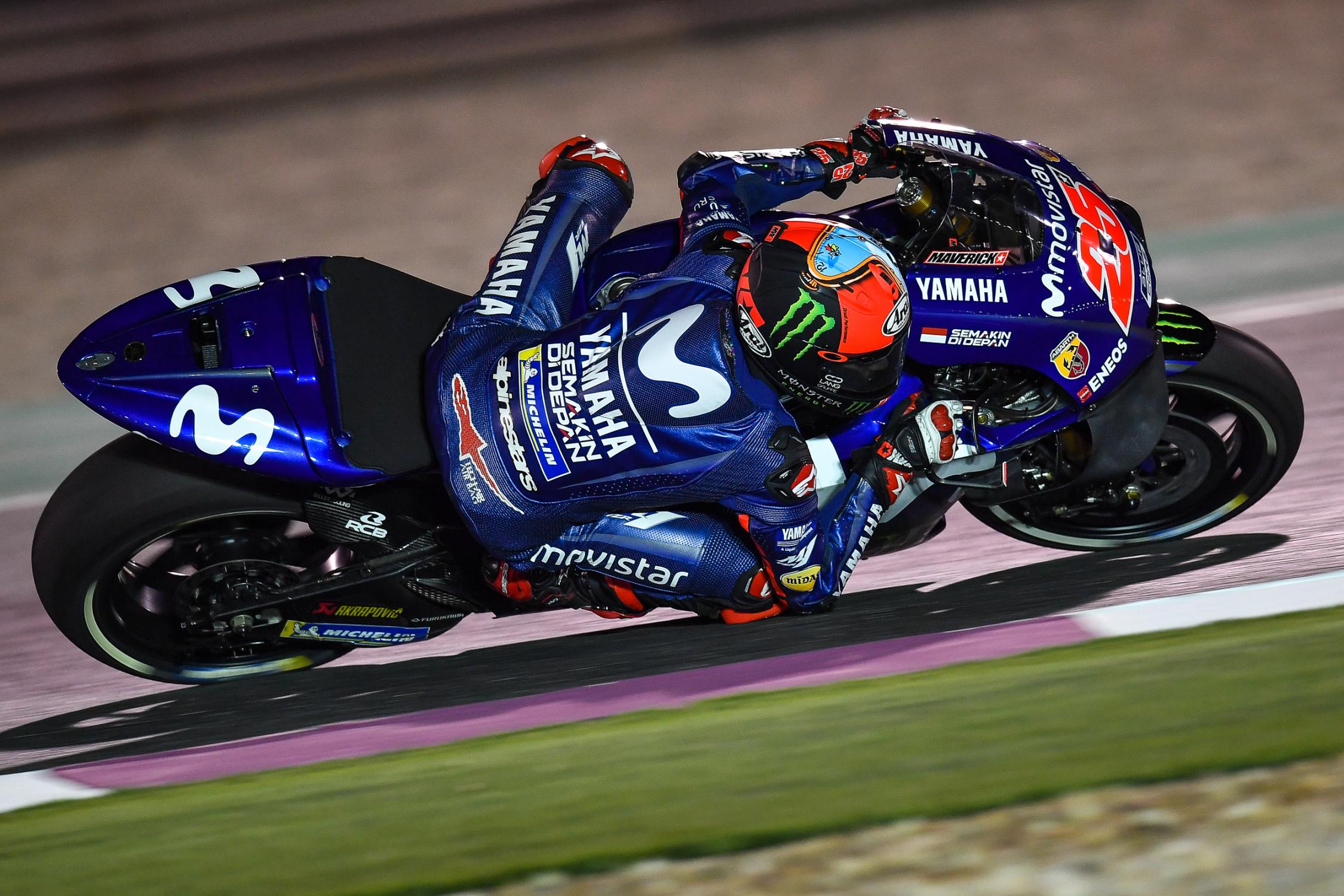 To illustrate how competitive the times were in FP2, the fastest (Dovi) to fourteenth fastest (Jack "Jackass" Miller) were covered by less than 1 second.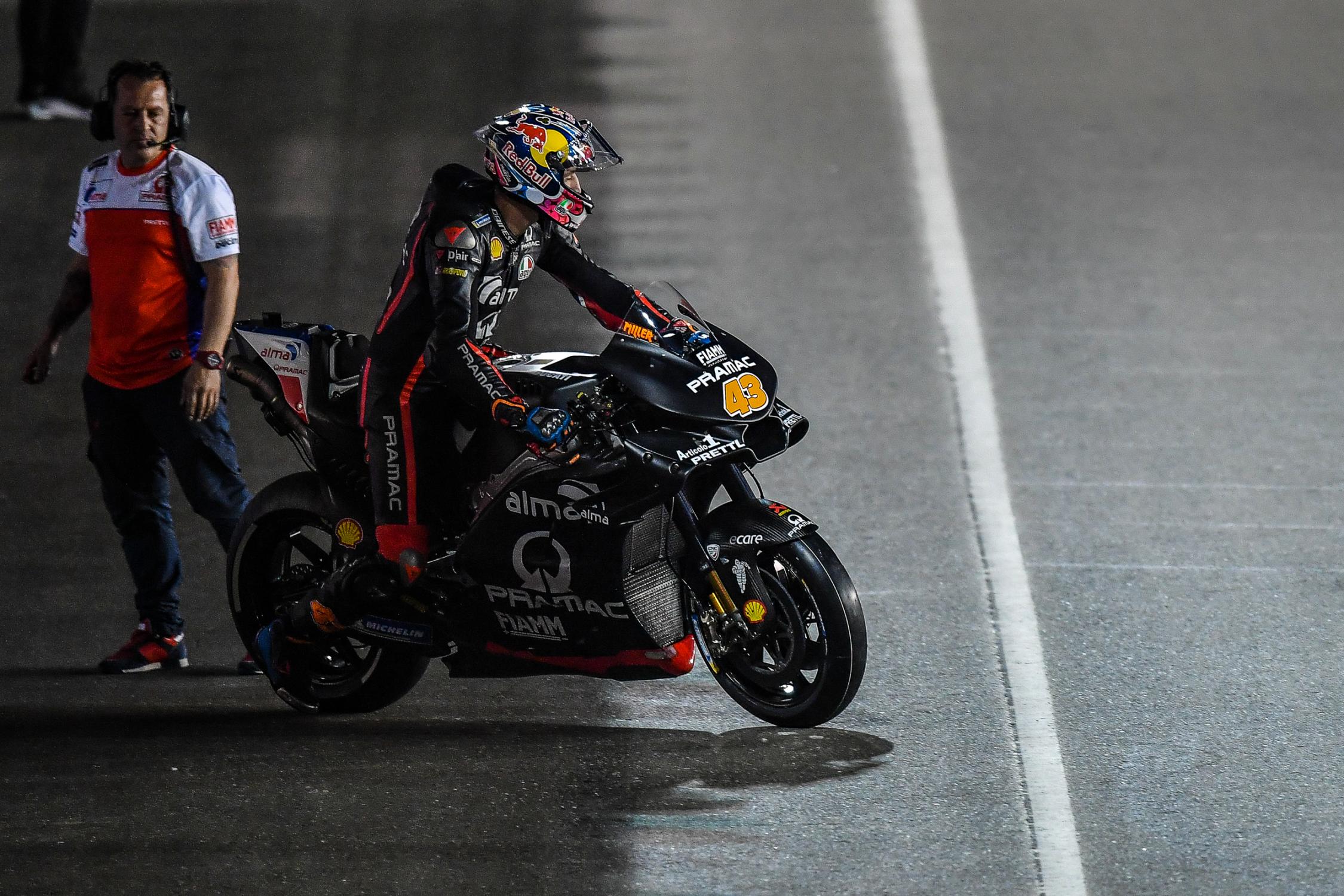 Positions fifteenth to twenty-fourth consisted of the five MotoGP rookies, led by Takaagi Nakagami.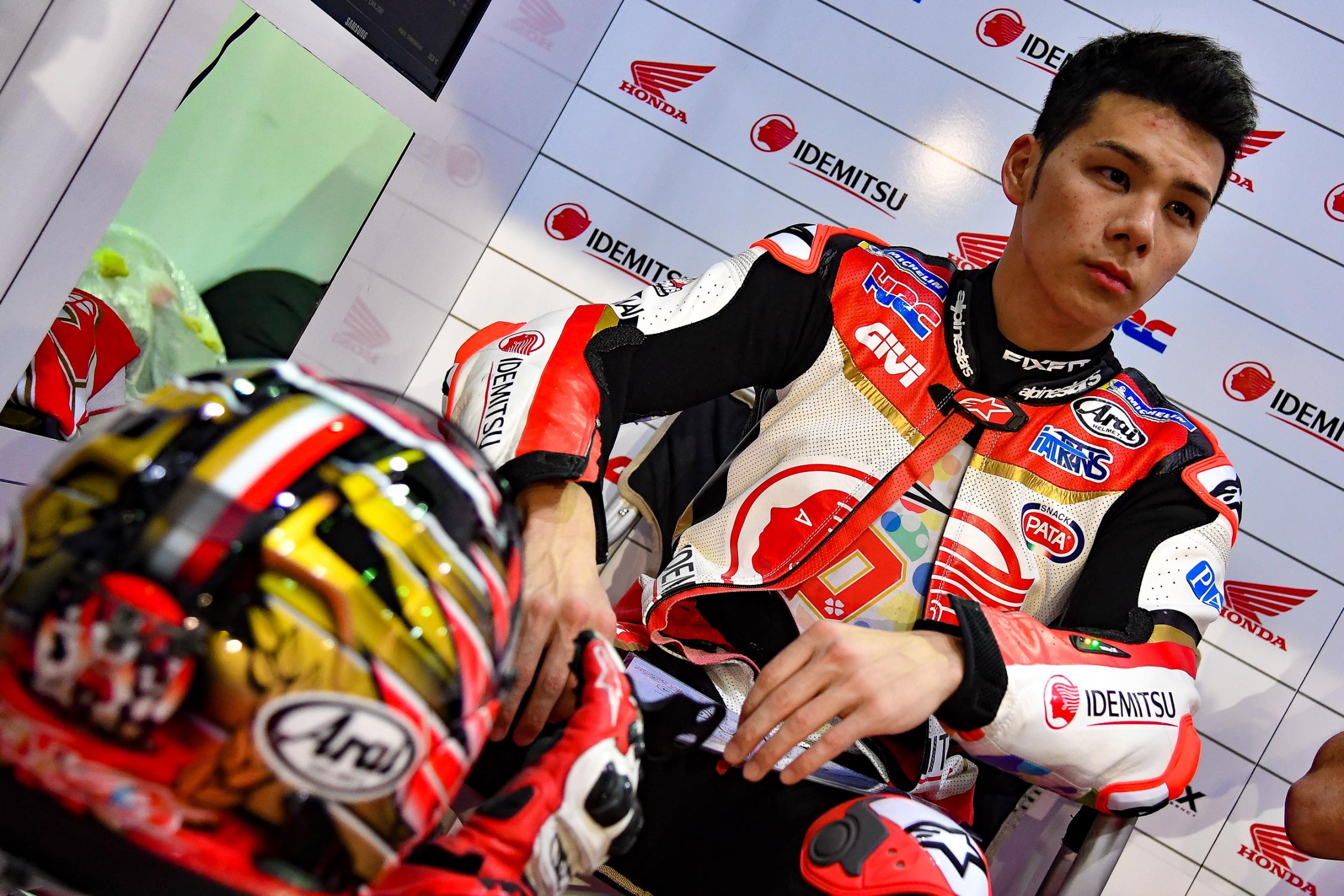 Our Malaysian hero, Hafizh Syahrin and new teammate to Johann Zarco rode steadily in FP1 to finish in an impressive fifteenth fastest with a time of 1'56.544" which was 1.178 seconds behind Dovi. That's a truly commendable achievement (not because we're being biased) as he had been consistently 2 seconds slower in the two tests first at Buriram and then at Qatar. He improved on his time slightly in FP2 to 1'56.454" and was relegated to twenty-second position. While detractors may say that wasn't a significant improvement, Hafizh is being consistent with his times as he unlocks the secrets of his bike and equipment.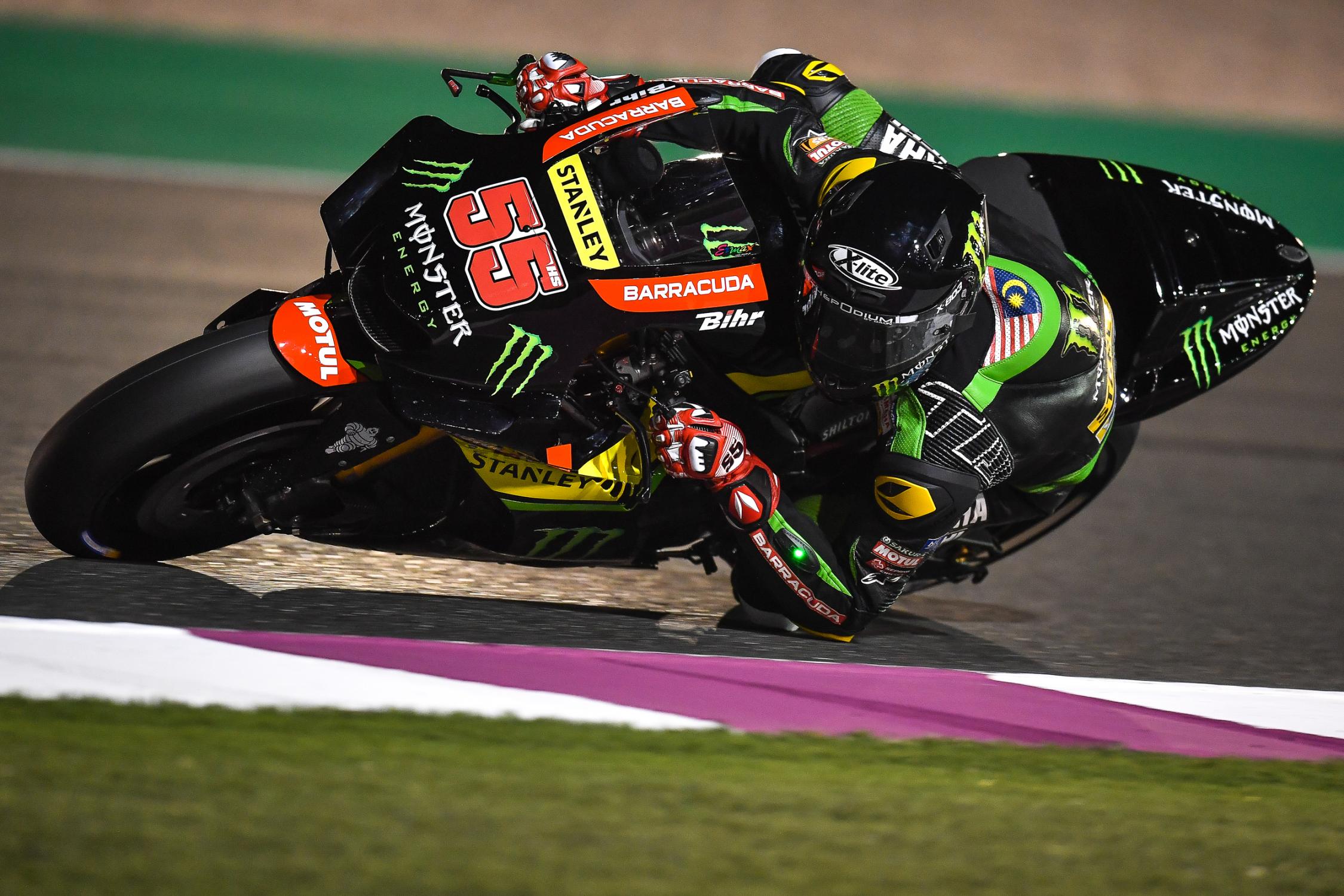 Without going into too much of the technical stuff, it could be said that FP1 was a fimiliarisation run by the riders and teams, as reflected by the lap times that were "everywhere." The times are "combined" from FP1, FP2 and FP3; meaning the fastest lap from any one of those sessions will be used to determine the spots in final qualifying.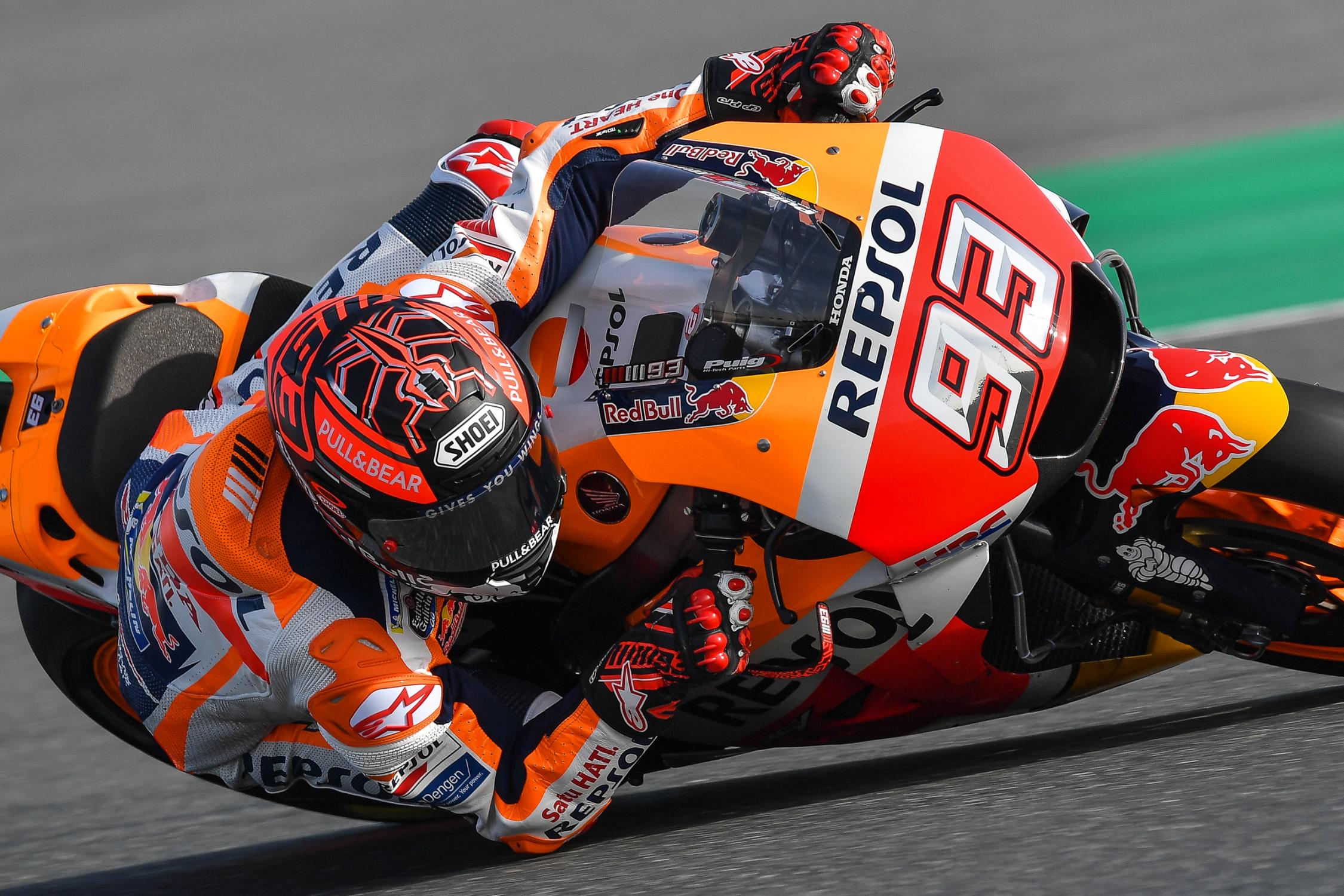 Thus, the riders and teams need be on their best game to qualify as the Top 10 to automatically make it into Q2, as the 11th through to 24th fastest need to run in Q1 much like a "last chance shootout" for final grid spots 13th to 24th. The fastest two riders in Q1 will be promoted to Q2 where the times will determine grids positions from Pole Position to 12th. Needing to contest in Q1 means especially the eventual 11th and 12th fastest riders will burn through another set of tyres, hence there's talk of Dorna allocating an extra set of tyres to those two riders. But it also means their bikes have to go through some extra "torture."
The final timed Free Practice 3 (FP3) will begin at 7.35pm, while Qualifying 1 (Q1) starts at 12.20am (midnight Sunday), followed by Q2 at 12:45am. All quoted times are Malaysian times.
So, prepare your dinner and supper early. It's time for the 2018 MotoGP season.