The 2018 Honda CB650F is the naked version of the fully-faired CBR650F.

Both bikes share the same engine but different riding dynamics.

While the CB650F is meant to be a naked sportbike, it does well as an all-rounder, too.
We've tested many motorcycles. Adventure-tourers, luxury tourers, supersports, scooters, cruisers, standards, café racers, modern classics, classics that aren't modern, etc., etc. Many fit into their respective categories and perform their roles well with singular purposes. But the 2018 Honda CB650F seemed to do just about everything.
Launched together with its CBR650F fully-faired brethren, the CB650F takes on the look of a naked sportbike. It does look the part with its multi-faceted bodywork, engine hung out in open with its four exhaust headers for all to see, a stepped seat.
The 650cc, liquid-cooled, DOHC, 16-valve, inline-Four engine is shared with the CBR650F, so as almost every part of the bike, with the exception of the headlight and handlebar.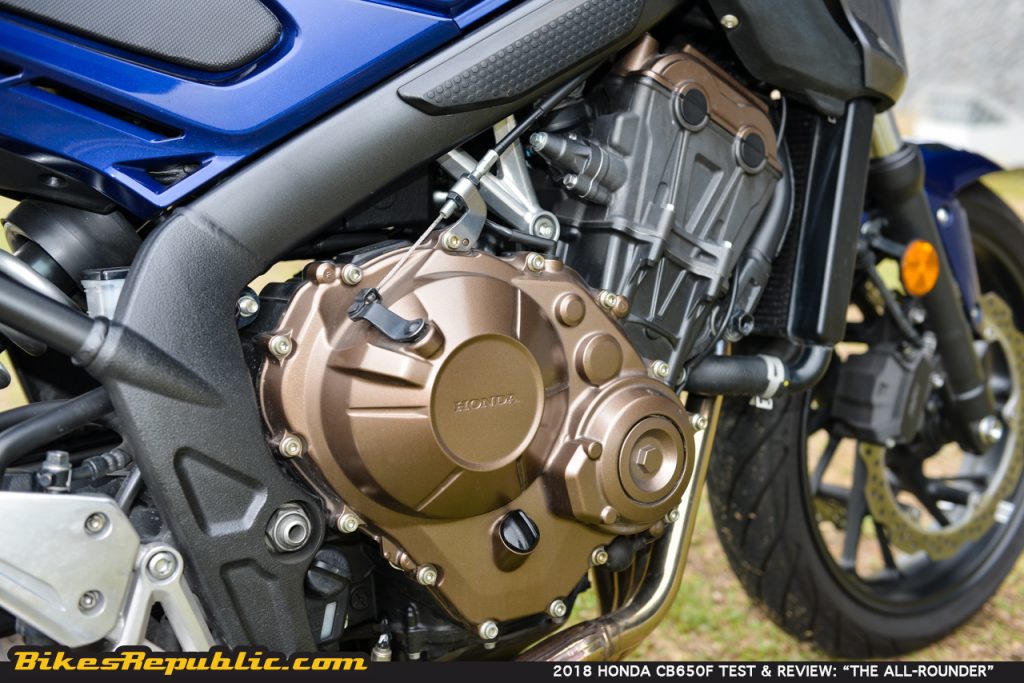 The CB650F's seating position put me in a nice forward crouch without needing me to plop my (substantial) belly over the tank and offering my bum to the traffic behind. The angle was between the fully sit-up style of say the Yamaha MT-07 and aggressive Honda CBR650F.
The seat may look tall but has a nice height which is accessible to most riders, while the footpegs are placed relatively high and back for ground clearance.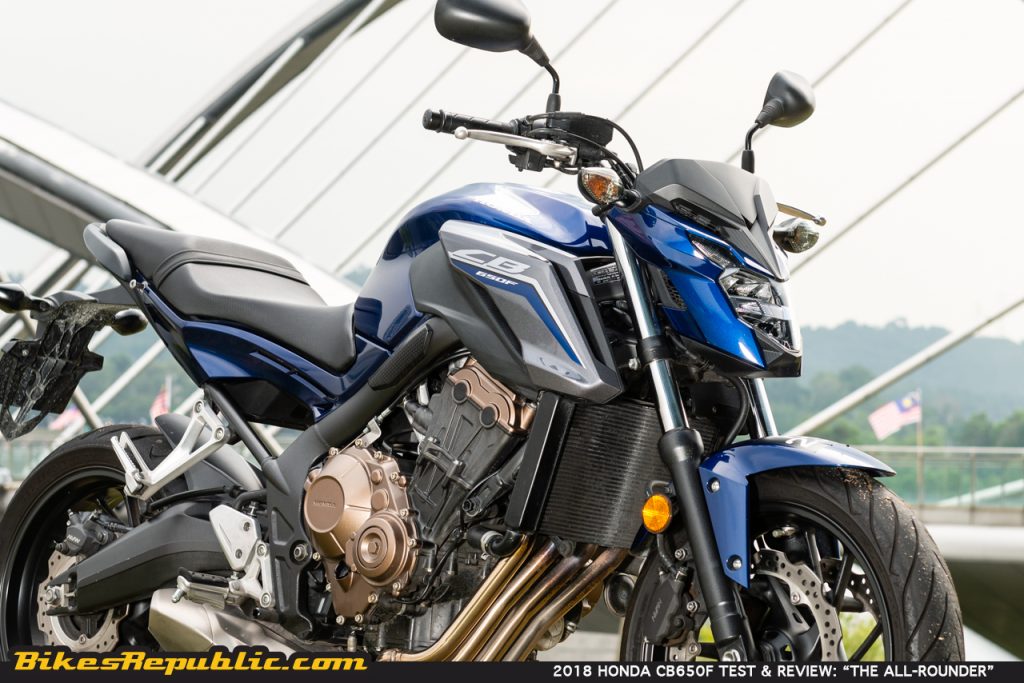 Stabbing the ignition button brought the bike instantly to life with a "whooshing boom," courtesy of four cylinders. The engine felt smooth when I blipped the throttle, although there was some vibration to tickle certain parts of the body.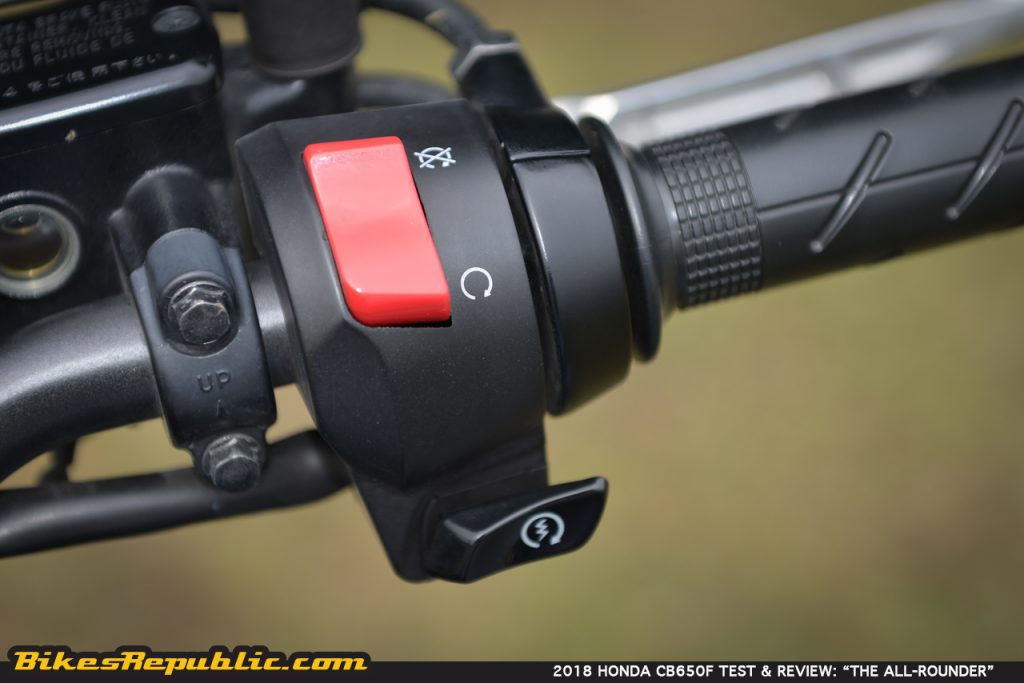 The CB650F needed a little more clutch slip to get going put the power kicked in quickly, accompanied by a hair-raising burble from the airbox under the fuel tank. Just as Honda claimed, the engine was tuned for low- to mid-range torque and it accelerated surprisingly fast for a mid-range inline-Four through the slick gearbox as it surfed that wave of torque around heavy traffic.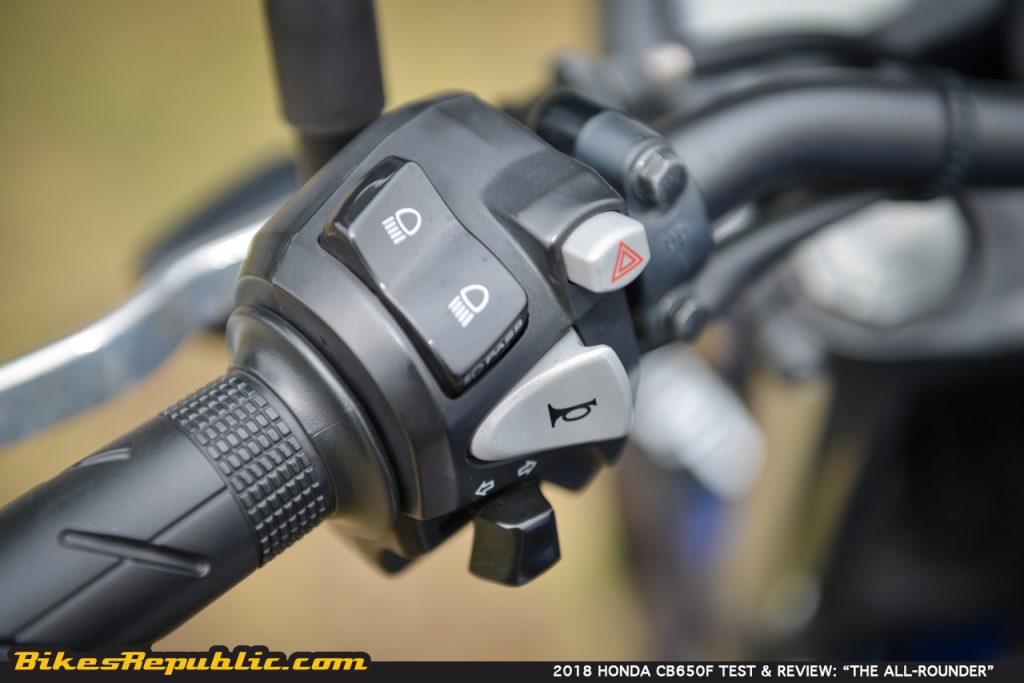 Its engine served more like a three-cylinder bike, actually, because there's always torque everywhere up to 8000 RPM. Heck, you could even filter through traffic at 60 km/h in fourth gear without any driveline snatch. It makes life a whole lot easier than having to constantly shift gears back and forth.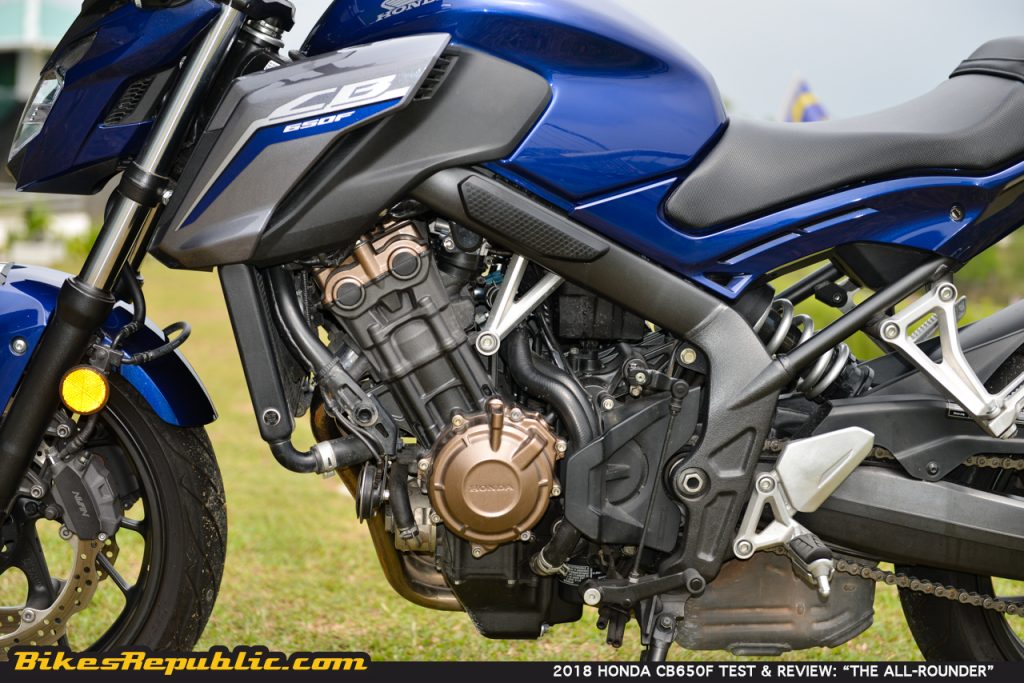 But when the roads opened up, so did the CB650F as it rocketed away and kept building speed briskly. It kept finding myself riding faster than I should. Well, why not, it's got 90 bhp and 64 Nm of torque.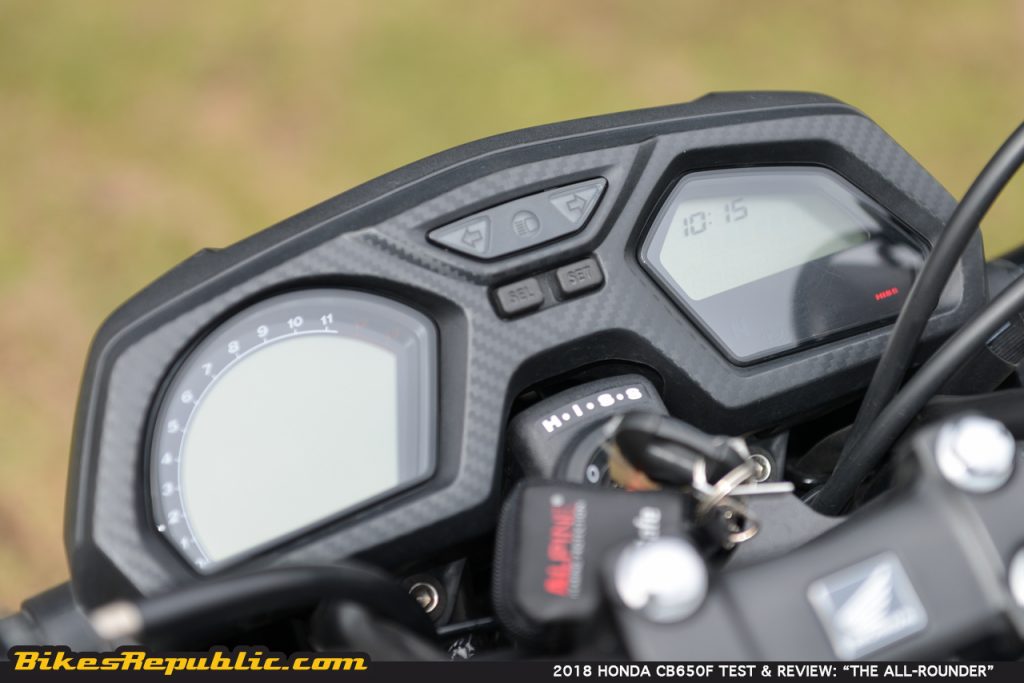 Now the bike has taken on the role of a sport-tourer, as it could hold on to any high-speed I chose. There's another surprise here: Most naked bikes would have the windblast hammering on your chest at 130 km/h, but I found that I could sit up relaxed at 160 km/h. That's true credit to the bike's seating position.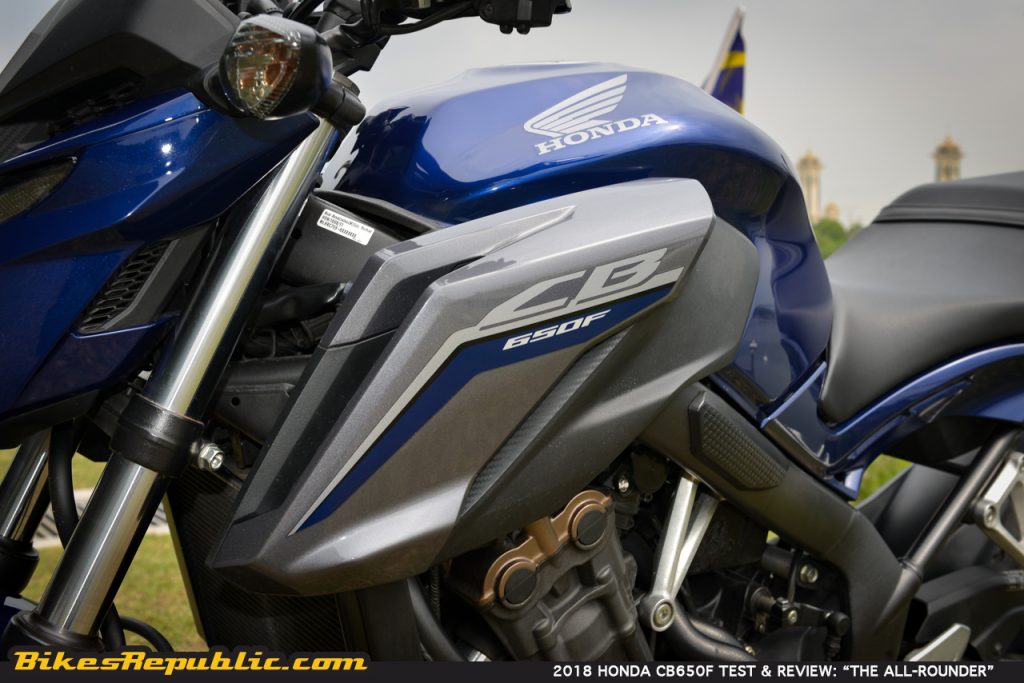 The tingles typical of inline-Fours stayed with me at most times but it seemed to balance out at above 110 k/h. There's still plenty of go at this speed as a twist of the throttle had me passing an entire line of cars in a hurry.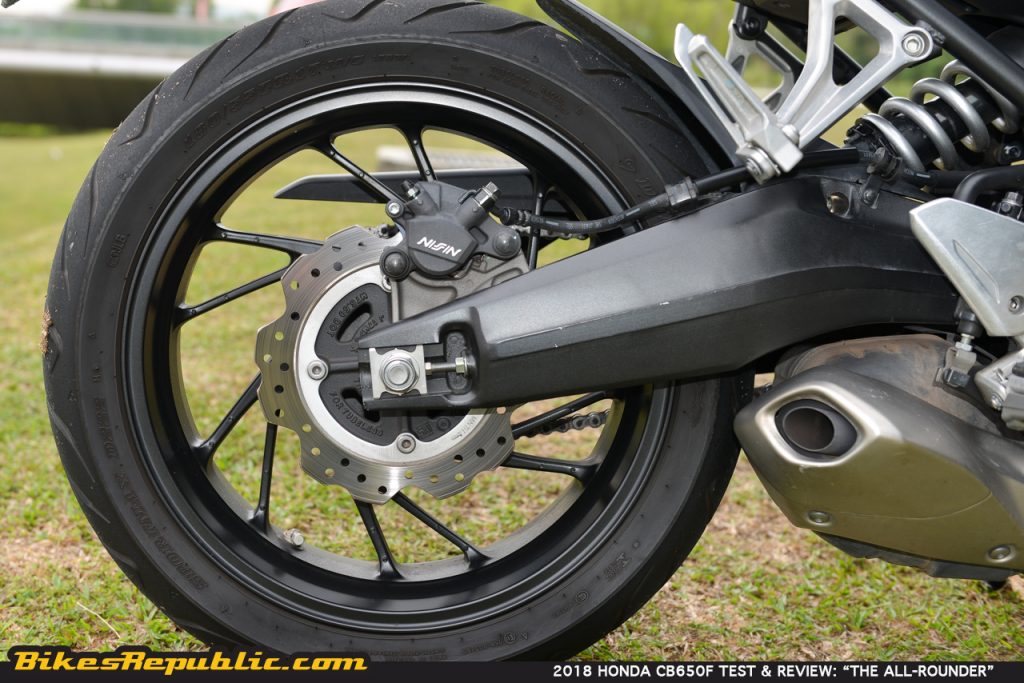 The Honda CB650F handled quite well and it's more nimble than the CBR650F despite the same 25.5o rake and 101 mm trail. The taller handlebar means your arms are extended straighter while gripping the handlebar, hence your countersteering forces are more perpendicular (straight ahead) in relation the handlebar. Compared to bikes with their handlebars down in front the headstock, there is a tendency to push downwards on them as support for your upper body weight, resulting in slower steering.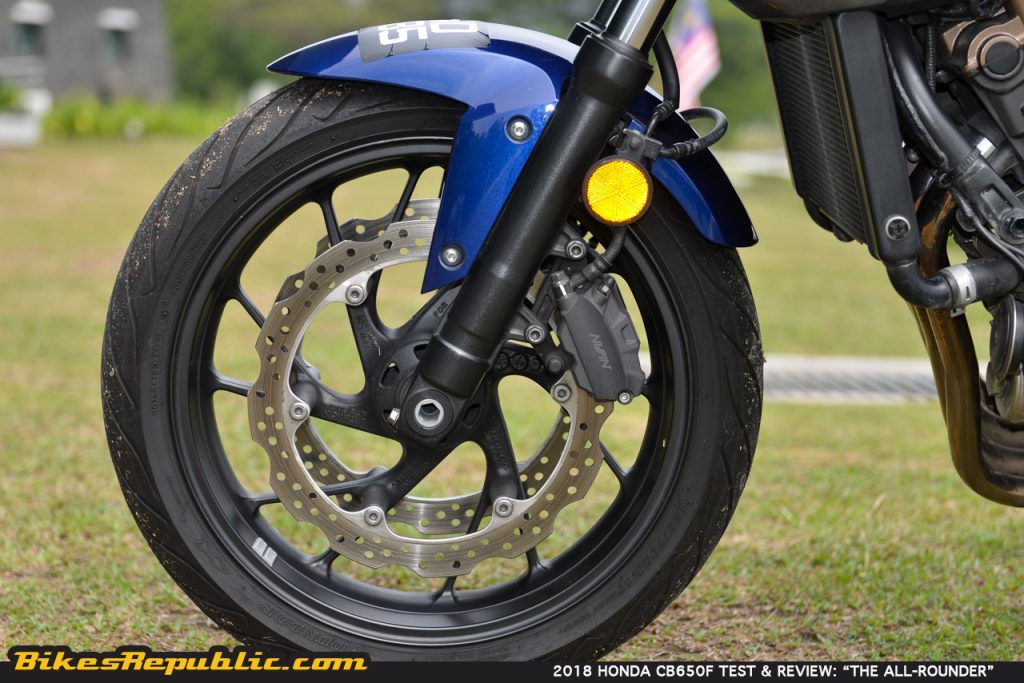 The bike never protested when slammed it into corners considering the basic suspension package. The bike was suspended by the same non-adjustable Showa Dual Bending Valve Forks (SDBV) forks in front and a monoshock at the rear (adjustable for preload only). But the suspension definitely felt better on the CB650F as I didn't have so much upper body weight on the front end.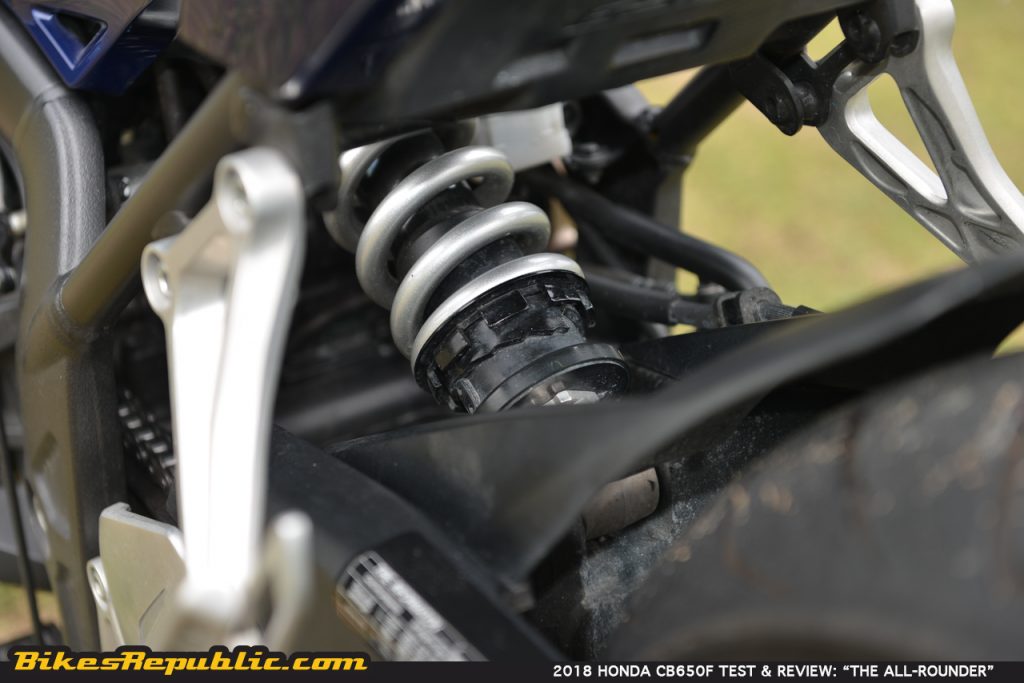 The only thing I had to do was remind myself to hit corners with a gear higher as the engine's torque results in heavy engine braking with the throttle off. However, this is just my personal preference as I prefer the bike to freewheel into corners. I would reduce a couple of teeth on the rear sprocket or install a slipper clutch if this bike was mine.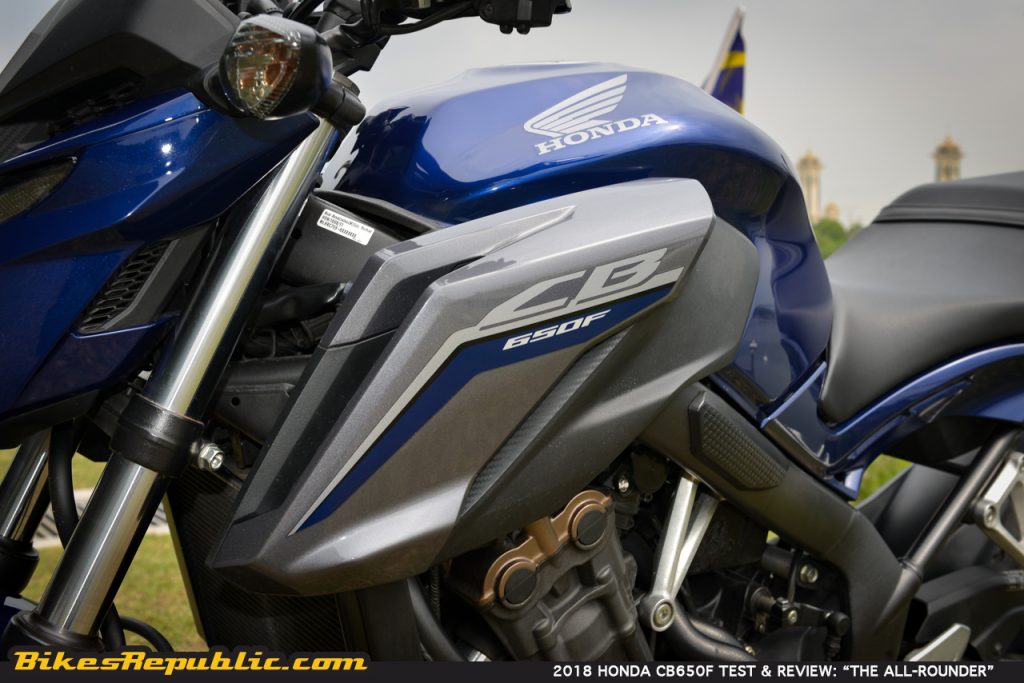 That brings me to what I didn't like. The throttle was abrupt when it's picked up from fully closed. Not from when the bike is idle, but when riding and shifting gears at low speeds, spoiling super smooth ride. I had to compensate by leaving some throttle on.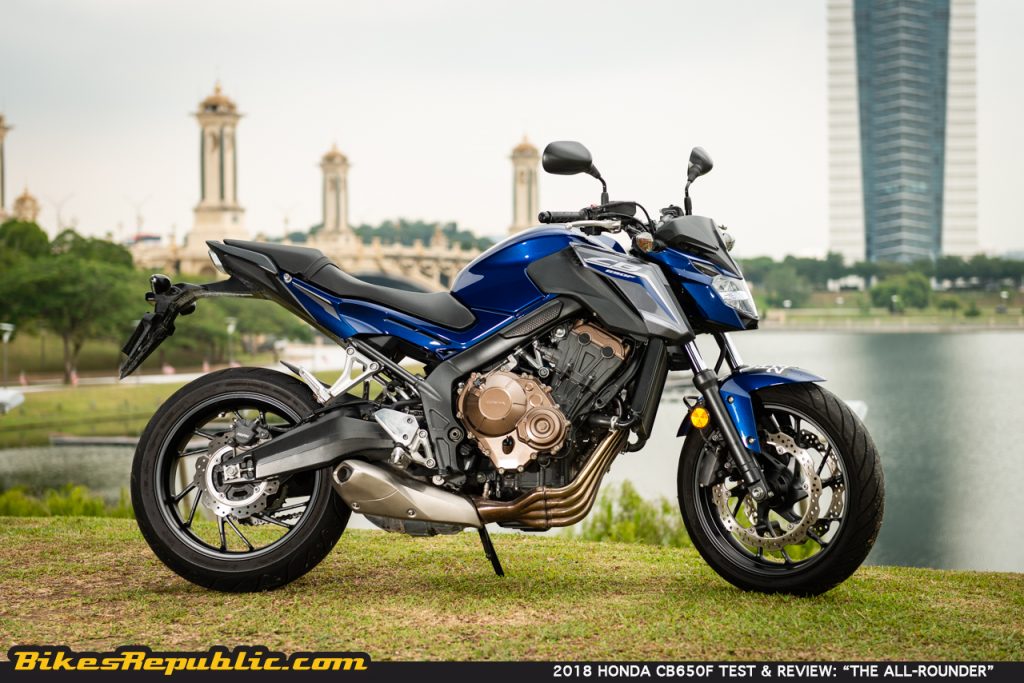 All-in-all, the 2018 Honda CB650F was a nice bike to ride around on a daily basis as it performed the role of an all-rounder remarkably well, whether it was commuting, long-distance blasting on the highway or weekend corner carver.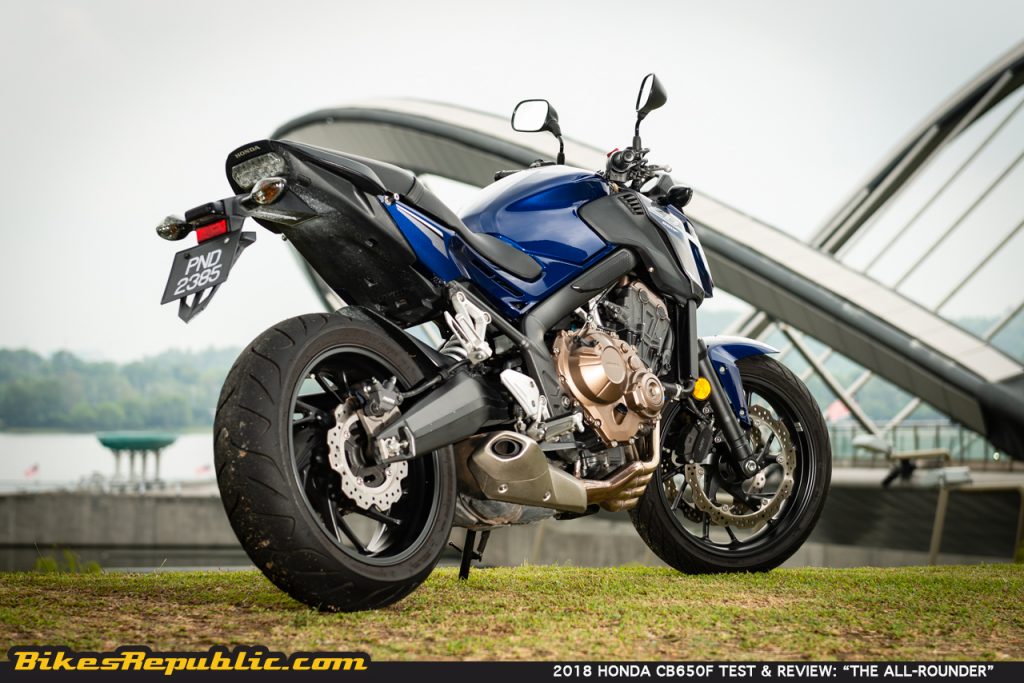 It's offered at a price that's hard to beat, considering that it has 90 bhp, great Honda build quality and comfortable, all at the same time.
2018 HONDA CBR650F

ENGINE

ENGINE TYPE
4-stroke, DOHC, 16-valve, liquid-cooled, inline-Four
DISPLACEMENT
648.72 cc
BORE x STROKE
67.0 mm x 46.0 mm
POWER
90 bhp (67 kW) @ 11,000 RPM
TORQUE
64 Nm @ 8,000 RPM
COMPRESSION RATIO
11.4:1
TRANSMISSION
6-speed
FUEL SYSTEM
PGM-Fi programmed fuel injection
CLUTCH
Multiple-plate wet clutch, cable-operated

CHASSIS

FRAME
Steel diamond
FRONT SUSPENSION
ø 41 mm Showa Dual Bending Valve (SDBV) telescopic forks
REAR SUSPENSION
Monoshock with adjustable spring preload
FRONT BRAKE
2 X Two-piston caliper and ø 320 mm discs
REAR BRAKE
1 X Single-piston caliper, ø 240 mm brake disc
TYRE FRONT; REAR
120/70 ZR-17; 180/55 ZR-17
STEERING HEAD ANGLE
25.5o
TRAIL
101 mm
WHEEL BASE
1,449 mm
SEAT HEIGHT
810 mm
FUEL TANK CAPACITY
17.3 litres
KERB WEIGHT
214 kg