Suzuki Assemblers Malaysia (SAM) has officially introduced the 2017 Suzuki Burgman 400 ABS scooter during last weekend's test ride session at the Sepang International Kart Circuit.
The ultimate premium maxi scooter option from Suzuki is powered by a 399cc DOHC, fuel-injected, Euro4-compliant engine that churns out 31hp.
SAM has priced their latest Suzuki Burgman 400 at RM45,000 (basic price excluding GST).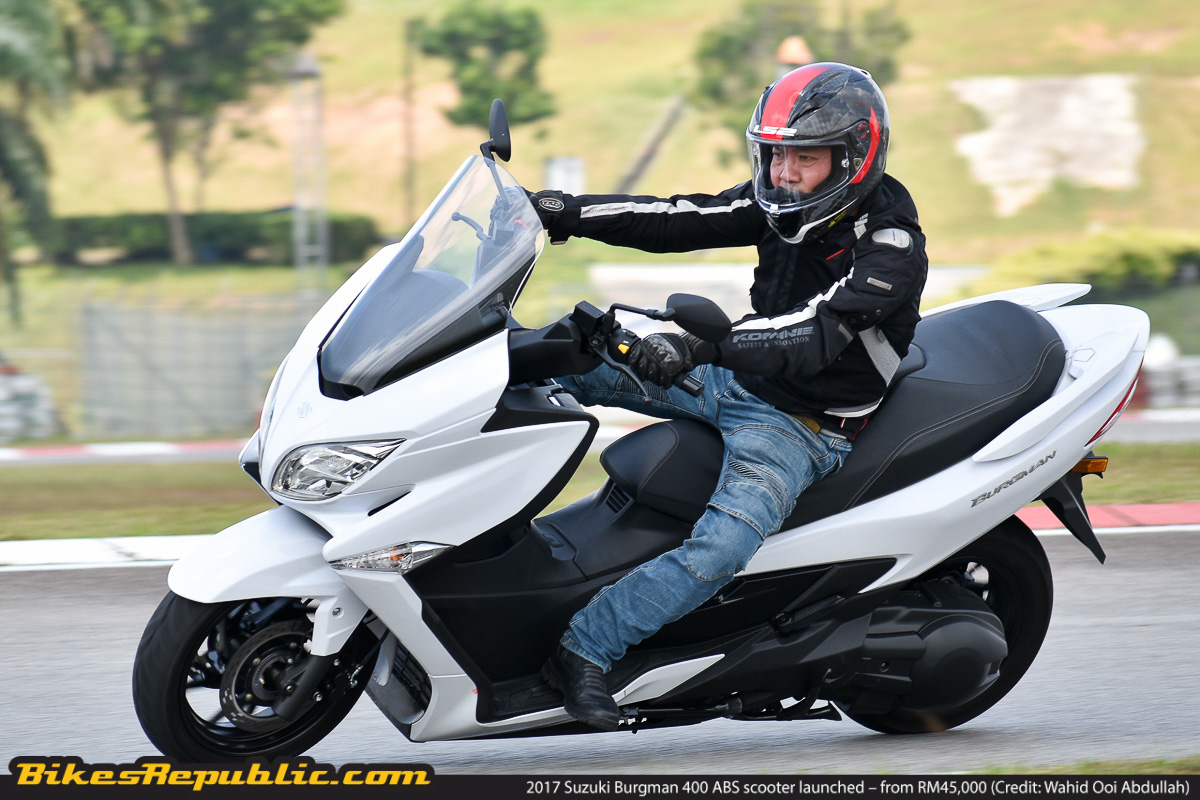 Suzuki Assemblers Malaysia Sdn. Bhd. has launched the the new BURGMAN 400 ABS maxi scooter, over the weekend at their inaugural New Bikes Test Ride event, held at the Sepang International Go-Kart Circuit.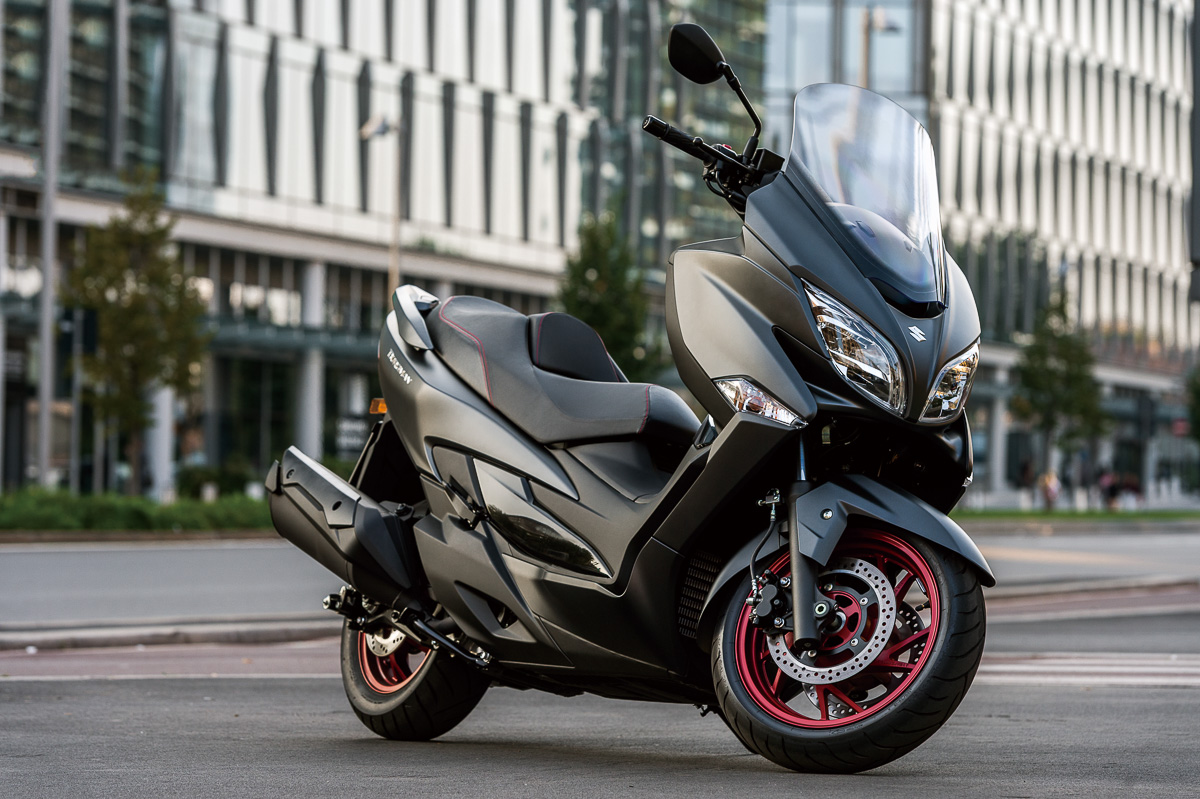 The Suzuki BURGMAN 400 has been a staple model of Suzuki's scooter family since 1998. Featuring comfort, power, plenty of storage space and elegant styling, the model earned a formidable reputation as a commuter and a touring machine.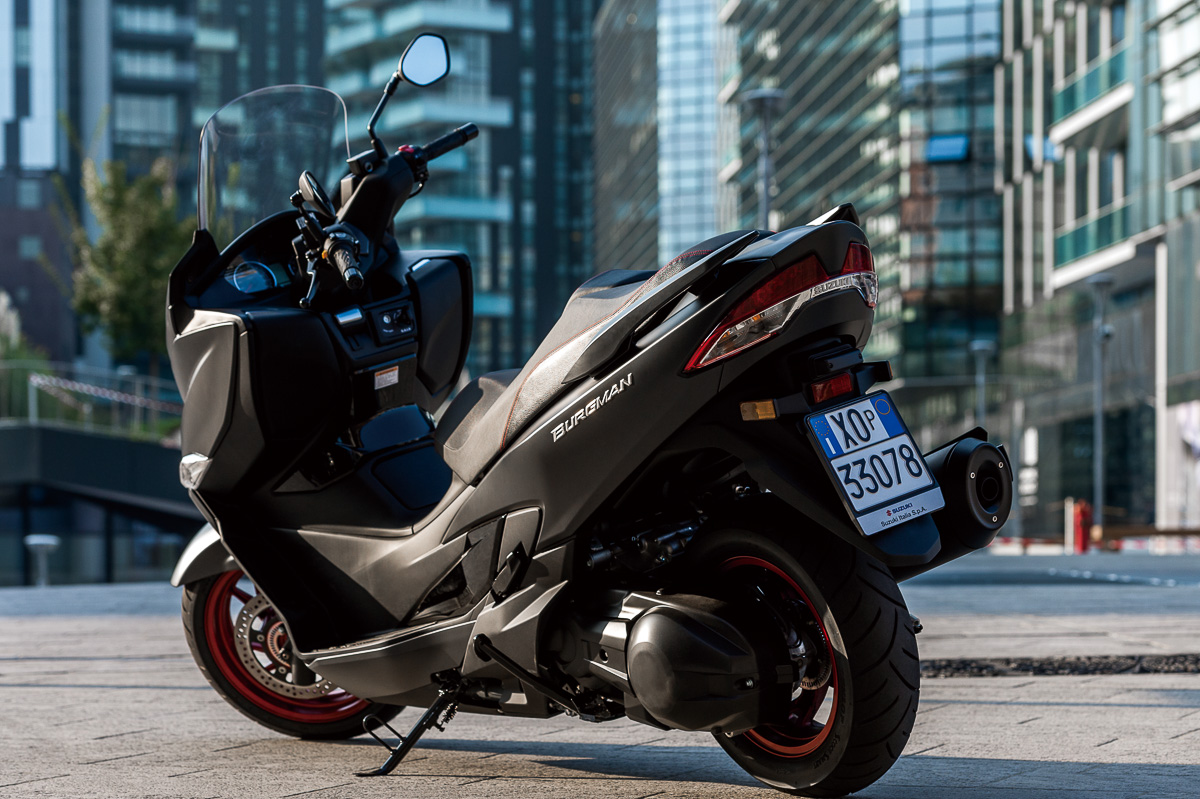 In line with current trends, Suzuki has updated this luxurious maxi scooter with a slimmer, sharper design; exceptional stability and handling; while maintaining the luxury, comfort, convenience the BURGMAN 400 is famous for.
These updates make the new Suzuki BURGMAN 400 ABS not only good against city traffic, but is spacious and comfortable enough for longer distances too.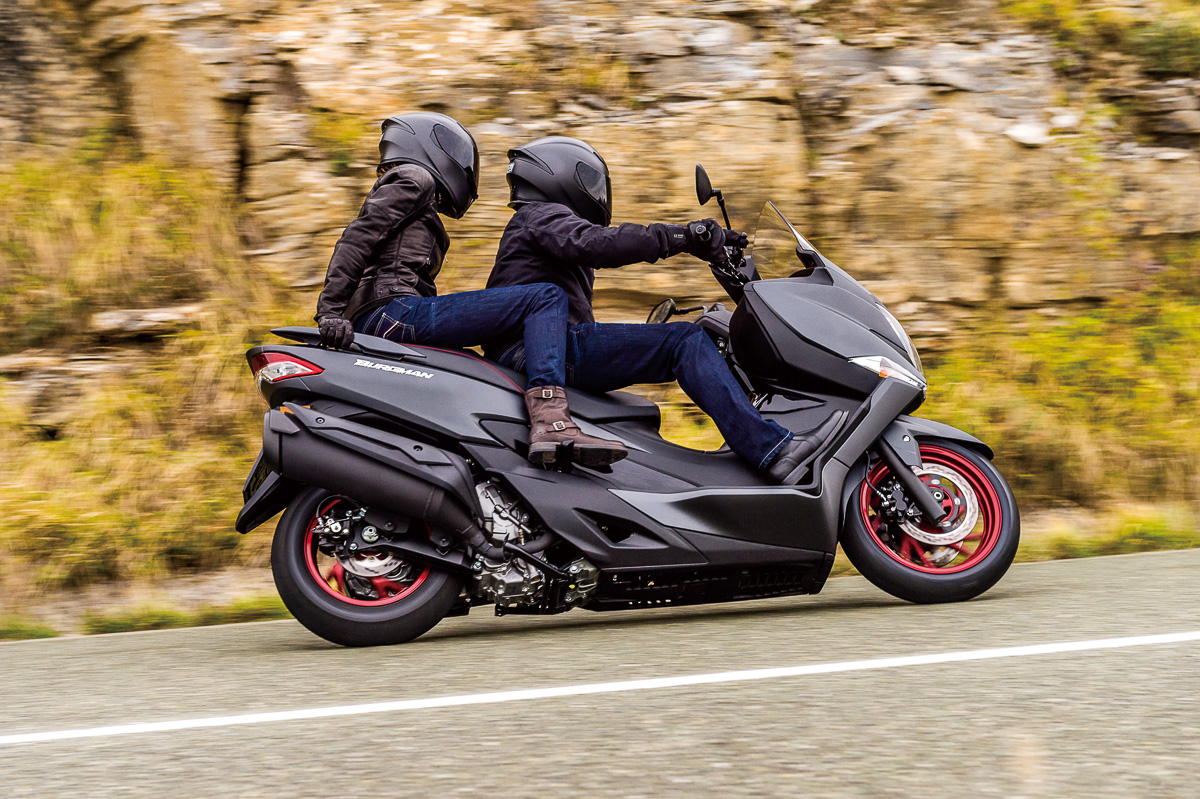 Major features of the new Suzuki BURGMAN 400 ABS include the following:
Sporty Coupe-like Styling
The new Suzuki BURGMAN 400 ABS features a modern profile that looks stunning on the streets, with a slimmer, sharper and sexier design at both the front and rear ends, that makes it easier to maneuver around town and slip through narrow places.
Sharply styled dual LED headlights with integrated LED position lights and turn signals mounted beneath.
Sharply sculpted independent LED rear combination lamps with turn signal express elegance.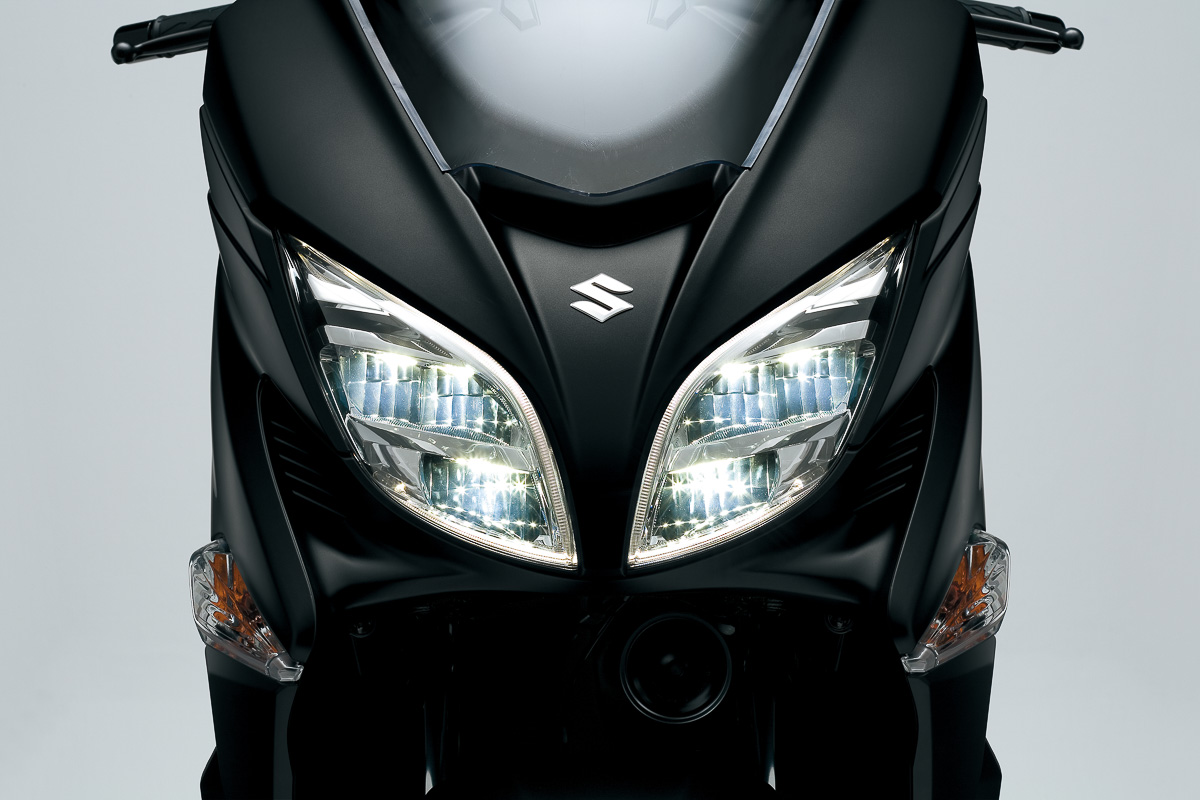 Comfort and Utility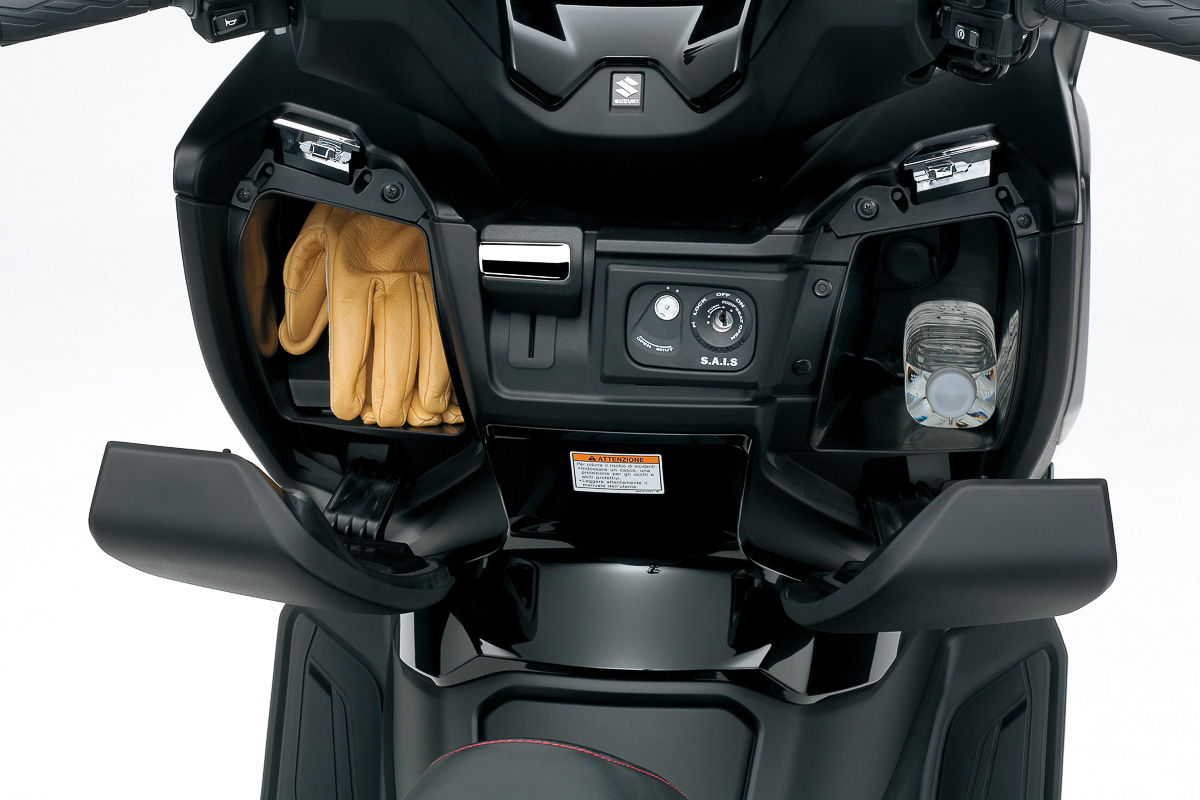 The new Suzuki BURGMAN 400 ABS provides exceptional comfort over short and long distances.
The new stepped dual-seats combined cushion is 20mm thicker than the current model, bringing a new level of luxurious comfort for both the rider and passenger. High-end details include double stitching.
Also, the adjustable rider's seat backrest provides optimal support and comfort for riding enjoyment on longer journeys.
The cut-away footboards and a slim seat design make it easy to reach the ground, contributing to greater confidence and creating a smart line to the design's curvature.
Spacious 42-litre underseat storage can hold two helmets and provides ample room for stowing your gear.
Two front compartments provide space for stowing maps and other smaller items, and one compartment houses a 12V DC outlet for charging your mobile phone or other electronic devices when on the move.
A large and easy-to-read multi-function instrument panel keeps the rider fully informed on every journey.
With a comprehensive anti-theft system, a rear brake lock system and a chain lock gate for locking the scooter brings great assurance.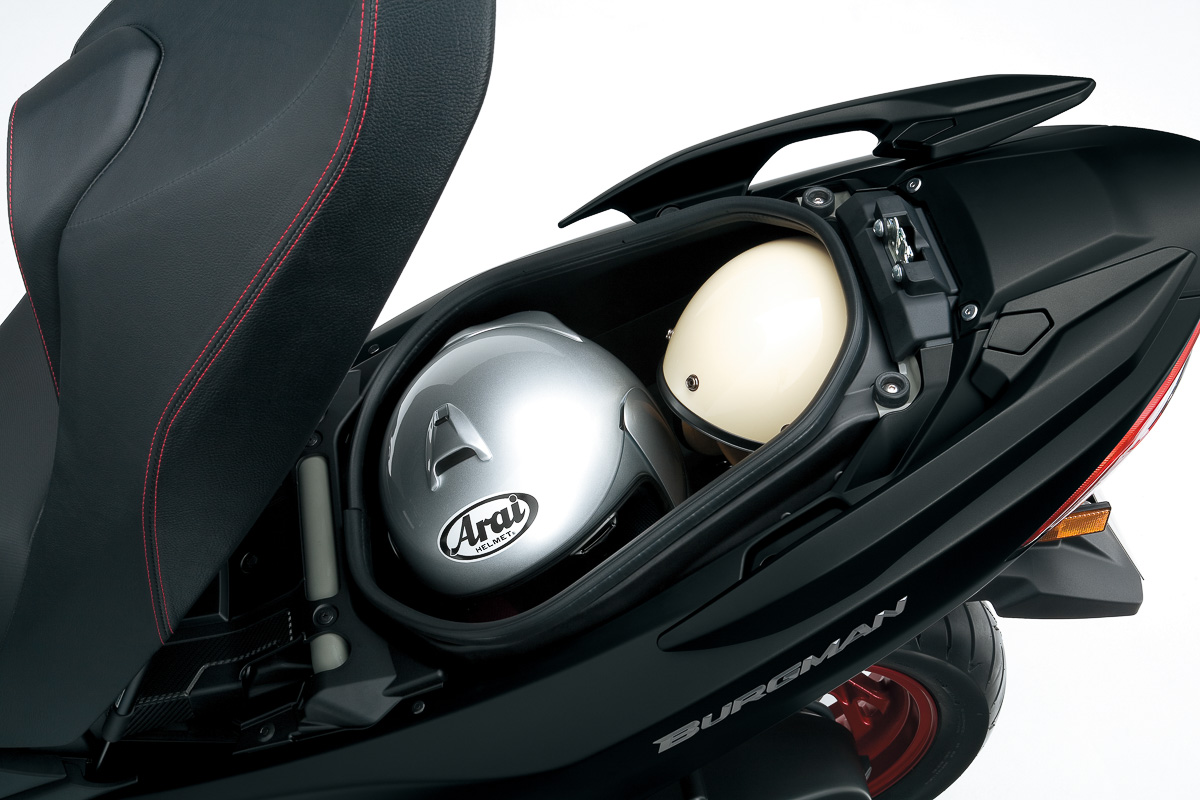 Dynamic Performance
The new Suzuki BURGMAN 400 ABS is built to deliver winning performance.
The 399cm³ DOHC, fuel-injected engine complies with stringent Euro 4 emissions regulations, yet delivers instant response and powerful acceleration.
A new air cleaner box helps produce greater low-to-midrange torque and a more pleasing intake sound.
The engine employs an iridium spark plug, contributing to greater combustion efficiency, resulting greater power output, more linear throttle response and easier engine starts.
It's equipped with dual front disc brakes, a rear disc brake and Antilock Brake System (ABS) to assist you in tricky conditions.
Lighter bodywork built on a tougher frame, for extra stability and easier handling. In addition, the unique link-type monoshock rear suspension with 7-way adjustable spring perload maximizes the balance between comfort and sporty performance, and delivering exceptional handling and maneuverability. This is a stand-out feature, which is not available on other maxi-scooters in its class.
Larger 15-inch front wheel features a bold new image and conveys stability.
A selection of Suzuki Genuine Accessories is available for riders who want to customize their Suzuki BURGMAN 400 ABS and make it uniquely their own.  Colours available are Black and White. The new Suzuki BURGMAN 400 ABS is offered at a very tempting basic sales price of RM45,000.00 (GST excluded).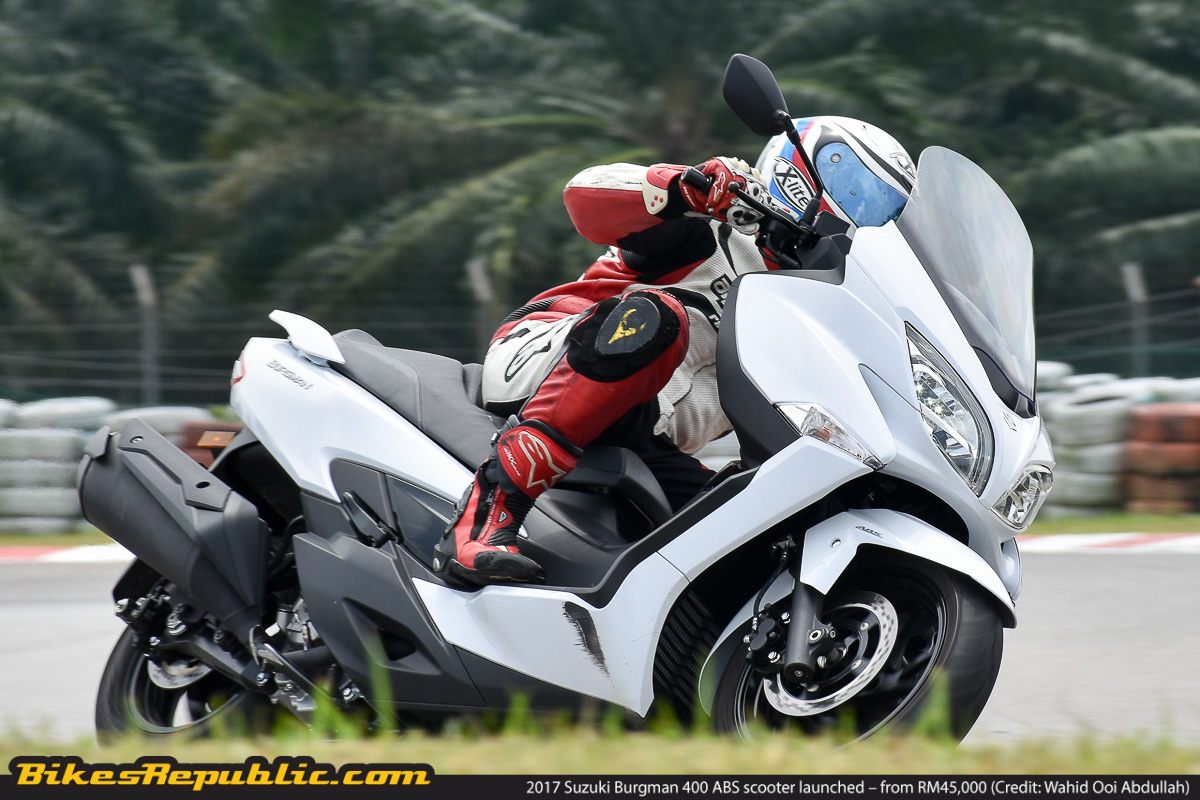 To cater to the expected demand, SUZUKI has 36 authorized dealers across the country to manage the sales and after-sales service, assuring ample supply of genuine spare parts and accessories for maintenance as well as customization.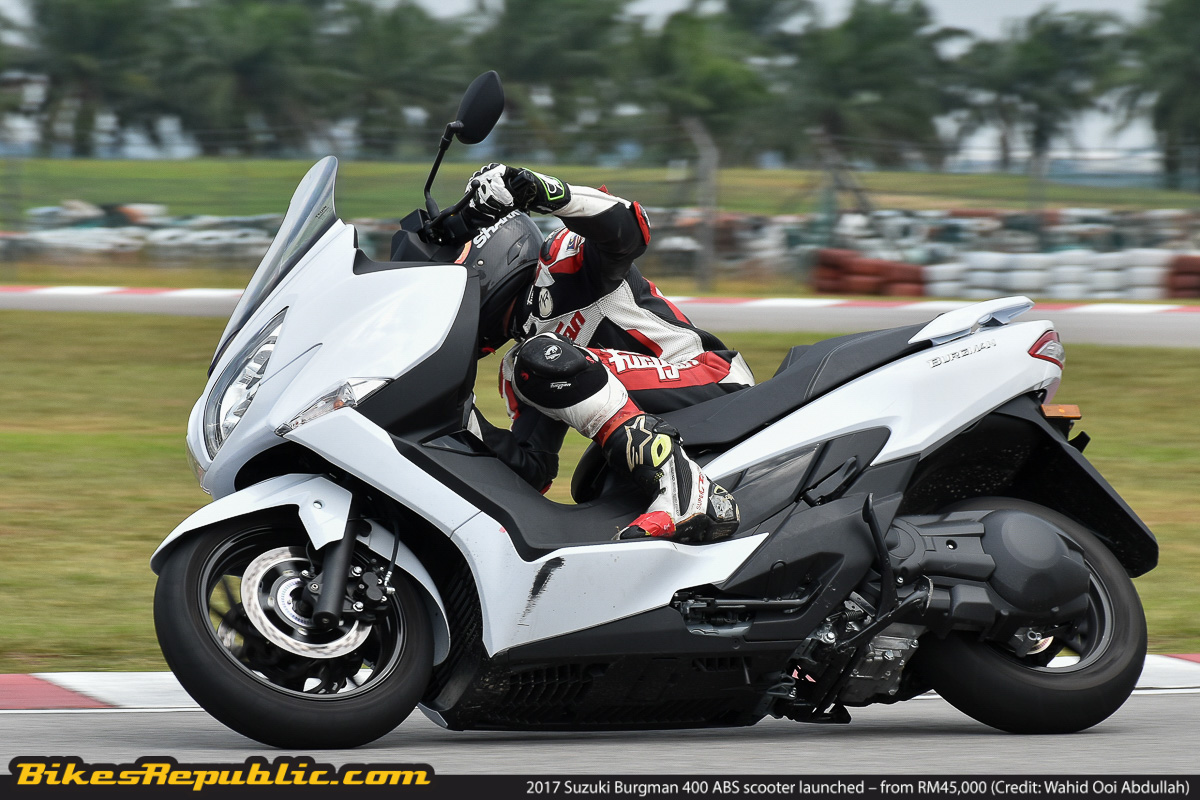 To find a dealer closest to you or to inquire further details, kindly contact Suzuki Assemblers Malaysia Sdn. Bhd. at 04-3977 378 (Sales & Marketing Division) or 04-3977 091 (Spare Parts Division) or visit our webpage at www.suzukimoto.my.
Article credit: Wahid Ooi Abdullah