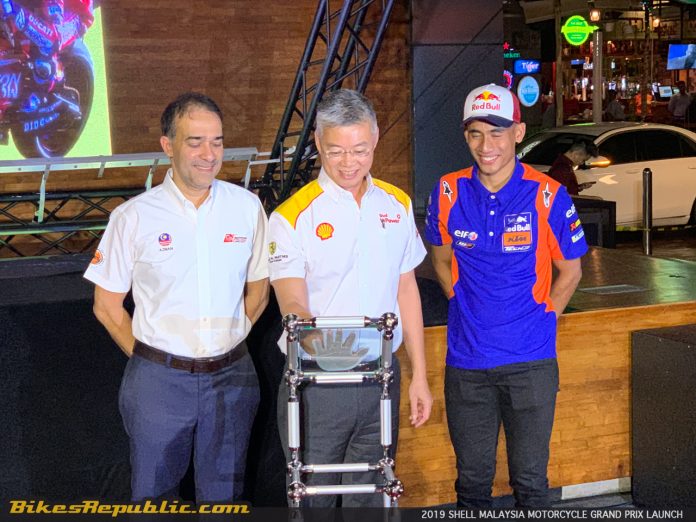 The Sepang International Circuit launched the 2019 Shell Malaysia MotoGP tonight.

Some 180,000 spectators and visitors are expected this year.

It's a great chance for Malaysian fans to cheer on our home team and riders.
The Sepang International Circuit (SIC) is working hard to prepare for the 2019 Shell Malaysia MotoGP from 1st to 3rd November. As many as a recording breaking number of 180,000 spectators and visitors are expected this year.
It is also a heady time as this year's edition marks the 20th anniversary of MotoGP in Malaysia. Adding to the historical aspect is the 70th anniversary of the MotoGP championship, as a whole.
2019 also celebrates the 10th anniversary of Shell's association with motorcycle grand prix racing in Malaysia.
Another significant aspect is the "homecoming" of our Malaysian teams in all Moto3, Moto2 and MotoGP classes. The PETRONAS Sepang Racing Team (SRT) in MotoGP is currently flying high through the heroic exploits of rookie sensation Fabio Quartararo. The PETRONAS Sprinta Racing Team in Moto2 is picking up and we already saw one victory via John McPhee in the Moto3 class.
Apart from the racing, SIC is in the midst of replacing or repairing the roofing over the main grandstand so that fans will have nothing to worry about.
SIC officially launched the 2019 Shell Malaysia MotoGP tonight at Publika.
Tickets can be purchased on www.sepangcircuit.com while international fans can either purchase it online or visit the nearest registered travel agents for the best Motorsport Tourism holiday in Malaysia this November.
BEGIN PRESS RELEASE
PLENTY FOR TWENTY: SEPANG INTERNATIONAL CIRCUIT GEARS UP FOR 20TH ANNIVERSARY OF MALAYSIA MOTORCYCLE GRAND PRIX FROM NOVEMBER 1 – 3, 2019
KUALA LUMPUR, 16 July 2019– The MotoGP fever is back in Malaysia as the Sepang International Circuit (SIC) readies for the 20th edition of the Malaysia Motorcycle Grand Prix from November 1-3 2019.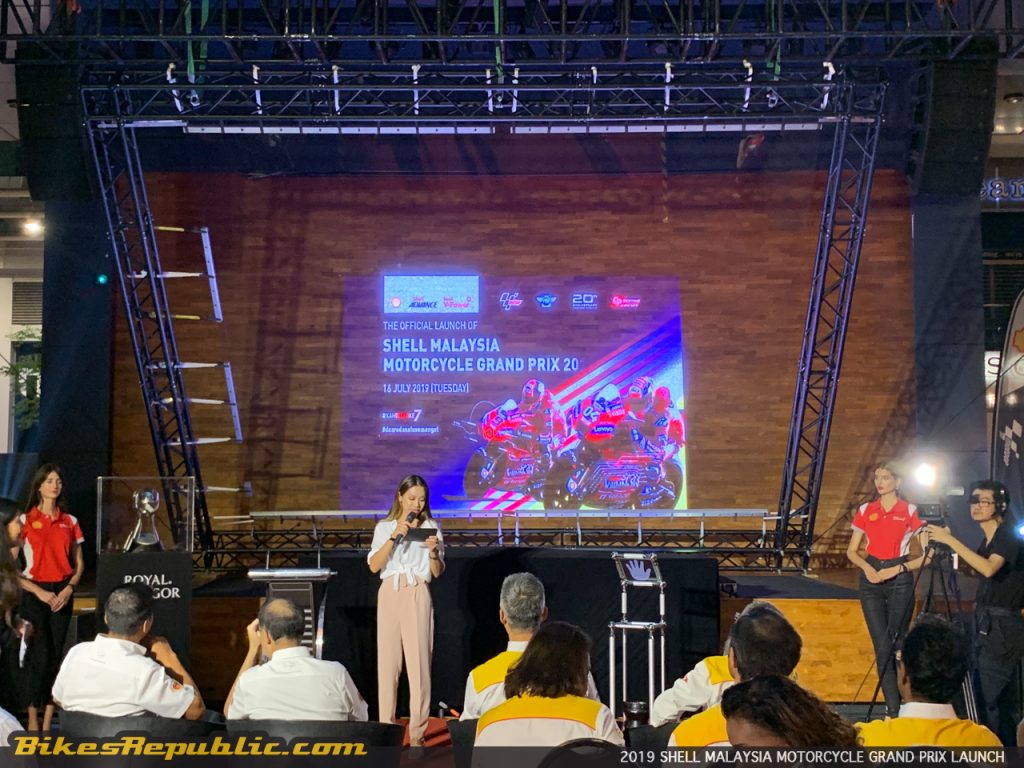 In conjunction with the 20th anniversary of the Grand Prix in Malaysia, the organisers Sepang International Circuit has gone to great lengths to ensure it will be a special and memorable event for fans and riders alike.
The event this year will also be special as it will coincide with the 70th anniversary of the MotoGP, which was born in January 1949 with events consisting the Isle of Man TT, Swiss Grand Prix, Dutch TT, Belgian Grand Prix, Ulster Grand Prix and the Grand Prix of Nations at Monza.
Sepang International Circuit Chairman, Tan Sri Azman Yahya said the historical moment is bound to be a special occasion.
"It will be such a great honour to witness the 20th anniversary of the Malaysian Grand Prix this year – and also the 70th anniversary of the MotoGP," said Tan Sri Azman.
"For 20 years we have worked hard to ensure that the quality of the Malaysia Grand Prix are at the highest level and we have proven that with our success as the Best Grand Prix in 2012 and 2017 as awarded by the Grand Prix Commission.
This year will also mark the 10th year Shell becomes the title sponsor for the Malaysia Grand Prix.
"I'm grateful to have a loyal partner like Shell, who has been with us since 2009," added Tan Sri Azman. "We have seen waves of success during the 10 years together and I thank you for that."
As a build up to the celebration, SIC and Shell Malaysia announced at the Official Launch in The Square Publika today, special off-track activities for fans will be arranged. The campaign kicks off with SIC announcing the MalaysianGP Superfan Contest where two lucky winners will win a fully paid trip to watch the Shell Malaysia Motorcycle Grand Prix with exclusive behind-the-scene experience.
"This is our 10th year as title sponsor for the Malaysia Motorcycle Grand Prix and we are excited to celebrate Shell's long-standing involvement in world motorcycle racing with all motorsports' enthusiasts through our collaboration with SIC," shared Datuk Iain Lo, Chairman of Shell Malaysia.
"MotoGP is more than a race, it's a platform for people from all walks of life to come together and celebrate their passion for motorsports. To fuel this passion and commemorate a decade of our commitment towards motorsports development in Malaysia, we will be having exciting activities to reward our customers who have been continuously supporting us all these years," added Datuk Iain.
The Shell Biker Chop Chop promotion which kicked-off in June will run until August and it offers bikers the opportunity to purchase discounted Shell Hillstand MotoGP tickets as well as a chance to win exclusive Ducati merchandise and other limited-edition items. To qualify for the promotion, customers need to collect digital stamps via WeChat by collecting an accumulative of: two (2) Lubricant stamps by purchasing Shell Advance AX5, AX7 or Ultra and three (3) Fuel stamps by fueling RM6 worth of Shell fuels in a single receipt.
Another highlight this year will an exciting addition to the live viewing for the upcoming MotoGP races, where fans can gather and follow the races before the upcoming Malaysian round. For the first time, Shell has decided to bring one of its live viewing sessions outside Klang Valley, to Kuantan, Pahang, with the aim to extend the MotoGP excitement to a larger group of fans. Fans can learn more of these viewings at Shell's social media pages.
This year, Shell is back with its Shell Hillstand, an exclusive viewing area at the circuit which provides motorsports enthusiasts an opportunity to enjoy a differentiated experience while watching the race. In the past, the hillstand offered a series of activities comprising a display of Ducati motorcycles, a wide-range of family-friendly activities and a variety of food and beverages, inclusive of Shell's popular deli2go freshly-baked pastries and Costa Coffee. The company is looking to do all of this and more this year, to provide a bigger and better Shell Malaysia MotoGP experience for its customers.
Race week will start with the pre-event; a friendly football match between Team SIC All Stars showcasing talented MotoGP riders against Team Media FC at the National Stadium in Bukit Jalil. The match will be made open for fans to come and support the MotoGP riders in action.
The ever-popular riders' autograph session and riders fan forum will take place at the Sepang International Circuit on November 1 (Friday) and 2 (Saturday) where fans can get up close and personal with their favorite riders like Marc Marquez, Valentino Rossi, Jorge Lorenzo and also our Malaysian rider Hafizh Syahrin Abdullah and more.
The much awaited Mega MotoGP Carnival also provides an array of products and promotions with over 90 brands participating this year. The carnival has become an event of its own where two-wheels fans look forward to each year to get their hands on special merchandise items including new motorcycles to take home.
The popular #KamiGearKe7 campaign will be back this year as a way for fans to show their support towards Malaysian riders and team challenging for honours at their home race. It follows the concept of fans as the 12th man on the pitch on football matches to support their teams, the #KamiGearKe7 will provide the avenue for fans to show the support for Malaysian competing in the Malaysian Grand Prix.
"The hype will be much bigger this year as we have a Malaysian team racing in three different categories of the championship," added Tan Sri Azman.
"The Petronas Yamaha Sepang Racing Team just bared their fangs when Fabio Quartararo finished second at the Catalunya Grand Prix and with Hafizh Syahrin and Khairul on the grid, Malaysians will have more to cheer for.
"It will also be something of a spectacle for the Indonesian fans out there as they will get to see their star Dimas Ekky Pratama racing in the Malaysian round in his first full season as a Moto2 rider. I'm sure many of them are eager to see what Dimas can do after stints in 2017 and 2018."
Tickets for the Shell Malaysia Motorcycle Grand Prix was launched in October 2018 and is selling fast. "This year, though tickets remain at the same price for the MalaysianGP, there is an addition of 25% entertainment tax imposed by the state government. However, the event remains to be a much awaited one and tickets are selling fast. I encouraged all fans to start getting theirs now before it sells out"
"To ensure a comfortable and convenient experience for the fans, works has also started to fix the roofing of the Main Grandstand and better fittings for the public toilets. We are excited to see the new and improved roof during the race this year" Tan Sri Azman added.
Tickets can be purchased on www.sepangcircuit.com while international fans can either purchase it online or visit the nearest registered travel agents for the best Motorsport Tourism holiday in Malaysia this November.