77.5 hp, which becomes 84.5 with the racing exhaust, and maximum rotation speed of 10,250 rpm: performance never achieved before by a single-cylinder road engine
The Superquadro Mono derives from the twin-cylinder unit of the 1299 Panigale, from which it inherits the 116 mm bore piston, the combustion chamber, the titanium intake and steel exhaust valves and Desmodromic distribution
With an extremely short stroke of 62.4 mm, the Superquadro Mono has a bore/stroke ratio of 1.86. The most extreme value ever seen on a road single-cylinder engine
Not just benchmark performance, the Superquadro Mono is also the single-cylinder with the highest maintenance intervals: 30,000 km for checking and eventual valve clearance adjustment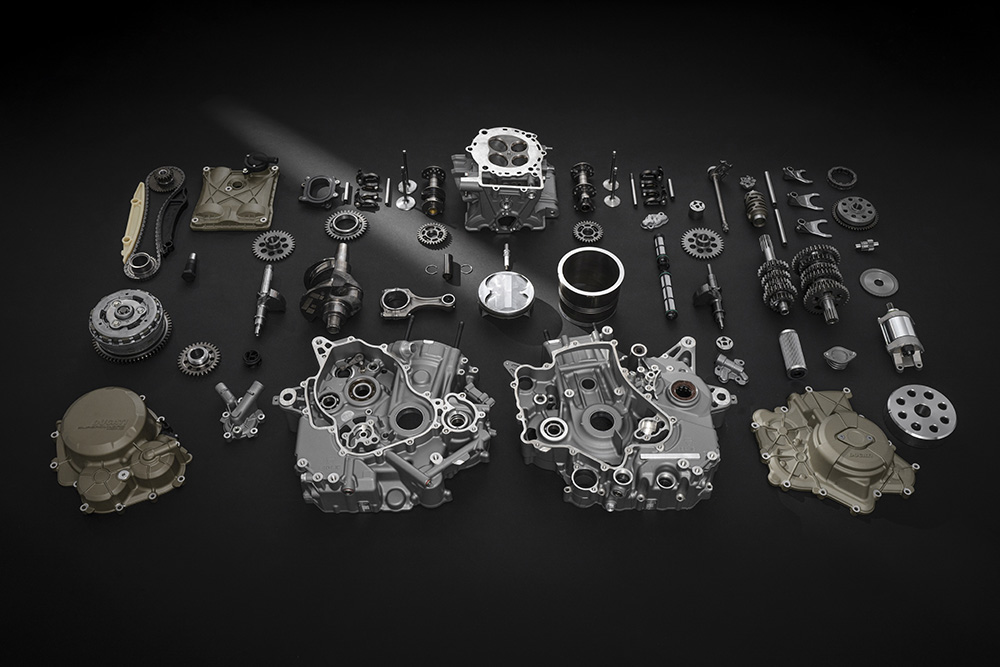 In a triumphant return to its single-cylinder roots, Ducati has introduced the Superquadro Mono, marking a significant milestone three decades after the legendary Supermono 550. This road-going single-cylinder marvel boasts a 659 cc displacement, features the renowned Desmodromic system, and sets a new standard for performance within its category.
Derived from the Panigale 1299 engine, the 1285 cc Superquadro twin-cylinder served as the foundation for the Superquadro Mono. It inherited critical elements, including the 116 mm diameter piston, combustion chamber design, 46.8 mm diameter titanium intake valves, 38.2 mm steel exhaust valves, and the Desmodromic system, which eliminates the limitations imposed by valve springs and facilitates exceptional valve lift.
The name "Superquadro" alludes to the extraordinary bore-to-stroke ratio, enabling the engine to attain high RPM levels typical of racing engines. In the case of the Superquadro Mono, this ratio stands at 1.86, thanks to an impressively short stroke of 62.4 mm. The record 116 mm bore allows for larger diameter valves, enhancing performance while maintaining precision through the Desmodromic system. As a result, the Superquadro Mono delivers a maximum power output of 77.5 hp at 9,750 RPM, achieving an unprecedented milestone for a road-going single-cylinder engine. Torque is equally impressive, with a peak of 6.4 kgm at 8,000 RPM, offering linear and usable power delivery while adhering to stringent Euro 5 homologation standards. In a racing configuration with a Termignoni exhaust, this single-cylinder powerhouse reaches an astonishing 84.5 hp at 9,500 RPM.
Furthermore, a detuned version of the Superquadro Mono will be available for a broader audience.
This exceptional engine relies on advanced materials and technical solutions to enhance performance and minimize weight. The 116 mm bore piston, reminiscent of those found in racing engines, adopts a "box in box" design, combining rigidity and reduced friction through a double-truss base. The piston pin features a Diamond Like Carbon (DLC) surface coating, ensuring durability. The engine's compression ratio stands at 13.1:1.
The Desmodromic system's rocker arms are equipped with DLC surface coating to reduce friction and improve resistance to fatigue. Distribution is managed through a mixed "silent" gear/chain system.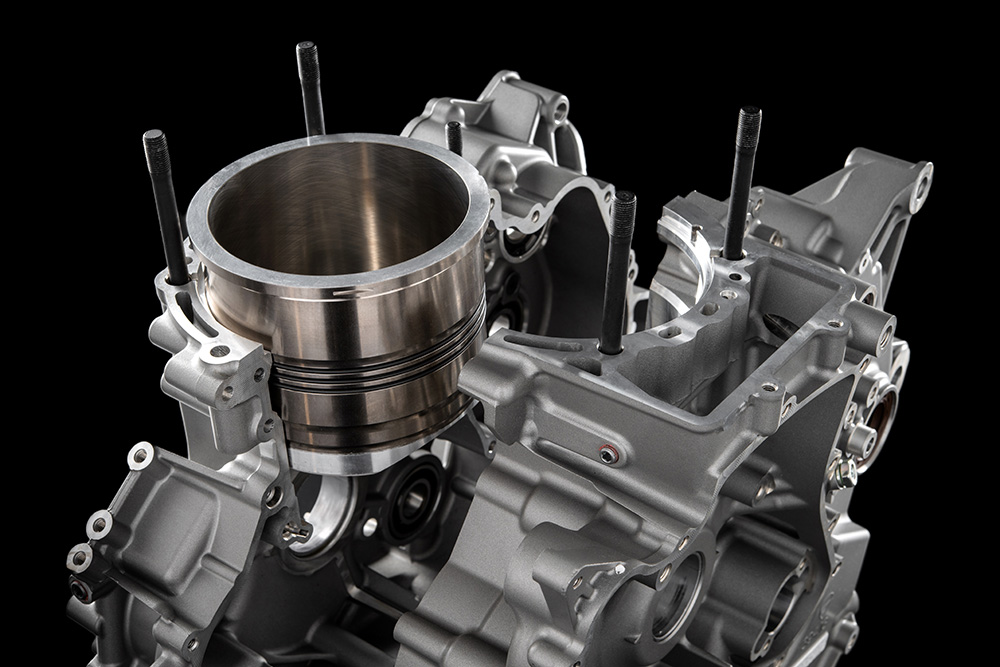 Fuel delivery is facilitated by a single oval-section throttle body with a 62 mm equivalent diameter. It incorporates an under-throttle injector controlled by a ride-by-wire system offering three distinct Power Modes (High, Medium, Low) to adapt engine performance to varying riding conditions.
The engine's die-cast crankcases feature an aluminum water jacket around the cylinder barrel, enhancing both weight reduction and cooling efficiency. Magnesium alloy components, such as the clutch, alternator, and head covers, further minimize engine weight while maintaining mechanical strength.
The asymmetrical crankshaft is supported by differentiated main bearings to reduce weight, and engine balance is ensured through two balancing countershafts, eliminating unwanted forces or moments and allowing for high-speed operation with minimal vibration.
A dual lobe pump system is used for efficient lubrication, including a recovery pump in the connecting rod compartment. This pump, in conjunction with a valve in the blow-by circuit, creates a crankshaft compartment under depression, reducing friction and ensuring effective oil recovery under various engine operating conditions.
The six-speed gearbox features racing ratios inspired by the Panigale V4's experience, with a unique first gear for optimal performance in slow corners. The oil bath clutch employs progressive interlocking hydraulic control, providing reduced lever effort and facilitating intuitive braking behavior and power-sliding during corner entry.
The transmission can be equipped with Ducati Quick Shift (DQS) Up & Down, which utilizes a magnetic hall effect sensor for improved accuracy and reliability compared to traditional load cell-based systems.
Main technical data of the Superquadro Mono
1. 659 cc vertical single-cylinder engine
2. Bore x stroke 116 x 62.4 mm
3. Compression ratio 13.1:1
4. Maximum power 57 kW (77.5 hp) at 9,750 rpm – 84.5 hp at 9,500 rpm with Termignoni racing exhaust
5. Maximum torque 63 Nm (6.4 Kgm) at 8,050 rpm – 6.8 Kgm with Termignoni racing exhaust Aluminium cylinder barrel
6. Euro 5+ homologation
6.Mixed chain-gear Desmodromic distribution with double overhead camshaft, 4 valves per cylinder. 46.8 mm titanium intake valves, 38.2 mm exhaust valves.
7. Asymmetrical crankshaft mounted on differentiated diameter main bearings
8. Double balancing countershaft with control function of the water and oil pumps
9. Multi-disc oil-bath clutch, servo-driven and with anti-hopping function
10. Semi-dry sump lubrication with delivery pump and recovery pump
11. Fuel feed via oval section throttle body with an equivalent diameter of 62 mm
12. Six-speed gearbox with the possibility of fitting the Ducati Quick Shift (DQS) Up & Down
13. Oil change set at 15,000 km
14. Check and eventual adjustment of valve clearance set at 30,000 km